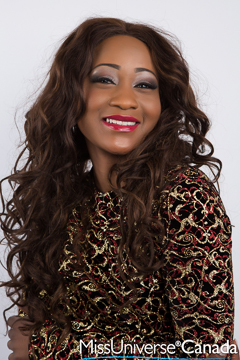 Height: 5'8″
Hometown: Gatineau, QC
Danielle was born in Ivory Coast, Africa, but raised in many parts of Europe including Marseille, Aix-en-Provence, Paris and Belgium. She eventually moved back home to Africa before settling in Canada. Danielle acquired a (BA) Business Administration degree from the University of Quebec in Montreal (UQAM) where she majored in Finance. She is currently in the process of a Masters degree in Project Management and holds a position as a Mortgage Development Manager at the National Bank of Canada. Former Financial Advisor for one of the largest financial group in the country, she was able to earn several awards and recognition including the ranking of National Candian10th and Top 5 in Quebec in Excellence in investments and portfolio management.
She is currently very involved in the Canadian fashion industry both as a professional model and an event planner in a span of a decade, Danielle strongly believes that having big dreams is very important but what is more important is to believe and work hard to make those dreams a reality.
As a philanthropic female figure, being an ambassador for human rights issues are of high priority for her. In fact, she has been involved in several non-profit organizations such as the EQUITERRE Foundation, The Canadian Red Cross, The United Nations Educational, Scientific and Cultural Organization (UNESCO) and the Operation Smile. She has built many humanitarian projects for the purpose of growing and providing a helping hand for many less fortunate communities in Canada and other parts of the world.
Founder and the President of the Canadian Red Cross Charity fashion show held annually in the national capital region of Canada, She is the woman behind the WE DID IT! FASHION SHOW created to mark the World Humanitarian Day in memory of all those, humanitarian workers, who have lost their lives by trying to rescue distressed communities. The funds raised were totally donated to the organization as a contribution and recognition in their international implication in the fight against HIV-AIDS, Malaria, maternal and child healthcare.
Her most current upcoming project includes the 2015 "International Humanitarian Fashion Week" (IHFW) created to support UNESCO in their humanitarian efforts to create EDUCATION FOR ALL. All proceeds will be donated in the West-African region, precisely Ivory Coast through the UNESCO by providing books, pens and equipments necessary to provide and improve education in Africa. This program also intends to support orphanage homes and programs in the continent. The launch of this fashion week is considered as the first-ever humanitarian fashion week worldwide. The program will take place in fall 2015 within the three principal cities of Canada: Montreal, Ottawa and Toronto.
She strives to continue to help and serve the country, the world around her and to make a difference in people's lives. She aspires to be an example, a role model for all young women and encourage them to follow their dreams, achieve their full potential, and create awareness about the importance of having a charitable heart. She is encouraged by the idea that being beautiful is not just a matter of appearance or physical assets, but a matter of having inner qualities to encourage and support while remaining humble toward herself and others. Danielle strives to continue her advocacy to defend human rights both in Canada and Abroad. Danielle believe in creating initiatives that can influence the world positively.
Sponsors:
Spa Energie Forme, Gym-Max Gatineau, Christian Racicot Trainer, Institut Universitaire d'Abidjan (IUA), Via Capitale Outaouais, Canada Afro Magazine, Les immeubles Ross & Tassé, Freshh Anderson Photograph, Pharmacie Familiprix Louise Gregoire, Centre dentaire Dr. S. Obradovic, Isaac Ansah – African Fashion Canada Inc., The African Perspective Magazine, Salon les belles senegalaises, Family and Friends
Languages spoken fluently (please include your native language if English is not your native language).
French and English
What are your interests and what do you enjoy doing the most?

I love to travel, to meet new people and also to learn about different cultures. In my spare time, I enjoy modeling and learning more about the latest fashion trends, drawing fashion sketches and sewing clothing.
List any special training you have had (music, art, drama, dance, etc.)

I have trained in Arabic and African dance.
I have also taken modeling workshops such as:
the runway (Gait, posture, pivots)
the fashion designer (clothing and accessories
the code of ethic and the tote
the modeling teaching (skincare, makeup and hair, body care and nutrition, fitness and aerobic)
the technical and mock interviews and hearings (public relations, trend and wardrobe style, personality and oral presentation).
I also have a certification of standard first Aid and cardiopulmonary resuscitation CPR from the Canadian Red Cross.
In what sports, if any, have you participated?

Growing up, I played table tennis in a professional and competitive level. I competed nationally as a member of the team of the Ivorian Federation of Table Tennis (IFTT).
Name one person, other than your parents, who has had the most influence on your life. Why?
Aside from my parents, my grand-mother has had the strongest influence in my life. She was a very kind, simple and humble lady. She dedicated much of her life giving back to the community and praying for everyone around her. She taught me to be good and to believe in order to see dreams come true. She taught me positivism, the importance of having healthy relationships with others and that in life there is a reason for everything. I remember about the way she was talking with wisdom. She taught me that everyone we meet, we meet for a reason, that we encounter a specific person for a purpose, a reason that we may not see at this time. Though the ups and downs, we must appreciated life and as well each moments as they constitute who we are today. She is no longer of this world but all her learning remain. I will forever be grateful to her for having taught me the acceptance of live, to begin to take the risk down a new direction and that with an open mind; we will surprise ourselves with the outcomes.
What is your proudest personal accomplishment (other than participating in this pageant)?
I'm a very pro active humanitarian worker. I have been involved in several charities until the year of 2013 when I have decided to take the lead in the efforts to raise awareness through a project dear to my heart with the Canadian Red Cross. I have thus decided to launch the We Did It! Fashion Show, in the national capital of Canada, as a charity fashion event designed to mark the world humanitarian day and to pay tribute to all those, humanitarian workers, who have lost their lives trying to help people and to bring assistance in distressed communities. The purpose of this charity has been to sensitize our communities about the importance of having a charitable heart, to make a difference, to change and to improve people's lives. Funds raised have been donated in totality to this non-profit organization as our contribution in the fight against AIDS, malaria and the childhood and maternal healthcare in Africa. The support I have received from all the people involved, from the fashion industry, made me feel blessed. Today, I still have much gratitude to all of them because thanks to this union and this global involvement, this event have resulted in a success and have gained a national recognition.
What is the most interesting or unique thing that has ever happened to you and/or what is the most interesting thing about you?
I have never thought I will explain this publicly but when I was younger, I got bitten by a monkey, Yes a monkey!
This story occurred when I was living in Africa. It cut the main vein of my right hand. Having this hand in a plaster for a period of 9 months, I was forced to learn to use my left hand for everything, to take my shower, to dress, to write, to eat, etc. However, at the end of the day, it is important to see the positive aspect of every situation, even if it was not by choice, I'm proud of my ambidextrous character.
What is your career ambition and what are you doing or plan to do to accomplish that goal?
My career ambition is to become a TV Reporter or a TV presenter. When I was younger my dream was to become a journalist. I am a very empathetic person who loves to meet new people, to learn more about their story, their culture and to be the witness to share their unique stories to the world by inspiring them a bond of authentic trust. My area of interests concerns the human beings and the humanitarian level. I'm currently in a process of a master's degree in project management, in order to join these two passions and to build, with some partnerships, a series of television coverage focused on the both aspects.
What would be your "dream job" in life?
My dream job in life would be to hold the position of the next Miss Universe Canada and as we are talking about a dream, why not the next Miss Universe. For me, it is an opportunity to truly live my passion as mentioned in the previous question, to meet, to share and interact with more people, from all horizons and cultures, to spending time with children, inspire them to better and to continue to make a difference in their lives. This will be the most rewarding experience I could live.
Are you currently a student?
Yes
If yes, where?
University of Quebec in Outaouais (UQO)
Area of study:
International development and Project Management
Are you currently employed?
Yes
If yes, what is your occupation?

I hold a position as a Mortgage Development Manager, Outaouais Region at the National Bank of Canada (NBC).
Describe where you were raised and what your childhood was like.
I have had the opportunity to live in many countries and to learn about different cultures. Thanks to my parents to whom, I'll forever be grateful; I have had a happy childhood. However, the period I lived in Ivory Coast, Africa, had been a period of political unrest, division and wars. I have lost some of my childhood friends and close people who were murdered by the rebels who attacked and divided the country at that period.
An order issued by the public authorities and military insurgents was required to everyone to be indoors often at night from 6pm to 6am, imposed to maintain the public order and to suppress targeted groups. These kinds of curfews have long been in effect for several months. Businesses and schools were forced to close for an undetermined period. In the uncertainty of what will be the next day, we have not other choice than doing or buying foods in larges quantities as a provision in case of suddenly food shortages. I can still remember the sound of gunshots and how we all lie flat on the floor to avoid receiving a ball lost.
This situation of wars has not always been like that in Ivory Coast but these periods of my life really marked me and show me the value of a human life. Today, I know that these kind of realities still exists somewhere in the world. I feel that I have the duty and the mission to help, to show and to explain it based of my own experience. I'm convinced that my vision or point of view will definitely won't be the same that someone who have just heard about it or saw it through the media. I'm aware that my actions can create more awareness about the importance of aid in those crisis periods. Actions have to be motivated by the right reasons, even through a small act; we can all make a difference.
List any interesting or unusual jobs you may have had.
Day Camp animator for children (City of Gatineau)
Event coordinator for Charity Fashion Event
Founder and Creative Director (the Canadian Red Cross Fashion Show / the We Did It! Fashion Show)
Founder and Creative Director ( the UNESCO Fashion Week – UFW / the International Humanitarian Fashion Week – IHFW)
List any volunteering you have done.
As a pro active humanitarian worker, I have been involved in several non-profit organizations. Among others, I participated in the AU COEUR DE LA MODE and the MASKARADE event for the Farha Foundation. Since its beginning, the organization has distributed over 9.3 millions to 76 HIV/AIDS organizations across Quebec. I was a volunteer for DEFILONS-VERT, a non-profit event commissioned by the Foundation of Youth for the environment in favor of EQUITERRE; volunteer for Heart and Stroke Foundation, Quebec with the mission to prevent disease, save lives and promote recovery; volunteer for the Canadian Red Cross by taking the lead of a national charity fashion show, the WE DID IT! FASHION SHOW to mark the world humanitarian day, recognizes humanitarian workers and all those who have lost their lives by trying to rescue distressed communities. The funds raised have been donated the organization for the fight against the HIV-AIDS, Malaria, Maternal and child healthcare, and most recently, volunteer for the United Nations Educational, Scientific and Cultural Organization (UNESCO) through the foundation of the first-ever Humanitarian Fashion Week worldwide, the International Humanitarian Fashion Week (IHFW) in support of the cause of Education for all. The launch is scheduled for the next fall in the three keys cities of Canada: Montreal, Ottawa and Toronto. The Funds raised will be totally donated in the West-African region through the UNESCO; bringing assistance to orphans is also another level the program intends to support.
What is your most unusual talent?
My unusual talent is my knowledge and skills in database, JavaScript, HTML and CSS language. I can build a dynamic website from a blank page to the publication!
Where is the most interesting place you have been to?
One of the most interesting places I have been is Cuba. My first trip to Varadero has marked my life because I skydived for the first time of my life! I jumped from a helicopter and I was able to see the island of Cuba from the heaven. When you first jump out of the plane, you get that falling feeling for a brief moment, and the rest of the 45-second free fall is absolute bliss. Everything was recording on tape by a second professional skydiver. The DVD of this memorable experience is the perfect everlasting reminder of the best day of my life!
What do you hope to be doing in ten years?
In ten years, I hope to be working as a recognized TV Reporter or TV presenter on the board of some humanitarian documentaries and television coverage. Hopefully, I will be married with two children. I'll continue to host the UNESCO Fashion Week which by the grace of God will be also expanded, thanks to different partnerships, in Europe and Africa for the purpose of growing and providing a helping hand for many less fortunate communities in Canada and other parts of the world.
Is there anything you would like to add that we haven't asked?
My ambition at this time is to become the next Miss Universe Canada 2015. Becoming Miss Universe Canada is much more than having a sash and crown. I'm aware that it's a title that comes with responsibilities and the duty to reflect positively the values of the Miss Universe Canada Company through our inner and outer beauty, intelligence and achievements as a positive role model for young women. I have dedicated much of my life to giving back to the community then it's a pride for me to represent the color and the symbol of our national flag and to show my commitment, the cultural richness and what our country have to offer to the world. It's also a way to continue to help, serve and represent with dignity our beautiful country, to make a difference in people's lives and the world around me.