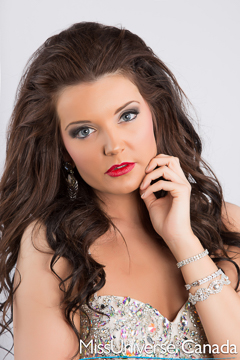 Height: 5'7″
Hometown: Caledonia, ON
Emily was born and raised in a small riverside town called Caledonia, Ontario. Being from a small town and an only child had made Emily very goal-oriented. She has been described as having an energetic, bubbly, and outgoing personality. Always wanting to entertain people, Emily would never shy away from making someone laugh.
Emily had her first dance lesson when she was 3 years old and hasn't stopped since. She has always dreamed of pursuing dance. With Emily's determination, perseverance, and hard work, she became a Hamilton Tiger-Cat Cheerleader. After a season with the Hamilton Tiger-Cats, Emily travelled to Dallas, Texas to train with the iconic Dallas Cowboys Cheerleaders. A company named "Be Discovered" saw Emily's dance tape and invited her train in L.A. for a week with the top choreographers in the dance industry. As a result, Emily had the opportunity to dance in a music video directed by Selena Gomez's "Star Dance Tour" choreographer, Mirhan, and has since appeared in Canadian country artist, Kira Isabella's, music video.
Emily has always wanted to do something impactful with her art. In 2011, Emily had the opportunity to travel to Haiti to visit different orphanages and to teach the children dance moves. This motivated her to become a role model for children, something she wants to continue in her future endeavours. Seeing the ravages of Haiti and interacting with such resilient people grounded her belief in the power of positive thinking. Emily hopes to inspire young people around the world to follow their passions, no matter what the obstacles are.
Sponsors:
The Coach House Gift Shoppe, TNT Drywall, Canadian Tire Chatham, Family and Friends
Languages spoken fluently (please include your native language if English is not your native language).
My fluent language I speak is English, although I would like to learn how to speak French better.
What are your interests and what do you enjoy doing the most?
I have a huge passion for dancing and acting. There is nothing I love more than performing in front of a crowd. Every time I danced on the field for the Hamilton Tiger-Cats I felt like I was living a dream. I also enjoy spending time with my family. I am an only child and have a great bond with my parents. I wouldn't trade our movie nights in for the world! I am a sports fanatic; I am counting down the days until "Sunday Night Football" returns. Football and Hockey are the two sports I watch regularly. I am a very active person. Running and lifting weights is something I do daily. Living a healthy lifestyle is something I take joy in.
List any special training you have had (music, art, drama, dance, etc.)
Acting (Theatre and On-Camera)
Runway
Public Speaking
Modeling
Competitive Level Dancing (Ballet, Lyrical, Jazz and Modern)
Makeup
Mentoring
Singing
Gymnastics
Figure Skating
Pointe Dancing
In what sports, if any, have you participated?
When I was 3 years old I had my first dance lesson and have continued to dance since. While I was dancing I wanted to indulge in a different sport. I signed up for gymnastics and figure skating. Let's just say I was a better dancer then a gymnast and skater!
Name one person, other than your parents, who has had the most influence on your life. Why? 
My Aunt and Uncle are the most amazing people I have ever met. They are both so loving, selfless and always doing things to better the community. Whenever I get the chance to see them, I never take a moment for granted. They have inspired me to follow my heart and each day I hope to make them proud. I am blessed with an incredible family.
What is your proudest personal accomplishment (other than participating in this pageant)?
My proudest accomplishment was when I travelled to Dallas, Texas to audition for The Dallas Cowboys Cheerleaders squad. When I was performing during a commercial break at then called, Ivor Wynne Stadium I looked up at the fans and had this incredible feeling come across me. I wanted to do something bigger; I wanted to go to the most elite dance team in the world. I wanted to become a Dallas Cowboys Cheerleader. It took me two years to prepare for the audition. Not only did I have to be physically fit and have a solo choreographed, I needed to know The Dallas Cowboys history, Texas history and keep up to date with current events. I dedicated my life to my training. Although I did not get the result I hoped for, I made a life time of memories and have made friends from around the world.
What is the most interesting or unique thing that has ever happened to you and/or what is the most interesting thing about you?
The most unique thing that has ever happened to me was when I travelled to Dallas, Texas a month before the Dallas Cowboys Cheerleaders auditions to take a "Pro-Prep" class with Kitty Carter. Kitty Carter is an icon. She was a Dallas Cowboys Cheerleader herself and candidates will travel across the world to attend her class. I was nervous to take her class for the first time; I wanted her to like me. I walked in and danced my heart out in front of her and it paid off. I free styled in front of her and that's when our connection happened. To have Kitty Carter compliment me is something I'll never forget. She is a great role model for anyone who is looking to become a Dallas Cowboys Cheerleader. I can't wait until our paths cross again.
What is your career ambition and what are you doing or plan to do to accomplish that goal? 
My career ambition is to be in the television industry. I am an outgoing, personable and determined woman. I feel I would be a great television host with my personality. I never shy away from making someone smile. To reach my goal as a host, I have applied to a college course called, "Broadcasting and Television."
What would be your "dream job" in life?
My dream job would be anything that involves being a television host. I would love to be a co-host on "ET Canada" along side with Cheryl Hickey. Another dream job would be reporting on the field during a football game. I love sports and entertainment. Anything that requires a reporter to interview, inform people or announce breaking news would be considered my dream job.
Are you currently a student?
I am currently a student at Mohawk college. I am studying Broadcasting Television and Communications.
Are you currently employed?
Yes
If yes, what is your occupation?
I am a cosmetician at Shoppers Drug Mart.
Describe where you were raised and what your childhood was like.
I was raised in a small town by two loving and hard working parents. I am an only child so I was a force to be reckoned with. My fondest memories of growing up were when we moved out into the country and I would practice my dance moves in the backyard and my parents would be out on the patio watching me and encouraging me. Still, at this age I will go out and dance in the yard and I will catch my mom taking a glimpse from the window. Moments like these are special, they've watched me grow up and now they see me living my dream.
List any interesting or unusual jobs you may have had.
Cheerleader for the Hamilton Tiger-Cats
Music Video for country music artist, Kira Isabella
Advertisement Model for The Coach House Gift Shoppe
Dance Teacher
Day Care
Fitness Instructor
List any volunteering you have done.
I was fortunate enough to travel to Haiti in 2011. For the week I was there I commuted with Mission of Hope. I visited different orphanages there and had the privilege of teaching the children dance moves. I will never forget the look on the children's faces, seeing their smiles and hearing their laughter. We brought food and water to each orphanage we visited. The people and kids I met in Haiti will forever hold a piece of my heart. I have also been involved with,
Honk For Hunger
Terry Fox Run
Tree of Life
Look Good Feel Better
Women's Breast Cancer Foundation
What is your most unusual talent?
I've tried, tried and tried to stick my tongue to my nose but I can't do it! I guess I have to stick with dancing!
Where is the most interesting place you have been to? 
The most interesting place I have been to is Los Angeles, California. I have always dreamed of visiting L.A. and the moment it actually happened was one of the best moments of my life. I had the opportunity to dance with the top choreographers in the dance industry. A fun fact from my trip is Selena Gomez bumped into me while I was training at Millennium dance studio. At the end of the trip we had the opportunity to be in a choreographed music video directed by Mihran, who happened to choreograph Selena Gomez's dances from her "Star Dance" tour.
What do you hope to be doing in ten years?
I hope in ten years that I will be married with a family and have a successful job in the television industry.
Is there anything you would like to add that we haven't asked?
I am a very goal oriented, ambitious and driven woman. I never give up no matter what the circumstance is. I truly believe that you can achieve anything you put your mind to. I am a believer of following your heart and your dreams. I want to be the voice for people who feel like giving up. I have felt that exact feeling before and if I have listened to myself, I would have never gotten this wonderful opportunity. At the end of the day, I hope to have inspired somebody.
In the Media: