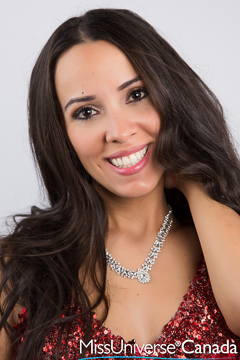 Height: 5'6″
Hometown: Hamilton, ON
Geri Boudy was raised in Miami, Florida. She comes from a Cuban background and grew up speaking Spanish at home, with close ties to her Cuban roots. She grew up visiting the beautiful Florida beaches during the weekends and participated in water sports during the summer months. She enjoys most water activities from surfing and Stand-Up Paddle Boarding to deep-sea fishing. She moved to Canada at the age of 15, lived in Toronto for one year then moved to the city of Hamilton, in Ontario. She is a graduate of the Police Foundations Program in Niagara College Canada. Currently she is working as a flight attendant for Canada's national airline.
Some of the places she has visited have been Germany, England, France, China, Malaysia, Thailand, Colombia, Venezuela, Chile, Argentina, Mexico, most of the Caribbean islands as well as major cities across the U.S and Canada. She plans on traveling as much as she can, and visit new places that will enrich her cultural experience and knowledge. One big part of her life is giving back to the community. Geri currently volunteers her spare time at a local organization in her city that focuses on women suffering from past or present abuse and sex trade. She takes great pride in health and fitness, and endures in rigorous work out plans and routines to maintain a healthy and active lifestyle. Some of her hobbies include hiking, roller-blading and morning jogs with her best friend. She is determined and will strive towards her goals without any hesitation. She believes that with hard work, commitment and dedication, anything is possible. She believes being kind-hearted and compassionate are key elements to a good life. The only thing standing between you and your happiness is you.
Languages spoken fluently (please include your native language if English is not your native language).
Spanish and English
What are your interests and what do you enjoy doing the most?
I enjoy traveling, I am very interested in learning about all the world wide cultures and lifestyles. I plan to visit every continent in the world. I also enjoy spending quality time with those who are dear to me.
List any special training you have had (music, art, drama, dance, etc.)
During my high school years I was accepted into an Art Academy in Toronto, focusing in Dramatic Arts.
In what sports, if any, have you participated?
I played competitive softball during my high school and college years, I then continued it as a recreational activity during the summer time. I also enjoy golfing, and most water sports like Kayaking, Surfing, and Stand Up Paddle boarding.
Name one person, other than your parents, who has had the most influence on your life. Why? 
The most influential person who has impacted my life in the most positive way was my late grandmother. I owe every ounce of wisdom I own to her. She made it her job to raise me well enough to be a woman of good.  She taught me how to prepare for life's challenges while keeping my head up high. She showed me how to be patient, compassionate, independent, brave, empathetic, and most importantly she showed me how to love unconditionally. She told me to rise every time I had a fall, and that good things take time, dedication and commitment. To this day, she has been and will always be my number one role model and someone I will always remember and look up to.
What is your proudest personal accomplishment (other than participating in this pageant)? 
My proudest moment and personal accomplishment was getting the job as a flight attendant. I remember applying several times and not being successful, but that did not stop me from pursuing it further, so I made it my goal to get hired and I tried relentlessly until I did.
What is the most interesting or unique thing that has ever happened to you and/or what is the most interesting thing about you? 
The most interesting thing about me is how well I am able to adapt and mold myself into different types of situations. I moved around often throughout my childhood and teenage years, not only within cities, but different countries too. That forced me to learn how to deal with different people, scenarios and circumstances and still manage to find happiness and positivity.
What is your career ambition and what are you doing or plan to do to accomplish that goal? 
My career ambition would ideally be something focused on the community. I think opening up my own restaurant will give me that sense of close ties with my community as well as the sense of leadership and dedication. I believe I have a natural talent in the culinary field but perhaps enrolling in a culinary course would be a great start to a successful career.
What would be your "dream job" in life?
At the present time, being involved in the Miss Universe Canada pageant feels surreal and part of a dream in which I am actually awake for. I believe winning this title is my "dream job" because that would give me the voice to speak for all the young women who are silent. It would give me the opportunity to stand up and be an advocate for many issues we are facing day to day. It would empower me to make a difference and see some positive changes for a better lifestyle and a better tomorrow for our future leaders, our youth.
Are you currently a student?
No. Graduated in Police Foundations.
Are you currently employed?
Yes
If yes, what is your occupation?
Flight Attendant
Describe where you were raised and what your childhood was like.
I was raised in Miami, Florida in a very Latin community. I grew up speaking Spanish, in a Cuban household. As a child, I enjoyed going to the beach on the weekends and practicing water sports. I really enjoyed surfing and wake boarding, in fact I participated in several surfing competitions during my early teens. I have very close ties with my Cuban culture and I am very proud of my ethnic roots. I moved to Canada at the age of 15, and it was one of the hardest things I ever had to do. It was a difficult age and moving to a whole new country was not exactly part of my ideal teenage life. I went to 5 different high schools and I struggled with different forms of bullying but I managed to pull through and made some wonderful friends along the way. To this day I maintain some of those friendships and I couldn't be happier.
List any interesting or unusual jobs you may have had.
My current job as a flight attendant is actually quite interesting to me. I've had the opportunity to visit different countries I'd never thought I would. I've had the blessing of seeing the sunrise on one side of the world, and the sunset on the other, in the same day and I would say it took my breath away.
List any volunteering you have done.
I did two years of volunteering at Niagara College, a program for Immigrant students new to Canada, teaching them how to get acquainted and integrate into the student life. I currently volunteer at the Elizabeth Fry Society, a drop in centre for women who have been or are victims of abuse and sex trade.
What is your most unusual talent?
I don't know if I should call this a talent but I can stay awake for more than 24 hours at a time, without consuming any caffeine and still have  a smile on my face.
Where is the most interesting place you have been to?
The most interesting place I've been to so far has been Thailand. I had the opportunity to visit Thailand with some of my close friends, and we visited different schools in the city of Phuket and donated supplies to the children. It was a very heart warming experience.
What do you hope to be doing in ten years?
In ten years from now, I hope to have accomplished most of my goals that I've set so far, one of them being my own restaurant. I hope to be successful in the career path I find myself in and I hope to have touched and influenced many lives in a positive way, and for people to remember me as a kind hearted and good spirited soul.
Is there anything you would like to add that we haven't asked?
Yes, my wildest dream happens to also be my biggest fear. I want to sky dive in the middle of the Palm Islands in Dubai.