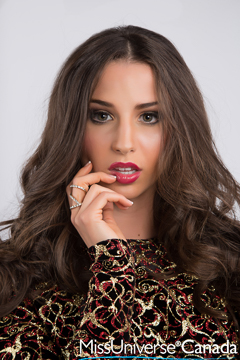 Height: 5'9″
Hometown: Wawa, ON
Hannah Simard is an educated, driven young woman born in the quaint town of Wawa, Ontario in 1996. She spent the first sixteen years of her life in this modest town, before moving to Sudbury for the sake of obtaining a quality education in the performing arts. In Sudbury, she became a vocal music major at one of the most reputable performing arts programs in Ontario, at Sudbury Secondary School. During her eighteen years thus far, she figure-skated competitively for about five years, practiced music (in the forms of vocal music and piano) for nine, danced competitively for eleven years and recreationally for about two. She received a scholarship to participate in the Dance World Cup in British Columbia in 2010, and is proud to have placed third in her category. She speaks French fluently, as she spent two and half years of her high-school education at a fully French high-school.
Hannah enjoyed many years of her academic career taking leadership in groups such as student parliament, choir, reading club, drama club, character club, and various sports. In high-school, her passionate interest in philanthropic activity lead her to co-found a group called Students for Change. This group mobilized students in many successful projects, such as promoting fair-trade products and putting an organic garden in place on school property. Hannah also enjoyed taking part in the choir at Sudbury Secondary School, where her team ranked Diamond at the Kiwannas Music Festival in 2013. Finally, she was part of an extra-curricular group called Dance Troupes, with which she performed in annual spectacles. As a result of her quality performances with this group, she was offered the opportunity to major in dance (along-side vocal music) in the twelfth grade. She spent her high-school years taking leadership in many projects, including organizing fundraisers for various charities such as Free the Children and Northern Ontario Families of Children with Cancer. She consistently maintained her place in the honour roll through-out her high-school career, in spite of moving back and forth between an English and French education.
Today, Hannah is a first year student at the University of Toronto, majoring in cultural anthropology. During her lifetime, she intends to use her education as a platform to raise global awareness of a need for more equitable wealth distribution, as well as to study the presence of faith in various cultures. Her current hobbies include writing and producing her music, physical exercise, and reading. She is very involved in her pageant platform, which is equitable global wealth distribution. She dedicates plenty of time to studying this issue, and recently conducted an interview with Associate Chair of the Sociology Department at the University of Toronto, Robert Brym, on this topic. This interview was filmed and posted on her blog, for the sake of raising awareness of this issue. Every day, Hannah aims to demonstrate that she is optimistic, innovative, energetic and focused. She believes that these are the qualities of Miss Universe Canada 2015. If Hannah is awarded the honour of becoming Miss Universe Canada, she hopes to raise further awareness of the need for equitable global wealth distribution, as well as its integral position in the quest for international equality.
Languages spoken fluently (please include your native language if English is not your native language).
French and English. I completed two and a half years of education at a fully-French high-school in Wawa, and spent the other year and a half of high-school in a French immersion program at Sudbury Secondary School.
What are your interests and what do you enjoy doing the most?
I take an interest in philanthropic activities and global issues, as well as social anthropology and political science. I love to study, write songs, play piano, sing, perform and exercise.
List any special training you have had (music, art, drama, dance, etc.)
Music: At age six, my mother entered me into piano lessons with a woman named Mme. Poisson in Wawa, Ontario. I took lessons with her until about age twelve. I engaged in exams with the Royal Conservatory of Music and completed up to grade 5. At age thirteen, I resumed piano lessons – and began vocal music lessons – with another teacher named Lindsay Boal. From age eight to fourteen, I also participated consistently in my school choir. At age sixteen, I became interested in majoring in vocal music at a performing arts school called Sudbury Secondary School. I passed an audition that summer, and enrolled as a vocal-music major at Sudbury Secondary School in the fall of 2012. I also joined the school choir at Sudbury Secondary School, and we obtained a Diamond award at the Kiwannas Music Festival in 2013. Today I continue to write, perform, and produce my music.
Dance: At age four, I was introduced to the world of dance when my mother entered me into a ballet class in my hometown of Wawa, Ontario. When my lovely teacher had to quit this job, I was forced to spend three years of my life without practicing dance. Thankfully, a new dance teacher named Samantha Stewart created a new studio town when I was about seven years old.  I danced competitively in styles such as ballet, jazz, hip-hop and lyrical at her Studio – Defined Movement Dance – until age sixteen when I moved to Sudbury. Also, at age fourteen, I received a scholarship to compete a solo at the Dance World Cup in British Columbia that summer (2010). I competed, and am proud to say that I came third place in my category. From age sixteen to eighteen, I danced competitively with a studio situated in Sudbury called Dance Evolution. As a team, we achieved top grades (such as diamond and platinum) at a variety of competitions. During grades eleven and twelve of high-school, I also took part in an extra-curricular group called Dance Troupes. Because of my quality performances as a part of this group, I was offered the opportunity to major in dance (as well as vocal music) in my twelfth grade.
Figure-skating: I began figure-skating lessons at age eight, and did so competitively until age twelve. I came first-place in my category at the regional competition with my first solo entry in 2005, and never strayed from a place in the top six during my years of competing.
In what sports, if any, have you participated?
I danced competitively for about eleven years, and recreationally for another two. I also figure-skated competitively for about five years. I took part in the competitive cross-country running team at Sudbury Secondary School in grade eleven as well.
Name one person, other than your parents, who has had the most influence on your life. Why? 
My dance teacher, Samantha Stewart, had a huge, positive influence on my self-image and confidence. She taught me to embrace my performing abilities and be comfortable in front of a crowd. Without her influence, I don't think that I would ever have come to love performing the way that I do today. Samantha has always been full of emotional support for all of her students, and she has created an environment within which all students can feel comfortable being themselves. In this environment, she has taught important life values such as teamwork, passion and discipline to myself and my fellow classmates.
What is your proudest personal accomplishment (other than participating in this pageant)?
I feel that I have executed a diversity of accomplishments during my lifetime, and I am proud of that. However, at the root of these accomplishments is my ability to create my own values and goals, and my faith that – if I stay true to them – I can accomplish great things. I believe that this mentality is definitive of who I am as a person, and it has done me a great deal of good during my lifetime. Of all things, I am perhaps most proud of this.
What is the most interesting or unique thing that has ever happened to you and/or what is the most interesting thing about you?
I think that the most interesting thing about me is the fact that I embrace so many diverse interests and aspects of myself. I recognize that my life will not necessarily evolve progressively, and so I no longer live my life with the intention of getting from point A to point B. I am on this earth simply to experience and learn. I constantly have a variety of goals and dreams in mind, and work toward each of them diligently. I would like to model, but I also want to study faith within rural areas of Africa. I would like to write music, but I also want to be an activist in current global issues. I would like to learn from as many different people and experiences as I can in my life. I will always work hard and find purpose in each of my goals, but I refuse to choose one concrete, and rigid path.
What is your career ambition and what are you doing or plan to do to accomplish that goal?
I currently am majoring in social anthropology at the University of Toronto. I intend to obtain a PhD in this domain, and begin research in the field. I would like to complete this research as a participant observer (meaning that I will live and participate in the cultures that I study) in various societies across the globe. This is important to me, because I believe that it is enriching to accept and understand as many cultures as possible. Each culture offers a valid and unique perception of the world. To expand further on what I hope to accomplish, I would like to study faith (in the forms of religion and spirituality) in these cultures. I believe that faith has a huge influence on peoples' interactions within and between societies. I would like to examine the similarities that various types of faith pose in different cultures. By doing so, I could examine the ways that faith and religion can unite – and not divide – varying cultures.
What would be your "dream job" in life?
One of my dreams is of working as a participant observer to examine faith in various societies, as mentioned above! However, I am also interested in pursuing careers in modeling and music.
Are you currently a student?
Yes
If yes, where?
University of Toronto
Area of study:
Social anthropology (major) and political science (minor)
Are you currently employed?
Yes
If yes, what is your occupation?
Barista, cook, and cashier at Cups Café.
Describe where you were raised and what your childhood was like.
I was born and raised in Wawa, Ontario until the age of sixteen. This is a quaint town of about 2900 people, situated just off the shore of Lake Superior. Because I lived within a close-knit and personal community, I had a very safe environment within which to grow and develop. I learned to trust the people around me, and never felt afraid to venture off on my own. I think that this had a huge part of shaping the free-spirited, adventurous person that I am today.
List any interesting or unusual jobs you may have had.
During my many years of learning with Defined Movement Dance, I had the unique opportunity to assist at teaching dance classes to the younger students. It was a great experience to assist these students to learn skills in jazz, ballet and acrobatics, as they set off on their own beautiful journeys in the world of dance.
List any volunteering you have done.
I have enjoyed the opportunity to fundraise for charities such as Northern Ontario Families of Children with Cancer and Free the Children. Over the past few years, I have planned a multitude of events such as car-washes, jewelry sales, garage sales, bake sales, and talent shows for the sake of raising as much money as possible for these charities. I also happily volunteered my time in the twelfth grade to run a blog – Mass Production of Change – that raised awareness about the issue of slavery and sweatshops. This same year, I co-founded a group at Sudbury Secondary School called Students for Change, which mobilized students in projects such as selling fair-trade products and putting an organic garden in place on school property.
What is your most unusual talent?
I can turn my wrist all the way around, clock-wise? It doesn't hurt at all!
Where is the most interesting place you have been to? 
Growing up in Wawa, my best friend and I loved venturing into old, abandoned buildings. We would spend days exploring the ominous rooms of these places, often becoming inspired to use them as the setting for another one of our photo shoots. We liked to say that we found "extraordinary things in ordinary places", which included these old buildings that we found on the outskirts of our hometown.
What do you hope to be doing in ten years?
In ten years, I hope that I will be continuing to learn and thrive, while staying true to my own values. If all goes as planned, I will have completed my PhD in social anthropology, and will have the opportunity to study the nature of faith in various cultures.
Is there anything you would like to add that we haven't asked?
I would like to say that I am honoured be competing amongst such inspirational, beautiful girls. Thank you so much for offering each of us the opportunity to push our limits and step outside of our comfort zones.