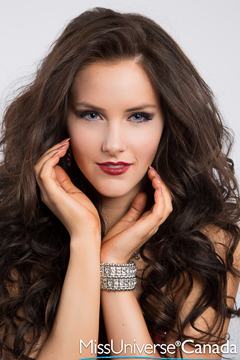 Height: 5'8″
Hometown: Lethbridge, AB
Jaime VandenBerg was born and raised in the windy city of Lethbridge, Alberta. During her education in Coaldale she attended a trip to Ottawa through her social studies class called Encounters With Canada. The week she attended focused on Law and she was able to speak with lawyers, judges and politicians. This interest developed her dream to become a corporate lawyer. After graduating with the Alexander Rutherford Scholarship and a French as a Second Language Diploma she began her first semester at the University of Lethbridge focusing her studies on political science, and she'll continue her education this fall.
Volunteering from a young age helped Jaime to learn more about her community and how she could help. Working with Alberta Food Banks, the Heart and Stroke Foundation, Family Centre, etc. has really attributed to Jaime's passion for helping others. With her title of Miss Teenage Alberta, Jaime took it upon herself to raise funding, awareness, and personally visit and donate food to over 20 food banks throughout her province. Food banks help almost 840,000 Canadians monthly and nearly 45 percent of them are children. Jaime believes that a strong nation begins with a healthy youth and is so proud to come from a country so willing to help those in need.
Modeling has been a hobby of Jaime's since she was scouted by Lisa Kauffman and signed with LK Model Management as well as I Model Management. She has graced the runway at YYC Fashion Week as well as runway shows in Medicine Hat and her hometown Lethbridge. Her other hobbies include kickboxing, belly dancing and dirt biking. She recently placed third runner up in Miss Teenage Canada and received scholarships to Chan International and Top Model Search Canada.
An admirable role, Jaime VandenBerg truly believes that with determination and passion anything can happen and anyone can make a change.
Sponsors:
Dynamite Clothing, Fabutan and Bryans Fashions, Lethbridge Dental Clinic, Skyline RV, TNT Towing, Deltec Power & Control Systems, The King Of Trade, Lethbridge Mortgage Centre, Air – Tech Heating & Air Conditioning, Pauline Hall Dentistry, My Automotive, Friends and Family
Languages spoken fluently (please include your native language if English is not your native language).
English and conversational French
What are your interests and what do you enjoy doing the most?
Spending time outside is certainly one of my favorite activities. Being camp counselor for a group of young girls in Waterton was unforgettable. Waterton, in itself, has to be my favorite national park in Alberta. I can just wake up and spend my day with Mother Nature. I enjoy horseback riding, swimming, canoeing, boating, hiking and dirt biking. I am so thankful that my camp counseling experience, as well as my other charitable work allows me to mentor youth and encourage healthy living in my community.
List any special training you have had (music, art, drama, dance, etc.)
Runway
Photography / New Media
Acting
Public Speaking
Hair and Makeup
Mixed Martial Arts -Taekwondo/ Kickboxing/ Judo
Gymnastics
Belly Dancing
Singing
Percussion & piano
Boating
In what sports, if any, have you participated?
When I was younger bullying became an issue for my family so my parents decided to put my three brothers and I in Taekwondo to learn self-defense. Of course, I really enjoyed sparing with my brothers but I also was taught a great deal of self-discipline. A couple years later I began Judo and I think my favorite part was learning how to flip people. Most recently I began kickboxing at Canadian Martial Arts Center with UFC fighter Jordan Mien as my teacher. The patience and integrity these sports have taught me as well as the ability to defend myself is something I wouldn't trade for the world.
I also participate in many other sports including baseball, trapeze, tennis, snowboarding, dirt biking, basketball, volleyball, and waterskiing.
Name one person, other than your parents, who has had the most influence on your life. Why? 
My Uncle Doug. As a friend of my aunts since childhood, they finally married five years ago. In the first year of marriage he was diagnosed with ALS. These last four years our family has had the privilege of knowing many others through the ALS society. Through fundraising walks, the Ice Bucket challenge and support meetings I have met many new families and sadly lost some members. My uncle's optimistic personality and humor have not waivered these past years and I'm so happy he can watch me through this pageant as I think he's my biggest cheerleader and I'm his biggest fan.
What is your proudest personal accomplishment (other than participating in this pageant)?
I won the title of Miss Teenage Alberta and later placed third runner up in Miss Teenage Canada. However, it's what I've accomplished with my title that makes me the most proud. I attended, volunteered, and participated in over 80 events this past year and took it upon myself to tour my province to interview and donate to food banks throughout Alberta. I brought attention of their individual needs to each local media outlet and  increased donations and volunteers. As 45% of those helped by food banks are children, I am proud to say I've made a real difference.
What is the most interesting or unique thing that has ever happened to you and/or what is the most interesting thing about you?
One of the girls I mentored as a camp counselor dressed up like me and spoke about my youth involvement and volunteerism at her school on career day. When I found out she had done that my heart melted because she saw beyond the beautiful gowns and crown and it really showed the difference mentoring can make to empower others and make a positive change in another individual.
What is your career ambition and what are you doing or plan to do to accomplish that goal?
After recently graduating from Catholic Central High School with the Alexander Rutherford Scholarship and my French as a second language diploma, I began my first semester at the University of Lethbridge. I  began my Bachelor of Arts and Science program hoping to major in political science because of a trip I took to Ottawa with Encounters With Canada with law as the theme. During my week in Ottawa I was able to talk to judges and lawyers about their experiences in the practice and asked what are things I can do now to help forward my career.  I  even participated in a mock trial in the Supreme Court of Canada. These steps have definitely assisted in getting me one step closer to obtain my career goal of becoming a lawyer.
What would be your "dream job" in life?
I strongly believe ones dream job should be something they enjoy doing everyday; and then, finding a way to make money from doing their passion. With that being said, my latest passion is modeling. If I can combine modeling, law and charitable work, I would have my dream job.  I feel that representing Canada as Miss Universe could be a great way to start.
Are you currently a student?
No, I have taken this semester off. I continue in September.
If yes, where?
University of Lethbridge
Area of study:
Political Science
Are you currently employed?
Yes
If yes, what is your occupation?
I am currently serving food and bartending at Firestone, Lethbridge's best restaurant.
Describe where you were raised and what your childhood was like.
I've been very blessed to be raised in a family of seven in Lethbridge, Alberta.  I had the opportunity to attend an elementary country school surrounded by farm land, and a small town junior high school and high school in the city of Lethbridge. As kids we all worked at my father's R.V. dealership that was started by my grandfather.  I have spent more than half of my life living in a house that was under renovation but my family now lives in a house with a theater and a jungle and an elevator all built in large part by my father.  My father and brothers all work on sportscars in their spare time while my mom tries to keep car parts out of the kitchen sink and keep us kids on track.
List any interesting or unusual jobs you may have had.
I've been a student recruiter, organized a fashion show and silent auction, but the most unusual  job would be that of a clown.
I use to dress up in a full clown costume and tie animal balloons and hand out candy at Skyline's annual R.V. show and sale.  I now get to wear my gown and crown at the sale which I like a lot more.
List any volunteering you have done.
Alberta Food Banks
ALS Society
Family Centre
Chinook Autism Society
Knights Of Columbus
Heart and Stroke Foundation
Between Friends Program
Cardiac Kids
Free The Children
Lethbridge Area Search And Rescue
Windy City K-9 Rescue
United Way
Ronald McDonald House
What is your most unusual talent?
I can move my eyeballs independently and my mom only found out when she reviewed photos. I did it in every photo for about six months when I was ten.  She was not impressed as it was before digital cameras.
Where is the most interesting place you have been to? 
I have to say the most interesting place I've been to has to be Costa Rica! I organized a trip there with my graduating class through a travel company called S-Trip and it was absolutely unforgettable! Not only the experience of recruiting almost 50 other students, but the whole diversity of culture and environment.  I had time to volunteer while I was there which allowed me to meet people and see the country in a different way then a regular tourist.
What do you hope to be doing in ten years?
I hope to combine my education in law and philanthropic activities.  To turn this passion of mine into a career would be very rewarding. If I could combine this with some fashion and modeling I would be thrilled.
Is there anything you would like to add that we haven't asked?
When I was twelve, my little sister was born weighing one and a half pounds.  As my parents were focused on her survival, they told me I could name her and I called her Violet Belle. Today at age six, she's perfectly healthy and bright.  Yet, because she missed the crucial growth time, she's only 30 pounds.  She will always be tiny but with four older siblings she's tough and the loudest one in our family.  This experience has changed all of us in the family for the better.