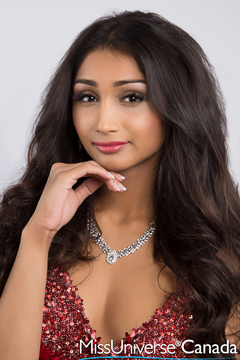 Height: 5'7″
Hometown: Vancouver, BC
Jasmine Parmar was born and raised in the multicultural city of Vancouver, British Columbia. She is well-rounded in athletics and the arts, spending her spare time trying new adventurous activities and staying in tune with her health and fitness. Promoting a healthy balanced lifestyle and acknowledging international current events are very important to her.
Humble, kind, and positive, Jasmine is passionate toward the act of giving. Being the goal-driven woman she is, she aspires to inspire other young women to cultivate their own success and make the life they dream of become a reality. Jasmine is currently majoring in Sociology at The University of British Columbia and is intrigued not only by the development of her own community, but of the many cultures around the globe. She hopes to first-hand experience all of these fascinating ways of living during her lifetime of travels soon to come.
So far, volunteering in Southeast Asia has been a highlight for her. She enjoyed living authentically in a home-stay with a local family in a small village that was located in the outskirts of Ubud, Bali. It was there that she gained more than she could ever give back. She believes that we must be the change we want to see in the world, and that can begin with the  positive interactions and choices we make on a daily basis. Empowered with this new outlook on life, she plans to continue giving back to her community through multiple outlets.
Sponsors:
The Puar Family (Malkit, Surjit, Roger, Bhupinder, Sokhie), SNJ Capital Ltd., Bhupinder's Indian Masala Chai, Jase Graphics, Swank Makeup Artistry, L'Atelier des Reves, Friends and Family
Languages spoken fluently (please include your native language if English is not your native language).
English, Punjabi, Hindi, and conversational French
What are your interests and what do you enjoy doing the most? 
I enjoy spending time outdoors and taking in what nature has to offer. Growing up with the convenience of living in the city, I have always been fascinated by rural land. I love exploring and discovering new places that have not been seen by many. Although I can fulfill this passion through hiking and travelling, I aspire to become a skilled backcountry snowboarder and obtain  my recreational pilot permit.
List any special training you have had (music, art, drama, dance, etc.)
I started my training in ballet at the young age of three. Throughout the years I have also been trained in and performed jazz and hip-hop choreography at local functions. Still having a strong appreciation for the fine arts, I have had considerable training playing  piano and the violin. In high school, I was granted the opportunity to travel to Ottawa for an intensive Journalism program and participated in television and radio workshops at CBC/Radio-Canada in Montreal.
In what sports, if any, have you participated? 
I recreationally play basketball and badminton in my spare time. I am also trying to hit the slopes as much as possible this winter season to learn new snowboarding techniques and tricks.
Name one person, other than your parents, who has had the most influence on your life. Why?  
I truly believe that every single person I have connected with whether it may have been a complete stranger or my best friend, has impacted me and helped me gain different perspectives on life to compliment my own. If I had to choose, I would say that my grandparents have had the most positive influence on my life. They have taught me to find happiness through simplicity. It is through their everyday living that they have inspired me to remain humble, kind, and virtuous in all my endeavours. I am sure that they will continue to be the role models I look up to for the rest of my life.
What is the most interesting or unique thing that has ever happened to you and/or what is the most interesting thing about you?
Elephants are my favourite animal. Last summer I had the experience of a lifetime swimming with elephants and trekking through the jungles of Indonesia. I was astonished to experience first-hand the intelligence and gentleness of a wild animal.
What is your career ambition and what are you doing or plan to do to accomplish that goal?  
I would like to be a neonatal nurse practitioner that cares for low to high risk newborns. After completing my bachelor's degree, I plan to enroll in the accelerated registered nursing program at The University of British Columbia. Then, I wish to further pursue my studies and remain committed to learning by obtaining my Master's degree, specializing in neonatal nursing.
What would be your "dream job" in life?
My "dream job" would not be a form of employment, but rather to be the best woman I can be. It is a dream of mine to do meaningful work that inspires others. I want to do work that makes a difference in a person's life, whether that is while working as a nurse, caring for my own children one day, or being a role model for other young women as Miss Universe Canada.
Are you currently a student? 
Yes
If yes, where? 
The University of British Columbia
Area of study:
Sociology
Are you currently employed?
Yes
If yes, what is your occupation?
I currently work part-time as a hostess at Cactus Club Café.
Describe where you were raised and what your childhood was like.  
I was raised in Vancouver, British Columbia by a single mother. This did not make me feel any different from those who came from dual-parent homes, but rather showed me the beauty of independence. Being an only child, I was pushed to my imaginative boundaries, helping me express my creativity which later lead to my talent in the arts. My childhood was also unique in the sense that my mother became one of my best friends. Over the years, her and I have formed a special bond that I am blessed to have.
List any volunteering you have done. 
Spare Time Fun Centre – Program Leader
Food Bank – Event Greeter & Accepted Donations
Union Gospel Mission – Kitchen Volunteer
IVHQ – Health care Education & School Renovations
I hope to continue giving back to the community in the years to come.
What is your most unusual talent? 
I`m the type of girl that will make a snack while waiting for another snack to cook.
Where is the most interesting place you have been to?
The most interesting place I have been to so far has been Ubud in Bali. It is a very cultural and spiritual town filled with temples, unique shops, and the popular "monkey forest" where monkeys run around freely. The culture there really intrigued me as it is completely different from life here in Canada, and I am grateful to have had the opportunity to experience the town authentically, living with a family in a nearby village.
What do you hope to be doing in ten years?  
In ten years, I hope to have established my career and traveled at least once to each of the seven continents. I want to be able to say that I am living the life of my dreams and I want to have created memories in my youth that will last a lifetime.
Is there anything you would like to add that we haven't asked?
I am very happy to have the opportunity to take part in Miss Universe Canada 2015. It is my first pageant and I want to thank everyone who has supported me throughout this journey.