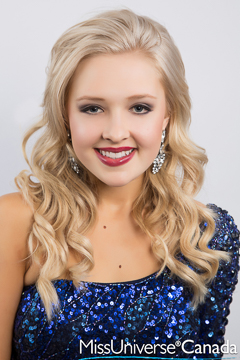 Height: 5'6″
Hometown: Sudbury, ON
Jessie Must was born and raised in her rocky yet scenic hometown of Sudbury, Ontario. She currently attends Laurentian University, in her third year of studies in human kinetics with a focus in health promotion. Growing up in Northern Ontario, Jessie was exposed to the outdoors, enjoying many activities such as: camping, fishing, hiking and cherishing quality time with family around the campfire. Kind, outgoing and friendly to all, Jessie has dedicated her life towards education, volunteering and living a healthy balanced lifestyle.
Jessie has spent the last year representing the North with pride after being crowned with the title of Miss North Ontario 2014. Throughout her reign, she took great commitment towards bettering the community and volunteering at various local events such as Relay for life, Rib fest, CTV Lions Christmas Telethon, North American Mining Exposition, and many more. Jessie has recognized the importance of giving back to members of her own community and has supported many charitable organizations close to home and within Canada. She has presented herself as a strong role model for young women and has inspired others through motivational speaking; specifically at the Women's show held in Sudbury this past fall 2014. She aspires to get involved in any way possible and will continue doing so in her future personal and professional endeavors.
As Jessie has grown to become a confident young woman, she has taken a large appreciation towards health and wellness due to living with a chronic health condition that has impacted her for a large majority of her life. At the young age of five, she was diagnosed with rheumatoid arthritis. Struggling to grow up with arthritis, Jessie quickly learned the importance of having a positive outlook, surrounding herself with support networks, and never allowing an illness to hold her back in regards to the goals she sets out for herself. As Jessie steps onto the national pageant stage this May 2015 with the honor of representing Northern Ontario, she will be fulfilling her dream with the ultimate goal of potentially representing Canada, with national pride, and for the true north strong and free.
Sponsors:
Hemika Construction Ltd, NORTH-TECH Stone and Ceramic, Dr. Mary-Anne Majic, Friends and Family
Languages spoken fluently (please include your native language if English is not your native language).
English
What are your interests and what do you enjoy doing the most?
My interests include health and wellness, with a focus on nutrition and natural medicine. I love reading books and articles on the healing powers of foods and how living a balanced lifestyle can be so beneficial to ones health.
List any special training you have had (music, art, drama, dance, etc.)
As a young adolescent, I took part in performing arts including dance, drama, percussion ensemble, and vocal lessons. I was involved in dance at Happiness is Dancing in recreational lessons for three years. In addition, I was a part of the Sudbury Theatre Center and took part in productions. I was in vocal lessons for two years, and sang on the CTV's Children's Christmas Telethon twice. I was also involved in school percussion group, and had the privilege to perform at the Kiwanis festival in Sudbury. By participating in these experiences, it has allowed for me to grow as an individual and for me to express my creative self.
In what sports, if any, have you participated?
I have participated on many sports teams in school. I have played basketball, soccer, floor hockey, road hockey, volleyball, dance, and flag football. Team sports have allowed me to demonstrate commitment, strong work ethic, time management, and problem solving. Through involvement of team sports, I have learned how to work with others, as well as my own self-awareness as a team member.
Name one person, other than your parents, who has had the most influence on your life. Why? 
The most influential person in my life would have to be my older sister Jennie. She is the most amazing sister I could ever ask for. I do not just say that because I have too, but because it is the honest truth. Growing up together was not always the easiest. We definitely had the occasional sibling misunderstanding. At times my parents even had to put earplugs in to block out the constant bickering. Jennie had always been a very protective sister, acting as a second mother figure in my life. At times, this was extremely difficult to deal with because I wanted her to act as my friend, not my guardian. However, as we grew in age, I started to realize that she truly was only trying to guide me in the right path. She never wanted to see me make the mistakes she had made, and could not bare the thought of seeing her little sister in pain. Jennie is one of the most influential young women I know; hard working, goal oriented, and strives to better herself through knowledge. I look up to her as a role model, and am very proud to say she is graduating from a masters program in occupational therapy this spring. I would not be the person I am today without the guidance and support I received from my wonderful sister.
What is your proudest personal accomplishment (other than participating in this pageant)?
My proudest personal accomplishment would have to be winning Miss North Ontario 2014. I was honored to be chosen as Miss North 2014, and have worked to volunteer and give back to the community throughout my reign. Participating in the Miss North Ontario Regional Canada Pageant had taught me so many lessons as a young woman. I learned to appreciate others, to give back, to help where ever and when ever you can, and to gain confidence in yourself. The Miss North Ontario Pageant 2014 experience inspired me to continue within pageantry, which has led me to where I am today.
What is the most interesting or unique thing that has ever happened to you and/or what is the most interesting thing about you?
At the age of five, I was diagnosed with an autoimmune disease called rheumatoid arthritis. Having lived with a chronic illness for the past 16 years, life has not always been simple. Living a healthy lifestyle filled with nutritious foods, physical activity appropriate to my disease, and finding inner peace has allowed me to cope and accept my life. Of course, I do still at times get discouraged; however, I know that I am very fortunate to be able to live the life I live. I can say that I have grown to appreciate the good days, and to never stop fighting to overcome the challenging ones. Growing up with arthritis has had a huge impact on shaping me as an individual. Keeping my spirits high, and having wonderful support networks such as my family and friends has helped me to get to where I am today.
What is your career ambition and what are you doing or plan to do to accomplish that goal?
My career ambition is be an occupational therapist. I am currently in the human Kinetics undergraduate program with a focus in health promotion at Laurentian University. After my undergraduate program, I strive to complete my masters program in occupational therapy.
What would be your "dream job" in life?
My dream job would be an occupational therapist or naturopathic doctor. I would love to be in the health field, where I can help others on a daily basis. My personal and professional goals are reflected of one another and encompass the values and beliefs that I personally live by.
Are you currently a student?
Yes
If yes, where?
I am currently in the human kinetics department with a focus in health promotion at Laurentian University. I will be entering my fourth year of studies in the fall of 2015. My academic experiences have prepared me for self-directed learning and created my personal, scholastic, and work efforts to be driven, completed successfully, and to be represented with pride, effort, and priority. Life long learning is an area I strive to continue and incorporate my everyday life.
Are you currently employed?
Yes, I am.
If yes, what is your occupation?
I work as a part-time server at Fionn MacCools in Sudbury during school.
Describe where you were raised and what your childhood was like.
I was raised in the outskirts of Sudbury in the small community of Wanup. Growing up in Wanup was very different than living in the city where I live today. My family had a large amount of property, 25 acres, where my sister and I would spend our days. We loved being able to play in the dirt, plant vegetable gardens, bike in the fields, blueberry pick, build cabins, and anything else we could find that would keep us busy. It was very typical for us to see all sorts of wild life in our own backyard on a daily basis such as bears, deer, foxes, rabbits, skunks, and even turtles. I loved growing up with nature. It taught my sister and I to value each other's company, and to just be "kids". As we grew older, my parents began to have difficulty with the amount of travelling we were doing each day. With my sister and I both in school, and participating in extracurricular activities, the amount of time we spent driving back and forth became a hassle, which ultimately led our family to make the move into town. My family still spends most of our time outdoors when we can, mostly at our camp in Killarney during the summer months where we fish, boat, swim, and sauna.
List any interesting or unusual jobs you may have had.
City of Greater Sudbury Summer Camp Counselor (3 years)
Camp Counselor for the City of Greater Sudbury. I had the privilege to teach young children various activities including rock climbing, field games, water games, canoeing, kayaking, sailing, hiking, as well as arts and crafts.
Plaza 69 Flowers (2 years)
Worked in a flower shop, where I was expected to make flower arrangements, learn about the care and growth cycle of many plants.
A Touch of Class Hair Salon (2 years)
Worked as a receptionist, taking calls from clients, booking appointments and helping with any customer inquires presented. I had the ability to learn about hair care, as well as how coloring is done. In addition, I was fortunate enough to be able to model in hair commercials for the salon.
List any volunteering you have done.
Sick kids Hospital
Helped develop studies for children with Juvenile Arthritis.
Heart and Stroke Foundation
Volunteered to raise money by canvassing for donations.
Caruso Club Italian Festival
Assisted in setting up the festival, and was in charge of running activities offered for children.
Lo-Ellen Park Secondary School
Weekly sports at Lo-Ellen, where I timed and scored athletic games for the season. In addition, I assisted with open houses, graduation ceremonies, and have been a tour guide for students who had came to Lo-Ellen for information sessions and tours of the school.
Shine-a-Rama
University fund raiser for Cystic Fibrosis.
Relay for Life
Worked in the "Fight back zone" at Relay for life, running activities focusing on prevention, such as healthy eating habits, and physical fitness.
Jolene Lizotte Photography
Model for pictures.
Ontario Biologics Research Initiative: Safety and Effectiveness Study
Currently taking part in a long-term study for individuals with rheumatoid arthritis, focusing on the progression of their disease and the effects of certain biologic medications.
Volunteer as Miss North Ontario 2014
Relay for Life 2014
Worked in children's tent setting up and helping to run activities for the evening.
Celebrity Hockey Team, Play-on Tournament 2014
Took part in tournament, on celebrity team, and as a public speaker.
Capreol Days 2014
Presented awards to children's bike decorating competition.
Rib Fest 2014
Volunteered for the weekend presenting awards to the winning Rib Team, as well working in the children's area helping to set up activities, painting faces, handing out balloons, and doing meet and greets.
North American Mining Exposition 2014
Had the privilege to speak at opening ceremonies of the exposition and to welcome all companies to the event. As well, I handed out awards to the winning companies and greeted guests.
Spuds-bury Potato Festival 2014
Helped to prepare and serve potato pancakes as a breakfast for community members. As well as, take part in helping run events during day such as potato sack races, potato factory tours, and pony rides.
Women's Show 2014
Asked to be a guest speaker to give a motivational talk for mothers and daughters on self-esteem and finding inner beauty.
CIBC Run for the Cure 2014
Had opportunity to participate and raise money for CIBC Run for the Cure.
Santa Clause Parade 2014
Participated in Santa Clause Parade on the Miss North Ontario Regional Canada Pageant float.
CTV Lions Christmas Telethon 2014
Answered phones to receive pledges in support of CTV Christmas telethon initiative.
What is your most unusual talent?
My most unusual talent is being able to limbo extremely well.
Where is the most interesting place you have been to?
The most interesting place I have traveled to would have to be Orlando Florida. It was my family's first vacation together where my parents, my sister and I all went to Walt Disney World. It was the most magical experience of my life. Even though my sister and I were in our twenties, we were like children when we arrived. It was such an amazing adventure and I will always cherish my week at Disney with my family. Family is very important to me, and is the basis of my life that grounds me and reminds me of both my roots and wings.
What do you hope to be doing in ten years?
In ten years, I hope to be working in a career that supports my personal ambitions and encompasses the true meaning of helping others. I will also strive to remain involved within the pageant community through volunteering and presenting myself in a manner that provides positive mentorship to young women. To live life in a genuine, creative and open minded approach throughout the various changes, hurdles and growth stages.