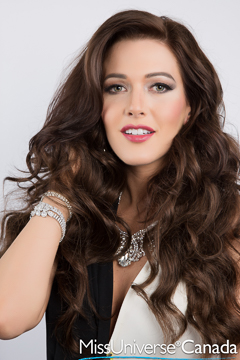 Height: 5'6″
Hometown: Wetaskiwin, AB
A fourth generation pipeliner and the first woman in her family to enter the industry has made Kathryn Kohut unique in her strengths and way of thinking. Early mornings, constant travel and working long hours are just a few of the things that Kathryn experiences almost daily. Work boots, coveralls and a hard hat is her attire by day, but she enjoys the "best of both worlds" as she can transition into slipping on a beautiful gown and pair of heels with ease. She is down-to-earth, a motivator and always looks for the good in others.
Although she leads a very ambitious and busy lifestyle, Kathryn always makes time to volunteer and give back to the communities where she travels. After volunteering internationally, she has come to know it is an eye-opener that more people should experience. Through her participation in several construction projects, one of her many goals became to change the job safety culture and training in developing countries, and bring workers the same high safety standards that we are fortunate to have in Canada.
Kathryn's core values include family, community, commitment and hard work. She states, "I believe that kindness and keeping an open mind makes a person value life and the people around them more, and that our choices affect one another both directly and indirectly."
She believes that it takes true courage to step outside of one's comfort zone to try something new. One of her philosophies is "taking the first step towards your goals and dreams is not always easy, but in hindsight, it is always worth it."
One of Kathryn's favorite quotes perfectly lends itself to her own philosophy: "In the end, we only regret the chances we didn't take."
Sponsors:
EllisDon, Troy Fleece Photography, Colin Hubick with Red Hat Studios, Bodywerks Fitness Center, Jennifer Blake Photography, Lanko Glass, Legends Hair Studio and Spa, Melissa Raimondi with Candy and Cream Boudoir, Zuzak Consulting, Makeup by Elizabeth, Heather Thieson, Younique by Alyssa Clark, Friends and Family
Languages spoken fluently (please include your native language if English is not your native language).
I am fluent in English and currently learning español~!
What are your interests and what do you enjoy doing the most?
Through my love of travel, I have learned so many important things, not only about myself, but also about the culture of others and how they live their lives. I have always loved challenging myself and trying new and different things. It has made me a more well-rounded person as a result.
Some of my favorite pastimes are Horseback Riding and Long Distance Running. I have an appreciation for fashion, I'm a movie buff, I love reading and I enjoy playing chess.
List any special training you have had (music, art, drama, dance, etc.)
Occupational Health and Safety (Alberta Construction Safety Association)
First Aid and Life Guard Training
Long distance running
Horseback Riding
Dance
Piano
In what sports, if any, have you participated?
I love being outdoors and long distance running has always been a passion of mine. I have had training with former Olympian and well known running coach Wally Strang, and competed in races throughout and after high school. I participated in most school sports teams including, track and field, basketball, volleyball and badminton. I also participated and trained in horseback riding, swimming, dance and gymnastics.
Name one person, other than your parents, who has had the most influence on your life. Why? 
My grandparents have always had a strong influence on my life. I deeply admire the relationship that my parents and grandparents have with each other. They set an example that I want to follow. To this day, they continue to teach my sister and I so much about life and relationships with others. One day if I get the opportunity to have children of my own, I hope that they will see the same great relationship between my parents and I, as I do with my parents and theirs.
What is your proudest personal accomplishment (other than participating in this pageant)?
One of my proudest personal accomplishments was devoting my efforts to the Rosetown Youth Centre in Saskatchewan while I was working there on my last project. I launched a fundraiser that raised substantial funds for their new centre. I know that I am doing my part to change lives for the better.
What is the most interesting or unique thing that has ever happened to you and/or what is the most interesting thing about you?
I have carried on the tradition started by my great grandfather in entering the pipe trades within the hydrocarbon industry. I am a full time Health and Safety Advisor for one of the largest construction companies in Canada. I am a 4th generation pipeliner, and the first woman in my family to enter this field of work. A big part of my job everyday is to motivate people to work safely, and to look out for not only themselves, but also their fellow co-workers. I am proud to say that my project site had the best safety record and culture, and I was awarded the Outstanding Safety Award from my company. I'm driven, passionate and genuine.
What is your career ambition and what are you doing or plan to do to accomplish that goal?
One of my dreams since I have started working in construction has always been to work internationally. It is my ambition to not only gain experience for myself from my travels, but to also bring the high standards of safety provided for Canadian workers, to developing countries. In many developing countries accidents on construction sites are so common that everyone has come to accept them as an inevitable feature of the industry. It's a lack of safety culture and formal training that plays a very large part in this worker mentality, and I want to change this. I have now made this dream a goal and I plan on achieving it by continuing my education, and through hard work, commitment and dedication to my company, who supports me and also oversees worldwide projects.
What would be your "dream job" in life?
I am a people person, I thrive under pressure and I love to travel. My dream job would embody each of these things. I want to work with people all over the world and be a part of something that makes individuals want to become better, and help better the environment around them.
Are you currently a student?
I am currently enrolled in the Occupational Health and Safety On-line Certificate Program with the University of New Brunswick.
Are you currently employed?
Yes, I am coming up on my one year anniversary with my current company.
If yes, what is your occupation?
I am a Certified Health and Safety Advisor.
Describe where you were raised and what your childhood was like.  
I was born in Edmonton Alberta but raised in the small city of Wetaskiwin. Growing up there taught me to appreciate the hard work that people put into their community and the teamwork it takes to keep it growing, successful and positive.
I am so fortunate to have the family that I have. I was raised to always be kind, respectful and considerate of others. Through this, I have learned to be a peacemaker and to lead by example. I was taught to learn from my mistakes and the mistakes of others in order to gain wisdom. My family stressed the importance of education, which taught me to value my schooling and training, to study hard, and to appreciate my teachers. My mother instilled in me to remember that 'you are who your friends are' and to surround myself with positive and successful people. I will never forget her telling me, "Kathryn, be a leader and always do the right thing even if no one else around you is."
List any interesting or unusual jobs you may have had.
I feel that the worksites and projects I become a part of, both past and present, are interesting. I thrive on the teamwork and the camaraderie that is a part of every job. I have been fortunate enough to be a part of several high profile construction projects both as a safety professional and as a hands on, in the field working woman. I recognize the complexity of these projects and am humbled by the scope, and planning of these undertakings. I am a proud member of an industry which is in the global spotlight, and I realize that responsible development is more important than ever.
List any volunteering you have done.
I had a life-changing opportunity in Costa Rica during which I volunteered in a community center, a woman's shelter and also a dog shelter. I helped teach English classes and worked with children of all ages. I was fortunate to become part of several construction projects in which we helped repair and rebuild houses for some grateful families in very underprivileged areas. The experience was beautiful and humbling and it is one that I will never forget.
My career requires that I travel often, therefore I always prioritize my volunteerism wherever my travels take me. Most recently, I devoted my time away from work towards a Youth Centre in a small town in Saskatchewan, and also spent time at the local medical clinic working with senior citizens.
In the past I have also volunteered at my local animal clinic, modeled in charity fashion shows and done canvassing for the heart and stroke foundation.
What is your most unusual talent?
I have an uncanny ability to foretell the outcome of most movies.
Where is the most interesting place you have been to? 
The Big Apple is filled with an energy that just makes you want to smile. The constant hustle and bustle, the ever-present excitement as well as the culture and history of the city is something that I could never get enough of. Another trip to NYC is definitely on my bucket list.
What do you hope to be doing in ten years? 
My current travel schedule practically assures me of being well-travelled in the next decade. During this time, I will have developed my skills as a confident public speaker and a people motivator. I will have my degree in Occupational Health and Safety and a successful, fulfilling career. I plan to have a family of my own and be in a loving, supportive and positive relationship. I am confident that when this time arrives, I will look back on the choices I am making now and be proud of myself.
Is there anything you would like to add that we haven't asked?
My experience in working in a male dominated industry has taught me a lot of important things. I face difficult and stressful situations daily with confidence, strength and composure. I am a leader and a motivator for large groups of people each day and I have learned to keep positive through adversity. Working with many kinds of people continually tests and improves my communication skills, which makes me very personable and able to communicate with people from different generations and cultures easily. These qualities, and so many more, are what I will bring to the Miss Universe Canada title. Winning this title would not be the end, but the beginning of an extraordinary and very fulfilling journey.
In the Media: