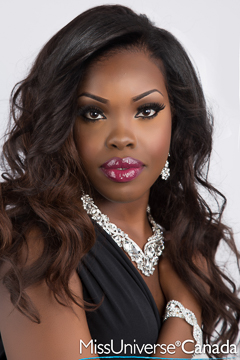 Height: 5'8″
Hometown: Brampton, ON
Kaydee Guillaume was born in Toronto, Ontario to Caribbean Parents from the islands of Jamaica and Haiti. She is currently studying the pedagogic program of Civil Engineering and was able to maintain as an Honour Standing Student. In many ways she considers herself to be a seeker of pure or true knowledge —like a scholar or philosopher. She believes that answers are everywhere around us and takes the form of life experience in order to help with one to better understand what is to be gained. A great man once said, "Anyone who can accept that they don't know everything knows it all" and that is exactly what she lives by today. Her view is that everything is connected to one another with no limit. Some of her many hobbies include drawing and sketching. "I like to portray that element and many others in the work I do. When I decide to draw humans I like to capture the perception of the soul that they might have to bring the drawing to life".  Taking up the knowledge of science and history, Kaydee focuses on the side of human anatomy and genetics. "To me, understanding the human structure and genome will help anyone to understand the universe, as everything in existence is an infinite fractal on a big scale and a small scale. I work hard to show that in the art and I live by the true understanding that if you strip yourself of ignorance and fear there isn't anything you can't do".
With a wide range of other hobbies, Kaydee consider is a jack of all trades. Being taught by my dad how to build/ design and renovate a house, and can confidentially say with her knowledge in civil engineering she can do more than build a house. Having a strong personality, drive and an independent characteristic trait, Kaydee likes to teach herself. "I like to teach myself, whether it be how to do hair, makeup, and or cook". She is a very persistent and patient with herself and everything around her– no matter how long something takes the problem will get solved. When it comes to accomplishing her goals and dreams, repetition is one of the key stepping stones to getting the job done.  From a scientific point of view time technically does not exist, therefore believing anyone can take as long as they please with their goals. After all, "it's your life and dream".  For Kaydee, the desire to solve a problem is why she loves math and science so much.
In her opinion, beauty comes in all ranges from deep within to nature all around us. She feels lucky and highly grateful to live in such a diverse country of people of all nationalities. With the help of a wonderful woman Kaydee was brought up by, she was told to always be confident and love yourself.  "I am beautiful inside and out. Humans are a complicated creation yet so magnificent". Over her teen years, Kaydee obtained experience in acting and modeling, so much that she has become a natural to the in front of the camera. Modeling and acting has helped her to be more of her eccentric self, creating the woman she is today.
She is grateful for the opportunity to be given the chance to be an ambassador being there are so many issues worldwide, and everything is a stepping stone. By solving a key issue at a time, changes can be met. Having spent time in doing different charitable funds around the city, she can say the most rewarding thing about helping others, is the positivity and hope you give them. Kaydee lives by the motto "pay it forward" and that good deeds always create a domino effect.
Sponsors:
Gm's Basement Waterproofing, Embellish Fashion Designs, Friends and Family
Languages spoken fluently (please include your native language if English is not your native language).
English
What are your interests and what do you enjoy doing the most?

The arts have always intrigued me in ways it allows the inspirational expression messages to world around me. Not only do I show the essence of myself through art, but also I portray it for my love of sports. For instance, rugby is where I excelled the most, followed by basketball, and then volleyball. With that being said, this strongly supports my belief of pursuing a healthy lifestyle. With my many skills I like to share it with the world that included. I like to share my many talents with others through volunteering. I have been involved in helping high school kids prepare for their unforgettable moment (prom night) by becoming their makeup artist and stylist for the night.
List any special training you have had (music, art, drama, dance, etc.)
Fitness training and self defense
Kickbox
Hiphop dancing
Makeup
Hair Styling
Acting
Runway/ fashion shows
Teaching assistant
In what sports, if any, have you participated?

A sport I used to play was rugby as a winger, and outside-centre position. I enjoy the adrenaline I get when I play in a game. It was an after-school activity I would do as a way I can keep a healthy lifestyle for myself. In order to stay active these days, I participate in badminton. Exercise is a great way to kill time during the week in the winters and summer.
Name one person, other than your parents, who has had the most influence on your life. Why?
My Aunt Melva. She always pushes me to do the best in anything I do. I always listen to her advice because she the eldest aunt in my family. She is the wise one. She is always there for me, and supports me in anything I do cheering me on the sidelines. She one of the people in my life I would never want to disappoint.
What is your proudest personal accomplishment (other than participating in this pageant)?
My proudest accomplishment is finally seeing my life come together. Being through so much in life, I am glad to come as far as I did. The obstacles changed me for the good. And I'm glad I have the drive to always pursue any challenge without looking back. No regrets.
What is the most interesting or unique thing that has ever happened to you and/or what is the most interesting thing about you?
The most interesting thing about me is my ability to adapt to my environment and succeed beyond limits expected of me. Joining the civil engineering and having knowledge in the construction/ renovation field, I have set the standards for myself to expect nothing less of what I truly deserve. I work hard at anything I do and do not regret anything. I strongly believe that if I don't succeed at something, somehow someway another door will always open the door for an even bigger and better opportunity. The universal law of attraction does work. I keep my mind clean by reading empowering books. What you think becomes who you are.
What is your career ambition and what are you doing or plan to do to accomplish that goal?
I want to pursue a career in Civil Engineering as an Estimator, eventually taking over my dad's business similar to my field of study. Being in my last year of school, I am even closer to reaching my goal. I have made the honour roll. I really also enjoy modeling, as it opened so many doors for me. Although it's a hobby I do as a part time, eventually I would like to pursue it further. I want to be able to look back at my life and tell myself "I did everything I wanted". I am currently working in the U.S and Canada as a model (promotional, runway).
What would be your "dream job" in life?
Anything that consists of traveling the world– aiding individuals with motivation and knowledge would be a dream job of mine. By becoming that role model to people would be a great honour if I can change their lives for the better. I would love to help solve a lot of the issues in the world today by lending a hand on ways I can use my self-taught.
Are you currently a student?
Yes
If yes, where?
Area of study: I am currently honours standing, studying Civil Engineering at Humber College of Applied Technology
Are you currently employed?
No
Describe where you were raised and what your childhood was like.
I spent my younger early years moving from many places and attending different schools up until the 3rd grade to the most present day being in Brampton. My childhood was hard adapting to my new environments, however I never let that bother or let it affect my grades in school. There has never been a year since I started school to my college days where I've ever failed a grade nor have I ever went a year without getting at least 2+ awards/ certificate. I loved learning so much, I had a perfect attendance for 10 years. I was always creative little girl. Although I didn't have the perfect childhood, I knew I was loved and I was appreciative of what I got. I never let the past affect my future endeavors, but it did mold me into the string woman I am today.

List any interesting or unusual jobs you may have had.
Teaching assistant for kindergartens and pre-school children
Admin worker at my dad's business
Acting and background work
Modeling (Fashion, promo. Runway and catalogue)
List any volunteering you have done.
Heart and stroke foundation fundraising
Bringing the voices entertainment with artists
Operation smile
YMCA summer assistant
What is your most unusual talent?
I can walk on the very tips of my toes (like a ballerina) and walk.
Where is the most interesting place you have been to?
The city of Toronto is the most interesting place I've been to. Although I was born there and travel often there, I can never get bored of such a breath-taking city. I absolutely adore how busy it always is. With the wonderful multi-cultural people there, it feels like I can experience other parts of around the world me. Chinatown, Little Italy is just the scratch of the different regions Toronto has. I strongly believe and can understand why it's one of the biggest tourist attractions in the world. Even though I have never travelled far, I am proud to say my home is the most interesting place I've been too.
What do you hope to be doing in ten years?
In ten years I hoped to be happy doing the career I am currently pursuing. Success is not only defined by materialistic things, but your happiness and self-acceptance of yourself and others you love around you. I want to make a positive impact somehow in the world.
Is there anything you would like to add that we haven't asked?

If I were to become Miss Universe Canada 2015 would be a truly life changing experience for my loved ones and I. I am so blessed to have the opportunity to be involved with the Beauties of Canada Organization. I am so glad to help with a charitable organization for a great cause.