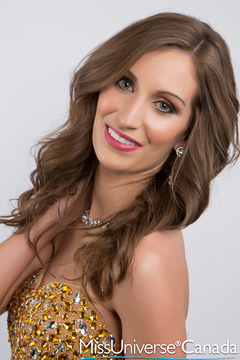 Height: 5'6″
Hometown: Shelburne County, NS
Kelley Penney was born and raised in the small community of Shelburne County, Nova Scotia which happens to be called 'The Lobster Capital of Canada'.  Kelleys' life was surrounded by the ocean and live feed from the waters bottom. She attended Barrington Municipal High School graduating with honors in the Options and Opportunities program provided to help young students get live, hands on learning in all work place environments. After high school, she decided to get more involved in her community events, and in that she herself created some new interesting events. Compassionate and approachable, Kelley has dedicated much of her life to giving back to the community by working with several charitable organizations.
Kelley has a wide variety of hobbies through which she maintains a strong balance between sports and her volunteering. In her spare time she enjoys trying new experiences, health and fitness, rugby and traveling to new places. She is a strong, confident woman who is not afraid of a challenge. Having competed in many sports and competitions in her life, she understands the winning mindset needed to compete internationally. She surrounds herself with a positive environment, positive relationships and friendships, and those whom have helped her along the way from being a small town girl, to shooting for the stars at Miss Universe Canada. She has the confidence, belief and motivation that anything is possible with strong will power and the will to work for it.
A natural born speaker, Kelley's ambitions are to become a positive role model and motivational speaker concerning all of the factors we face in todays society, such as self image, self respect, confidence, and how to be a better person and bettering the environment we live in. Obtaining the title of Miss Universe Canada would allow Kelley to bring attention to important issues around the world, especially those that involve young women.
Kelley is a driven young woman at 20 years old, with a great head on her shoulders. She believes everything happens for a reason and sometimes heartache is a hidden blessing. All her struggles have made her into the person she is today. She believes being a victim of bullying on all levels, and over coming self esteem issues makes her relatable to many people all over the world, and she is ready to help them overcome their struggles just like she did.
Kelley hopes to inspire people to follow their dreams. She strives for excellence in all aspects of her life. With volunteering, and keeping an active lifestyle while staying healthy. Kelley loves traveling and learning new things everyday, she believes you can never be over educated Kelley understands that there is a deeper meaning to pageants and she wants to make sure everyone else understands it as well- behind the glitter and beauty.
Ultimately Kelley strives to not only help people better themselves, however better herself as well as she continues to become the strong, respected young woman she is today. With much opportunity in her future, Kelley wants to let the world know that if there is a will, there is a way. Therefore dream big, and work hard to achieve everything you want to have and become in life, for life has no limitations and it's never to late to become who you truly are.
Sponsors:
Alyssa's Classic Formals, JK Apparel LTD, JK Apparel Halifax-HRM, Robin Smith Photography, Leigh Nickerson Trucking Ltd., Fishermens Premium Atlantic Lobster, Island Pride Contractors Ltd., A&B Marine, Island Bait Ltd., Hatheway Orthodontics, Lois and Garth Goreham, Polished and Wrapped, Friends and Family
Languages spoken fluently (please include your native language if English is not your native language).
English
What are your interests and what do you enjoy doing the most?
I enjoy spending my time volunteering and organizing new events in my community, with involvement from our future generations. I enjoy working with youth to enhance their capabilities of speaking in front of crowds, building confidence and self-esteem and helping them to overcome their fears, by over coming some of my own at the same time.
List any special training you have had (music, art, drama, dance, etc.)
Figure skating, WHMIS, First Aid Level C, Health and Safety, Food Handlers Course, and St.John Ambulance Babysitters Course.
In what sports, if any, have you participated?
Rugby, Bowling, Basketball, Table Tennis, Badminton, Figure Skating and Track and Field
Name one person, other than your parents, who has had the most influence on your life. Why? 
As though it may sound cliché, the person whom has most influenced my life would be Oprah Winfrey. as she came from poverty, raised her self up with her self confidence, and empowerment and has now dedicated most of her time to helping others get out of the same situation in which she was in as a child. She is always giving back to both her community and people whom she does not know, with love and respect, therefore I would love to become even half of the role model she is today.
What is your proudest personal accomplishment (other than participating in this pageant)?
I believe my proudest personal accomplishment would be all of the hard work, dedication and organizational skills I put to use, each and every day to raise funds for our community and organizations, getting my community involved in social events and just being the person I am, without ever trying to become anyone else. By being true to myself.
What is the most interesting or unique thing that has ever happened to you and/or what is the most interesting thing about you?
I believe that the most interesting and unique thing about myself, that may separate me from many others is the fact that I grew up as a farmer and fisherman's daughter. Growing up being the middle child of a fisherman- and a girl at that did not give me much benefit to become a fisherman myself, including my fear of the wide open ocean. However for all of the men and women in my community whom have risked life and limb to catch and provide for their families and community is more than one could ever amount to. I myself inherited more of the farming aspect from our community, although we are the lobster capitol of Canada, I developed the traits of our other nationalities and spent most of my childhood years digging in the dirt with my father to grow the biggest and best pumpkin in our area, and the best most delicious vegetables in which we would share amongst our community. I developed my green thumb from my family inheritance and continue to grow foods, and flowers whenever we get a chance with our weather.
What is your career ambition and what are you doing or plan to do to accomplish that goal?
At the time in my life, my career ambitions are to develop my own advanced business in professional photography. However along with that my main goal in which I would like to accomplish is to bring bullying awareness to our community and schools, and to help make a difference in putting an end to all types of bullying and stereotyping.
What would be your "dream job" in life?
My dream job would be a conjunction of two of my most ambitious goals in life. Being a fitness and health instructor, to help people get back on track in life and feel good about themselves, and being a registered nurse to help cure those whom are sick and comfort in time of need, is my dream job.
Are you currently a student?
No
Are you currently employed?
Yes
If yes, what is your occupation?
I am a full time child-care giver and a part time photographer.
Describe where you were raised and what your childhood was like.  
I was raised in Shelburne County, a very small community in which is named 'The Lobster Capital of Canada'. I became a farmer at a very young age and was well known for digging in the dirt to make the best possible vegetables to share and savour. However, with both a fishing and farming background, I was taught that money does not come easy and that to value the true amount of a dollar you have to work the hard jobs to be able to afford and be grateful for which we have today. In conclusion, I am very proud of the community I have been born and raised in and how it has developed from when I was a child.
List any interesting or unusual jobs you may have had.
One of my unique and yet unusual jobs in which I obtained for a year, was being a managing waitress at a 50′s style coffee and breakfast café, dressing up in a large poodle skirt every day. Unusual it may be so however it was entertaining.
List  any volunteering you have done.
2015 Operation Smile Fund raising Efforts
2014-Present Shelburne County Lobster Festival Volunteer
2014-Present Bay Side Home Recreational Volunteer
2014-Present Director and Organizer of the Little Miss LobsterFest Pageants
2014 Health& Fitness Coach and Instructor
2013 Political Campaign Advertiser
2013 Political Campaign Voting Poll Driver
2013 Director of the Little Miss Barrington Exhibition Pageant
2013 Director of the Big Miss Barrington Exhibition Pageant
2012-2013 Student Council Treasurer
2011-2013 Me-To-We Fundraisers
2012 Volunteer at Our Touch Hairstyles
2011 Teachers Aid at Clark's Harbour Elementary School
2011 Volunteer at Ready Set Learn Preschool
2011 Volunteer at Barrington Petro Canada Gas Station
2010 Drug Abuse and Addictions Speaker
2009-2013 Green Team (School and Community Environment Committee)
2008-2010 IWK Fundraisers
2008-2012 Circle Of Friends (BMHS Support Group)
2005-2013 Volunteer Youth Group Church Teacher
2006-2013 Can-Skate (Youth Figure Skating Teacher)
2003-2007 Peer Mediator
What is your most unusual talent?
I believe my most unusual talent is my capability and ambition to do anything a man can do, yet in heels.
Where is the most interesting place you have been to? 
The most interesting place I have been to would be Toronto Ontario, in 2012 for the Miss Teen Canada-World Pageant. Leaving a small community and travelling to a large city, visiting the CN Tower and boat rides on lake Ontario definitely brought me out of my comfort zone and helped to me experience new things.
What do you hope to be doing in ten years? 
In ten years I am hoping to not only have my dream job of being both a nurse and health and fitness instructor, I would like to also be a role model and motivational speaker on many topics that influence our community and generations. In conclusion to that, I am hoping to have a happy healthy family, married to my best friend and enjoying every second of life as it comes.
Is there anything you would like to add that we haven't asked?
I have not only been involved in pageants since the age of 6, however at the age of 17 I started organization and directing pageants of my own to help girls of all ages come out of their shells, speak out and build both their self-esteem and confidence in themselves to become the successful young women of our future.