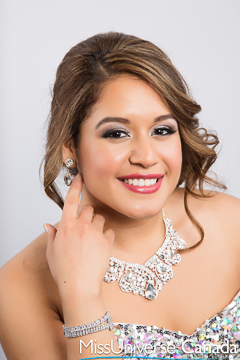 Height: 5'5″
Hometown: Toronto, ON
Krystle-Sarhai Parra was born in the beautiful city of Montreal, Quebec. In 2004, her family moved to Toronto,Ontario as her mother wanted to offer her three daughter a rich multicultural lifestyle and to help her daughters achieve their career goals.
Krystle-Sarhai completed high school as an Ontario Scholar and received a merit plaque from the Specialized High Skills Major program(SHSM) with a Proficiency in Dramatic Arts which led to her receiving University Offers and Scholarships from York University,Windsor University,and Ryerson University; However she decided to enrol in a competitive Private College. In 2012, Krystle-Sarhai graduated from her Post-secondary education at Trebas Institute: Film and Television Production/Post Production Program in One year. At the age of 19, she become the first person in her family to complete a post-secondary education and become a family role model.  As of December 2014, she is working to complete her Directors Guild of Canada G.A.P. Program as an Assistant Director.
Krystle-Sarhai is of a vast Mixed heritage. Her mother is Spanish-Chilean Mapuche and her Father is Panamanian Italian. She Speaks fluent French, English and Spanish but is currently trying to learn Farsi. Krystle-Sarhai learned at an early age to embrace the love for languages and culinary differences.  For her mother use to work as an Immigrations Translator and would hear French,English,Spanish,Italian,Portuguese and sometimes Farsi around the household while she was with clients.
 Having grown up by her single mother, Krystle-Sarhai learned the great importance of perfection and discipline. Whether it was a Mother's Day card or a final project, there was ONE golden rule at home " If you're going to do something, do it right or don't do it at all". As harsh as it may have been perceived, She then realized with time that her mother and older sister were only pushing Krystle-Sarhai to achieve her very best at all times. Krystle-Sarhai is very passionate towards all she does and has a strong go-getter attitude. Admitting Failure is acceptable, but Admitting defeat is not. Trials and error has become a part of her life and she knows that with every different equation,comes different results. She has a true gift for finding the best out of every situation with an indefatigable optimism that is both contagious and inspiring for those around her.
Krystle-Sarhai has been actively involved in her community from the early age of 8 years old. Her family has suffered many economic struggles in their lives such as bouncing through a few family shelters and governmental housing but that never stopped the strong dynamic four women from working together to move forward in life. Her mother taught her to always " Put out more in the world than what you take or their won't be enough for others. Earn your keep". In the span of three years while in high school,  and working two part-time jobs to save for a post education, she completed over 800hrs of notable community service which allowed her to apply for a scholarship.
Krystle-Sarhai is a very passionate animal lover. since she was a child, she always brought home ANY injured animals, creatures or insects she found wounded on the street in hopes to become their personal doctor. Some of the "pets" include wild doves,seagulls ,cats, frogs, grasshoppers, squirrel, chicken, etc to keep the list short. She loves all her pets and often succeeds in bringing them back to health and teaching them a few tricks along the way.
Krystle-Sarhai  is also a strong believer in living a healthy, happy and active life style. She struggled with severe health problems due to obesity but has found a new balance in staying active and her love for food. She often describes herself as "a foodie". Healthy culinary meals is something she loves preparing for her family and now uses her knowledge to help those around her to become " The best possible YOU". She may not be a five star chef, but will pass the tastebud challenge .
Her favorite Quote : "Someone once told me not to bite off more than I can chew, I told them I'd rather choke on greatness than nibble on mediocrity!! "
Sponsors:
Younique Products, OBN Security and Investigative Consultant, Titan Films Production, Von Vantage, E. Guerra Construction Inc., Friends and Family
Languages spoken fluently (please include your native language if English is not your native language).
I speak fluent French, Spanish(Castellano) and English. Currently trying to learn Farsi.
What are your interests and what do you enjoy doing the most?
I enjoy using my imagination to tell stories. Entertaining is what I live for. I also love singing in different languages such as Italian, Portuguese, Arabic, and Farsi. My pronunciation may need work but I believe music is the best way to learn a language. After all, that's how I learned English. Hello Backstreet boys and Britney CD!
List any special training you have had (music, art, drama, dance, etc.)
Trained High Soprano
Theatre Dramatic Acting
Belly Dancing
5 years of Trumpet
2 years Latin Ballroom
Sharp Edge Self Defence/Close Protection
BLS for HCP(C)
Post Production (Avid/Final Cut/Protools)
W.H.M.I.S
First Aid/CPR(C)
Stage Fighting/Fencing/Stunt -Varsity Women Soccer Goalie
Barbizon Acting and Modeling School Grad.
O.R.E.A. in Progress
In what sports, if any, have you participated?
I enjoy playing soccer and volleyball. Recently, I picked up Crossfit and I'm loving it a lot. It's very Challenging and pushes my physical boundaries. Last year I participated in the TOUGH MUDDER RUN. It was extremely difficult and I'm looking forward to doing it again in the upcoming 2015 summer.
Name one person, other than your parents, who has had the most influence on your life. Why?
My late teacher, Mrs.Green. She is the one who supported and helped me realize my passion for the arts. In high school, she is the teacher who inspired me to study film/theatre vs. going to veterinary school like I was planning for University. Before she left school to start her cancer treatment, she made me promise to follow my heart and do what I love because money cannot buy happiness or become the reason to wake up everyday when life takes you down to the floor.
What is your proudest personal accomplishment (other than participating in this pageant)?
One great accomplishment I am very proud of is saving $10,000 in four years as a student for my post secondary education. I became the first person in my family tree to have graduated from a college and led the way for other members in my family to do the same.
What is the most interesting or unique thing that has ever happened to you and/or what is the most interesting thing about you?
Something interesting that most people don't know about me is that I have training as a Close Protection Officer (Body Guard) I'll take a bullet for you

As well, I have an act for remembering random movie/song quotes and magically use them in a conversation naturally with ease. I will turn your life into a musical in no time.
What is your career ambition and what are you doing or plan to do to accomplish that goal?
My career ambition is to have a fully functional production company. I love telling stories and being part of the organized mess that people don't see behind the screen to make it all possible.
I also inspire to become a vocalist performer. I have not found a stronger rush than being on a stage and singing until I give someone goose bumps.
What would be your "dream job" in life?
My dream job would be to become a female version of Spielberg with the cross-mixer of Tina Fey's comedic/Intelligent film humor and Demi Lovato's Stage performances. It will happen one day, I'm sure. It's my current "Work in Progress".
Are you currently a student?
I am not in school, however I plan to go to University and complete an IBA in International Business or complete a Law JD to add to my current film/TV Production background. I believe either or both could be essential to creating a franchise.
Are you currently employed?
I currently work for OBN Security and Private Investigation consultant. I am also in process of completing my DGC Gap program as an Assistant Director.
If yes, what is your occupation?
Private security guard and Sub-contracted Deportations Officer.
Describe where you were raised and what your childhood was like.
I was born in Montreal,Quebec. As a child, my family relocated often because my mother was a single parent and we moved where ever she found a job(s). I learned to become flexible and adaptable to new settings very quickly. This has now become a strong skill I possess and can react efficiently on my feet during times of high pressure.
List any interesting or unusual jobs you may have had.
I have had many jobs and unusual gigs.  To list a few: Waitress, Cashier, Night Club bouncer, Music Video extra, hand model, deportations Officer and private investigator.
List any volunteering you have done.
Volunteering is something I've been doing since I was very young. From small school fundraisers to working along side with larger companies such as the Salvation Army, Daily food Bread,OSPCA and Red door Shelter.
What is your most unusual talent?
I am the BEST at hide-and -seek. My height and strange flexibility gives me a special advantage to be creative. If you don't believe me, ask my mother. She called the police on my 5 times for "disappearing" on her as a child. At 22, I'm still awesome!
Where is the most interesting place you have been to?
Namibia. I travelled with a coworker to the capital of Windhoek as part of a deportation job. After a long 2 day flight and many layovers without much sleep, we woke up very early the next day to take a city tour and go on a breath taking safari. I love my job!
What do you hope to be doing in ten years?
In ten years, I hope to be Producing and Directing big Box Office Features and have my production company in full function. I want to compete next to Walt Disney and the Universal franchise brand. I have to dream big to achieve greatness. I believe Canada deserves and has enough talent to no longer be called "Hollywood North".
Is there anything you would like to add that we haven't asked?
If you want to make me happy when I'm blue, give me a tub of peanut butter and all will be forgiven.
My goal is to open a Youth community Center to help kids develop their entrepreneur skills. The Center will be a place of refuse for those without a home too. I live in a very poor neighbourhood (Jane street Community) in Toronto and we are losing kids to drugs, prostitution, violence every day. 6 schools are closing down in my area and 4 of them are community hubs.