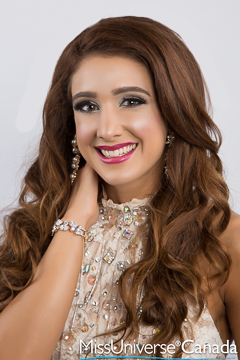 Height: 5'4″
Hometown: North York, ON
Kyan Nademi comes from a diverse and intricate background. She was born in the USA with Persian heritage, was partially raised in Kuwait, however spent the majority of her life in Canada as a proud Canadian citizen since age 10. Her modest upbringing has shaped her into becoming a compassionate and down to Earth young woman.
She graduated with honors from Saint Mary's University with a major in finance and continues to pursue and value education throughout her life. Kyan is an advocate of health and fitness, leading an extremely active lifestyle that includes working out 5-6 times a week, as well as trying any and all forms of sports throughout her life. She grew up as a middle child between two boys, which instilled her "tough girl" nature. Growing up amongst boys her whole life caused her to develop a competitive mindset. She was never afraid to challenge the boys and always proved her strength against them in any way! She was often the only girl playing in sport games amongst a large group of boys, but that never stopped her from proving herself more than capable to compete with them. That mentality stuck with her to this day, as she courageously accepts every challenge along the way and strives to demonstrate herself in all aspects of her life, whether it's professionally or personally.
Kyan owes everything she has achieved and become to her loving parents, who raised her to not only appreciate the value of hard work, but also to always remain humble and be good to those around you, helping others in any way possible. Her father would always say, "All the money and success in the world is worthless if you're not a good person". That simple sentiment always stuck with her, and for that reason, she stays grounded and strives to help others around her all the while putting a smile on their face. Her parents taught her to know how blessed she is with everything she has been given and to value the miracle that is known as life, with each and every day that she spends on this Earth. She was strictly raised to uphold a moral, ethical, respectful and dignified lifestyle, in which no bad experience or individual can come to affect. She has come to know that with every experience, good or bad, there is a lesson to be learned. Through every obstacle and struggle, she has learned to flourish past them with grace and to only do things that are right and noble.
Kyan's ambition is to continuously grow as a person, both through education and experience. Through her growth, she hopes to one day achieve her greatest dream of setting up a foundation to assist families to get out of poverty. With her expertise in numbers and finance, she hopes to eventually make this dream a reality.  She has a big heart and always sensitizes with others, whether they're struggling with pain and sadness or overjoyed with happiness, her feelings mirror what other people are feeling. For that reason, her biggest asset in life is her ability to feel the struggles of other humans, and therefore her purpose in this life is to help those less fortunate then her.
Sponsors:
desi girl photography, Parer Clothing, Sassilash, Donato Salon & Spa, Friends and Family
Languages spoken fluently (please include your native language if English is not your native language).
English, Farsi (Persian) & conversational in French
What are your interests and what do you enjoy doing the most?
Like many people, I love travelling to new countries and exploring its history, culture and customs, while meeting interesting new people along the way. I absolutely love playing sports and lead a very active lifestyle. I'm borderline obsessed with the gym (it's my happy place!) and go there 5-6 times a week. I'm a huge history nerd and love learning about ancient civilizations. I frequently visit museums and galleries, as well; I admire the arts and love attending opera, ballet and classical music performances. In my down time I love to learn new recipes and create culinary masterpieces in the kitchen with Frank Sinatra songs playing in the background.
List any special training you have had (music, art, drama, dance, etc.)
Dance (Ballet, Jazz & Hip Hop) & Piano
In what sports, if any, have you participated?
Growing up as a middle child between two brothers has enforced sports into my DNA. I have tried any and all sports at one point or another, but the ones that I have competed in throughout my life were the following:
Soccer
Tennis
Rugby
Swimming
Track & Field
Name one person, other than your parents, who has had the most influence on your life. Why? 
Besides being blessed with the most wonderful parents in the whole wide world, the biggest influence on my life has been both my brothers. They have molded me into the strong, ambitious and compassionate person that I am today. They have been there for me in every situation imaginable, and have guided and supported me through all of life's ups and downs. Despite all the silly arguments and mock WWF wrestling matches over the years (I have the scars to prove it!), they are the rocks to my life. Nobody in this world knows me inside and out better than they do.  They ignite me with the burning desire to become the best person I can be as I continuously look up to them. They continue to push me in pursuing my dreams and to never give up on anything.
They are the loves of my life.
What is your proudest personal accomplishment (other than participating in this pageant)?
My parents have always raised me to know the importance of being an independent woman and the value of hard work and determination. Therefore, my greatest personal achievement thus far has been my ability to make my first real estate investment recently.
What is the most interesting or unique thing that has ever happened to you and/or what is the most interesting thing about you?
I was blind for a day! When I was about 9 years old, I was out in the school yard playing catchers. As I was running really fast without looking ahead of me, I bumped heads with another classmate. The impact of the hit to my head caused a strike to my optic nerve, which lead me to lose my eyesight.  I was rushed to the hospital and stayed there overnight. The doctors were puzzled at how I could so simply have lost complete eye vision. Luckily, I woke up the next morning with my vision fully restored. That experience taught me how truly blessed I am to live a healthy life with all my five senses. I never took my vision for granted again and always try to take a mental image of all the beautiful things I come across in my life and store it away in my memory.
I have been told countless times that the most interesting thing about me is that I'm such an old soul. My nickname amongst friends and family is "Grandma" for that reason. I absolutely adore old black & white movies, old music and the elegant fashions of the 40's/50's. I always say how I think I was born in the wrong time. I found society and its people to be so much more eloquent back then. As well, family values, manners and etiquette were much more prevalent in that time period (in my opinion).
What is your career ambition and what are you doing or plan to do to accomplish that goal?
Growing up in a large Persian family filled with over-achievers, my parents groomed and fashioned me into becoming a doctor or a lawyer, like my brothers and cousins. However, I stubbornly pursued my ambition of a career in finance instead. I had always been good at math and felt most comfortable working with numbers. I made my choice based on practicality and not on my true passion. As cliché as this will sound, my true career ambition is to help other people in any way possible. Our life is so limited on this Earth, and one thing I have grown to realize is that nothing really matters unless you are good to those around you and always strive to help others to the maximum of your abilities. This was the main reason that lead me to join the Miss Universe Canada family. It is a direct way for me to get involved with charities and issues that really matter in this world. It is a pathway for me to get involved and have a platform to speak on matters of importance that affect the well-being of other humans.
What would be your "dream job" in life?
My ultimate dream job would be to become an activist, working on world issues and striving for social change. If I can live a life where I have made at least one big change that positively affects a group of people, I will die a happy woman, knowing that I have lived a worthwhile life.
As well, above everything else in life, my biggest priority and therefore "dream job" would be to become a mother. Call me mushy, but I have always had a nurturing nature and would love nothing more than to raise little monkeys with discipline and loving them to pieces.
Are you currently a student?
No
Are you currently employed?
Yes
If yes, what is your occupation?
Associate at State Street Corporation
Describe where you were raised and what your childhood was like.  
I had a very unique childhood. I was born in Iowa, USA and moved to Kuwait for my fathers work at age 3. When I was 10 years old, my parents decided that it would be best to raise my brothers and me in a peaceful, multi-cultural country where we can flourish in a safe and healthy environment. My parents made the difficult decision to sacrifice precious time together for the well-being and future of their children. We moved to Halifax, Nova Scotia, however, my father continued with his work in Kuwait, going back and fourth every few months as my mother raised us alone for many months of the year while my father was in Kuwait for work. My brothers and I grew up in a very sheltered and wonderful environment, playing in the neighborhood till the streetlights came on and doing every outdoor activity imaginable. Growing up amongst boys my whole life, I grew to have a competitive nature, always trying to prove my strength against them in any way! It was also quite humorous growing up as one of the few Persian kids in school, where the other children found our customs and traditions to be so odd. My parents continued to ingrain into us where our roots are from and to never forget where we came from, while raising us to adopt the many wonderful multi-cultural customs of Canada as well. I am eternally grateful for everything that my parents have done for me. They sacrificed everything so that we could have a comfortable life, and I only hope I can grow to have the same amount of courage and perseverance that they do.
List any interesting or unusual jobs you may have had. 
One of my first jobs was working for my fathers company in Kuwait. It is a male-dominant country where women in the workplace aren't as common to see as in Canada. Being the strong and determined woman that I am, I was faced with many challenges of proving myself amongst my male counterparts.
List any volunteering you have done.
Program Leader at QEII Veteran's Memorial Building
Volunteer at QEII Hospital
Math Tutor at Bedford South Junior High School
English Tutor at Metropolitan Immigrant Settlement Association (MISA)
Unicef Canada Volunteer
Terry Fox Run Event Coordinator
Food Bank Volunteer
Canadian Cancer Society Volunteer
Big Brother, Big Sister Volunteer
Heart & Stroke Foundation Volunteer
What is your most unusual talent?
I have an uncanny ability of unintentionally making a fool of myself. Whether it's tripping and falling down the stairs in front of an entire auditorium, or accidentally saying the wrong thing in the most unlikely scenarios, I'm your gal!
I also have the impeccable skill of quoting movies at any given time. "Billy Madison" is my specialty.
Where is the most interesting place you have been to? 
I have been blessed enough to have had the opportunity to travel extensively throughout my life. Growing up, history was always a huge interest in my household, and for that reason, we have always travelled to many beautiful countries rich in history. Of all the many beautiful countries I have been to, I'd have to say that Egypt was the most interesting place I have been to so far. While in Egypt, I found myself constantly surrounded by 1000+ years of epic history that once took place there.  It felt so surreal to stand there amongst things that I have read about in history books. It truly felt like a dream.
What do you hope to be doing in ten years? 
In ten years I hope to remain healthy and be happy above everything else, surrounded by my family. I hope to be doing something of value for society and give back in some way. Whatever my future role may be, I hope that I can affect others in a positive way and make a real difference to society. I hope that I can be a voice for women, and fight for social change. I hope I can fight for women globally that are stuck in oppressive regimes without any rights or freedoms. As far-fetched as these hopes and dreams may seem, I will continue to work towards them as end goals regardless.
As well, I hope that in 10 years I will have my own family. I hope I am blessed enough to become a loving mother to children that I will raise with my heart and soul. Children are life's biggest miracles and to be a mother is the most prestigious and highest honor for a woman in my eyes.
Is there anything you would like to add that we haven't asked?
Becoming Miss Universe Canada 2015 is a direct gateway into a life of giving back to society and having the opportunity and voice to speak on issues that affect the well being of others. It would allow me the immense honor of having a platform and audience to bring light to the many flaws that still exist in our society. It would give me the great responsibility of representing Canada and all the values that we stand for as a nation. I will pour my heart and soul into every task and work tirelessly and endlessly to achieve each and every goal.