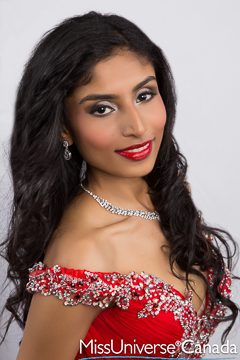 Height: 5'8″
Hometown: Vancouver, BC
Born in India, growing up among the shimmering dunes of Dubai, visiting over 22 different countries around the world, and finally putting down roots in Vancouver, this feisty lass has done it all and then some! She playfully dubs herself a citizen of the world – though Canada will always have her heart.
It is this global outlook on life that prompted her to pursue a degree in Economics, which helped her understand and pinpoint the various trends that the financial centers of the world set for the rest to follow. Like Wall Street, she wanted to be a trendsetter, but in a less grey, more colourful setting. So she went on to acquire an Interior Design diploma in addition to her Bachelors degree.
Though she has forged a successful modeling career for herself, she always followed the advice of her grandmother, a schoolteacher, and kept her education as her #1 priority. Her grandma "Amma" was her biggest fan and supporter, and would proudly show off her pictures to all her friends and family. She diligently voted and supported her granddaughter right until her very last day. On May 23, 2014, the night of the final show at Miss Universe Canada, she passed away from a heart attack. Lavanya is back this year, stronger than ever, to fulfill the vision her Amma saw for her.
A vibrant, fun-loving individual, Lavanya has never deprived herself of excitement or adventurous life experiences. In this past year, she has been ziplining through some of the most remote and beautiful 13th century ruins in rural India, competed for and won a crown at Miss Earth Canada, started and closed a fashion merchandising venture and learned to drive stick-shift. She spends her free time with her dogs, cooking with friends and listening to music.
Sponsors:
Sweet Leilani Cosmetics, Friends and Family
Languages spoken fluently (please include your native language if English is not your native language).
I can read, write and understand ENGLISH, HINDI, ARABIC & FRENCH
What are your interests and what do you enjoy doing the most?
My interests are constantly changing. Self Improvement/Learning is always one of them. Experiencing new food, cultures, books… Boredom is a crime!
List any special training you have had (music, art, drama, dance, etc.)
Fine Art – extensive training
Fashion Design – O Levels
Interior Design – IDIBC certificate
Sailing – Transport Canada
Acting & Theatre Arts – International Baccalaureate
In what sports, if any, have you participated?
Tennis & Swimming
Name one person, other than your parents, who has had the most influence on your life. Why?
My grandma is one of the many amazing women that my family is blessed with. I am like her in nature and the way that I carry myself. She was my biggest supporter and #1 fan. She passed away the night the pageant ended, and I am here to prove to her and myself that I can and will make her proud by beating my own best effort.
What is your proudest personal accomplishment (other than participating in this pageant)?
Getting my wisdom teeth out! Kidding. My proudest personal achievement was taking the decision to move halfway across the world on my own, at barely 18, to a country I'd never even seen, to study. Looking back it was probably the most foolishly fearless yet rewarding thing I have done. It's made me an independent person.
What is the most interesting or unique thing that has ever happened to you and/or what
is the most interesting thing about you?
I am double-jointed and was once offered a job at the circus as a magicians assistant.
Also I had imaginary friends and pets when I was a little girl. But on my last trip home to Dubai, I met a little girl who had actually made ME her imaginary sister! It is a funny story: The house and neighbourhood that I grew up in had been turned into a slum. My heart sank when I saw the state it was in and how many families are currently crammed in it. Then a lady I've never seen before came out. To my surprise she called me by name right away! Turns out her little daughter found a bunch of my old school books – which are filled with my doodles and ramblings, and she told me how she calls Lavanya her sister. It was the cutest thing.
What is your career ambition and what are you doing or plan to do to accomplish that goal?
I would love to marry my interior design education with my passion for real estate. While modeling, I got my diploma in Interior design, and have begun studying for the real estate licensing course.
What would be your "dream job" in life?
Actually my #1 dream job is to be Miss Universe Canada. I want to use my resources and experiences to inspire little girls and children all over Canada and the world. I want to show them that with hard work & consistency, they can conquer the universe!
Are you currently a student?
No
Are you currently employed?
Yes
If yes, what is your occupation?
Model at Charles Stuart Agency in Vancouver, who also discovered and represented supermodel Coco Rocha
Describe where you were raised and what your childhood was like.
I was born in India, grew up in Dubai and moved to Canada at age 18. Growing up our home was always open to guests, visitors, rescued animals and anyone who needed it. We learned about the power of generosity, no matter how little you have.
List any interesting or unusual jobs you may have had.
Working at X-games in Dubai, getting to ride a BMX dirt bike was very cool. I have a lot of respect for stunt men.
List any volunteering you have done.
Ambassador as Miss Easrth BC at Sustainability TV
Part of the founding families of Ashraya – an orphanage/school for underprivileged children
Committee director for All Smiles fundraiser
Best events I have been a part of so far:
Brilliant 2014 – gala to raise half a million for St Pauls Hospital
Masters for a Child – partneres with Christies Auction House
World for India – organized a cross country bicycle marathon
What is your most unusual talent?
I can speed paint. I've performed an act where I painted a portrait of Gandhi in less than 3 minutes.
Where is the most interesting place you have been to?
Most recently, ancient ruins of cave temples in a little known village in southern India called Hampi, protected by UNESCO. You have to take little row boats made from buffalo skin down the river to hidden caves that were handcarved by artisans back in the 13th century.
What do you hope to be doing in ten years?
I hope to have set up trades programs for impoverished/battered women in underdeveloped countries like India and the Far East. They would learn skills that would allow them to support themselves and educate their children. They could learn things like furniture making, joinery, printing, sewing, etc. while I would employ them and run a successful interiors business.
Is there anything you would like to add that we haven't asked?
Being Miss Universe Canada to me today means much more than my childhood dream of wearing the crown. As a young woman of diversity, I would love this opportunity to show the world how welcoming Canada is. To show Canadians how much we, in turn, can affect the rest of the world. We are leaders here in Canada, and I want young girls to look at me and feel empowered, to know that their dreams are valid, that anything is possible.