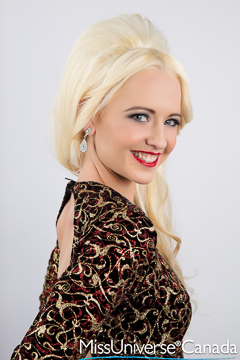 Height: 5'6″
Hometown: Toronto, ON
Lindsey Sterling was born and raised on Toronto, Ontario. Being of Croatian, Ukrainian and Dutch descent, Lindsey personifies the multiculturalism of this great country. She is a nursing student, and Varsity Cheerleader, at Humber College. Don't underestimate her though. This blue eyed beauty has spent several years training in Muay Thai and Jiu Jitsu.
Lindsey loves being involved with her community. Over the years, she has worked with many charitable organizations, such as: The Boy's and Girls Club, The SickKids Foundation, and Operation Smile. Health care is extremely important to Lindsey. Thankfully, her education will allow her to do what she loves most, which is to care for others in need. Obtaining the Miss Universe Canada title would allow her to bring global awareness to issues close to her heart. She hopes to raise awareness and funds to aid in the prevention and treatment of disease, in children living in poverty.
Since she was a young girl, Lindsey has always loved to travel and experience new cultures. She believes that each culture has a multitude of beautiful and amazing things to contribute to this world. It is her dream to work with a organization, such as Nurses Beyond Borders, and to travel the world, providing healthcare to the less fortunate.
Truly blessed with a loving and supportive family, Lindsey feels capable of anything. She is a very classy and respectful woman, who upholds the great values and morals of the Beauties of Canada Organization. Becoming Miss Universe Canada would give Lindsey the platform she needs to reach even more women and children across the globe. It would also open up more international possibilities for her, as she desperately wants to spread love, and provide healthcare to all those in need.
Sponsors:
Faces by Toru – Makeup Artistry, Sears Brampton Outlet, 90 Degrees Modern Millwork, Cardiogenics, Friends and Family
Languages spoken fluently (please include your native language if English is not your native language).
I speak English and Croatian. However, I am also currently studying both Spanish and Sign Language.
What are your interests and what do you enjoy doing the most?
I love extreme sports, such as cliff diving and rock climbing. I also love watching hockey, and am a big fan of the Toronto Maple Leafs. However, one of my favorite things to do is just to sit back, and relax with family and friends.
List any special training you have had (music, art, drama, dance, etc.)
Muay Thai and Jiu Jitsu
Competitive Cheerleading
Modeling
Swimming
Track and Field
Soccer
Dance
Dramatic Arts (Theatre)
Gymnastics
Violin, Cello and Guitar
Vocals (singing)
Commercial Television Work
In what sports, if any, have you participated?
I have always loved both watching and participating in sports. I love going to local pubs, with friends, to watch Sunday football and enjoy beer and chicken wings. However, actually being in the moment and playing soccer and football has always been a favorite hobby of mine. For the past several years I have also been a Varsity and All-Star Competitive Cheerleader, bringing home multiple National Championship titles. I have also competed in track and field when I was younger. I did quite well in track, and placed within the top 5, in long-jump, shot put, relay, and 5km cross country events. In addition, I have also spent several years training in the Mixed Martial Arts of Muay Thai and Jiu Jitsu.
Name one person, other than your parents, who has had the most influence on your life. Why? 
My grandmother is one of the biggest influences in my life. Her strength, love and determination inspires me on a daily basis. It was incredibly brave of her to leave her home in Croatia, and immigrate to Canada. Moving to a new country is extremely brave and admirable. She also had a great work ethic and worked hard to build a wonderful life for my family. She always showed me love, and taught me countless things, such as sewing and cooking. She also helped me grow as a person and instilled me with good moral character and strong ethical values.
What is your proudest personal accomplishment (other than participating in this pageant)?
My proudest accomplishment would be graduating at the top of my class, as a Medical Laboratory Technician. My competitive nature and hard work paid off, when I graduated with a 99% average in all classes. I was even contacted by the Canadian Forces and offered a position as a Medical Officer.
What is the most interesting or unique thing that has ever happened to you and/or what is the most interesting thing about you?
The most unique thing about me is my love for Opera and Classical music. I was introduced to music at a young age and had the honor of singing at various hotels and events. As part of my school choir, I've also competed at the Kawanis Music Festival. In addition, I was classically trained in violin, when I was in my early teens. I feel that Opera and Classical music are genres of music that are often overlooked by my generation. However, I find it truly therapeutic and cathartic to sing an opera ballad, or listen to my favorite singer, Andrea Bocelli.
What is your career ambition and what are you doing or plan to do to accomplish that goal?
It is my goal to one day become a pediatric surgeon. I would love to be able to help cure disease and give children a second chance at life. I intend on working as a nurse, until I can save up enough money to pay for Medical School.
What would be your "dream job" in life?
My dream job would be travelling all over the world to provide health care, to the less fortunate.
Are you currently a student?
Area of study:
I am in my Pre-Graduate semester in the Practical Nursing program at Humber College.
Are you currently employed?
Yes
If yes, what is your occupation?
Being in my Pre-Graduate semester, I work over 40 hours a week, at my placement, The Village of Humber Heights. It's wonderful working there, and caring for the great older adults who reside there. I also coach Humber College's Spirit Squad Cheerleaders, who create fan excitement at home games and school events.
Describe where you were raised and what your childhood was like.
I was raised my loving, but busy parents. Due to their busy work schedules, I spent a lot of time with my grandparents, who are Croatian and Ukrainian. This helped me to experience my culture, and grow as a human being. It was wonderful to grow up surrounded my so many loving people.
List any interesting or unusual jobs you may have had.
Game Operator at the CNE
Greeter at the "It's Baby Time" trade show, at the Convention Centre.
Conjugating paramagnetic nano beads for chemiluminescent immunoassay, at Cardiogenics.
List any volunteering you have done.
Fashion shows at Sears, for the Boy's and Girl's Club
Fundraisers for the Habitat for Humanity
Runs and Walks for Children's Cancer Research
Banquets to raise funds for Breast Cancer Research
What is your most unusual talent?
I am double jointed, which comes in handy as a cheerleader. It allows me to contort my joints in unusual and unique ways.
Where is the most interesting place you have been to? 
I've been blessed to have travelled to many amazing cities within North and South America. Although I loved everywhere I have travelled to, my favorite place was Mexico. There is such beauty within their culture, and the locals were truly welcoming. My Brother's Wife was born in Mexico, and it was amazing to see where she grew up. It is such a wonderful country, filled with beauty, great food, architecture, and amazing people. They all work so hard, to provide for their families, and don't have all of the luxuries that we do in Canada. It was a great learning experience for me, as it helped to show how material possessions are insignificant. True value and wealth lies within people and relationships with loved ones.
What do you hope to be doing in ten years? 
In ten tears, it is my hope that I will be a successful Medical Professional. I hope to one day become a doctor, but I would still be pleased to be a nurse. As long as I am involved with caring for others, then I will be truly happy with my life. It is also my dream to volunteer my services to various organizations, such as Nurses Beyond Borders. I believe that my purpose in life is to help others, across the world.
Is there anything you would like to add that we haven't asked?
I would like to thank the "Beauties of Canada Organization", for this once in a lifetime opportunity. Becoming Miss Universe Canada goes beyond the title or crown. It is a platform, to accomplish greatness. It is a chance for me to represent this amazing country, and to showcase some of the great things that Canada has to offer.