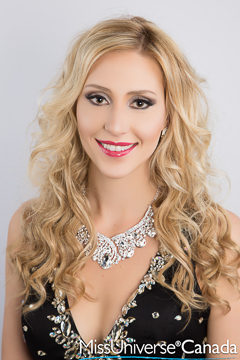 Height: 5'11″
Hometown: Calgary, AB
Monika Horvat is currently a fourth year Economics student at the University of Lethbridge; she will be graduating in the spring with great distinction. Prior to beginning her Economics Degree Monika spent a year volunteering in China teaching English. This was Monika's awaking to other cultures and the realm of human rights. It was here that Monika realized she wanted to do more to make a difference in the lives people all over the globe and afford them the opportunities she was afforded in Canada. Monika is extremely honoured to be participating in the Miss Universe Canada 2015 competition, a great opportunity to further her growth as a strong, well-educated woman.
Many may think that the pageant is a superficial way of looking at ones physical beauty, but Monika would challenge this statement. The pageant promotes self and community awareness, charity work, and the strength of independent women providing for themselves, their families and communities. The pageant touches many lives in positive ways: one example is through their association with a variety of charities, such as Operation Smile.
Monika's platform is intertwined with charitable work for immigration services specifically focusing on women that are new to Canada. This platform is close to her heart, as Monika herself is an immigrant from the war torn country of Serbia. The life experiences she gained from this journey have empowered her to reach out to other immigrants as they embark on their journeys. Monika understands that many of these women lack the confidence to apply themselves in a work or educational setting because these rights and privileges were not available to them in their home countries. Monika's main goal is to be a support to these women and show them that they can accomplish anything. The pageant has encouraged Monika to reach out to the community and develop the interpersonal skills necessary to promote change and community awareness in regards to key social issues. It has made her more confident in her abilities as a strong, intelligent woman, with the power to influence great change in the lives of these women.
Prior to applying for the Miss Universe Canada pageant, Monika was unsure how she could help empower women that felt voiceless in their societies. Monika believes that her pageant platform will help her become a strong candidate for her dream job at the World Bank or United Nations. Monika accredits her desire to promote global change to her life experiences and education in Economics. Throughout the time spent preparing for, and at the pageant, Monika strongly believes that this experience will allow her to become more informed about global issues, and will guide her in her desires to take a more dominate role in promoting community awareness and participation.
Sponsors:
Kate Ilee Image Consulting, Vespucci Ladies Consignment, Justin Rizzuto – Angles Strathcona, Lisa Mandel – Bijou Creations Inc, Meital Studios, Makeup Savi, Satin Touch Spa, Schuettlaw, TrueSkin Clinic, Copperstone Dental, Mariah, Christina Polischuk, Echo Evening and Bridal
Languages spoken fluently (please include your native language if English is not your native language).
English and Serbian
What are your interests and what do you enjoy doing the most?
I'm an avid world traveler. I grew up in a family that loves visiting new places; our travels have introduced me to the wonderful cultures of the world. I have been to every continent in the Northern Hemisphere but I have unfortunately not had the chance to visit any countries in the Southern Hemisphere. My goal is to travel around the rest of the world before I turn 30 years old and to, also, see all of the Seven World Wonders before I die. I love learning about cultures and making an ardent effort to visit small villages and speaking to locals in every single country I visit. Linguistics are of great interest to me, in particular, the roots around the Latin language. I believe that this language holds many secrets in understanding the ancient and modern world. I have a deep passion for reading, although I don't have a preferred genre I try to read two books per week. I, moreover, try to read many different forms of literature to broaden my knowledge.
List any special training you have had (music, art, drama, dance, etc.)
I played piano for five years while growing up. During my years of playing piano I loved learning different melodies and being able to sign along as I developed my skills through the songs I learnt. Furthermore, my passion for the linguistics of language relate to the composition of musical notes. I feel that the rhetoric behind every music note has a soul and emotion to it that makes each melody a masterpiece. I, also, like to live a healthy lifestyle in which I regularly attend fitness classes and I enjoy being well informed about nutrition. I actively engage in activities that will improve myself and help me feel more secure in my body and mind.
In what sports, if any, have you participated?
I have been playing sports my whole life. I have, however, never stuck to one discipline of sports. I was actively involved in my Junior High's, Menno Simmons, Basketball and Volleyball programs in Grade 8 and 9.
I am currently not participating in any sports but I avidly attend my gym. I go to the gym 4 to 5 times a week and alternate between cardio and weights. I love the elliptical and running, it allows me to get lost in my music for forty minutes and release feelings of stress and anxiety. The gym is a big part of my life; it is a place where I spend time with my friends, get to challenge myself and learn more things about my body.
Name one person, other than your parents, who has had the most influence on your life. Why? 
Other than my mother, I would say that the teachings and legacy of Coco Chanel have influenced my life. She is an inspirational woman and fashion designer. Coco Chanel was more than designer she was a fighter, in a time when women were typically seen but not heard she made noise. Chanel changed the face of fashion; she changed how women were perceived. Chanel did this by striping their corsets and giving women a more mobile wardrobe. There was nothing that would stand in her way Chanel was a survivor and because of this she changed the face of women's fashion. Although I am not a fashion designer, I would like to be an inspirational figure to women and help them gain confident to feel comfortable with themselves. Coco Chanel is an inspirational figure to me because she broke the stereotypes of fashion and society in her time. She is a woman of innovation; she lived in an orphanage from the age of 12 to 18 from there she went to go work for a tailor and later open her very first boutique selling hats. Coco Chanel is a strong woman that continued to have a positive outlook on life despite the obstacles she encountered.
What is your proudest personal accomplishment (other than participating in this pageant)?
I am a diligent worker at school and my studies are a huge priority to me. I love applying myself in the discipline of economics, math and languages and I believe that this has helped me grow as a person. I have been on the Dean's list for four years and I will be graduating with great distinction (a cumulative GPA greater than 3.75). The University of Lethbridge has allotted me many opportunities; without the guidance of my professors I would have struggled gaining confidence in the undertaking new tasks. My proudest achievement during my economics degree would be when my paper, on the Tenth Year anniversary of BSE, was accepted at the Canadian Economics Association Conference 2013 in Montreal. I travelled to Montreal with my mother and professors and attend seminars with highly intellectual Canadian professors. This event made me so proud of my hard work and it reinforced my belief that there are no boundaries to what I can achieve.
What is the most interesting or unique thing that has ever happened to you and/or what is the most interesting thing about you?
I was traveling around the Guangxi province in China in January 2011. My friends and I decided to rent bikes and explore the surrounding area. The landscape in Guilin is marvelous with its karst mountains, beautiful rivers and rice patties. The area is unique in its ability to integrate the natural scenery to the humanistic scenery. On our bike tour we were riding through a village where wedding taking place. The locals invited us to join them and there celebrations; it was a truly unique experience. I had never been to a Chinese wedding before and none of us could speak Chinese. We were, unfortunately, unable to vocally communicate with them. We used body language to converse with them and in this fashion we could reciprocate our emotions to each other. Its moments and experiences like this that have helped shape the person that I am, a person I am proud to be. I have a large fascination with cultures, traditions and languages. I would like to communicate with every culture and I do not believe that vocal language is the only way to do it.
What is your career ambition and what are you doing or plan to do to accomplish that goal?
My career ambition is to work at the World Bank or the UN in the field of Economic Development. I have been a caring person my whole life and travelling has awakened me to certain injustices around the world. I would like to learn more languages and be able to personally understand the struggles and achievements of people in other countries. I believe that the World Bank and UN have amazing opportunities in my chosen field and it would allow me to understand key global issues first hand. I deem that the best way to be a strong contender for one of these careers is to become more actively engaged with fundraisers and charities. Once I am done my undergraduate degree I would like to go to McGill to pursue a Masters degree in Economic Development.
What would be your "dream job" in life?
A Social Development Specialist at the World Bank
Are you currently a student?
Yes
If yes, where?
University of Lethbridge
Area of study: Economics
Are you currently employed?
No
Describe where you were raised and what your childhood was like.
I was born in Belgrade, Serbia. My family immigrated to Calgary, Alberta, Canada because of the civil war in Yugoslavia. My parents are two hardworking individuals and they worked numerous jobs to provide the best life for my sister and I. My parents divorced when I was 11 years old and I have lived with my mother, Olivia, full time since the divorce. My mother and I are very close and she has been the most encouraging and supportive mother anyone could hope for. My sister and I went to Serbia every summer since I was 5 years old to visit our grandparents and cousins. I feel very lucky to continue to have strong ties to my Serbian culture and I love the connection I have to Serbian music and food. Serbian people are very hospitable and community life is very important to them. My family and friends in Serbia are very genuine people who have helped shape who I am as a person. I truly do want to do what's best for everyone and I try to befriend anyone I meet as I always see the good in everyone I meet. Canadian people are very polite and it has been a welcome environment meeting people that desire to achieve social equality. I feel very strongly that both cultures are amazing and I feel so fortunate to be both Canadian and Serbian, I wish to further grow as a strong Serbian-Canadian woman and help others on their life journeys.
List any interesting or unusual jobs you may have had.
I taught English voluntarily in China for 8 months. This was both a challenging and rewarding experience. My duties included creating lessons plans and helping students one on one improve their oral English skills. The biggest challenge for me was the culture shock and language barrier. Chinese culture is very different than what I had been exposed to at the time. Being able to learn about Chinese culture, Mandarin and the people has been my most amazing life experience and I cherish those memories every day.
List any volunteering you have done.
I volunteered at a pet hospital when I was 11 years old and I helped with assisting injured animals when they came into the clinic.
I taught English in China for 8 months from September 2010 to May 2011. This was my awaking to other cultures and the realm of human rights. It was here that I realized I wanted to do more to make a difference in the lives people all over the globe and afford them the opportunities I was afforded in Canada.
On February 21, 2015 I had a fundraiser for myself, and my affiliated charity the Calgary Immigrant Education Society. We were able to raise over $500 dollars for them. This has been a desire of mine for a long time. Although it was not a lot of money, I feel very proud to have been able to give back to the community.
What is your most unusual talent?
Speed reading, I can finish a chapter very quickly and still comprehend what was read.
Where is the most interesting place you have been to?
The most interesting place that I have been to is Guilin, China. The scenery is absolutely breath taking and it is renowned karst mountains. The cuisine is rich in spices although I thought it was quite ironic that they consumed such spicy food in their hot climate. This place feels like paradise and it has so many activities available to visitors such as bike rides where you can discover the biodiversity of the region. My favourite aspect of Guilin was the minority culture (Yao people); these people were very hospitable. It was so rewarding to try their cuisine and observe their traditional way of life.
What do you hope to be doing in ten years?
In the next ten years I would like to be a Social Development Specialist at the World Bank. In order to acquire this prestigious job tittle it will be necessary to continue my education after I finish my undergraduate degree. A big dream of mine would be to earn a Ph.D. in Economics and be the first person in my family to accomplish this level of education. I love conducting research and I believe that the research opportunities I would be exposed to on the road to a Ph.D. would be remarkable. Being a Miss Universe Canada 2015 delegate has encouraged me and bestowed upon me the confidence to help empower women. I hope to win Miss Universe Canada 2015 because I believe I would be an inspirational and genuine role model for every Canadian.
In my personal life I would like to have a family and find a husband that inspires me every day. I have a loving family, great educational background and a positive outlook on life. I look forward to what the future brings but I am, also, happy with living in the present.
Is there anything you would like to add that we haven't asked?
I would like to inspire women to believe in themselves, as I am confident that there are no boundaries that can't be overcome. Believing in one's self is the most powerful tool for succeeding in life. Every dream is possible to achieve.