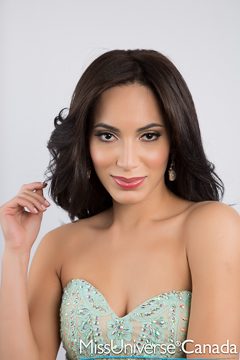 Height: 5'7″
Hometown: Toronto, ON
Paola Nunez was born in the Dominican Republic and raised by a large and musical family, many of them performers born for the stage, and Paola was no exception. She began dancing when she was six and had her big television debut a year later. When she was ten her mother brought her to Canada but the transition was difficult, in large part due to the language barrier, and Paola was frequently bullied at school. She made it her mission to become fluent in English so she could stand up for herself and quickly impressed her teachers with her cleverness. Her confidence increased, and she graduated as an honors student with an academic achievement award.
As a student council member in high school she remained physically fit, participating in numerous sports while training extensively in jazz, hip hop, ballroom, samba and belly dance. She joined a dance group, performing at private and charitable events and at different Latin festivals in Miami, LA and New York. She also became captain of the school dance team, winning them numerous trophies. In addition to dancing she worked as a model, doing fashion shows for fundraisers to support worthy causes. She was a natural on camera, and her poise, grace and charisma won her much praise.
Paola passionately believes in giving back and dreams of making a difference. She has volunteered her time at numerous fundraising events, among them building schools for needy children in the Dominican Republic, assisting victims of the Haiti earthquake and for the Sickle Cell Association in Ontario. She learned to value self-reliance, education and resilience from her grandmother, a key influence in her life. Considered personable, outgoing and generous by her peers, her outlook on life is overwhelmingly positive as she always strives to be a better human being. She considers the only limits you have are the ones you set for yourself.
This will be Paola's third pageant. To this competition, she brings a pride in her Canadian identity and the diversity associated with its culture, along with a maturity exceeding most girls her age. Obtaining the title of Miss Universe Canada would allow her to pursue her many dreams, among them a career in television, culinary training and entrepreneurial ventures. She will graduate in business-accounting at Humber College in June and hopes to open her own restaurant. Most of all, it is her goal to participate in anti-bullying initiatives, drawing on her own experience as fuel in the quest to help others. An altruist at heart, she puts a high premium on a healthy lifestyle: exercise, sleep and a well-balanced diet.
Sponsors:
Blue Sapphire Bead Loft, K Buena Radio, Centro Dental Dr. Liranzo, Guia Hispana, Rhythmic Fire Danz Centre, Kelvin Martinez Photographer, Sharleez Bridal Design House, Shamir Ferbose Photography, Rosas de Cristal, Anderson Hernandez Photographer, Premium Latin Music, Inc., Ellé & CO, Friends and Family
Languages spoken fluently (please include your native language if English is not your native language). 
English and Spanish
What are your interests and what do you enjoy doing the most?
Dancing is one of my biggest passions in life. I have been dancing ever since I can remember and I have loved every beat of it. I also love to cook, work out, meet new people and most importantly spend quality time with my family.
List any special training you have had (music, art, drama, dance, etc.)
Run way
Hair and Make-up Styling
Latin dance
Belly dance
Samba
Hip-hop
Jazz
Broadcasting
In what sports, if any, have you participated?
Track and Field
Volleyball
Soccer
Basketball
Name one person, other than your parents, who has had the most influence on your life. Why? 
Aside from my parents, my grandmother has had the strongest influence on me. Since birth, she has always been by my side. I admire her because regardless of all the obstacles she has faced in her life she has always maintain a very positive attitude and a smile on her face. She has taught to be a strong and independent woman and that no matter what life throws at you to always keep focused and push forward.
What is your proudest personal accomplishment (other than participating in this pageant)?
I am proud of all my academic achievements as well of the woman I have become. I have worked hard to accomplish all the goals I have set myself. Coming to a new country without speaking any word of English and also being bullied at school was very hard to cope with but I was able to quickly adjust and rise above it all. This life changing experience has helped me build my character and gain confidence. Also, it has taught me to persevere through any challenge that life presents and that with dedication, hard work and consistency I can achieve anything I want.
What is the most interesting or unique thing that has ever happened to you and/or what is the most interesting thing about you?
Some people are born to be dancers and I am one of them. I love to perform and be on a stage. From the lights, to the camera, I enjoy showing an audience what I have to express. I cannot resist myself from dancing when I hear a beat. Dance is the rhythm of my life and it's in my heart.
What is your career ambition and what are you doing or plan to do to accomplish that goal?
My ambition is to be a successful entrepreneur and own a prosperous restaurant one day. This June I will be graduating in business-accounting. Upon graduating I will like to pursue culinary school and gain on the job experience through interning for a hotel and restaurant chain.
What would be your "dream job" in life?
My dream job is to work in the media and entertainment industry whether as a professional dancer, touring and performing on international stages, or as a TV presenter. I would love to host my own TV show on a renowned TV network to deliver a positive message and to try to change the lives of many people.
Are you currently a student?
Yes
If yes, where?
Humber College
Area of study:
Business-Accounting
Are you currently employed?
No
Describe where you were raised and what your childhood was like.
I was born in Santiago, the second largest metropolis in the Dominican Republic. I can say that I had a very happy childhood. I grew up with all my cousins, uncles and aunts, as well as my grandmother and we all lived in one big house. My favorite time of the year was always when Christmas came around. We would have a big traditional Dominican dinner, play games and dance the night away. This is something that I truly miss now as I had to leave behind the rest of my family when I moved to Canada at the age of ten. Family is something that I value the most, and I find that the biggest joy in life is the time and memories you share with your loved ones.
List any interesting or unusual jobs you may have had.
Delivering news paper
TV commercial
TV Co-host
Promotional modeling
Fashion modeling
Salsa and hip-hop instructors to kids and adults
Sweet sixteen choreographer and coordinator
List any volunteering you have done.
Fundraisers for the needy kids and to build schools in the DR
Fundraisers for the earthquake victims in Haiti
Sickle Cell Association of Ontario
Toronto Foundation for Student Success
Association of Black Law Enforcers (A.B.L.E.)
What is your most unusual talent?
I have no culinary training but I can make a tasty gourmet meal in no time.
Where is the most interesting place you have been to?
The most interesting place I have been to is Hendaye, France. Hendaye is a beach resort town located right on the border with Spain. I got the chance to walk along its 3km long sandy beach and admire the architectural features on their beautiful Basque style houses. I was also able to walk across a bridge from Spain to France.
What do you hope to be doing in ten years?
In ten years I hope to be financially stabled and running my own business. Also I see myself having a family of my own and being a good and loving mother to my kids. Ultimately, I hope to maintain a healthy balance between my business and personal life.
Is there anything you would like to add that we haven't asked?
I am honored to have been chosen to participate in this year's Miss Universe Canada competition. I would love to be the next Miss Universe Canada because I am committed and prepared to be an ambassador and present Canada on an international level. I am ready take on all the duties and responsibilities that this position holds. It would be a privilege to have this strong platform to deliver a positive message and be a role model for young women empowering them to strive for their personal and career goals. I would like to thank my family and friends for their continued support and the Miss Universe Canada organization to allow me embark on this beautiful journey.