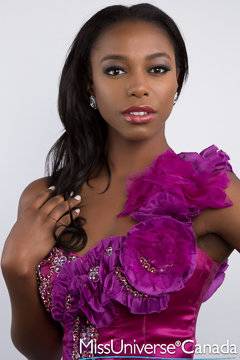 Height: 5'9″
Hometown: Ottawa, ON
Skye Nwaelleh has flourished to become a woman with a heart for others. Having dedicated her spare time over 8 years to youth in her community as a leader and Sunday school teacher, wanting only the best, hoping for and seeing the potential in everybody she comes across. Her love for people is the pillar of her identity and individuality. Studying International Development and Globalization, she decided on this study in order to gain more knowledge about how to make the world phenomenally better for everyone. With no stones to throw and no prejudice, her wish is to help educate all children from all walks of life, giving them great structure and principals to live by and grow from. Her life in Canada's capital city of Ottawa and her experience in Western Africa have given her a truly panoramic worldview.
Beauty and Influence to Skye, are gifts to be used for the betterment of others and for shedding light on situations that call for the help of other people.
Skye has competed as a track athlete, modeled professionally from the age of seventeen, and now looks to gain the honor of the crown and the title of Miss Universe Canada.
Her wish is to use her influence to raise funds for communities, building schools, libraries, and recreational facilities and educating children on health, nutrition and personal choices that affect their lives, amongst other endeavors.
Skye believes that a life fully lived is one lived for others. And she hopes to do just that with the crown!
Sponsors:
Assana McDonald of York Street Spa, Friends and Family
Languages spoken fluently (please include your native language if English is not your native language).
English is my first and official language, but I love French and I continue to improve on it.
What are your interests and what do you enjoy doing the most?
I love making people laugh, smile and feel great overall. So naturally, spending time with loved ones is most important to me. A quiet time reading and writing is fun to me.
Traveling and meeting new people and partaking in new cultures absolutely thrill me.
I also enjoy an outdoorsman lifestyle; kayaking, hiking, and just enjoying the great outdoors and whenever I have extra time, I love designing beautiful garments.
List any special training you have had (music, art, drama, dance, etc.)
I took some fashion courses which have helped nurture my love for styling and design. I also sang for many years and received professional lessons; music is a beautiful art form that I truly appreciate.
In what sports, if any, have you participated?
For many years I ran track in elementary and high school which dramatically helped calm my once heightened nerves and fear of competition. It also helped me become a more disciplined and dedicated person.
Name one person, other than your parents, who has had the most influence on your life. Why? 
My Grandmother. My grandmother is a strong breast cancer survivor, through her battle with the illness; she dressed fabulously, did her nails and made sure she felt great on the outside and in. I love her sense of style and her 'joie de vivre'!
What is your proudest personal accomplishment (other than participating in this pageant)?
I am very proud to say that at the age of 17, I was bold enough to move out of my parents' house, to a new city while supporting myself and pursuing a career in modeling. That bold step at such an early age was certainly a defining moment in my life and has helped me become the independent woman that I am today and a firm believer that all things are truly possible.
What is the most interesting or unique thing that has ever happened to you and/or what is the most interesting thing about you?
The most interesting thing that has ever happened to me was that I was born with somewhat crooked legs. My mother loved me through it and would pray for me every day as she massaged my legs and straightened it with gentle stretches daily, believing that one day, I would be completely whole. As I grew up, my legs did indeed stretch out to normal. Now each time I use my legs in competition be it running track, modeling, or now in the Miss Universe Canada Pageant, my heart is gladdened and I feel I have the responsibility to show others that their present situation should be and can be used to propel them to great heights.
What is your career ambition and what are you doing or plan to do to accomplish that goal?
My career ambition is to build many private schools throughout North America and other parts of the world. I love children and I dream of nurturing them through education and great fundamental principals. I think that this will allow for a better world.
I plan on accomplishing this goal the old fashioned way of continuing in higher education, and working with established schools and NGOs with a mission to educate children worldwide.
What would be your "dream job" in life?
I must say my dream job would have to be one that allows me to work with Children in schools and still be able to carve out time for my passion for fashion designing and the arts.
Are you currently a student?
Yes
If yes, where?
Area of study: I am a student of the faculty of Social Science at the University of Ottawa, studying International Development and Globalization.
Are you currently employed?
Yes
If yes, what is your occupation?
I recently began working for the Standards Council of Canada. I admire the corporation because they help ensure high standards of excellence for products, services and systems.
Working for a federal Crown corporation has been a wonderful learning experience thus far.
Describe where you were raised and what your childhood was like.
I come from a mixed background which makes for a rich childhood experience. I love diversity and growing up here in Canada's National Capital city of Ottawa gave me just that. I grew up with many people from all over the world, and enjoyed foods and traditions from South East Asia to West Africa and Europe. Thanks to my childhood experiences here in Canada's National Capital – Ottawa, I can say proudly that I am an exemplary definition of a Canadian, welcoming and cherishing all people regardless of race, creed and culture.
List any interesting or unusual jobs you may have had.
I have always been interested in learning about what's out there in the workforce and how businesses are established, partly due to my entrepreneurial knack. So in my teenage years I made it my mission to pummel through as many jobs in industries that I found interesting. So from 14yrs – 20 yrs old, I took on a different job each summer and learnt that as fantastic an endeavor as business is, it requires hard work and capital.
List any volunteering you have done.
I was a Sunday School Teacher for over 5 years at my local church, something I enjoyed so very much! Children are my life and most of my volunteering has been children oriented.
What is your most unusual talent?
I have this very strange and interesting talent whereby I can tell a person's nationality simply by looking at them, and I usually get it right within three guesses. I think I owe it to having worked in the Diplomatic Corps; meeting many diplomats from all over the world, and growing up in Canada; an especially diverse country, played a huge role in developing this fun talent!
Where is the most interesting place you have been to?
The most interesting place I've been to yet is Aso Rock, Abuja, Nigeria. I found myself there at a Governor's function with my family at all of 10 years of age and the visit was a memorable and impressionable one for me. At 10 years old, I found myself immersed in the presence of dignitaries and high officials and over 10 years later I found myself working with Dignitaries from Nigeria here in Canada's National Capital.
I find it a great honor to have been in a central governing body of a country that would years later be rocked by political onslaughts and still remain strong. I'd like to think that as I grew up, this particular visit left me curious about political influence and global change as a whole through governance and development.
What do you hope to be doing in ten years?
Firstly, I'd like to have a family and be a proud wife and the proud mother of my children, raising them in a healthy and positive fun family environment.
In ten years I also hope to be a positive influence in many other children's lives – as a Children's Book Author, and the catalyst behind the opening of many wonderful Christian Private Schools around the world, starting right here in Canada.
Is there anything you would like to add that we haven't asked?
People who have influenced my personal style include my grandmother – Cynthia Brown, Jackie O, and Lee Radziwill. (I'd love to meet Lee one day.)
…and I love how the simplest things can make the biggest difference – Dr. Suess for instance and his widely popular yet simple rhyming stories which have touched many around the world.