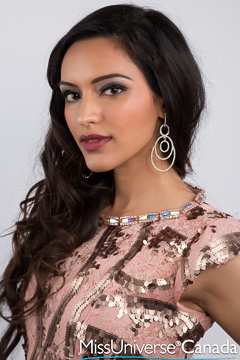 Height: 5'8″
Hometown: Brampton, ON
Sunny Dhaliwal was born in Toronto, Ontario and raised across the GTA. She is an artist, a role model and a leader in her community. Through her actions, Sunny hopes to empower others to live their dreams. She believes that education is power and completed her degree at McGill University in Economics, Religion and Communication Studies.
After completing her degree, she decided to pursue her dream of working in the fashion industry. She worked as a freelancer before starting her own business. At the age of 22, she combined her entrepreneurial spirit with her creative skills to develop a fashion PR agency. This learning experience gave her the confidence to challenge her limits, push boundaries and realize that she can achieve anything with dedication and hard work.
Travelling to different parts of the world has influenced Sunny's perspective on life. Some of the countries she has travelled to include Cambodia, Guatemala, Honduras, Thailand, India and China. Her travel photography was displayed at the Hong Kong Polytechnic University as part of an intercultural relations seminar. After seeing the challenges and obstacles that people face all over the world, she was inspired to start living her own life differently. She became self-employed and is now working towards finding ways to help serve people in her community.
Her life mantra is to help connect people to the best versions of themselves. She believes that giving and helping others is the key to having a meaningful live. Through leadership, action and an inspiring message, Sunny hopes to make a positive difference in the world.
Sponsors:
Full Sponsorship by 109TaylorMade
Languages spoken fluently (please include your native language if English is not your native language).
Punjabi, Hindi, English.
What are your interests and what do you enjoy doing the most?
I am interested in learning about new cultures, local cuisine and connecting with people. And in turn, giving back through the experience I have gained.
I enjoy backpacking through different countries and helping give back to the communities and people I meet along the way. I believe serving others is the greatest way to make a positive difference in the world, whether that means helping support the local economy, spreading good energy, or capturing the spirit of an individual in a photograph. It is important to give back through your own unique talents.
I love taking photographs of the interesting people I meet on my journeys. Connecting with other people on a level that transcends backgrounds, borders, and language is a very touching experience. It is through my love of travel and photography that I am able to connect with these amazing people and share their stories.
The first thing I do when I land in a new city is find the "hole in the wall" restaurants and try as much delicious local food I can find. When I meet someone local to the area, I ask, "Where is your favourite place to eat?" I will take the risk and trust their guidance when it comes to finding the best local cuisine in the city. I am not afraid to try anything new (especially if it is a local delicacy)! This has led me to not only find hidden "foodie" gems but also make new friends in the most unexpected places.
List any special training you have had (music, art, drama, dance, etc.)
Bollywood Dance
Acting
Commercials (On-Air)
Catwalk
Vocal Training
Public Speaking
Painting
Photography
Sculpture
Making Jewelry
Karate
In what sports, if any, have you participated?
In high school, I was part of the bocce ball team! Later in university, I joined the snowboarding club and learned how to snowboard.
The sport that I practice on a daily basis is yoga. Yoga combines the nature of spirit, body, and mind to help strengthen the inner self. By creating a strong foundation within, you are then able to experience this inner strength and vitality in your external world.
The practice of yoga has helped me become a fit, healthy and strong person (both mentally and physically).
Name one person, other than your parents, who has had the most influence on your life. Why?
My grandmother has had a big influence on my life. One of the most important lessons I've learned from her is to do everything with a loving heart and a patient mind. When I was a child, we would cook together and she taught me the importance of cooking with love, patience and appreciation. She told me that adding love to every dish and cooking food slowly was the secret to making it delicious. Because of her, I learned that food is sacred and we should be grateful for every meal we receive.To this day she reminds me to bless my food before I eat it!
What is your proudest personal accomplishment (other than participating in this pageant)?
My proudest personal accomplishment is completely accepting myself for who I am.
Learning to be comfortable in my own skin, flaws and all, has been my proudest accomplishment. Growing up, I did face challenges for being different and during those times I thought I needed to change myself to "fit in". I was teased for being quiet and shy. Over time, I learned that who you are is a gift and it's the differences that make you unique and beautiful. I have come to completely accept myself and appreciate the core of my being. I still face challenges and obstacles in my life, but now with this understanding, I am able to see challenges as stepping-stones to discovering greater depths of my character. It is through challenging myself in this world that I continue to dive deeper into my authentic self.
What is the most interesting or unique thing that has ever happened to you and/or what is the most interesting thing about you?
The most interesting thing about me is that I am able to pick up new languages quickly.
This unique talent was showcased when I had only two hours to learn how to introduce myself in Cantonese. I had to make this introduction on live television in Hong Kong with millions of people watching!
What is your career ambition and what are you doing or plan to do to accomplish that goal?
Following my truth and living with an open heart is my life ambition. I want to continuously grow as a person, be empowered and live with authenticity.
Everyday I am in the process of following my truth.To accomplish this, I focus on the daily goals that I set each morning. My intentions are to work hard, be of service to others and spread positive energy. It is also important for me to expand myself by pushing my boundaries, taking risks, and letting go of my fears. I hope to continue to have meaningful experiences, connect with people, and learn something new everyday.
What would be your "dream job" in life?
My dream is to be a public figure, travel the world with purpose, and make a difference in the lives of others. I want to combine my artistic skills with my desire to help others by writing books and creating documentaries that raise awareness on issues that need attention.
By living according to my highest values and beliefs, I hope to be a strong role model for people around the world.
Are you currently a student?
No
Are you currently employed?
Yes
If yes, what is your occupation?
Self-employed.
I work in developing and selling real estate. I have always had an entrepreneurial spirit. I started my first business at 22 years old and have continued to explore new avenues of achieving financial freedom. The first business I developed was a fashion PR agency. Along with my business partner, we successfully launched several brands in the Canadian market. Currently, I am the process of developing my own jewelry line and hope to launch it early next year.
Describe where you were raised and what your childhood was like.
I was born and raised in Canada. I grew up with a strong work ethic and motivation to succeed in life. My parents immigrated to Canada with a dream to have a better future for their children. Their experience taught me that with determination, hard work, and preparation, I can achieve anything. Growing up with this mindset has helped me achieve many goals in my life and has opened doors to great opportunities. Living in Canada is a gift and I appreciate that my parents chose this country to be our home. I am proud to be Canadian.
My childhood was an enriching experience as I was exposed to a multi-cultural atmosphere from the day I was born. I grew up with friends from diverse backgrounds, cultures, and religions. Because of this, I live with an open-mind and embrace every new person I meet.
One of the most vivid memories of my childhood is driving across Canada with my family. It was through this experience that I gained the appreciation of nature and wildlife. Canada is abundant in nature and growing up in this country has taught me to respect the environment and the world around me.
List any interesting or unusual jobs you may have had.
Assistant Buyer at the Hudson's Bay Company! I had the exciting opportunity to introduce brands like Topshop, Topman and Kleinfeld to the Canadian retail market.
Guest blogger/stylist at Addition Elle. I helped style a national campaign.
List any volunteering you have done.
Palliative care volunteer
Raised money to build schools in Africa with Free the Children
Volunteered over 200 hours at Peel Memorial Hospital
Raised money to fund supplies and clothing for a school in India
What is your most unusual talent?
Cooking with any three ingredients. That is all I need to make a delicious tasting meal. I am a spontaneous chef!
Where is the most interesting place you have been to?
Siem Reap, Cambodia.
I left Angkor Wat, driving down a bumpy road along the river. I heard sounds of laughter and noticed that there were families having picnics along the water banks. They were sharing food, spending time together and having fun! Most of these families did not have homes of their own or any secure income. However, every day they would come together for dinner and spend time with each other. From the outside looking in, this made me realize that even though they did not have material possessions, they were happy. They had a sense of community and connection with each other. This impacted my life because it showed me that it is not material things that give your life value but rather moments of connection, laughter, and being part of a community.
What do you hope to be doing in ten years?
I hope to help others connect to the best versions of themselves and continue to inspire others to live to their highest potential! I want to travel the world with purpose, write several books and bring awareness to issues by creating documentaries.
Is there anything you would like to add that we haven't asked?
As a woman that is committed to living her life with confidence and authenticity, I hope to empower other women to be leaders in their communities, countries and the world. I want to show people that by following their truth and being honest with themselves, they become of immense value to the world. Each individual on this planet has the power to transform lives and inspire others by living according to their own truth.
Becoming Miss Universe Canada would give me the platform to reach out to millions and help influence the minds, thoughts and actions of people all over the world. It would be a privilege to bring awareness to issues that need attention, work as a humanitarian, and be an ambassador for Canada.