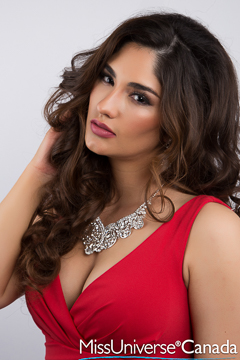 Height: 5'6″
Hometown: Fort McMurray, AB
Vanessa Chauhan was born in Abbotsford, British Columbia. She was brought up in rural Stony Plain, Alberta and then moved to her home of Fort McMurray, Alberta. She attended Grant MacEwan University and the University of Alberta. She is a Health & Safety Advisor and a Model. Focused on the community, she has spent much of her time working with community events and charities.
Vanessa's hobbies are focused on sports and fitness. She works out avidly and enjoys a healthy lifestyle. She loves fashion, trying new foods, volleyball and learning about new cultures. She is confident and comfortable with herself and loves meeting new people. Having played competitive sports all through her educational years, she is always up for a challenge. Vanessa keeps a positive and energetic mindset about all her endeavors.
Being in front of the camera is where she feels the most comfortable. She has been modeling since she was a teen and has been dreaming about becoming Miss Universe Canada since she was a little girl. She would love to hold the title and make her country proud in the Miss Universe pageant.
Being of half Indian and half Caucasian descent, and she believes her background embodies the melting pot of cultures in Canada. Vanessa believes that she would make a great ambassador for Canada and a wonderful role model for young women.
Sponsors:
Helen Arong Fine Fashions, Fort McMurray Dental, Allure Medi Spa, Friends and Family
Languages spoken fluently (please include your native language if English is not your native language).
English
What are your interests and what do you enjoy doing the most?
My interests are modeling. I love modeling and playing around with different artistic concepts. I also love fitness. I work out quite often and I feel that I am less stressed when I get my regular work outs in. I also love to bake, and my loved ones definitely enjoy that as well. And I love to read! I really love when I learn from my books. I don't really enjoy fictional books. I'm really interested in factional books. Currently I am reading about Queen Elizabeth II, and my next book is about world history.
List any special training you have had (music, art, drama, dance, etc.)
Runway walking
Modeling
Public speaking
In what sports, if any, have you participated?
I have participated in Volleyball, Badminton, Basketball, Tennis, Golf, Cheerleading, and Sprinting. Most of all I love Volleyball and Badminton though!
Name one person, other than your parents, who has had the most influence on your life. Why? 
My boss and president of the company I work for, Isabell Ringenolodus! She is an amazingly hardworking aboriginal woman who started her own Security company at the age of 23 in the Alberta Oil Sands. She now has 5 companies and I am so grateful to work for such a motivated, charitable and successful young woman! I look at her and know that I have to make a difference in not only my own life, but the life of others.
What is your proudest personal accomplishment (other than participating in this pageant)? 
My proudest moment was when I was accepted into University. I could not wait to get my secondary education started and I couldn't be happier knowing that I would have a brighter future and those memories too look forward to making.
What is the most interesting or unique thing that has ever happened to you and/or what is the most interesting thing about you? 
The most interesting thing about me is how competitive I am. Once I put my mind to something, I won't stop preparing myself and training to make sure that I can do my best and be proud of the outcome in every aspect.
What is your career ambition and what are you doing or plan to do to accomplish that goal?
My career ambition is to open my own Health and Safety company and become the mayor of the city I settle down in. It's hard to say where I will settle down in because there are so many great places to live in Canada. But I do know I would like to have my company by the time I am 35 and become the mayor of that place by 40.
What would be your "dream job" in life?
Becoming Miss Universe Canada 2015 would be my dream job. I have watched the Miss Universe competition since I was a little girl and I have always dreamed about representing Canada! I know that I am at that point in my life that I can fully dedicate myself to accomplishing my dream and I can't wait to start this amazing competition!
Are you currently a student?
No
Are you currently employed?
Yes I am, I work for Taws Security
If yes, what is your occupation?
I am a Health and Safety Advisor
Describe where you were raised and what your childhood was like.
For most of my life I was raised in Stony Plain Alberta. It's a very close-knit rural community that I really love. In the past decade the town has expanded a large amount from when I grew up there, but it still has its country charm that I love to admire in the towns murals. I was very involved in sports. I would work out every day so that I could be better for the next game or competition. I was quite a tom boy, until high school and I finally developed an interest in fashion and high heels. I never did get around to make-up and I am still working on that. In high school I solely focused on my school and sports. My parents always reminded me that hard work led to getting into University and that was my goal.
List any interesting or unusual jobs you may have had.
My most interesting job is modeling. I love modeling because I am always meeting new people, wearing new fashion, going to new places, and trying out new concepts. With modeling I have made so many friends and I think I have a great understanding about how to capture emotions and my best angle on camera and the runway.
List any volunteering you have done.
Princess Pageants- Judging and Master of Ceremonies
Fort McMurray SPCA-Walk to stop animal abuse in 2013, dog walking, donation collection, tradeshow campaigning, bottle sorting, National Cupcake Day 2015 fundraising
Culture Days -Setup and take down of events, pass out brochures, direct people, help enforce rules and regulations of the event grounds.
Calgary Flood Relief 2013
What is your most unusual talent?
My most unusual talent is that I can remember the lyrics to almost every song I have ever heard.
Where is the most interesting place you have been to?
The most interesting place I have ever been is Toronto. I went there for my sister's wedding and I was definitely impressed with how big it is and how many different types of stores there were. I loved that there was a unique store on every street corner. The city looks so breathtaking from the top of CN tower! I know it's not exotic but too me it just felt like the centre of Canada. And I loved seeing so many different cultures so I think that's why I enjoyed Toronto so much.
What do you hope to be doing in ten years?
In ten years I would like to be coming back to congratulate the Miss Universe Canada 2025 as a previous Miss Universe Canada. (One can dream right?) I would like to be opening my Health and Safety business or already running it. I would like to be as or more involved in the community as I am now and I would like to be healthy and fit.