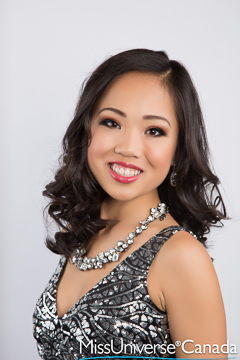 Height: 5'8″
Hometown: Toronto, ON
Veronica Allen is a compassionate, confident, and quick-witted young woman. In her teenage years she suffered from anxiety, Post-Traumatic Stress Disorder, and clinical depression. After receiving treatment for her mental health adversities, Veronica gained a strong understanding of her own mental illnesses. She uses her past experiences to her advantage in order to motivate and educate Toronto high school students and teachers to corporate business executives. Veronica spoke across the city of Toronto in order to be a role model. She believes that regardless of ethnicity, sexuality, and religious beliefs, mental health can affect anyone. Veronica's believes that Canadians should not focus on the negative aspects in their life, but rather turn negative notions around and make them a positive. It is important to be proactive in life rather than to let mental illness take over the lives of so many Canadians.
In order to truly demonstrate her resilience, Veronica got her own bachelor's apartment at the age of 17 before prom and final exams. She maintained a positive attitude in order to not let mental illness take over her life. Veronica used it as fuel to drive her to graduate high school on time, motivate her peers, and she received some of the most recognizable awards at her high school for her outstanding work in the community, athleticism, and school leadership. Veronica attends McMaster University for Honours Anthropology and Human Geography and plans to become a police officer in the Emergency Task Force. Veronica is focused on not giving up and continuing to use her past adversities to motivate Canadians.
Sponsors:
JOEY Restaurants, Belinda Albo Design Studio Inc., Northern Lights Direct, Eco Valley Homes, Local Public Eatery, Kind Exchange, Sterling Optical, Halfwits
Languages spoken fluently (please include your native language if English is not your native language)
English, French, and conservational Norwegian and Sweden.
What are your interests and what do you enjoy doing the most?
I enjoy spending time giving back to the community and being a role model/motivational speaker. Growing up, I did not have a large family and I understand the importance of mentorship as my role models played a significant role in my upbringing. There needs to be more positive role models in society and I strive to be the best mentor for Canadians.
List any special training you have had (music, art, drama, dance, etc.) 
I played the violin in the Toronto All-City Strings Ensemble in 2008, I have ten years of training in classical piano, and did ballet and ballroom dancing for five years.
In what sports, if any, have you participated?
I would say I am a natural athlete. My favourite sports are field hockey and ultimate frisbee. I was captain of both teams in my final year of high school and graduated high school with my Honours female athletic award.
Name one person, other than your parents, who has had the most influence on your life. Why? 
Janice Gladstone, my high school vice principal, has had a tremendous amount of influence during my teenage years. She helped me get the necessary treatment when I suffered from mental health illnesses. Janice always made her students and myself at the top of her priority list. She saw my potential to do something big with my life and saw I could be a positive role model in my community.
What is your proudest personal accomplishment (other than participating in this pageant)? 
I believe that conquering every task is an accomplishment in my life. However, the proudest moment would definitely be when I was able to graduate with my class after going through difficult family circumstances. I thought I would not be able to graduate on time, but I learned during those rough years that if you put your mind to it, anything is truly possible.
What is the most interesting or unique thing that has ever happened to you and/or what is the most interesting thing about you? 
One of the most interesting things that has ever happened to me was when I won the talent show on the Sea Princess cruise ship at the age of six. I played the piano and managed to beat all those folks in their seventies. I guess this baby snagged the show!
What is your career ambition and what are you doing or plan to do to accomplish that goal? 
Ever since I was twelve years old, I dream to become a police officer in the Emergency Task Force. The Emergency Task Force is a specialized unit in the Toronto Police Service devoted to protecting Torontonians from the most dangerous criminals and also to help at-risk civilians who suffer from mental health illnesses. After graduation from McMaster University, I plan on taking two years off and will travel around the world. I plan to volunteer and build schools in third-world countries, as I believe every one should give back to the world. This will also expand my resume and help me grow to be the best police officer possible.
What would be your "dream job" in life?
My dream job is not just to become a police officer, but also to be the best role model for all Canadians. I want to show to everyone that any dream is possible if you truly put your mind and heart into it. My best advice is that no one will give you everything you want in life. You need to truly work for it to deserve it as you will appreciate what you gain so much more.
Are you currently a student?
Yes
If yes, where?
McMaster University
Area of study:  
Honours Combined Bachelor's of Arts in Anthropology and Human Geography.
Are you currently employed?
Yes
If yes, what is your occupation?
I am hostess/server in the Financial District in downtown Toronto.
Describe where you were raised and what your childhood was like.
I was raised in the downtown core of Toronto. I am definitely a true Torontonian as I get so excited when my geography professors talk about my hometown. I am not a Toronto Maple Leafs fan, however, I love the Toronto Blue Jays!
During my childhood, I was always the chatterbox in the classroom. I loved to talk about random subjects from the weather to what is the best desert in the world! I always was a burst of energy in every situation.
List any interesting or unusual jobs you may have had. 
Last year, I got the opportunity to swim with stingrays and turtles in the Bahamas.
List any volunteering you have done.
Since I was 11, I volunteered for five consecutive years at my daycare and was a teacher assistant from the ages of 13 to 18. Also, my interests in current events and social justice issues have driven me to pursue different roles in my high school government. During my last two years of high school, I was a secretary for the Toronto District School Board's 'SuperCouncil' during my grade 11 and 12 years.
What is your most unusual talent?
My most unusual talent is the ability to remember very specific details, events, dates, and traits of people. My sharp memory sometimes scares people, but I guess I have always had my eye on the prize.
Where is the most interesting place you have been to?
The most interesting place I have been to was Okinawa, Japan. Japanese culture differs slightly from region to region. Okinawa was very different as I have seen and tasted very different foods that were new to me. I enjoy learning about different cultures and ways of life.
What do you hope to be doing in ten years?
In ten years, I plan to be a police officer in the Emergency Task Force, a specialized police unit that deals with dangerous criminals and also at-risk Canadians who specifically suffer from mental health illnesses. It is important to me to pursue this career because my past adversities have expanded my knowledge of mental health making me more relatable to those who suffer from mental health illnesses.