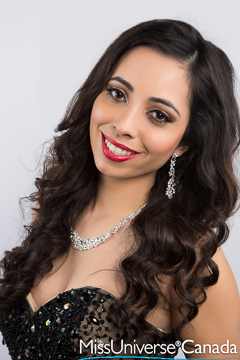 Height: 5'7″
Hometown: Toronto, ON
Ximena Lopez is originally from Colombia, was raised in Quebec City where she did her high school with the main focus on drama studies. She has been living in Toronto since age 17 where she graduated from a bilingual high school and represented that same school in the GTA oratory contest.
She studied Business Administration – Marketing at Seneca College in Toronto, where she won 1st place on Marketing plan competition during her studies.
During the summer 2013, this driven and confident woman participated in Miss America Latina, where she won Miss Entrepreneur. This award was given to the must driven and business savvy candidate.
Ximena's dream to become Miss Universe Canada started at age 10, while visiting Ecuador. During Christmas her family decided to volunteer at a shelter for Native Ecuadorians. During that Christmas Eve, she helped by giving food to young children's. That experience stimulated a great feeling to help others and inspired her at a young age to become a Miss Universe Canada to help all those less fortunate.
This National Candidate is currently working as a Marketing Specialist and is focused on her short-term goal to become the next Miss Universe Canada. Her career path and past experience has helped her gain the confidence and determination necessary to be part of Miss Universe Canada.
Sponsors:
Feri Latino, Colombia Fashion, JGucci Ent., DescribeMe Inc., Universal Interiors Construction Service, Younique D'Lo Spa, The Green Dispense, Kitchen Cultures, Camela Intimates, Video Impact, Friends and Family
Languages spoken fluently (please include your native language if English is not your native language). 
Fluent in English, French and Spanish
What are your interests and what do you enjoy doing the most?
I love meeting new people from different countries and learning about their cultures. This interest leads to my other passion, culinary. I think the best way to learn about any culture is to try their national dishes, so why not enjoy a good dish and learn about their culture at the same time?
List any special training you have had (music, art, drama, dance, etc.)
Acting (Theatre)
Art classes
Public speaking
Leadership training
In what sports, if any, have you participated?
At the age of 15 I joined a group called "Motivation Jeunesse". This group was to encourage teenagers to be involved in sports. With this group, I learned to enjoy sports such as skiing, Cross-country skiing, and Cycling. During the summer of 2003, 20 of us decided to bike 500 km from Quebec City to Mont Tremblant, during a 7 days journey. To me, this was an exciting experience, where I learned to push my limits and to accomplish something that I never thought I could achieve.
Name one person, other than your parents, who has had the most influence on your life. Why? 
The person that had more influence in my life other than my parents is a senior project manager who I met in a company I used to work for.
I always looked at Yoli as someone who enjoyed life, had a great taste for fashion and was always passionate about her career path.
She guided me by giving me many advices and by sharing her wisdom. She taught me to follow my dreams and passions but to always have my values in mind. She also inspired me to be successful in life by teaching me to embrace who I am and to knowledge my strengths.
Her words of wisdom have followed me since and have made a huge impact in my personal and professional life.
What is your proudest personal accomplishment (other than participating in this pageant)?
I have many proud moments, but my proudest personal accomplishment was to get a second place in an oratory contest in the GTA. Even though I couldn't make it to the first place, it was a great learning experience.
What is the most interesting or unique thing that has ever happened to you and/or what is the most interesting thing about you?
The most unique thing that has happened to me it was to spend Christmas at "La Hospederia La Tola". This place is a shelter for Native Ecuadorians where they can find rooms for sleep, food, and free doctor services.
During that Christmas Eve, I helped by serving food to young children's who have nothing to eat or a place to sleep. Seeing them filled with happiness and thanking me for being there for them, it was something I will never forget. That specific experience taught me great things and inspired me from a very young age to always help those who are less fortunate.
What is your career ambition and what are you doing or plan to do to accomplish that goal?
My ultimate goal in terms of my career path is to be an International Marketing Executive. I believe that with hard work and commitment you can accomplish anything you set your mind to. Only a few months ago I started working as a Marketing Specialist for a telecommunication company and my plan is to make this company one of the most important companies in the telecommunications industry.
What would be your "dream job" in life?
I'm currently working to accomplish my immediate dream job and that is to become the next Miss Universe Canada 2015. I want to be an ambassador for the Canadian youth. In the Long term, I would like to have a Marketing Company where half of my employees are young professionals with driven ambition. I believe our youth are the future of our country and by providing them the opportunity to grow I will be helping the future generations and the future of this country.
Are you currently a student?
No
Are you currently employed?
Yes
If yes, what is your occupation?
Marketing Specialist
Describe where you were raised and what your childhood was like.  
I am originally from Colombia, I left when I was 9 years old and then I was raised in Quebec City. I feel very fortunate to have had a lovely and joyful childhood. I have many great memories I remember when I was younger I liked to create a dance show for my family when we had family gatherings and we always had a great time doing it. I also remember playing with my friends doing fashion shows, where the judges were our Parents and friends and they would choose a queen of the day. I always had a lot of fun with my parents and I feel blessed for this.
List any interesting or unusual jobs you may have had.
When I was in Quebec, by the age of 12 years old I was chosen by the school to represent the newcomer kids and tell in TV and newspapers interviews about this experience as a newcomer in Canada.
List any volunteering you have done.
Fashion shows logistics for a Nonprofit organization.
Volunteer giving food to homeless people.
What is your most unusual talent?
I have the talent to remember occasions or conversations that happened long ago. Per example, if I concentrate enough and try to look into my memories, I can explain in details where I was having a conversation, what it was about and how the person was dress.
Where is the most interesting place you have been to? 
The most interesting place I've been was a town in Ecuador. This place was a town during the day and an Island at night. High tides separated them from the mainland after 5 p.m. every day.
What do you hope to be doing in ten years?
In the next ten years, I hope to accomplish my goal to become a International Marketing Executive. I also see myself having a family.
Is there anything you would like to add that we haven't asked?
Something interesting to me is that at age 14 I was part of the cadets. During one year, I trained with the Canadian Forces Cadets. It was a great experience for me.