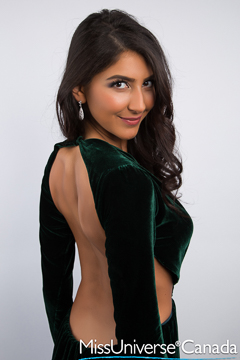 Height: 5'7″
Hometown: Toronto, ON
Yass Sadr; an ambitious individual of Iranian origin. She is an undergraduate student currently completing her Specialized Honors in Kinesiology & Health Sciences (BSc) and Minoring in Ballet (BA) at York University. Yass dreams to inspire Canadian women that they are not limited of their capabilities in life. It takes courage, empathy, dedication, and motivation to aim the impossible. Yass is a big dreamer.
Along the many nonprofit organizations in Toronto, Yass has aimed to make her community "better than it already is".  She is part of an organization as a volunteer in the 32 Police Division. She and the members of the organization visit High Schools in Toronto, and Yass gives a speech about abusive relationships and how it can potentially impact a teenagers' future.
Yass has spent the past year volunteering for Sunnybrook Health & Sciences Centre. She makes daily interactions with patients in the Cardiology and (ICU) unit, encouraging them to do movements and physical activity advised by a physiotherapist. The last thing she wants is for her clients is for them to recall that they are in a hospital setting.
She also volunteers at Baycrest, which is a geriatric residency. Most of her time is spent with patients diagnosed with dementia, Alzheimer's and Parkinson's. However, she tries to comfort and give care to the elderly by taking them to concerts and recreational activities provided by the facility. The patients are to feel at home and they are given care within the ranging facilities of the hospital.
Aside from the major commitments she gives to her community, Yass has been a resident of Canada with her family and relatives since the age of 6, and she has adapted very well to the multicultural community of Toronto. She grew up with her role models, her mother, father, and two brothers. They emphasized on all the true beauties in life. The pureness of the spirit, the importance of wisdom, and the significance of holding knowledge of the correct principles for moral values.
Being a skillful ballet dancer, Yass has performed multiple choreographed dances on stage in her ballet school and in her University. Yass also focuses on lyrical and contemporary dance and enjoys performing solo dance routines with her favorite music at home and in the gym everyday after her workouts.
Yass has enjoyed all her years of doing volunteer work for different institutions. She has gained experiences in many different fields and aspects, though it is all for one cause; to help people. She has also developed her own website selling her own hand made bracelets for Operation Smile.
To this day, It has been long journey for Yass. She has experienced being bullied; she has also been in an abusive relationship. However, it has built her into the strong person she is today and for that, she aims to reinforce to the biggest network possible that these relationships have high importance when considering the natural development of an individual's future.
Sponsors:
"Vida" Custom Made Gowns, Bahar Salon & Spa, AS Industrial Design, Empress Eye Clinic, Parlour, Realtan, Roopol Photography, Patisserie27, Friends and Family
Languages spoken fluently (please include your native language if English is not your native language).
English, Farsi
What are your interests and what do you enjoy doing the most?
Spending my free time dancing to music, whether its in the studio or at home.
Spending time with family and friends. They are part of the important qualities in my life and I truly appreciate each and every one of their existence.
I aspire to help my community by volunteering in Hospitals and doing research related to my field of study.
I am very enthusiastic about travelling the world, and learning about the different lifestyles of human beings. Cultural and traditional values of various ethnicities attract me.
I have a strong passion for cooking baked goods. Cookies, cupcakes, cheesecakes are all my thing.
List any special training you have had (music, art, drama, dance, etc.)
Ballet (8 years)
Lyrical & Contemporary Dance (8 years)
Violin
Singing (2 years)
Sculpturing (since the age of 7)
Pottery (since the age of 7)
Acrylic Painting – recreational
Figure skating
Photography
In what sports, if any, have you participated?
Ballet – (since 2007)
Lyrical dance – (since 2007)
Contemporary dance – (since 2007)
 Swimming – since the age of 3
Skiing – The first year I had immigrated to Canada (since 2000)
Figure skating
Yoga/meditation
Soccer
Volleyball
Beach Volleyball
Badminton
Name one person, other than your parents, who has had the most influence on your life. Why? 
I have had many experiences, good and bad with people, and I have learned something special from each and every one of them. I believe people come in to your life, to teach you how to be a better version of yourself, and I always appreciate the bad and the good experiences I've had with others. Because they have all taught me lessons that make me the person that I am today..
What is your proudest personal accomplishment (other than participating in this pageant)?
On the plane heading back to Toronto from a summer vacation in Iran, before departure, a 10-year-old girl was having a seizure. I waited for a doctor to arrive, but no one showed up. I was certified in First Aid/CPR/AED, so I waited for her seizure to finish. I put her down on the aisle of the plane on her back, and I performed 30; 2 chest compressions twice and she started coughing. It was an AMAZING moment. It was a stressful yet unforgettable 10 minutes.
What is the most interesting or unique thing that has ever happened to you and/or what is the most interesting thing about you?
My ambition for helping the disadvantaged started when me, my mom and my dad visited a very small and poor village in Iran. My grandmother had passed away a couple years before, and the money she had left was passed on to my father. Each year on my grandmothers anniversary my dad bought rice, chicken, meat, and other goods from the local market for us to pack into individual packages for the needy.
What I saw that day was unforgettable. Children were running from their homes, opening the car doors, desperate to get more than one bag, with their parents at their doors waiting for their children to come back with the goods. The boys in the village, fighting over priority of receiving goods from my dad, crying… it was crazy and I felt as if my heart shattered to pieces. From then on I understood that doing good does not have limits, and since then helping people has taken a big part of my life.
What is your career ambition and what are you doing or plan to do to accomplish that goal?
To become the well-known ophthalmologist in Toronto that I desire to be, I plan to continue working hard on my studies, as well as my community work. I will also attend more charitable functions and be an effective member to the society so that I can broaden my network of influential people in the industry, in the city and nationally. I also plan to continue being involved in academia, and continue helping the community with the research in biophysics and medical science related fields.
What would be your "dream job" in life?
To be a well-known ophthalmologist in Toronto that performs surgeries on patients diagnosed with cataracts and glaucoma.
I aspire to become a public figure, known for appearing in the many charitable organizations and sponsored events on the side of my career.
Are you currently a student?
Yes. I am a 3rd year student at York University in Toronto, and I will be finishing a Specialized Honors in Kinesiology & Health sciences (BSC) and a Minor of Ballet (BA) as of April, 2016.
Are you currently employed?
Yes
If yes, what is your occupation?
Vida Bridal – modeling
Describe where you were raised and what your childhood was like.
I was born in Tehran, Iran and when I was six, my family and I immigrated to Toronto, Canada. The early years and adaptation were hard, not as one would think since I was so young. This was because I experienced many situations of bullying, and I was found guilty for almost anything that happened in my school. It was definitely hard. But I managed to find good friends and one of them lived right across my house, and so we grew up together being the closest friends we each have today.
List any interesting or unusual jobs you may have had.
In 2014 I while shadowing a group of surgeons in Masih Daneshvari Hospital (Tehran, Iran), I observed operational procedures of heart and lung transplants in Iran. It was astonishing. The delicacy of the movements and procedures done on patients were incredible.
List any volunteering you have done.
Sunnybrook Hospital – Mobility training in the Cardiology and Intensive Care Unit (ICU).
Baycrest – caring for elderly at the geriatric residency
Community Police – Division 32 – lecturing teenagers to gain and accept help from peers and family regarding physical or verbal abuse which may be occurring in a relationship.
Aquafit Trainer at YMCA – Teaching the elderly activities in the pool to reduce chances and symptoms of arthritis and muscle fatigue.
Canadian Cancer Society – raising funds and awareness
Canadian Breast Cancer Foundation – selling pink ribbons
UNICEF – raising funds & awareness at school & university events
Performing sign language – raising funds for the hearing impaired
What is your most unusual talent?
- From the age of 3, I was known to find almost everything people lost.
- I am the most patient person in opening the worst knots.
Where is the most interesting place you have been to?
Mexico was an absolute trip, filled with colors. Just the sense of having so much nature around, gave me a sense of euphoria. The pitching sounds of the birds, the sound of the Caribbean shore, the wind blowing through the leaves of coconut trees, all in one… Amazing!
What do you hope to be doing in ten years?
In ten years I hope to be performing surgery, helping patients regain their vision. I also want to hold myself responsible to empower and motivate women of the potential they have within themselves, so that they believe the unlimited dreams they may achieve and so they can pursue their true aspirations.
Is there anything you would like to add that we haven't asked?
Becoming the next Miss Universe Canada is does not stop at the crowning moment. In fact, it would be only the start to an opportunity of expression to help make the positive changes that should be taking place with women in our society. It is also an opportunity for me to represent Canada at the Miss Universe competition as a representation of a strong multicultural nation. It would give me the opportunity to prove that all women are beautiful and many of them are unaware of their wisdom, morality, and intelligence. It would be an honor for me to encourage women in Canada that they have nothing to lose in order to become what they truly desire. Women ought to believe in themselves; that they are their own dream catchers and motivators.