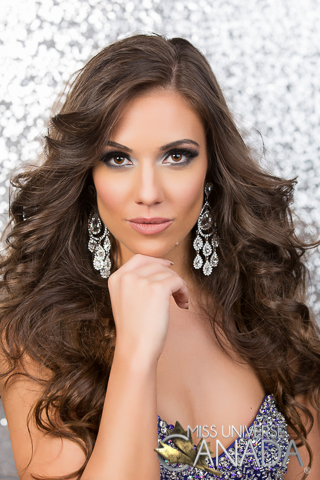 Height: 5'5″
Hometown: Amherstburg, ON
Amber Bernachi is a confident, independent woman who believes anything is possible with a strong vision and positive approach. She is a goal setter and achiever who won't let anything prevent her from attaining her dreams. She has a passion for traveling, volunteering, reading and fitness. She was raised in the small, riverside town of Amherstburg, Ontario. Her passion for living life to the fullest drives her to step outside of her comfort zone as often as possible. She loves to inspire others to do the same and believes that there are no limits to life, except for the ones we create ourselves. A positive attitude and determination is Amber's strategy for success.
She recently graduated with a Masters of Business Administration degree from the University of Windsor, completing her last semester as an exchange student in Rouen, France. She has also earned three other degrees; Honours Business Administration, Bachelor of Arts: Political Science and Bachelor of Education, from the University of Windsor. Academics have always been an important priority in her life.
Amber likes to balance hard work with exciting and rewarding experiences. Amber enjoys traveling around the world and experiencing new cultures, landscapes and meeting different people. The most impactful experience of her life was when she had the opportunity to travel through Thailand as a volunteer, working in an orphanage, a day care center and within the underdeveloped communities. The children made a huge impact on Amber's life and will forever hold a spot in her heart. She hopes to one day return to Thailand and to also travel to other areas of the world that are in need. She has visited over 30 countries and is always looking forward to her next opportunity to travel. She believes that life is enriched by the people you meet and the experiences you create with them.
Volunteering has always played an important role in Amber's life, whether it is coaching minor soccer, dance, figure skating or traveling halfway across the world to work with children. She enjoys fundraising and has organized many events within her community. She has also volunteered at a number of events held by Transition to Betterness, a local charitable foundation, which provides comfort to those in hospice care. In 2014, Amber co-founded the charitable organization, Karma Crew, which has hosted events to raise money for the purchase of a 3-D mammography machine for a local community hospital. Amber is a confident, positive role model who hopes to inspire others to be fearless in pursuing their own passions. She believes that life is truly what you make of it and there are no limits.
The most important lesson Amber has learned is that the secret to happiness is found in the acceptance of self. Life is about finding yourself and your passion, it is about being happy in your own skin and accepting yourself for who you are; mind, body and soul. Her motto is, if you don't like something about your life, change it. Everyday is a new chance to start over and become the person you want to be.
Sponsors:
Mezzo Ristorante & Lounge, Moxies Classic Grill, Vito's Pizzeria, FAKEit!, Zack Berjawi at Darkgard3n Photography, Lotus Spa, Coral Medical Health Spa, Coscarella Family Dentistry, Spaxs Nail Bar, Ben Wagner Photography, Friends & Family
Languages spoken fluently (please include your native language if English is not your native language).
English
What are your interests and what do you enjoy doing the most?
I have many interests and I believe it is important to continuously try new things because you never know when you may fall in love with an activity or find a new passion. I find that this approach to life opens the door to so many new and exciting opportunities. I have bungee jumped in Quebec, gone ice skating at the Eiffel Tower and hiked a mountain in Stavanger, Norway to name a few things. One of my passions is to travel the world. Thailand, France and Italy have been a few of my favourites places to experience. I love the culture, the history, the food and especially the people in these countries. Some of my other interests include playing sports and staying active. I enjoy volleyball, snowboarding, kickboxing and I love working out and keeping fit. What I enjoy doing the most is event planning. Pursuing this interest has allowed me to plan successful fundraising events to support and give back to my local community. I also love to read and I dream of having my own personal library one day, filled with a variety of books. Another passion of mine is trying new culinary dishes from around the world. I enjoy learning more about different cultures and a great way of doing this is through culinary experiences. I am not afraid to try new cultural foods, which has led me to even try things like deep fried crickets in Thailand! I also enjoy spending time with my family, whether we are traveling together or watching our favourite stand up comedy shows at home, family time is important to me. I find I am happiest when I am involved in as many things as possible. I am highly motivated to live life to the fullest and to share great experiences with others.
List any special training you have had (music, art, drama, dance, etc.).
Classical and contemporary piano
Competitive Level Dance (Modern, Hip-hop and Ballet)
Modelling
Public Speaking
Boxing
Cheerleading
Certified Cosmetician
In what sports, if any, have you participated?
I began playing on competitive sports teams when I was four years old and since then I have continued to participate in a variety of sports. Some I have played include baseball, soccer, volleyball, dance team, track and field, figure skating, swimming, boxing, horseback riding, snowboarding, skiing, cheerleading, gymnastics and tennis. I think because my parents introduced me to sports at such a young age I became comfortable with competition and working together on teams. I believe participating in sports is a great way to stay in shape while also teaching many life skills like cooperation and supporting others. Through sports, I have developed great friendships with people who enjoy and share the same passions.
Name one person, other than your parents, who has had the most influence on your life. Why?
My younger sister Jaylyn. Typically younger siblings tend to look up to and admire their older sister or brother, however, I am fortunate to be able to say that I have a younger sister who has also taught me so much in return. There are many valuable life lessons that I have learned from being the older sister. The position comes with certain responsibilities, ones that we are not always aware of, but instead we learn over time. Being an older sister means that I am a daily role model to my younger sister and because of this I must continuously set a positive example. She was my sidekick growing up and so many of the wonderful memories I have of my childhood are because of her. She has taught me how to gain trust, how to be a leader and role model, how to love unconditionally and of course how to share. Most importantly my sister has taught me what is really important in life; meaningful relationships and memories we make with family. My sister may be young but she has an old soul, she has a kind demeanour and a strong passion for what she believes in. She has become the person I go to when I need advice and she amazes me with her valuable insight. I am so lucky to have her in my life and it has been exciting to see her grow up into the beautiful, intelligent, kind woman she is today. I am so proud of her for finding her passion in life and pursuing her dreams through yoga. She has not only been a truly amazing sister to me but also my best friend.
What is your proudest personal accomplishment (other than participating in this pageant)?
Education has always been an important aspect of my life. I have always made my education a priority and because of this I was able to complete four degrees within seven years. My proudest personal accomplishment was the completion of my final degree; Masters of Business Administration. I was able to complete my final semester abroad in Rouen, France. Being an international student has allowed me to gain experience from working with different people from all over the world. A valuable lesson I learned is that culture has a major affect on business interactions and different approach should be respected and valued. While attending the University of Windsor, I participated in many activities which allowed me to be a successful, well-rounded student. I was elected and hired on three student councils; UWSA, Commerce Society and MBA Society. I also participated in a variety of sports which included soccer, cheerleading and volleyball. My time spent at the University of Windsor also allowed me to develop my personal skills in the areas of time management, leadership, communication, multi-tasking, and self discipline. I also made many positive connections with other ambitious students as well as with my professors. I believe it is important to be educated and well versed in current affairs. Education has presented me with new opportunities and has helped shape me to become the best version of myself.
What is the most interesting or unique thing that has ever happened to you and/or what is the most interesting thing about you?
Recently while completing my MBA degree in France, I was put into a position where I had to really move out of my comfort zone. I was living as a student in the city of Rouen, France and I had just booked a trip to visit my grandmother's hometown in Abbateggio, Italy. On Friday, November 13th, the terrorist attacks took place in Paris, France. I was supposed to travel a few days later, by myself, through the Paris airport and onto the airport in Rome, Italy. My first instinct was to cancel the trip because I was scared and it seemed too dangerous. The rumours had started that there would be more attacks, including in cities like Rome. I was torn between intense fear and being able to manifest my dream of visiting my grandmother's childhood home. After much thought I realized that I did not want to give in to a world driven by fear. I am a proud Canadian and I live in a free and peaceful nation. At that time I vowed to live my life based on my Canadian values and upbringing no matter where I find myself in this world. I did not want to give into the fears that these terrorists want us to succumb to. It took all the courage I had to leave my apartment and travel by trains, planes and buses through these cities to find my way to the small town where my grandmother grew up. It was empowering for me to make that trip and it showed me the internal strength that I possess. I learned that we must take a stand in our own lives and continue to pursue our dreams even though we never really know what might happen. We need to live our lives to the fullest and appreciate each day we are given.
What is your career ambition and what are you doing or plan to do to accomplish that goal?
Now that I have completed my education, my ambition is to make use of my four degrees and take advantage of all opportunities that come my way. They say that luck happens when opportunity is met with preparation, so I am anxious to move on to the next stage of my life. Ultimately, I would like to combine my MBA and Political Science degree to build a career where I can continue to learn and accomplish great things. More specifically I'd like to pursue a career in either marketing or politics. Who knows, maybe even become the second female Prime Minister!
What would be your "dream job" in life?
I want to be a woman in a powerful leadership role for a well-respected company. I would like to combine my interest in travelling along with my passion for event planning and fundraising. I want to make an impact not only within my community but nationally, as well. I hope to be in a position where I can continue to improve myself and also improve the lives of others. A dream job would be one, which allows me to have the proper work-life balance and encourages me to continue to set and achieve my goals. At this moment my dream job would be to become Miss Universe Canada 2016. This would allow me to achieve these goals and it would be a privilege to have this strong humanitarian platform.
Are you currently a student?
No, I recently completed the MBA program offered at the University of Windsor and will be graduating this June. However, law school has always been an aspiration of mine!
Are you currently employed?
If yes, what is your occupation?
I am a supervisor and server at Moxie's Classic Grill.
Describe where you were raised and what your childhood was like.
I was raised in the beautiful town of Amherstburg, Ontario. My childhood was amazing and I have a lot of positive memories that I hold close to my heart. When I think of some of my childhood memories I remember all the roleplaying I did. From starting my own news program in my living room called "News Now" to running my own classroom in our basement with my sister and her friend as my students. I was constantly thinking of new business ideas like selling golf balls from my backyard, which faces a golf course, or setting up my room as a store for my sister to come to shop at. My entrepreneurial spirit is why I chose to pursue business academically and as a career. I was fortunate enough to have two loving parents and an amazing younger sister. My childhood was always full of love, travelling, activities and positive influence. My parents have always made a point to travel together as a family at least once a year, which has sparked my own personal desire to travel. They have also encouraged me to be the ambitious, goal-seeking individual that I am. They enrolled me in as many sports and activities as possible but always placed an emphasis on education and being a responsible, giving member of the community.
List any interesting or unusual jobs you may have had.
2016 North American International Auto Show model
Event coordinator and organizer for Karma Crew, non-profit organization
Graduate Assistant, School of Business, University of Windsor
Selling paint door to door at the age of fifteen
List any volunteering you have done.
Volunteering began at a young age for me. When I was eleven years old my best friend and I held a fundraiser at my school to raise money for a young boy in our community who needed an operation to remove a brain tumour. Realizing the impact I had made on the family was a life changing moment for me. That feeling has inspired me to continue to participate in as many charity fundraisers as possible ever since.
Volunteering Solutions 2012- Travelled to Thailand for a month to work in orphanages, daycare centers and in underprivileged communities
Heart and Stroke Foundation campaigning
Heart Breaker Challenge – 2013 for Hotel Dieu Grace Hospital
NOH8 Against Bullying Campaign photo shoot
Coaching soccer ages 3-5 for AMSA in Amherstburg 2007-2012
Coaching Dance team –returned to coach at my grade school-Stella Maris
Coaching figure skating at AMSA in Amherstburg
Competed in the Dragon Boats competition to support the cure for breast cancer 2012-2015.
Various 'Transition to Betterness' events: Lit-up event, Boxing match event, Annual gala hostess, golf tournaments
Hats on for Healthcare- Windsor Regional Hospital
Community Planting Weekend- "Forests Ontario"
SOS Children's Villages
Operation Smile
I also co-founded a non-profit charitable organization in 2014, called Karma Crew, with a group of close friends who share the same passion for giving back. We plan events that raise money for various, worthy causes within our community. Our first fundraising efforts raised funds for Windsor Regional Hospital's Breast Cancer Unit, to help purchase a 3D mammogram machine. With our last two successful events we were able to raise a total of $3550.
What is your most unusual talent?
I'm a trained boxer. I participated in a local charity-boxing match both years that the event has been held. Although I enjoy competitive sports, boxing someone in a ring was not an activity I had envisioned for myself. It was the most intense five minutes of my life, but I am happy I competed and it was for a good cause. Last year I won the match and now my dad is proud to say that his daughter is a boxing champion!
Where is the most interesting place you have been to?
The most interesting place that I have been to is Abbateggio, Italy. It's a small town surrounded by mountains in the eastern part of the country. Most people have never heard of this small town but for me it was a place I have wanted to visit since I was a little girl. Abbateggio is where my grandparents are from and where my grandmother's childhood home still stands surrounded by fields and mountains. I had heard so much about it through the stories my grandmother would tell me of what it was like growing up with her six sisters and two brothers. She loved where she came from and because of her love for the town I also fell in love with it. She immigrated to Canada as a young wife and mother and was the only one in her family that never had the chance to go back and visit before she passed away nine years ago. So when I had the opportunity recently to visit, while attending university in France, I made it a priority to travel there. I not only got to see a beautiful part of Italy but I was also able to reconnect with my grandmother in a very beautiful and touching way.
What do you hope to be doing in ten years?
In ten years I hope to be married with children and established in a successful career that I love. In my personal life, I would like to have a good balance between family and career, while still pursuing the things I love to do, and always setting new goals for myself. I hope to still be travelling around the world and meeting new people. I hope to stay involved in fundraising events for charities within my community and globally. I am fortunate to live in a time where anything is possible and women can pursue their dreams. I hope to be an example of this and make an impact on young women's lives and encourage them to find their own passion.
Is there anything you would like to add that we haven't asked?
I believe Miss Universe Canada is a woman who embodies confidence, beauty, humanitarian work, great social and communication skills and has a passion for life and learning. I have always strived to excel in these areas in my own life. When I discovered pageantry at a young age while watching it on TV, I felt instantly drawn to the competition and becoming a titleholder has been a dream of mine ever since. I feel confident that I can take on this role and I know that I would represent our beautiful country proudly. I would use this title to continue to be an excellent role model and motivate young women and children to pursue their own dreams.