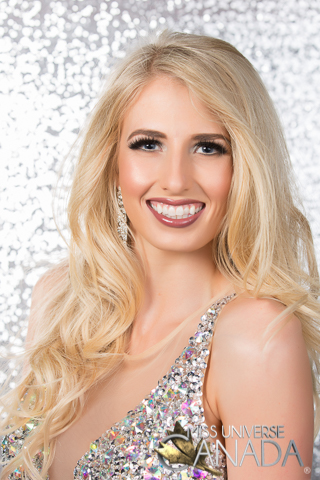 Height: 5'8″
Hometown: Stony Plain, AB
Brianne Kidner was born and raised in the beautiful country side of Wildwood, Alberta. Raised a country girl, she knows that with hard-work and dedication, the opportunities in life are endless. She is currently a registered nurse working in a rural hospital on an acute care unit. She is actively pursuing a career in emergent nursing, and plans to eventually become a flight nurse and emergency first responder with STARS. In addition, she currently runs her own home business that focuses on health and wellness, and empowering women to feel the best in their own skin.
Her positive attitude, uplifting spirit and approachable personality have shown through her dedication of supporting her community. Brianne has selflessly organized and planned over two dozen fundraisers in support of the Little Warriors (an organization focused on the prevention and treatment of child sexual abuse), in her attempt to educate and shine awareness on this unfortunate crime. As she is a survivor of child sexual abuse, her desire to protect future children from being harmed is both personal and imperative. Last year, she created the first Little Warriors Radiothon, which now, with the help of Parkland's Best Country and Leduc's Best Country radio stations, is going to continue annually. Most impressively, for the past two years, she has spearheaded a 500 person masquerade gala dinner fundraiser in hopes of raising awareness and funds for the Be Brave Ranch. The events have exceeded her expectations, and she is currently planning her third annual gala for this upcoming fall. You can find the details regarding her solo work with Little Warriors at www.unmaskingthemyths.com.
In addition to working closely with the Little Warriors, Brianne has gave back to her community in a multitude of ways. She has volunteered for many other important organizations such as Big Brothers/Big Sisters, the Hope Mission, the Stollery Children's Hospital, WIN House, and SOS Children's Villages, among others. Her courage of conviction allows her the ability to empower women and to represent a strong role model for young girls. When Brianne is not busy in her community, she passes the time with other active passions of hers including yoga and meditation, fitness, baking delicious desserts, and travelling! She also has a passion for dance, with a professional background in swing two-stepping. You can often find her at the local fairs and country festivals tearing up the dance floor with her fiancé. A busy life keeps her on her toes, and somewhere in between all the excitement she still finds time to share her passions with the world on her blog, www.beautyandtheboots.com.
Brianne approaches every situation with ease and confidence, and is truly a natural in front of the camera. She is a farm girl at heart, and you will never find her without her cowgirl boots! She enjoys a challenge, and strives for success. With training in public speaking, and a vast amount of experience in a multitude of areas, she is confident that she would be a perfect fit to represent Canada at an international level. Having spent six months studying criminal justice on sex crimes, and receiving the honor of becoming a Gold Sponsor for the Little Warriors, Brianne feels extremely prepared, educated and motivated to be a strong spokesperson for the prevention of child sexual abuse. By obtaining the title of Miss Universe Canada, Brianne would be able to bring national and international awareness to child sexual abuse, and to empower women to achieve their greatest personal and career centered goals.
Sponsors:
The Bridal Boutique, Select Sport Performance, Daubert Contracting Ltd., D & A Guidinger Contracting Ltd., Little Strand Salon, Sunrise Dental, SOHO Hair Fashion Canada, Original Joes, Friends & Family
Languages spoken fluently (please include your native language if English is not your native language).
English is my native language. However, I am currently learning Spanish, and I hope to one day learn French and Italian as well!
What are your interests and what do you enjoy doing the most?
I believe in living an active and healthy lifestyle; therefore, I try to dedicate a portion of each day to yoga, meditation and fitness. I recently went through a major weight loss and got diagnosed as gluten and dairy intolerant, so eating clean and staying active are very important to me.
I love to go out dancing with my fiancé at country festivals, or even family dances in our small town! We have quite a few friends that are country singers and we like to support them as often as we can. I also have a passion for travelling, and I am fortunate to be able to take 2-3 vacations a year! Each time it is an incredible experience and the opportunities that are available are endless. You can't really begin to understand the needs of the world until you travel and experience them for yourself.
When I am not traveling and embarking on new adventures, I fill up my days with other active passions of mine which include volunteering, blogging, baking scrumptious healthy desserts, and spending quality time with my family (and pets!). Last year we adopted two male hairless Egyptian Sphynx cats! They are adorable and full of personality; our house is definitely a lot more exciting with them here!
List any special training you have had (music, art, drama, dance, etc.).
Swing two-stepping; I am a country girl born and raised so two-stepping is in my blood. However, my fiancé used to teach a faster-paced version that involves dips, flips and acrobatics. I have now been dancing with him for years, and we have been featured in several professional videos. We also teach basic classes together! The additional training I have had includes:
Runway
Public Speaking
Burlesque Dancing
Fitness and Nutritional Training
Yoga and Meditation
Photography
Make-up and Hair Styling
Modeling/Posing
Piano
Scuba Diving
Event Coordinating/Planning
Jazz, Ballet, Tap, Hip-hop
Health Care Provider Level CPR
ACLS (Advanced Cardiac Life Support)
In what sports, if any, have you participated?
I believe being involved in sports has an important and positive influence in life; they involve valuable life lessons such as teamwork, cooperation, accountability, integrity and honesty.
When I was younger I used to be actively involved in basketball, volleyball and badminton! Although I haven't played any of these in quite some time, for the past two years I have joined a slow pitch team and loved it! I hope to return again this year and master my batting skills.
I am currently learning to play golf, which is a beautiful sport. I hope to grace a few courses this summer and improve my swing and accuracy. In addition, I have a love for snowboarding, Frisbee and trying new sports- the most interesting one I have ever played was bunnock! We actually just got a starter set for Christmas- I look forward to the friendly competition that it will bring during camping this summer!
Name one person, other than your parents, who has had the most influence on your life. Why?
My fiancé has really embraced a positive and uplifting role for me. He is extremely supportive, caring and driven, and I find that this energy encourages me when I am feeling overwhelmed. He both challenges and inspires me to be the best version of myself every day. One of my favorite quotes that he lives by is "Treat others as you want to be treated". I couldn't agree with it more! Each day he reminds me of my determination, and to always take life one day at a time.
What is your proudest personal accomplishment (other than participating in this pageant)?
For the past two years I have worked extensively with the Little Warriors, which is a non-profit organization focused on the prevention and treatment of child sexual abuse. As I am a survivor of child sexual abuse, bringing awareness to this unfortunate crime is something I am extremely passionate about. Just this past year, I created the first ever (and now annual!) Little Warriors Radiothon with two amazing radio stations in my area! The event turned out amazing, and I cannot wait to see what this year will bring. I am very excited about what it will mean for the organization, as well as overall awareness in general.
In addition to this large fundraiser, for the past two year's I have spearheaded a Masquerade Gala Dinner Fundraiser at the Shaw Conference Centre in Edmonton, titled "Unmasking the Myths" in support of the Little Warriors. The gala was planned and organized entirely by myself, with 500 guests in attendance. The evening included a cocktail hour, silent auction, raffles, plated dinner, 3 musicians/bands, and VIP speakers including the founder of Little Warriors, Glori Meldrum. I created a slideshow for this now annual event titled "Unmasking the Myths" (which can be found on YouTube), and this is what inspired the main idea behind my event.
All of our guests donned masquerade masks, and when I took the stage for my speech, I stood up for the first time in 2014 and explained what I had been through. After my speech I played the slideshow. The meaning behind it is to open your eyes and stop hiding behind a mask, because child sexual abuse does happen, and often right in front of us. At the end of the video, the guests are asked to remove their masks as a symbol of awareness and the desire to change the circumstances. You can find the official website for the annual gala here (www.unmaskingthemyths.com) as well as all of the other fundraisers I put on for this organization.
This past November at my 2015 gala, the founder of Little Warriors announced during her speech that they have named me as a gold sponsor for all of the hard work I put into raising money and awareness for the organization. This means that a room at their treatment facility, the "Be Brave Ranch" now has my name written on the door, and that room is dedicated to me as a sponsor. How I felt in this moment, was absolutely amazing. By far, this would be my proudest personal accomplishment, and it has given me the drive to spearhead the third annual gala this year.
What is the most interesting or unique thing that has ever happened to you and/or what is the most interesting thing about you?
I believe the most interesting thing about me is my love for all things country. As I am a farm girl born and raised, I am drawn to anything that reminds me of home. With that, comes my love of country dancing and for cowgirl boots. Most girls dream of that gorgeous pair of high heels, but for me, it is for a beautiful pair of boots! Whenever I leave the house, they are either on my feet or in my car. Even when we travel to sunny destinations such as Mexico, I take my boots and jeans to wear at night. Sometimes I get funny looks but it is what is natural for me, and comfortable! Plus, swing two-stepping is not the easiest thing to do in a dress and heels.
What is your career ambition and what are you doing or plan to do to accomplish that goal?
My career ambition is to be actively involved in emergent nursing, and to become a flight nurse and emergency first responder with STARS. I am an adrenaline junkie, coupled with a passion to heal those who are sick, injured and afraid. For me, nursing is not a career focused only on the physical aspects of an individual, but the emotional, spiritual and psychological needs of a person as well. To become someone's light at the end of the tunnel is truly an amazing feeling.
Currently, I am working as a Registered Nurse on an acute care unit in my hometown. I am actively seeking additional courses and certification to advance my knowledge and skill set. Becoming involved with STARS is hard work, and will require several years of experience working in both emergency and ICU. I am more than ready to begin the journey, and I am determined to make a difference.
In addition, I am looking forward to growing my home business, It Works, which is focused on health and wellness. This is something that I am very passionate about, and it gives me the opportunity to inspire and motivate women, to help them fall back in love with their bodies, and to find that inner confidence I know they have! I help them to live a healthier, happier and more active life, as well as help those on my team make an income from home, find financial freedom, and be able to spend more time with their families. I find that no matter which career took a lead in my life, I would always be dedicated to helping someone improve their life!
What would be your "dream job" in life?
For where I am in life right now, becoming Miss Universe Canada 2016 would be a dream job. Competing again in this exquisite pageant is something I have been striving towards for the last few years. I have never been more sure of who I am, and what I stand for. Miss Universe Canada is a position that symbolizes strength, beauty, courage of conviction, grace and integrity. Having the opportunity to be crowned Miss Universe Canada is a dream come true and it is a position that I have been training, prepping and working hard for.
Not only does this provide me the opportunity to empower women, but it also enables me the opportunity to be a strong role model for young girls. I am very excited about this incredible experience as it provides me with the ability to educate and shine awareness on my biggest passion, preventing child sexual abuse. I believe that the miracle of stopping this unnecessary crime is held within our community and our ability to make change happen.
Are you currently a student?
No
Are you currently employed?
Yes
If yes, what is your occupation?
I am currently a Registered Nurse working on an acute care unit at the rural hospital in my home town! In addition, I currently run my own home business, called It Works, which is focused on health and wellness! Both jobs enable me to be able to improve someone else's life, and I absolutely love that!
Describe where you were raised and what your childhood was like.
I feel very fortunate to have been raised on a farm, outside a small community in central Alberta. Our house was tiny, and my entire family all lived on the same property. My family owned a sawmill, so our yard was always crazy busy with log trucks pulling in and out. We had tons of animals, including a pig barn and chicken pen. My grandma had the biggest garden that we would help weed and water, and for most of the grandchildren's birthday parties, we would hold our own rodeos! We have a large family (I have 23 cousins), so every holiday was loud, exciting and had over 30 people packed in one house!
Living in the country has inspired a love for nature, a dedication to community support and an appreciation for the environment. Through my family I was taught many important life values such as patience, perseverance, accountability and independence. Overall, my childhood was full of love, surrounded by family and wonderful memories.
List any interesting or unusual jobs you may have had.
Picking rocks in the fields on the farm was one of the jobs I disliked the most as a child! The hours were long, the work was hard and the pay was… nothing! Some of the more interesting jobs I have had are:
Beverage cart operator at Northern Bear Golf Course
Event coordinator (non-profit and profit)
Brand ambassador/team leader for EXPRESS campaign
Brand ambassador for Licor 43
Spokesperson/keynote speaker on Cultural Safety
Planning student events for the Nursing Undergraduate Association
List any volunteering you have done.
As mentioned above, I dedicated most of the last two years to holding fundraising BBQ's and bottle drives for the Little Warriors, leading up to my annual masquerade gala dinner fundraiser in November. I am extremely passionate about this organization, and I hope to continue working close with them as I plan the third annual gala for this fall.
I have also volunteered and raised money/awareness for the following organizations:
Mustard Seed (Volunteered several times to prepare and serve meals for those less fortunate; also held several clothing drives to collect warm clothes for those in need)
Hope Mission (Volunteered several times to prepare and serve meals for those less fortunate)
Food Bank (University and Public)
WIN house (Held a drive to raise awareness and collect bus tickets, feminine hygiene products and clothing for them)
SOS Children's Villages (Held several fundraisers and a campaign to raise awareness and money for them)
Santa's Anonymous (Wildwood, AB- Yearly dinner fundraiser to raise money for families in our community who cannot afford Christmas. Volunteered as an item runner; gathered donations for silent auction)
Operation Christmas Child (donated and gathered Christmas boxes; volunteered to wrap boxes)
The Stollery- Children's Hospital (Miracle makers/monthly donations; several events)
Festival of Tree's (Volunteered to teach children about care provided in hospitals and to decrease their fears in doctors and health care)
Big Brothers/Big Sisters (Pink Shirt Day- Bullying presentations/talks and mentoring)
Mentoring nursing students at the University of Alberta in the collaborative nursing program
VIP Student Life for the Nursing Undergraduate Association (Organized student events for the undergraduate nursing students)
STARS (donate annually)
5 km, 10 km, 15 km runs to raise money and awareness for many organizations (WILD run, the COLOR run, Run for the Cure, MS Bike-a-thon, etc).
Donated all of my cocktail dresses from the last time I competed in Miss Universe Canada as well as my prom dress to a program in Edson, AB that allows girls who are unable to afford a grad dress to borrow one for the day.
Volunteered with different schools in the Edmonton area to do "readings" with elementary classes
Volunteered to supervise several field trips with elementary classes
Volunteered to help run several charity golf tournaments
What is your most unusual talent?
I can do a loon call with my hands! Yep… you heard that right! Go ahead, ask me to prove it!
Where is the most interesting place you have been to?
I have travelled to so many wonderful places across the globe, yet my bucket list is still massive! One of my most favorite trips was to Italy and Paris. Though I enjoyed Paris, Italy was amazing. There was a vast amount of history, and I loved the feeling of comfort that all the small communities offered. There is something satisfying about exploring the world and developing an understanding of how each country operates. There wasn't a time that I did not feel safe, and I hope to return there one day.
Another of my favorites is Los Cabos! As my background is based primarily in the country with a love for music and dancing, this place feels like home! Hopefully this will be the place we book for our destination wedding!
Travelling the globe is a privilege and we have the opportunity to not only create change in our own communities, but in our neighboring countries as well. I hope to discover new places, and contribute to a better and prosperous future for all.
What do you hope to be doing in ten years?
It is my vision to have a career in emergent nursing, and to be actively involved with STARS in 10 years' time. I hope to grow my home business and fill my team with strong, confident and caring leaders.
I also hope to be hosting the 13th annual "Unmasking the Myths" masquerade gala dinner fundraiser for the Little Warriors, and to continue raising awareness on child sexual abuse.
My dream is to become a role model for women and girls, and to empower them to achieve their greatest personal and career centered goals. With such a platform to work from, coupled with courage of conviction, I know I have the ability to change the world.
Is there anything you would like to add that we haven't asked?
I cannot stress enough how thankful I am for this wonderful opportunity, and how excited I am to share this journey with you! Competing in Miss Universe Canada allows me to achieve one of my greatest goals, raising national and international awareness for child sexual abuse. Being as I am a survivor of child sexual abuse, raising awareness isn't just something I want to do… it's something I need to do. Not just for my self-healing, but to also help prevent other children from being harmed.