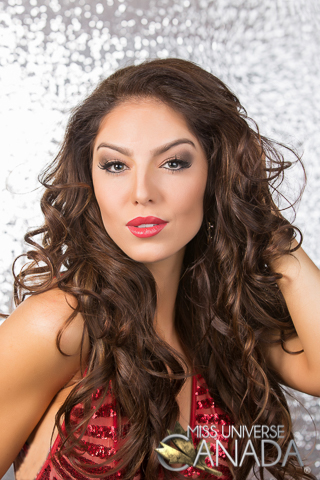 Height: 5'7″
Hometown: Calgary, AB
Confidence, hard work, passion, integrity, positivity, kindness, and determination are the 7 pillars of Brittany's life. Her biggest dream is to leave a legacy that her future children to be proud of, while working hard to make a positive impact and creating meaningful change. She is a keynote and award winning speaker, life enthusiast, avid volunteer, sits on several boards, MBA candidate, ambitious business owner, adventurist, and a strong confident woman keen on achieving her goals and dreams.
Brittany grew up with ADD and it had quite an impact on her life. Her peers did not accept her, teachers didn't understand her, and she was outcast on the playground. It negatively impacted her self-esteem and confidence growing up. Teachers told her there would be no way she would get into University and that she would be lucky to graduate from high school. Doctors tried to convince her Mother to put her on medication if she had any hope of staying focused enough to excel in school, but she refused. Instead she told Brittany she was spirited, gifted, and to just stay focused on her dreams and goals. To exhaust Brittany's abundant energy, her mother signed her up to every sport event and dance class in the city. Being bullied facilitated Brittany's compassion for those who have lost belief in themselves. As Brittany matured she was better able to understand ADD's challenges and used it as a motivating factor to make the most of her life. She turned her stumbling stones into stepping-stones and vowed to never again evaluate her self worth from what others thought, but rather from what she believes herself to be. This has given her a profound compassion for others. Having worked very hard to break down barriers and find her true authentic confidence impassions and inspires her to motivate others, especially the youth. Her charity, a non-for-profit called, "Be Confident", focuses on mentorship for the next generation of young female leaders, with the goal of instilling confidence and the power of believing in oneself to achieve our highest goals. Brittany completed her Bachelors of Commerce/Finance degree with honors and is currently working on her MBA. Not only does she have a passion for learning, but also Entrepreneurship. While in University, at the age of 19, she founded her business, inFOCUS-Marketing.ca (formally BAM marketing solutions). It has grown into a successful marketing company, helping over 350 clients to date. Her passion for surrounding herself with like minded people, led to her creation of, "The Entrepreneurs Network", which brings together ambitious, passionate, and forward thinking Entrepreneurs to engage in personal and professional development. She has been interviewed and featured by RealTalk, the University of Alberta, Breakfast Television, CTV, CNN, Standout Publications, and several others as a testament of hard work and dedication. Also she won an international speaking award out of 57 University educated woman across the globe amongst a 17 day competition in China.
Brittany sits on the board of an International charity organization, JCI international, as the VP of Community Volunteer Involvement. She feels honoured to have won an international humanitarian award, "2015 International Humanitarian Vigor Award", as a strong reminder of her community contribution. As a proud ambassador of her hometown, as the reigning Miss Calgary, she uses the platform to empower those around her to make a difference. She has volunteered and emceed at many charity events and her comfort on stage is evident by her fluid and captivating message as a keynote speaker. Publicly using her voice, she finds the greatest fulfillment and purpose in raising up those around her. Brittany believes life is a gift and feels blessed to be alive, therefore is dedicated to making the most of her life and helping as many as possible. She believes that volunteering is very important and if each of us, for the sake of humanity, were to take on the responsibility of improving the lives of those around us, we would live in a much more positive and peaceful place… and that is her goal!
One thing that sets Brittany apart is her outgoing personality and positive mindset. Like her mother always said, "you must look at the glass half full". Her family means the world to her and her best friend is her Mother and late Grandfather, who is now her angel watching over her keeping her safe. Her late Grandfather acted as a strong role model in Brittany's life, who sadly passed away from cancer, but not without teaching her valuable and important life lessons such as the courage of your convictions, maintaining strong family values, solid hard work ethic, and being a generous contributor in the community. Brittany is proud to be a true Canadian, in a land of opportunity where we are all blessed to have the power to become anything we put our minds to. It is still a place where dreams do come true with hard work and determination. She would be honoured to be the next Miss Universe Canada to promote the Canadian values she holds dear to her soul, exercising her kindness, intellect, confidence, and acting as a positive role model.
Sponsors:
inFOCUS Marketing, Carrera y Carrera Canada, Classique Beauty Atelier, Airstream Heating Industries, Hair Booth Salon, Rejuve Health & Wellness, Junior Chambres International International, Friends & Family
Languages spoken fluently (please include your native language if English is not your native language).
English
What are your interests and what do you enjoy doing the most?
My interests can be broken down into 3 key areas that I love: community, entrepreneurship, and personal growth.
In my community I like to stay active in volunteering, networking, and inspiring and motivating people. I get the most joy out of watching other people succeed. When it comes to business I focus on my passion for public speaking, challenging myself with entrepreneurship and growing my marketing business, and confidently pursuing my dreams. Finally, but equally as important, I focus on bettering myself by spending time with my family, learning from everything, reading books and articles that help me grow, continued education, and having intelligent or meaningful conversations with anyone willing. Overall, I feel the greatest fulfillment, through creating meaningful change and working hard to make a positive impact on this world!
It is no secret I am a huge nerd. I enjoy constant mental stimulation, which is why you can normally find me taking new courses or reading biographies on interesting people I aspire to be. The world is such a beautiful place, and I feel blessed to be alive and able to dedicate myself to helping as many people as I can. As my Grandfather always said,
"Life is a gift, never waste your time on negatively, rather, stay focused and passionate towards your goals and take NOTHING for granted."
List any special training you have had (music, art, drama, dance, etc.).
I have attended several Dale Carnegie public speaking courses including High-Impact Public Speaking and have participated in Leadership Training and Woman's Empowerment courses, as I believe these are the bases for everything I am striving for. To build on that, I attended Sharon Stone Acting Academy, am working with the Patti Falconer agency, and joined FacesWest. I am also always looking to be well rounded and have taken piano for the soul and Nutritional courses for the body. I have taken several dance classes including jazz, tap, ballet, hip-hop, and contemporary dance, which continued throughout University. I found a love for horseback riding and do that whenever I find time. Lastly, I completed my PADI certificate in diving, which has allowed me to scuba dive with the Hawaiian turtles in some of the most breathtaking coral on the planet.
In what sports, if any, have you participated?
While obtaining my commerce degree, my passion for fostering a collective team landed me a position as the captain of our Campus volleyball team. It was my goal to foster an inclusive atmosphere, welcoming and involving many participants while pushing everyone towards excellence and victory. I enjoyed working together with my team, instilling and inspiring them to play big and never give up on themselves. I also participated in soccer, swimming, gymnastics, football and rock climbing. As for individual sports, I ran the Royal Victoria half marathon when I was 13 and came in 1st in my age group. Having raced competitively in snowboarding & skiing, I won several gold medals through the Mark Fawcet and Nancy Green programs.
Name one person, other than your parents, who has had the most influence on your life. Why?
My Grandfather. My favourite memory of this wonderful man is simple: how he would wake up every morning and kiss his wife of 56 years and tell her how much he loved her… every single sun rise. Sadly he was diagnosed with mesothelioma, an unpreventable cancer caused by asbestos exposure, and he passed into heaven on January 26, 2015.
Carmine D'Ambrosio was the most amazing man I had ever met and he had a huge impact on my life. He was a kind, generous, and passionate man that pursued excellence and took pride in everything he did. He nurtured and looked after his family like it was his garden. He lived for his family and we lived for him. Being very close to him and watching him deteriorate from cancer opened my eyes to how important the gift of life is and how short it can be. During this time his took special care to instil his wisdom, which has inspired me recognize the importance of never taking advantage of this precious gift called life. We will miss him deeply, and his legacy will live on in our hearts and soul. I know he is now my guardian angel watching over me and I am determined to make him proud. He will forever be my inspiration, pushing me forward in the pursuit of excellence.
What is your proudest personal accomplishment (other than participating in this pageant)?
Between my philanthropic endeavours, 'Be Confident', the various positions on boards that are making a difference in the community, and working towards my MBA… I would have to say my proudest personal accomplishment would be working diligently to found a company when I was 19 and building it into a successful multi-faceted business. I grew infocus-marketing.ca from the ground up while completing my Finance Degree with honours from the University of Calgary. I had to focus and sacrifice much to complete my degree, while building my business full-time, to meet the constant demands of clients and professors. I had to give up a social and personal life to achieve my goals, and would do it all over again if given the opportunity.
What is the most interesting or unique thing that has ever happened to you and/or what is the most interesting thing about you?
I used to be EXTREMELY bullied all throughout school until I was about 18. While this had a huge impact on my life I don't regret any of it, since I do believe that 'what doesn't kill you, makes you stronger'. It built a lot of character and I gained a great sense of compassion towards others, resilience, and humility, and it made me that much more ambitious to make the most of my life. Since I have first hand experience of the hurt and loneliness that comes from bullying, I strive to help others who feel the same way. I continue to volunteer my time towards anti-bullying campaigns, to raise awareness and stand up for those who need a voice! Being bullied left a mark on my self-esteem. It took a while to regain my confidence and now that I have I make it my mission to stand up for those without a voice and show others what true confidence from within looks like: It's being your true authentic self and only what you think about yourself that matters. You are unstoppable when you believe in yourself!
What is your career ambition and what are you doing or plan to do to accomplish that goal?
My ambition is to grow my current business and become the leading online marketing company across Canada. Working with over 350 clients to date, we continue to ambitiously work towards our goals and feel honoured to stand where we are today. I am grateful for our passionate team, who continuously engage in assisting businesses grow and market their brands online. We plan to accomplish our goals with clear targets, checks and balances, expansion strategies, paying attention to customer satisfaction, employing the best of the best, implementing a strong lead generation process, and overall producing a high quality service that is truly able to help businesses reach their own business goals.
What would be your "dream job" in life?
I am living my dream job/ life. As a business owner and public speaker, I am privileged to wake up every morning and work on something I truly believe in… motivating, inspiring, and improving the lives of those around me. Winning Miss Universe Canada would further continue my passion for helping people and raising awareness for causes close to my heart. My dream is to be a role model and to make a difference in peoples lives, to inspire passion, purpose, and accomplishment. My deepest hope is that each and every one of us finds our purpose, live with conviction, and make an impact in this world!
Are you currently a student?
I completed a Bachelor of Commerce in Finance degree from the University of Calgary in 2014. Currently, I am a candidate for the MBA program at the University of Calgary.
Are you currently employed?
I am an entrepreneur; I run my own business, www.infocus-marketing.ca, and enjoy the freedoms that come with that.
If yes, what is your occupation?
CEO of inFOCUS Marketing – inFOCUS is an online marketing company working to grow our clients brands through online marketing and advertising. It gives me great fulfillment to be able to say I absolutely LOVE what I do and the most rewarding part is seeing a smile on a clients face when they are able to benefit from our teams work!
Describe where you were raised and what your childhood was like.
I was born and raised in beautiful Calgary, Alberta. Where should I start? My mother raised me with strong morals and values. She would always push and inspire me to achieve greatness, believe in myself, live humbly, and work hard. She has such strength of conviction, and always insisted we live life with integrity, by making wise and appropriate choices. She taught us about treating yourself and others with respect, staying positive, never giving up, and becoming a resourceful, resilient, and responsible human being. I am so blessed to have such an amazing role model like my mother in my life who has pointed me in the right direction and shown me what true unconditional love looks like.
My dad is the hardest working man I know. He is self-made and I am lucky he taught me what true hard work ethic looks like. I have always grown up in a very hardworking, entrepreneurial-oriented family and feel blessed to have the parents I do.
I also had the opportunity of living with my Grandparents for two years. They are the most family-orientated people I know, loving their family so dearly. We spent every summer and holiday at my Grandparents and cherished each moment. Coming from strong Italian (mothers side) and Polish/Ukrainian (Papa's side) roots, family meant everything growing up. I truly thank God everyday for the amazing family I am blessed with, who support and love me unconditionally and teach me how to live life successfully and with integrity.
List any interesting or unusual jobs you may have had.
My entrepreneurship began very early on in life. I began by selling rocks when I was a kid. I would paint the rocks then sell them door-to-door. I moved on to buying and then selling beanie babies, collecting Pokemon cards and selling the rare ones at a nice little profit as well! This was my first lesson in supply and demand, and the value of commodities. While in my first 2 years of university I ran a tutoring business, which was very interesting. I learned that patience is truly a virtue, compassion is necessary, and effective communication strategies are the be all and end all of success. It took greater effort to adapt and implement various tutoring strategies that effectively enhanced the different learning styles. Nevertheless, this led me to my current business, which is VERY exciting and interesting. It has taught me how to deal with and manage a wide range of people – clients to contractors and teams.
List any volunteering you have done.
I absolutely love volunteering and find great fulfillment in it. My heart bleeds for those less fortunate and I am dedicated to helping as many people as I can. Some of my volunteer efforts are:
Operation Smile: Made it a personal goal to raise close to $10,000 for this wonderful organization.
Alberta Animal Rescue Crew: Was the Emcee for their event and helped raise awareness for orphan animals in Calgary
Kids Cancer Care Foundation of Alberta: Put on a Christmas event to inspire people to give back in the community. Everybody brought a present and we wrapped tons of presents that we later dropped off at the Hospital for Kids With Cancer!
World Partnership Walk: Helped raise awareness for the devastating fact of world poverty.
Bettys run for ALS: One of my childhood friends' mother had suffered from ALS and to show support we walk every year for her. Sadly she lost the tough battle this year but left behind a beautiful and loving family.
Inn from the Cold: Helped gather trucks of clothing for the homeless to keep them warm during the cold winter!
Motionball for Special Olympics: Helping raise awareness and funds for the Special Olympics.
CIBC Run For A Cure: Running for those with cancer, a cause near and dear to my heart as my Grandfather passed away.
Calgary Health Trust: Sat on the board and helped with an event to empower women
Mustard Seed Impact: Helped at grocery chain stores to gather food for those that don't have much during Christmas!
Heart and stroke foundation: Emceed their event
Make a wish foundation: EMceed their event
Anti-bullying day: Created a social media campaign to raise awareness about the harmful effects of bullying.
Worked closely with Mark Sutherland, Calgary Stampede Chuckwagon Driver, to fundraise for "Women's Emergency Shelter", "Race Against Hunger", "Make a Wish Foundation" and "Kid's Cancer Foundation"
And several more worthwhile causes….
What is your most unusual talent?
I have a talent for reading people and their emotions. It is a great gift but also a huge responsibility.
Where is the most interesting place you have been to?
20 days in China and immersed in a culture entirely different from Canada was such a gift and great learning curve. Sky-diving over the Palm Jumeirah in Dubai was breathtaking and also a huge adrenalin rush! However, the most interesting place I have been to would be the Caribbean Islands. I love the Caribbean because it is so culturally rich. I loved all the adventures, adrenaline rushes, and all the beauty the islands had to offer.
I admired the strong faith and how beautiful and impactful the churches were. But my absolute favourite part… was the people. They were so down to earth, humble, and eager to help. You could see the struggle in their eyes, yet they always had a positive attitude, a smile on their face, and a heartfelt care and desire to give where they could.
What do you hope to be doing in ten years?
I hope to have grown my business to a point where it is recognized by businesses around the world. Globally, I hope to be inspiring and motivating people from all walks of life through public speaking. I want to publish my own book. I hope to continue being a strong role model for youth and inspire them to follow their dreams with passion and conviction. I hope to be a loving mother with children of my own, to have no regrets, and to be surrounded by the most down to earth and honest friends. Leaving a worthwhile legacy for future generations, I hope to make a massive impact on this world.
Is there anything you would like to add that we haven't asked?
Thank you for taking the time to read my bio. I feel blessed to have this opportunity to participate and hopefully be a positive role model for our youth. With the confidence to dream big and, through commitment, hard work, and persevere, anything IS possible! Coming from somebody who used to be extremely bullied, I can only hope I am such a role model of what can happen with a positive mindset. This world is full of possibilities, as long as you have the courage to pursue your purpose! I wish everybody the best of luck, I look forward to this experience and the friendships to be made!