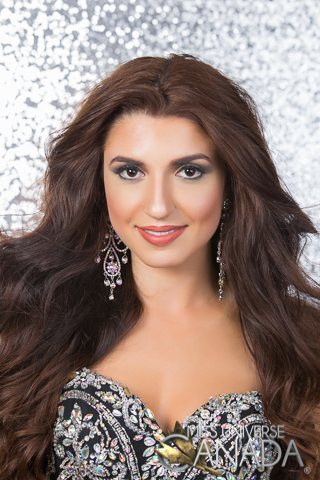 Height: 5'4″
Hometown: Leamington, ON
Catherine Valle was born and raised in Leamington, Ontario. Catherine is a prime example of the multiculturalism that Canada has to offer, having grown up in a loud but exciting Italian and Lebanese household. She grew up as the oldest sibling to two younger brothers, Andrew and Anthony. Her parents met at Western University, the school that she would later call her own. Her father graduated with a math degree and works in construction. Her mother studied
philosophy and sociology, later went on to pursue her Master's degree in conflict resolution from Royal Roads University, and is now a distinguished chartered mediator. Catherine has learned much from her parents including the importance of work life balance, and giving back.
The hard working and studious example of her parents inspired Catherine in her own studies. After high school, Catherine attended the University of Western Ontario, and graduated in 2015 with an Honours Bachelor of Medical Science degree. During her time at Western University she was on the Varsity Dance Pack, and choreographed for CAISA Fashion Show where she helped raise $85,000 for Children's Health Foundation. She is currently pursuing her Master's of Science from Queen's University where she studies Aging and Health. Catherine is passionate about life sciences and medicine, and hopes to pursue a career as a medical physician.
In April of 2015 Catherine qualified for Miss Universe Canada in Western Ontario where she also won Miss Congeniality. Catherine placed in the Top 12 at the National Competition for Miss Universe Canada in 2015 and spent the summer living by the motto of 'Beauty with a Purpose'. She volunteered and helped raise awareness for different causes. She is also a brand ambassador for Operation Smile, an organization she has been involved with since 2011. In January of 2016 Catherine was appointed the title of Miss University Canada, where she travelled to Beijing, China to compete in the World University Peace Corps. Catherine was awarded the distinguished title of Miss Peace 2016. She is very grateful for the experience to represent her country abroad, and has learned a lot about herself, and the world.
It is through all of her life experiences that Catherine made the decision to return to the Miss Universe Canada stage. She is a strong believer in fate, destiny, and that every experience is a stepping stone to a destination meant for us each individually. She chooses to lead by example on being kind and genuine to all, staying true to yourself and all you believe in, and becoming the best person you can be. Catherine represents all that it means to be Canadian and hopes to represent Canada on the Miss Universe stage in 2016 and hopefully bring home the international crown.
Sponsors:
YOGAthletix, Willabee's Ladies Fashion, Kardashian Lashes, Friends & Family
Languages spoken fluently (please include your native language if English is not your native language).
English
What are your interests and what do you enjoy doing the most?
I am passionate about medicine and helping people; if that could be a hobby it would be mine. I have participated in musicals my entire life and I still enjoy singing and dancing in my free time.
List any special training you have had (music, art, drama, dance, etc.).
I am home when I am on stage. I was in my first musical at age 12. I went on to dance competitively in high school and university, and choreograph an award winning dance number that was near to my heart.
In what sports, if any, have you participated?
I started playing soccer at the age of 6, and was lucky enough to have my father coach my team. I started playing ice hockey at age 11, which was originally against my will. I ended up loving the sport and although I stopped playing competitively at age 17, I coached power skating skills while at Western University.
Name one person, other than your parents, who has had the most influence on your life. Why?
Easily this would be my former dance teacher and now friend, Ms. Maggy Sonoski. She has become someone I can turn to for advice and guidance. She has helped shape me throughout the years and I am grateful for her teachings on how to handle all of life's challenges with grace and class.
What is your proudest personal accomplishment (other than participating in this pageant)?
My proudest accomplishment is definitely earning my 4-year Honours degree from Western University. A close second would be carrying the Canadian Olympic torch in 2010.
What is the most interesting or unique thing that has ever happened to you and/or what is the most interesting thing about you?
My most unique experience was meeting Pope Benedict the XVI at World Youth Day 2011 in Madrid, Spain. He gave me a personal Youth Catechism and Rosary that I still cherish to this day.
What is your career ambition and what are you doing or plan to do to accomplish that goal?
My career aspiration is to be a medical doctor. I am currently completing my Master of Science in Aging and Health to help me pursue this goal. I also volunteer in clinics and hospitals across North America.
What would be your "dream job" in life?
It is hard to define a 'dream job'. Most importantly I want to be a role model for women around the globe. I want to lead by example to show that women can achieve anything they set their mind to. Therefore, any job that gives me an outlet to set that example would be a dream for me.
Are you currently a student?
Yes
If yes, where?
I am completing my Master's of Science this year from Queen's University.
Area of study:
Aging and Health – Statin Therapy in Palliative Care
Are you currently employed?
Yes
If yes, what is your occupation?
I own my own non-for-profit business called EduCamp, where I educate young children throughout the summer. I am also a suite hostess at the Roger's Centre (Sky Dome) in Toronto, Ontario, and I love a good Blue Jays game!
Describe where you were raised and what your childhood was like.
I am very proud of the small town I come from. Leamington is the Tomato Capital of Canada, and is home to Point Pelee National Park. Naturally, I love tomatoes, and it was not unusual during my childhood to see tractors pulling tomatoes through the streets, or smell the delicious aroma of Heinz ketchup in the air. I am very proud of how Leamington comes together during tough times. It was scary living through the tornado that hit my town in 2010, but thankfully no one was hurt and it was a chance for Leamington to grow as a community.
List any interesting or unusual jobs you may have had.
My most interesting jobs were definitely my pageant titles as Miss Leamington 1st Runner-Up, World Miss University Canada, and now Miss Peace. I have had very fun and interesting responsibilities through my platforms such as attending conferences, singing the Canadian national anthem at local sports games, speaking at schools, and of course, travelling Canada and the world.
List any volunteering you have done.
$85,000 for Children's Health Foundation through CAISA Fashion Show
$120,000 for Operation Smile along with the other Miss Universe Canada delegates in 2015
$40,000 raised for Wounded Warriors through the Zauntorage Charity Golf Classic
$3,200 for World Wildlife Fund through the CN Tower Climb in April of 2016
$4,000 for SOS Children's Villages in Dominican Republic through a New Year's Gala hosted by the Miss Universe Canada organization and Muzik
$7,000 for Sick Kids Hospital at a dinner gala at Copacabana with the help of Miss Universe Canada 2015, Paola Nunez-Valdez, and Miss Universe 2015, Pia Alonzo Wurtzbach
What is your most unusual talent?
My most unusual talent is probably my ability to cook with weird ingredients. I may owe this to my Lebanese-Italian genetics. Of course, I still eat clean, but food is definitely one of my favourite parts about living, and I believe that I can make anything taste good. I am actually debating starting my own cooking channel on YouTube!
Where is the most interesting place you have been to?
The most interesting place I have been to would have to be China. I had the opportunity to travel to China in January of 2016 as Miss Canada in the World University Peace Corps, where I placed in the Top 5 and was crowned Miss Peace. I fell in love with the culture, the food, and people. I would love the opportunity to go back!
What do you hope to be doing in ten years?
In 10 years I hope to be working as a physician, and hopefully have a family of my own. I hope to have held the Miss Universe title, as well as authored a book and traveled the world on humanitarian missions.
Is there anything you would like to add that we haven't asked?
I would like to wish all of the delegates of Miss Universe Canada 2016 the best of luck in the competition, and I encourage them all to be their real authentic self. I am very proud to be part of this organization because I have spent my entire life looking up to and learning from women with cultural influence. I hope that with the title of Miss Universe Canada and hopefully Miss Universe, I will be able to give back and inspire the next generation.