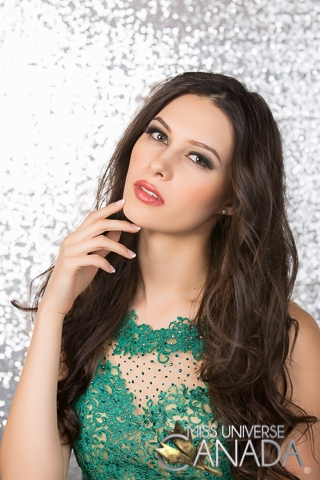 Height: 5'8″
Hometown: Winnipeg, MB
Chrystalle Omaga is a woman of character and integrity. A vibrant young woman that was born and raised in Canada. She is of Filipino and Ukrainian decent, experiencing, within each family gathering, a true sense of diversity and culture. She exemplifies how to persevere in life by not settling for anything less than what she deserves. She is a goal-oriented young woman with a strong work ethic that aspires to become a future lawyer. Chrystalle has a variety of successes in her life. Those include having achieved traveling to three countries for humanitarian work, represented Manitoba nationally and internationally in two sports and modeled internationally.
Chrystalle has a passion for humanitarian work having travelled to three countries to volunteer. In 2014 she has travelled to Enelerai, Kenya with the charity, Free the Children to help build a classroom in the towns' first boy's school. In late 2014, in the country of Taipei, Taiwan, she volunteered at the Sunshine Social Welfare Foundation that gives job opportunities to burn survivors. In 2015, she visited an Orphanage and Maternity Home in the Philippines where she donated personal gift bags to young pregnant mothers. She is an active volunteer in her community around the city of Winnipeg supporting greater causes and empowering women.
Chrystalle has pursued her dreams of being in the modeling industry having commercially modeled in the Philippines and Thailand. She has walked the runway at Contour Fashion Week New York City, New York in 2014 and Manila Fashion Festival in the Philippines 2015. Chrystalle has modeled in numerous editorial magazines and acted in commercials in the Philippines. She was the lead actress of a McDonald's Philippines commercial, a part in The Globe telecom/Disney commercial and cover of Forever 21 Look Book advertorial in Cosmopolitan magazine Philippines in 2015. She was the lead actress in her high school musical "Grease", as the character "Sandra Dee", which received the Rainbow Stage Award for best high school musical performance in all of Winnipeg in 2013 having four standing ovations.
Her highly competitive spirit drives her to excel in sports. She's represented her province of Manitoba at the national and international level for soccer and basketball across Canada, United States and Iceland. Chrystalle's passion for sports doesn't end there. She finds peace in long distance running, having run a half marathon in 2014 and having won and ranked top placements throughout her high school career for cross country and track and field. Chrystalle is a woman that shows with patience, you can achieve anything when you simply refuse to give up. When your goals are so strong that obstacles, failure and loss only acts as a motivation to keep going. As long as you are happy in life, with your life, and the path you are taking in life, it doesn't matter what anyone else thinks about your life. Empowering women, one step at a time.
Sponsors:
Patricia's Ballroom and Banquet Hall, Dee Karpa Fashion, Pilipino Express, Aristocrat Restaurant Winnipeg, Marcels Bakery, Friends & Family
Languages spoken fluently (please include your native language if English is not your native language).
English
What are your interests and what do you enjoy doing the most?
If not in the gym working out, training for a half marathon or running along the long vast prairie back roads, you'll see me jumping off airplanes skydiving, hiking to the scenic tops of the mountains, relaxing with family and friends or my nose in a book. I adore running, it's like my meditation for the day.
List any special training you have had (music, art, drama, dance, etc.).
I have been professionally trained in vocal country music and musical theatre in acting, singing and dancing. I was the lead actress "Sandra Dee" in my high school play "Grease" that received the Rainbow Stage Award for best high school play in the city 2013.
In what sports, if any, have you participated?
I have been a part of the provincial Manitoba soccer team representing Manitoba internationally in Reykjavik, Iceland 2011, BMO National Championships in Nova Scotia 2010, and have played across the United States against universities such as Bemidji and Crookston in Minnesota and trained in Iowa. I have been a part of the provincial Manitoba Basketball team in 2011 to 2013 representing Manitoba at nationals in Edmonton, Alberta 2013 and won the 2012 Manitoba Powersmart Summer Games 16U.
I love to long distance run having trained and completed the Manitoba half marathon 2014. My future goal is to train for the full marathon.
Name one person, other than your parents, who has had the most influence on your life. Why?
There are numerous people who have been a huge influence in my life and I cannot specifically state just one person. I want to say thank all the strong men and women sport coaches that have trained me growing up. From my personal trainers to basketball and soccer coaches they all have taught me that with passion for the game, blood, sweat and tears and a goal you can achieve the impossible. My coaches have shown me discipline, patience and taking and applying constructive criticism is key qualities to attain the goal you want to achieve.
What is your proudest personal accomplishment (other than participating in this pageant)?
One of my proudest personal accomplishments would have to be when I set a two year goal to make the Manitoba provincial basketball team. I wanted to transition into another highly competitive sport since I already competed at nationals for soccer, I wanted to try basketball. I spent a year with my personal trainer to get me to the skill I needed. I was on the court six days a week off season and during high school season I worked out 2-3 times a day either weight training, running, soccer match or basketball game. I was committed to achieving a spot on the provincial team. The first summer I was accepted as a practice player on the provincial basketball team. Out of the whole province of Manitoba 12 players were selected onto the team and they chose two practice players, one being myself. I wanted to prove I could be on the roster. I got to know the girls on the team, went to every practice, proved to not only myself but to the coaches I wanted to play. By the second summer, after all my continued progress I attained from practicing with the team I proved that I could be on the roster and play at nationals in Edmonton. I truly believe that without my parents to push me to go to practices and train even when I was exhausted because they knew how much I wanted to play, I wouldn't have been able to say I am a provincial athlete in two highly competitive provincial sports of soccer and basketball. With determination and will power I achieved a goal no one thought I could do.
What is the most interesting or unique thing that has ever happened to you and/or what is the most interesting thing about you?
The most interesting thing about me would be how outgoing, adventurous of a person I am. I love to try new sports, whether it be extreme or recreational. I have tapped into duathalon (running and cycling), boxing, skydiving, karate and yoga. I find that having a healthy active lifestyle doesn't have to be boring. Mix up your routinely workout at the gym and go outside for a winter run, try a new cycling class in your local gym or sign up for a month for a group boxing club.
What is your career ambition and what are you doing or plan to do to accomplish that goal?
I would love to have a successful career as a lawyer when I am older. I would like to go to university and get a degree in business and then attend law school.
What would be your "dream job" in life?
I have to many dream jobs haha but if I had to choose I'd love to be a personal trainer, start up my own gym, travel and be an actress.
Are you currently a student?
Applying for 2016 fall/winter
If yes, where?
University of Winnipeg
Area of study:
Business
Are you currently employed?
Yes
If yes, what is your occupation?
I work at a sophisticated retail store called BCBG Max Azria.
Describe where you were raised and what your childhood was like.
I was born and raised in the small winter city of Winnipeg, Manitoba where I learnt that hot chocolate and mini donuts are the best snacks to have after a night out playing in the snow. I had a very active and happy childhood. My parents, from day one, established a healthy active lifestyle upon me involving me in recreational sports where I fell in love with sports. Alongside always going to the gym since I was a toddler, I have also had the privilege to grow up with a diverse family. Growing up with my father's family immigrating to Canada from the Philippines, he has always taught me that you have to work hard for a better life and you will be rewarded with your accomplishments. I love my diverse Filipino culture and food. My mother is Ukrainian Canadian, where her great grandma emigrated from Poland to start a better life in Canada. My mother grew up on the farm outside of Winnipeg. My mother has always pushed for what she believes in and what is right. She never settles for 'No' as an answer. Growing up with two diverse cultures has helped me develop a keen understanding on how to connect and relate better with people.
List any interesting or unusual jobs you may have had.
My very first job was working for the summer at the Goldeyes Baseball Stadium where my friend and I would be the crowd pumper uppers and have to dance during the breaks on the dug out with the mascot and up and down the stairs between the aisles. Another interesting job was working at a trampoline park coordinating all the birthday celebrations and eating all the free cake the parents would give us.
List any volunteering you have done.
Volunteer work abroad and locally:
Year 2015: Grace to Be Born Maternity and Nursery Pasig City, Philippines: Celebrated with underprivileged, at risk young girls, mothers and orphaned babies.
Year 2014: Me to We Foundation youth volunteer trip to Enelerai, Kenya
Taipei, Taiwan: Sunshine Social Welfare Foundation Carwash- Provides employment for burn survivors and people with facial disfigurement by creating a carwash center as a means of employment.
Winnipeg, MB Canada: Created Walk for Water Charity Fundraiser for Free the Children Foundation raising $400 CAD for the foundation.
Winnipeg Pride Parade June 1st, 2014
Tim Horton's Camp Day at Pembina and Bison Drive Tim Horton's June 4
Island Lakes Community School BBQ June 5th, 2014
Shaneghessy Park School Pow Wow June 20, 2014
Scotia bank walk for Parder-Willis Syndrome walk June 21, 2014
Winnipeg Fringe Festival 2013 and 2014
What is your most unusual talent?
Does liking to eat a lot of food count!
Where is the most interesting place you have been to?
The most interesting place I have been to would have to be Enelerai, Kenya so far when I travelled there for humanitarian work.
What do you hope to be doing in ten years?
In ten years I hope to be foremost happy, healthy and alive. My future goal is to have a successful career as a lawyer, traveling more for humanitarian work and pleasure and achieving all the goals I make for myself to make life adventurous.
Is there anything you would like to add that we haven't asked?
Life is full of opportunities. When one door closes, another door opens. You make your own opportunities happen by going for what you want in life not by waiting for the opportunity to be handed to you.