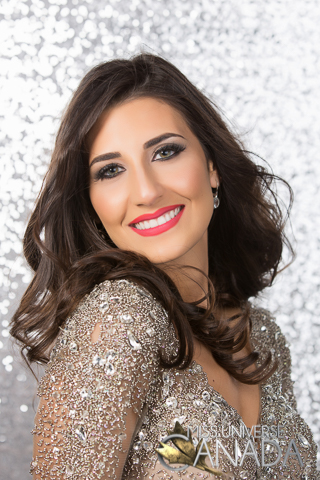 Height: 5'8″
Hometown: Montréal, QC
Cynthia Ayoub was born and raised in the beautiful city of Beirut, Lebanon, and is currently living in Montreal, Quebec. She is a graduate of University of Montreal where she received a master's degree in environment and sustainable development after a bachelor of science in biology. Since a very young age, Cynthia was seduced by the world of art. She was a ballet dancer and won the first prize in a dance competition in 2007. After gaining experience in the corporate world, her passion for design drove her to launch «Dyosah», her own high-end brand of one-of-a-kind jewelry and luxury crystal lingerie. Through her line, she tells stories about women's needs and concerns, connects with them on a personal level and empowers them. This journey led her to be featured and interviewed in prestigious publications around the world such as Vogue UK, Glamour, Brides magazine and Montreal Times newspaper where she made the cover story.
Having a scientific background combined with a creative mind and a strong attitude, Cynthia was able to excel and achieve many personal and professional goals. Overcoming fear and having the right mindset are two important elements in her life. She was fortunate to meet very successful entrepreneurs, TV celebrities and top international personalities and learn their secrets to success. Her recent work and social involvement inspired many people who requested her to share advice and news on her channel. She is a leader and a motivator for people in need of a positive change. It's a mission that she holds near and dear to her heart. Making a difference in people's lives and helping women rise above barriers makes her very proud. Cynthia's devotion to the environmental cause started in her teen years. As a child, she used to enjoy spending time at the Mediterranean Sea and exploring biodiversity and ecosystems in the mountains. Learning facts about environmental degradation made her feel the urgency to take action to save the rights and interests of future generations.
Cynthia loves to travel, discover new cultures and try exciting culinary experiences. Having Lebanese origins, living in Canada and visiting more than 24 major cities in the world, she learned to value family, time, relationships, generosity and happiness. She appreciates diversity in cultures and finds beauty in it. Participating in activities like skydiving and hang gliding taught her that amazing experiences are on the other side of the comfort zone. She also modeled in several fashion shoots and was able to show poise, originality, elegance and charisma. Some of her greatest interests are health, fitness and environmental activism. Devoting time to connect with nature, practicing yoga and giving back to society is the essence of her life. Cynthia was engaged in several volunteering projects including reforestation of Lebanon and raising awareness and funds for Habitat for Humanity, to name a few.
Sponsors:
Pushy Coaching Ltd, La Grâce des Fleurs, Skins Clinique du corps, Dyosah, Adrenaline Performance Center by Jonathan Chaimberg, Basil Soda, Pantao Creative Imagery, Younique par Cynthia, Kast Montreal, Sana Makeup Artist, Groupe Adonis Inc, Centre Dentaire Les Cours, Friends & Family
Languages spoken fluently (please include your native language if English is not your native language).
French, English and Lebanese.
What are your interests and what do you enjoy doing the most?
My favorite part of life is travelling, discovering new cultures and trying new culinary experiences. In addition, I always devote time for yoga and sports. It helps me stay in shape and improves my well-being. I also love to read business books. It is the best way to learn from unreachable/successful people and sharpen my skills as an entrepreneur. I enjoy spending quality time with my family and friends as well.
List any special training you have had (music, art, drama, dance, etc.).
Many dance trainings including ballet, jazz, salsa, merengue, cha-cha, waltz and rumba
Drawing
Make-up and styling
Mindset workshop
Professional and personal development
Health and nutrition
Trainings related to the environmental field: one of the most interesting trainings was with the United Nations Convention on Biological Diversity.
Behavior change.
In what sports, if any, have you participated?
Dance: ballet, jazz, salsa, merengue, cha-cha, waltz, rumba.
I have participated in a dance competition in 2007 where I won the first prize.
Other sports: Yoga, swimming, climbing, caving, hang gliding, skydiving, horseback riding, rafting.
Name one person, other than your parents, who has had the most influence on your life. Why?
It was one of my school teachers. He was a great example of respect, good manners, compassion and he always had amazing lessons about life.
What is your proudest personal accomplishment (other than participating in this pageant)?
My proudest personal accomplishment is building my own high-end jewelry and crystal lingerie brand «Dyosah». I started it from scratch creating the concept, designs and products, and developing the different strategies to expand the business internationally. Few weeks after launch, Dyosah was featured in Vogue magazine's «Jewellery Designer Profile» page, as well as in Glamour, Brides and Montreal Times newspaper where we made the cover story!
What is the most interesting or unique thing that has ever happened to you and/or what is the most interesting thing about you?
Some people are creative, others are logical. I am one of those rare people who have their artistic and analytical sides almost equal. I actually have a degree in science and a business in fashion.
What is your career ambition and what are you doing or plan to do to accomplish that goal?
My career goal is to become a serial entrepreneur. I have been learning a lot about business recently, especially by reading business books, networking with successful entrepreneurs and being part of many international conferences about the subject. I already launched my first successful business in 2015. In the upcoming years, I will be building other businesses in different fields in order to provide help to as many people as possible and try to make a positive change in the world.
What would be your "dream job" in life?
Besides being Miss Universe Canada, my dream job is to manage many successful businesses while travelling the world. It is a job that will make me happy and give me time and freedom to do inspirational and charitable work. One of my goals is to become a coach/influencer. My mission is to develop programs intended to empower women around the world and help them become independent and achieve their dreams the way I did. It will be completed by my work as an environmental activist. Miss Universe Canada is a great platform that provides the opportunity to start this mission and spread a positive message!
Are you currently a student?
No. I graduated from the University of Montreal with a master's degree in Environment and Sustainable Development after a bachelor of science in biology.
Are you currently employed?
I am a business owner.
If yes, what is your occupation?
Yes, I am the CEO and founder of Dyosah.
Describe where you were raised and what your childhood was like.
I was born and raised in the beautiful city of Beirut, Lebanon. My childhood was very special. I remember being surrounded by my loving family, grandparents, and many good friends. My life as a child involved a lot of outdoor activities. We used to spend our summers at the beach enjoying the beautiful Mediterranean Sea. Since Lebanon has a wide variety of ecosystems, my parents loved to spend a lot of time in the mountain. It was great because it allowed us to explore nature, learn and appreciate values, and share quality time with the people we love. I am fortunate to have had a healthy and active childhood filled with very happy memories.
List any interesting or unusual jobs you may have had.
The first job that I had was a Disney princess in kids' birthdays and festivals. What I loved the most in this job was the interaction with kids. It's priceless! The way they express themselves as well as their unique questions are interesting and very funny!
List any volunteering you have done.
Habitat for Humanity: awareness and fundraising
Enfant-Retour: fundraising
Opération 7ème Jour: Reforestation of Lebanon
YMCA: Implementing a social responsibility program for members and employees
Other charity work including:

Food preparation to less fortunate people and homeless
Visit to an elderly nursing home and providing gifts and care
Visit to kids with mental disabilities and spending time with them.
What is your most unusual talent?
I can design multi-way jewelry.
Where is the most interesting place you have been to?
I have visited more than 24 major cities in the world. It is very hard to pick one place only. Every single culture is unique and has touched me in its own way. My favorite part of the world is the Caribbean, especially Puerto Rico and the Bahamas. I will never forget the beauty, history and the amount of love that these countries have to offer. But, the most interesting experience happened in the Dead Sea, Jordan, where I was able to float completely on top of the hypersaline water and read a book! The Dead Sea is the lowest point on land and has very high salt concentration which makes swimming almost impossible. It is also an old natural spa because of its mud's high purifying and healing properties. I have funny pictures of myself all rubbed in black mud. Its ability to remove dead cells, toxins and impurities from the skin is impressive. I had a natural peel and my skin felt fresh and extremely soft like a baby.
What do you hope to be doing in ten years?
In my career, I wish to become a well-respected business woman who has achieved a high success level and financial freedom. In ten years, I hope to be surrounded by a talented team, running projects around the world and changing lives through my work on a daily basis.
In my personal life, I would love to keep travelling to new countries and living new adventures. It's the best way to learn, grow, be inspired and give back. I hope to be in a happy relationship and a mom to healthy, smart kids.
Is there anything you would like to add that we haven't asked?
First, I would like to thank the Miss Universe Canada organization for granting me the privilege to participate in this competition, and my family and friends for their continued support!
I would love to become Miss Universe Canada 2016. Representing Canada on an international level is a tremendous honor. This priceless experience means a lot to me! It will allow me to deliver the best image of Canada, show our noble and respectful values, and pursue my dreams on different levels. I believe in working hard for success and I am ready to embrace every challenge in this journey, invest my time, fulfill all my duties and responsibilities and be the face of inspiration for many girls out there!