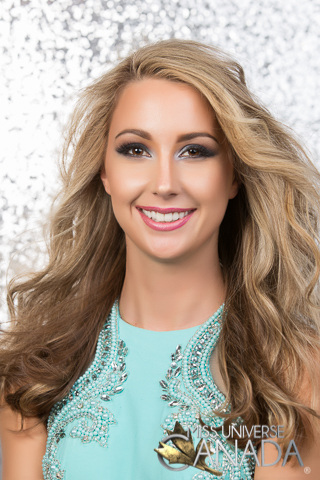 Height: 5'7″
Hometown: Thorold, ON
I was born in Niagara Falls, Canada and raised by my two loving parents. I was a very energetic child with a huge imagination; always playing outside in the mud, exploring in the fields by my house and catching/raising tadpoles into frogs. I loved being outside in nature so I participated in brownies/girl guides where I would get badges and go to the many camps they offered. My favourite thing in this world is animals: I've had dogs, birds, hamsters and many fish. I would watch animal planet whenever I turned on the TV and became a young animal expert, spewing facts to anyone who would listen and even those who wouldn't. Eventually I got to ride my first pony when I was 8 years old. I instantly fell in love with horses and have been riding them ever since.
I began competing in horse shows when I was in grade 9, focusing all my time and energy into learning how to train and make them look beautiful for the show ring. During this time I lived my life at the barn mucking out stalls and riding. Once grade 12 came around I realized it was time to start focusing on school and I decided to enroll at McMaster University to become a registered nurse.
My career passion has always been nursing because I love helping people, whether it be on an emotional or physical level. I love enhancing my patient's days and sympathizing with how certain situations can affect the overall wellbeing of an individual. There are a variety of life styles/different perspectives out there and I love opening my mind up to people and understanding their unique reality. I am very progressive and I have communicated with thousands of people who are experiencing the current health system in Ontario and I have become aware of many issues and barriers that are affecting the care of Canadians. Overall, I want everyone to be happy and healthy without the unnecessary stresses we tend to wrap our existence around.
I love being a Canadian and believe this is an amazing country. I want to get more involved and be a role model to empower young women; Thus, I believe Miss Universe Canada would be a fun adventure to learn how to inspire people and bring out my true personality with my maturity.
Sponsors: La Cascada Day Spa, Henderson's Pharmacy, Pinewood Dental Care, Friends & Family
Languages spoken fluently (please include your native language if English is not your native language).
English
What are your interests and what do you enjoy doing the most?
My interests include understanding how the human body works at a phenotypic and cellular level. I graduated from the School of Nursing at McMaster University and loved learning about how the physical body works in concert with the chemical make-up of the brain causing an individual to act the way they do in accordance with their environmental influences.
I enjoy getting in touch with nature by hiking my dog Cujo on intense trails or cruising down scenic roads in the country with the windows down and music way too loud.
I also enjoy a good philosophical conversation about the realities of the world/universe; furthermore, understanding different opinions of a given topic on a deeper level while trying to not talk myself or others into a paradoxical black hole where nothing can escape.
List any special training you have had (music, art, drama, dance, etc.).
Horse jumping
Figure skating
Soccer
Standard first aid and CPR
Providing care for the sick and infirm
In what sports, if any, have you participated?
I have been horse-back riding for 18 years, competing in the hunter jumper ring and winning many ribbons on successful horses I have put work into. I love working with horses and training them to look beautiful in the hunter ring. I started my riding career at a small farm jumping on horses and donkeys in the middle of the field and staying on as they took off running. I love galloping through the fields and jumping any obstacle that is in the way.
Name one person, other than your parents, who has had the most influence on your life. Why?
The individual that was the most influential in my life is my old riding coach Tanya Stephens. She is a successful/intelligent engineer with an amazing personality and one of the prettiest people I have ever met. She helped me get through a very tough time in my life and she is always there for me with amazing advice when I feel lost.
What is your proudest personal accomplishment (other than participating in this pageant)?
My proudest accomplishment is when I graduated from McMaster University with my Bachelor of Science in Nursing degree (BScN). It was a very tough program that I almost gave up on a few times; however, I pushed through the feelings of doubt and here I am working as a Registered Nurse (RN) and fulfilling my passion of helping people.
What is the most interesting or unique thing that has ever happened to you and/or what is the most interesting thing about you?
The most interesting thing about me that has been also echoed by many others is my ability to work with animals (of all varieties). I love all animals and I am talented at training them to listen to humans. I am a country girl at heart and love working on the farm and enjoying all types of animals.
What is your career ambition and what are you doing or plan to do to accomplish that goal?
My career ambition is to continue to work as a Registered Nurse and hopefully start writing books about maintaining a healthy wellbeing; this will be accomplished by educating myself more on neuro-linguistic programming to gain more of an insight about modelling the brain and how the neurons fire.
What would be your "dream job" in life?
My dream job would to educate people about living a healthy life style. Primary care is very important to me and I believe it could save our health care system a lot of money. Our society needs more support groups and education about our health care system and living healthy.
Are you currently a student?
No
Are you currently employed?
Yes
If yes, what is your occupation?
I am a Registered Nurse at a hospital in a small town called Dunville. I also just began working in community care.
Describe where you were raised and what your childhood was like.
I was raised in Niagara Falls and in the small town of Thorold. I grew up with my two loving parents who are a great example of old school love. My parents valued that I have an understanding of the world for what it is and gave me lots of freedom to play and explore on my own terms; they allowed me to form my own opinions and did not believe school was what determined if you were 'intelligent' or not.
Most of my childhood was spent outside in the mud and on the farm. I believe my unique thinking abilities came for the freedom and independence I had from such a young age. I was put into a variety of sports and clubs (girl guides), always keeping busy. Along with my passion in equestrian I became interested in figure skating; competing on a precision team and solo – I am proud to say I never lost a solo completion (always receiving the gold medal).
The hardest decision in my adolescence was when my dad encouraged me to focus on one sport once I reached high school; I chose to hone my natural abilities with animals and continue with competitive horseback riding. I competed in the hunter/jumper ring all throughout high school; making the horses no one could control look beautiful and tame.
I eventually made the decision to focus on my academics and moved to Hamilton where I was enrolled at McMaster University. This experience allowed me to grow beyond my own expectations into the strong, independent, compassionate woman I have become. It was at university where my passion for healthcare and helping the less fortunate flourished due to many opportunities and the global awareness the university provided me outside of my small hometown bubble.
List any interesting or unusual jobs you may have had.
One of my first jobs was working at a gas station.
List any volunteering you have done.
Big brother big sister as a mentor.
A variety of floors in the hospital.
Campaigning for the 2015 Federal election.
What is your most unusual talent?
I can jump a horse over 5 feet.
Where is the most interesting place you have been to?
Manitoulin Island – I love being deep into nature, on the boat fishing and catching a tan.
What do you hope to be doing in ten years?
I hope to own lots of land to grow my own organic gardens and continue working as a registered nurse educating people about living healthy.
Is there anything you would like to add that we haven't asked?
I believe everyone is special and is a contributing member of the society we have surrounded ourselves in. I am a big believer in the multiple intelligences model and disagree with outdated tests used to indicate an individual's level of intelligence.
Everyone on this planet is beautiful and unique. We need to stop trying to pin people and groups into labels and understand that there is more to being alive than fitting into the mold people around you believe are acceptable.
Be yourself and be proud of who you are.