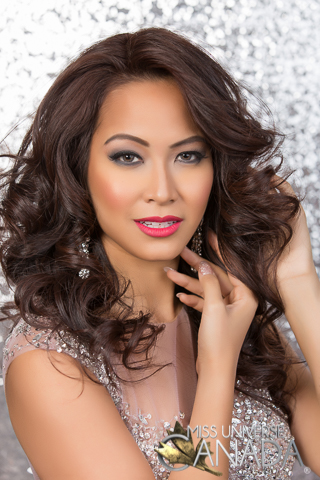 Height: 5'7″
Hometown: Etobicoke, ON
Kesiah Kathleen Liane Papasin is 25 years old, born and raised in Etobicoke, Ontario.
When she was 13, while attending the 2004 Canadian Model and Talent Convention (CMTC) in Toronto, Kesiah met Natalie Glebova, Miss Universe 2005. She was captured by Miss Glebova's beauty and determination. Inspired and motivated by her, joining pageants became Kesiah's passion. She remembers Miss Glebova saying, "You should join pageants and if you lose, try again till you win." Kesiah has won several awards and titles since.
Kesiah was born with unilateral clubfoot and moderate hearing loss. She had to wear corrective braces for a year and both ears are currently aided. But Kesiah did not let her physical challenges hinder her dreams and goals in life. She registered herself in the Eleanor Fulcher International modelling workshop to improve her self confidence. One can say that Kesiah achieved the purpose of this workshop, her teacher and friends once described her as "social butterfly."
She took ballet, tap, jazz and modern dance classes. She and her older brother were partners in ballroom dancing lessons, which came to a halt when her brother decided that ballroom dancing was not for him. She also took private lessons in Tahitian dancing. She joined various local swimming competitions till the age of 16. She received gold and silver medals to prove her swimming abilities. In high school, she excelled in sports when she came out first and broke school records in Women High Jump Junior.
Kesiah attended Humber College for Border Services and Immigration, aspiring to be a CBSA Officer or Immigration Consultant. She worked every summer at a bank to help finance her dreams.
Raised in a close knit and religious family, Kesiah learned at an early age not to be judgemental and stereotype towards others. She believes in equal opportunity and treatment for everyone. She also believes in sharing her blessings by volunteering in fundraising activities for the underprivileged. She gives them support and respect. She remains a good role model and a proud mentor for aspiring young models.
She loves to travel. She admires the exotic nature of Hawaii, the lifestyle, everlasting arts and culture in Italy, the hospitality and generosity of people in the Philippines, and the clean environment in Australia. Pageantry has taken Kesiah to compete in different countries. Kesiah enjoyed the friendly atmosphere, boat rides and view of the river in Guayaquil, Ecuador. She could not believe how safe it is to hold a big iguana on its tail while having pictures taken. She also enjoyed the modern city of Aachen, Germany. Although she didn't see much of the country, the Netherlands is the place to see for its beautiful country, masterpieces and tulip fields. She also had the opportunity to experience the cultures and history of Japan and the hospitality and delicious coffee of Colombia. Kesiah hopes to have the opportunity to continue travelling and mingling with various peoples and cultures. She hopes to contribute and participate in improving lives and uplifting spirits.
Sponsors:
Friends & Family
Languages spoken fluently (please include your native language if English is not your native language).
I speak fluent English and I can understand very little Tagalog, Philippine language. I studied Portuguese language but because I have never used it for a long time, I'm not sure if I can communicate with it.
What are your interests and what do you enjoy doing the most?
Sports – I love swimming; I like to keep myself fit; I like to do cardio exercises. I love music. Listening to music and reading books not only make me relax but also have better use of my imagination, and inspire me.
List any special training you have had (music, art, drama, dance, etc.).
I studied ballet, tap, jazz, and modern dances at Masaryk Hall when I was 4 years old till I was about 8 years of age.
I studied singing for one year when I was 10 years old.
I attended fashion workshop at Eleanor Fulcher when I was 11 yrs of age for 6months and received certificate upon completion.
In what sports, if any, have you participated?
I competed in swimming from 4 to 16 yrs of age, also track and field and High jump in High school.
Name one person, other than your parents, who has had the most influence on your life. Why?
It would be difficult to narrow it down to one person. My grandfather also had the most influence in my life. He taught me love, manners and modesty. My grandfather taught me the value of faith. I could always count on him. There were days, I would love to sit with him and have a nice interaction with him. I always knew everything would be acceptable. He was my #1 fan.
What is your proudest personal accomplishment (other than participating in this pageant)?
My proudest personal accomplishment would be doing the money saving challenge for a year. I made a New Year's resolution to save money because for me, saving money is a difficult thing to do. To do it for a year was even more difficult. But I kept my promise to myself and saw this resolution to the end. I'm proud of myself because I proved I can consistently focus on my goal.
What is the most interesting or unique thing that has ever happened to you and/or what is the most interesting thing about you?
The most interesting thing that has ever happened to me, besides joining this pageant, was placing Miss Amistad in Guayaquil, Ecuador which I had to ask around for translation, Miss Friendship/Congeniality. The delegates mostly spoke Spanish. I don't know how to speak Spanish and yet I was voted Miss Friendship. I have proven that friendship and camaraderie goes beyond language barrier.
What is your career ambition and what are you doing or plan to do to accomplish that goal?
My career ambition is to become a Canadian Border Services Officer. I have so much respect for my country, I want to be able to give back and be able to serve my country on front line. In preparation to that, I finished the course. After doing pageants, I will pursue my goal.
What would be your "dream job" in life?
My "dream job" in life is where I could put into practice what I have learned and giving me fulfillment in serving my country.
Are you currently a student?
No
Are you currently employed?
Yes
If yes, what is your occupation?
Sales Associate at M for Mendocino
Describe where you were raised and what your childhood was like.
I was born and raised in Etobicoke. I wore corrective foot brace for congenital defect when I was a year old. I was just a normal child but I have so many memories of family bonding and togetherness coming from a big extended family.
List any interesting or unusual jobs you may have had.
My brother is a nurse in Kingston, Ontario. For him, it is difficult to do other things such as cleaning his apartment. Around spring time, if I was available, my brother would pay me to clean his apartment for a couple of days. That would be the most unusual job I ever had.
List any volunteering you have done.
I was given the opportunity to join Miss Universe Canada on a humanitarian tour to Nicaragua for SOS Children's Villages and Operation Smile. The trip was a life changing experience. I was able to experience successful surgeries on children with cleft palate and upper cleft lip in the operation room. Also, I spent most of my journey there visiting the children in SOS Children's Villages.
During my free time at home, I would help train delegates for national and international pageants with an organization called International Professional Entertainment Network (IPEN) and with Miss Manila pageant.
What is your most unusual talent?
Because of my hearing impairment, I am able to lip read. I may not have the greatest hearing but I do have 20/20 vision.
Where is the most interesting place you have been to?
Tokyo, Japan would be the most interesting place I've been to. Being born and raised in Canada, it was interesting to see the difference in Japan's culture from western culture. In Japan, you can see the most evolved technology and fashion forward trends, and yet still see how well they value their culture and history.
What do you hope to be doing in ten years?
In 10 years, I hope to be successful as a Canadian Border Services Officer. Definitely have a family of my own. I have always wanted to have an even number of kids. I will always be working towards any goals I may have for my future.
Is there anything you would like to add that we haven't asked?
I joined Miss Universe Canada because I can promote and engage with my advocacy which is people with disabilities. I am born with a hearing impairment. I would like to set an example by encouraging them by not letting any impediment stop them from reaching their goals. It was given not as a sign of weakness but as a reminder of how strong a person can be. Their capability and choices in life should not be limited by any physical challenge.