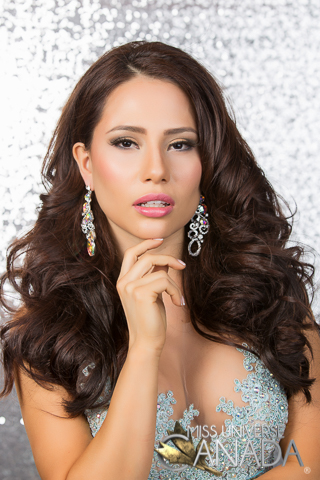 Height: 5'6″
Hometown: Vancouver, BC
This Colombian beauty was forced to flee her native country at 16 and seek political refuge in Canada where she is now a proud citizen. Through the turmoil of facing kidnapping by the Colombian terror group known as the Farc, being uprooted and coming to a completely foreign place, Laura faced life's challenges with a deep sense of hope and gratitude. Determined to rise above all setbacks, she learned English in only two months, and went on to achieve honour roll status in her high school. After graduation, she went on to study International business management.
As a teenager, Laura discovered her entrepreneurial spirit by starting two small businesses with her classmates, one of which turned small profits by investing in equipment to make plastic containers and selling them to neighbourhood businesses and families.
Returning to her entrepreneurial roots as a young woman, she finished school and founded a textiles company, Fashion Forward, where she imports and sells ethically made jewelry, sportswear and swimwear from Colombia. The pieces are all made by hand, and are closely linked with the stories and experiences of the people who make them.
She is also one of the driving forces behind the charity event JUST SMILES, whose goal this year is to raise the funds to heal the smiles of 100 children in Nicaragua. One of the causes closest to her heart is the fight to end childhood abuse and sexual abuse. Having volunteered at The Battered Women's Support Services, Canadian Red Cross and the BC Children's Hospital, She knows that the youth are the key to our future, and works to ensure that they feel nurtured, loved, and are properly educated.
Laura has also been making strides in the world of entertainment, modelling, and pageantry. She's been featured in major telecommunications commercials, at Vancouver and Colombia Fashion week, and on the international stage, where she represented Canada in the Miss All Nations pageant in Shanghai. One of Laura's fondest memories as a child was watching Vanessa Mendoza win the Miss Colombia pageant and continue on to represent Colombia at the Miss Universe Pageant. At the tender age of 11 she realized that she wanted to follow in her footsteps when she grew up. She saw pageants as a way of giving women a voice to raise awareness for causes that they believe in.
Laura's playfulness and optimism have been the driving force in her life and career, and realizing her dream of becoming Miss Universe Canada will help her spread this message of hope to millions of youth. She believes that when we do our best, we lift the consciousness of the world. She tries her best to lead by example.
Sponsors:
White Orchid Rejuventation Center, Sergio Perez Atelier, Ana V Beauty, Dennis Lee photography, Franco kickboxing, Fashion Forward, Friends & Family
Languages spoken fluently (please include your native language if English is not your native language).
Spanish and English.
What are your interests and what do you enjoy doing the most?
I find that true growth happens whenever you do something that is completely outside of your comfort zone. Being on stage is outside of mine, but I do it (whether it's for public speaking, acting, or performing) as often as I can because I want to leave a mark on the world, and to do that I need to be visible. I believe that striving for excellence is one of the best ways to approach life.
When it comes to my interests, I love yoga and meditation (and the relaxation they give me). Being a Latina, I of course love to dance – it's in my blood. And I also enjoy working for my community and spending time with my loved ones.
List any special training you have had (music, art, drama, dance, etc.).
Dance salsa
Colombian folklore dance such as el mapale, cumbia
Public speaking with Toastmasters
Acting
Make up artistry
Kickboxing
In what sports, if any, have you participated?
I have always been a very active person and love outdoor activities! Growing up in Colombia I played soccer, also participated in swimming, tennis, and I am currently learning to play golf.
Name one person, other than your parents, who has had the most influence on your life. Why?
Even though we no longer live close to each other, my best friend for many years taught me the value of believing in your dreams, no matter what. He taught me that this was done not just by talking about what I wanted, but by taking action. His friendship has been a precious gift, and made this exciting journey through life all the more memorable.
What is your proudest personal accomplishment (other than participating in this pageant)?
I am very proud of the work I've done with the women from the tribe Embera Katio, Colombia. They are an incredible group of single mothers that make beautiful jewelry to provide for their families. I feel truly blessed to have had the opportunity to meet them hear their inspiring stories and work with them.
What is the most interesting or unique thing that has ever happened to you and/or what is the most interesting thing about you?
My family had to flee to Canada after a member of my extended family was kidnapped. Immigrating to a new country was definitely a challenge. I had to grow up quickly and it wasn't an easy transition. Looking back, I draw strength from this experience, and in many ways it has given me the courage to pursue my dreams wholeheartedly. It gave me perspective on life, and has served to nurture my appreciation for my family, freedom, and our new home: Canada.
I also want to mention that I have walked on fire! Speaking of the power of perspective, it'd been a goal of mine ever since I found out that it was possible, and I actually managed to do it when I was in Los Angeles at an Anthony Robbins seminar. It gives me a rush to conquer my 'limitations'.
What is your career ambition and what are you doing or plan to do to accomplish that goal?
I see my self working and expanding Fashion Forward, to enrich the lives of people from all walks of life. Finishing my studies is vital (to give me the tools and knowledge I need to grow a business as well as future initiatives). I also donate my time as a volunteer in causes that matter to me, in order to reach and help more people in many different areas.
What would be your "dream job" in life?
To be a strong independent female entrepreneur with a strong emphasis on my philanthropic work. It has always been very clear to me that we are all in this together. I take that seriously; I firmly believe that with privilege comes responsibility and we have a duty to contribute to the greater good of society.
Are you currently a student?
Yes
If yes, where?
UBC.
Area of study:
Real estate.
Are you currently employed?
Yes. I am represented by PM talent. I also founded a small fashion distribution company last year, where we support the work of single mother and indigenous women.
If yes, what is your occupation?
While I'm primarily acting and modeling, I also study and work on my business Fashion Forward.
Describe where you were raised and what your childhood was like.
I was raised in a Fusagasuga, a small city close to Bogota (the capital of Colombia). I remember many happy memories from my childhood, but I was also around a lot of violence. Because of this, I place strong value on community. It's important that we are there for one another.
List any interesting or unusual jobs you may have had.
The high school I attended was structured so that we worked towards, and earned, a technical degree in business management during the last two years of our diploma. We would attend regular our classes in the morning, and then work on our businesses in the afternoons.
At 16, one of my classmates and I had purchased the machinery we needed to make bags, which we sold for a profit.
List any volunteering you have done.
Youth and education are my priority. I've volunteered for a variety of different children's charities, including:
Latin Youth Support Group
BC Children's Hospital
The Canadian Red Cross
Battered Women's Support Services (the longest for which I have volunteered for the past three years in their youth outreach program to educate teenagers on dating violence and healthy relationships.)
I would like to say that Operation Smile has quickly become one of my most cherished causes – I had the opportunity to visit the organization in Colombia and witness the work they do firsthand. That experience really inspired me to become one of the founders of the annual Just Smiles Gala in Vancouver where we raised over 20K in our latest effort to help Operation Smile.
What is your most unusual talent?
I have the ability to connect with my ancestors. Being part (South American) Native, I have had some profound experiences and learned a lot from the people of my past.
I feel lucky to be able to connect with my intuition. The easiest way to explain it is that I generally feel what others around me are experiencing, and am able to good decisions and help people when I listen to it.
Where is the most interesting place you have been to?
Australia. I absolutely loved the country, especially a small city called Olinda in the outskirts of Melbourne. It's a small city full of cute little coffee shops and is surrounded by nature. It's breathtaking: peaceful and calm. What made the whole experience the most memorable was being able to see my Aunt who I hadn't seen in 8 years.
What do you hope to be doing in ten years?
I believe that we are all here for a reason. Through living we learn, and I've learned that I need to fulfill my purpose of bettering the world around me. I want to be an ambassador for children's rights and women's rights.
In addition, Family and personal success are definitely key. I see myself running my own business with the freedom I need to give back to my community by supporting causes that I believe in. I also envision myself as a wife and mother, with a family whom I love.
Is there anything you would like to add that we haven't asked?
For the past four years I have competed in different pageants they have helped me to grow as a person in every sense of the word. In order to be a good candidate to represent a country you have to really get to know yourself and pageants have taught me to dig deep, to define my values and to stick to them. They have taught me discipline, commitment and most importantly I have met some of my best friends competing. People who think like me, challenge me and are now a part of my tribe. I am forever grateful to be able to compete in MUC to represent Canada abroad and give back to a country that has given me and my family so much. This is a deepest dream come true!