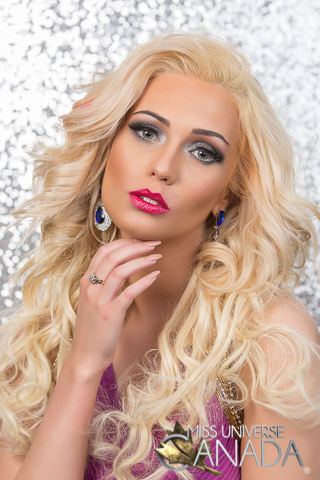 Height: 5'9″
Hometown: Brampton, ON
Monique Johnston was born and raised in the flower city of Brampton, Ontario. She is currently working towards finishing her Bachelor's degree in Neuroscience and Mental Health with a double minors in Psychology and Philosophy at Carleton University. She aspires to become a neurosurgeon. She is a singer/songwriter, model and actress. She started singing at the age of eight in a music workshop where she began to perform on stage in front of a live audience; however, this was not the first taste of the spotlight for her, at seven months old, Monique won her first beauty pageant and received a modeling contract with Manhattan Modelling Agency. After a period of four years, she started modelling for Caroline's Modelling Agency.
At the age of eleven, Monique participated in a Canadian talent showcase; at the age of twelve, she skipped grade seven and went straight to grade eight. In her grade eight year, she focused on diplomacy and international relations by taking part in model United Nations. She took home several awards and sang the graduation song at her grade eight class graduation. During her high school career she was involved in various extracurricular activities; she moved on to become a grade nine representative for student council, played for the tennis team, and participated in her school's first newspaper.
Always pursuing her passion for music, she became involved in choir and 'jam club' at her high school which allowed her to evolve her talent through experience. Monique has also been involved in several music videos, and has taken part in fashion shows. She has also been recognized for her own music, and has won several awards. She has always been passionate about helping people, she strives to do so in any way, shape, or form. She did some volunteer work with the Knight's table, and has also volunteered at several school events; even as a song-writer, she portrays her own experiences—both the good, and the bad—in her music to relate to her audience to help them understand that they are not alone.
She is strong, independent and fearless; Monique has been pushing her limitations since she was young, she wants to encourage the younger generation to chase their dreams, and not feel that they should just have to stick to one thing when the have the ability to do anything they put their minds to. Monique hopes that Miss Universe Canada will give her the opportunity to become not only a voice for the younger generation, but an advocate for those in need of help.
Sponsors:
Iwona Tarnowska – Kolorowa Hair Design, Monika Suwala – Nail Technician, Ryzord and Krystyna Piotrowska – Radio Polonia Toronto, Zbiegniew Hobinek – Orbit Restaurant, Marek Kornas – Nova Printing Inc., Robert S. – Radio 7, Marla's Fashions, Image Optical, Jacob Martins, Monique Johnston Music, Danmet Alloys Ltd., Special thanks goes to Oktawia Bachul for all of her help, Friends & Family
Languages spoken fluently (please include your native language if English is not your native language).
English and Polish.
What are your interests and what do you enjoy doing the most?
Reading, dancing, playing tennis and billiards, singing, watching movies; but I enjoy song-writing the most.
List any special training you have had (music, art, drama, dance, etc.).
6 years of dance training (ballroom, Latin-ballroom, ballet, tap, etc.)
Vocal lessons at Big Voice Studios with Marla Joy
6 years of acting classes
19 years of modelling experience
3 years of songwriting
In what sports, if any, have you participated?
Tennis
Swimming
Billiards
Name one person, other than your parents, who has had the most influence on your life. Why?
My grandmother, Eva Buczynski, has had the most influence on my life. She helped raise me and teach me that I should not limit myself. She is also one of the bravest people I know, she chose to leave Poland and come to Canada in search of a better life. When she first came to Canada with my mother and grandfather, she did not speak a single word of English. She taught me that out of great sacrifice, comes great victory; and that I should not limit myself to one thing, or to think a certain way out of fear. She continues to inspire me with all of my decisions, for without her philosophies on life, I would not have been brave enough to chase my dreams.
What is your proudest personal accomplishment (other than participating in this pageant)?
My proudest personal accomplishment would have to be when I skipped grade 7 and went straight into grade 8. I had to receive approval from all of my teachers in order to do so—just knowing that they believed that I could succeed and do well in school regardless of the age gap is the greatest accomplishment that I have ever earned.
What is the most interesting or unique thing that has ever happened to you and/or what is the most interesting thing about you?
The most interesting thing that has ever happened to me would have to be when I moved to Ottawa for school. I was 17 years old, at the time, living on my own in an apartment, where I did not know anyone. It was an adventure in itself, I never went for campus tours or saw how the university looked; I just researched it online, and I took a huge leap of faith. I conquered my fears by moving to Ottawa for school; it was the best decision I ever made.
What is your career ambition and what are you doing or plan to do to accomplish that goal?
My career ambition is to become a neurosurgeon and I am currently studying for my Bachelor's degree in Neuroscience and Mental Health. After I finish my bachelor's degree, I plan on continuing on to medical school in order to accomplish this goal.
What would be your "dream job" in life?
My "dream job" would be to pursue a career as a professional singer. I am very passionate about music, and I would love to be able to help people through my music. It would be amazing to perform and see millions of fans in the audience; but, the most important thing to me would be if they could relate to my lyrics. My songs are based on my own experiences—both the good and the bad—so to be able to express the message that people are not alone in this world would be the greatest thing.
Are you currently a student?
Yes
If yes, where?
Carleton University
Area of study:
Honors B. Sc. Neuroscience and Mental Health with a double minors in Psychology and Philosophy.
Are you currently employed?
No
Describe where you were raised and what your childhood was like.
I was raised in Brampton, Ontario. My childhood was very interesting as I was constantly travelling from place to place; I was a very curious child. I was constantly asking questions about why people think a certain way or why they behave a certain way; I always wanted to know why things were the way that they were. This eventually led me to pursue a career in neuroscience and mental health, as well as, my double minors in psychology and philosophy. As a child I always wanted to understand people, I came to learn that you can better help people if you understand them and their way of thinking.
List any interesting or unusual jobs you may have had.
The most interesting job would have to be songwriting as I have a tendency to wake up in the middle of the night and write some of my better material because I find I am more creative.
List any volunteering you have done.
Knight's table
Tutoring
Assisting with organizing school events
Reading buddy program
What is your most unusual talent?
My most unusual talent would have to be singing. I have been singing since I was a small child; even before I could walk! Fun fact: I first discovered I could sing well during pre-school to our country's national anthem, when my teacher noticed everyone quiet down to listen to me. I am constantly singing, whether it's in the shower, or when I am writing my own songs. I absolutely love it!
Where is the most interesting place you have been to?
The most interesting place I've been to would have to be New York City. I travelled there with a few of my colleges and saw people from all different walks of life. I visited many places like Times Square, but my favorite place was walking in Central Park.
What do you hope to be doing in ten years?
In ten years, I hope to be doing what I love, which is helping people. I hope to be working as a neurosurgeon and to have a non-profit organization dedicated to several causes. However, I would want the opportunity to open a few shelters for women who are victims of abuse, as well as work with those who are sick and suffer with illness, as these are causes very close to my heart. In ten years, I would hope to be making some sort of difference in people's lives; no matter how small or big the contribution.
Is there anything you would like to add that we haven't asked?
I want to strongly stress the message to the younger generation that you should not limit yourself. I worked past many stereotypes when I was younger, I did not just want to belong to one group, or be good at just one thing, so I dedicated myself to my school work and I found something that I enjoyed, which I kept pursuing. I would also like to thank the Miss Universe Canada organization for giving me the opportunity to compete in this year's pageant. It would be a dream come true to have the honor of holding the Miss Universe Canada title.