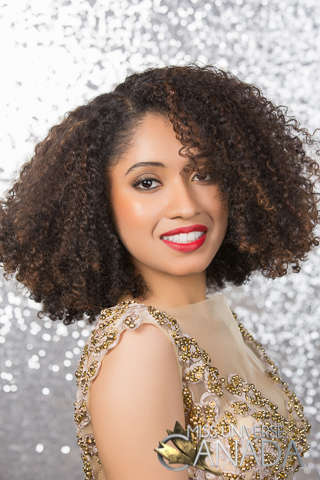 Height: 5'3″
Hometown: Montréal, QC
Naderge Baptiste often refers to herself as "une rose en fleur", which in English means a rose in bloom. Naderge was born in Montreal, raised in New York, and returned to Montreal for higher education for the past four years studying previously at CEGEP Vanier College, and now attending McGill University. She currently studies International Development and Communication studies at McGill University while dually working a part-time job. Education and hard work is of utmost importance to Naderge, as she believes that education is the key to success.
Naderge has enjoyed participating in various fashion and variety shows since her childhood. In the past, she has won titles such as homecoming queen and prom queen during her high school career. Recently, she has participated in the "Wonderland Fashion Show" that has raised finances for nurses travelling to Malawi at Vanier College. She also participated in the "R.O.C.C. Your Beauty" Hair Show, in which a diverse selection of hair textures were showcased to encourage the natural hair movement. Naderge may also potentially participate in another fashion show at McGill University this year as well.
Naderge's faith is similarly of chief importance to her. She currently attends Evangel, a church in the heart of downtown Montreal. She also participated in various activities on campus at McGill University concerning her faith such as "Uncover McGill" and worship nights. Naderge made the decision to follow Jesus Christ when she was 17 years old in high school, and has since then, experienced an on-going transformation. Naderge is proud to humbly express her love for God and her faith. She hopes that she can inspire others to live a purposeful life.
Another key aspect about Naderge is her love for family and the Haitian community. She is very proud of the historic and honorable background that is rooted in Haiti. She is also grateful for all those who have helped to raise her collectively. Naderge, in a literal sense, learned how a community works together to achieve a greater goal.
Lastly, Naderge enjoys eating healthy meals especially Haitian cuisine. She enjoys exercising not for the sole reason of looking fit, but also, to achieve overall health. She loves Canada and the collective nature of this nation that makes it inherently unique. Naderge believe that children are the future of this world and should therefore be heavily invested in. She previously volunteered in children's ministries.
In short, Naderge Baptiste is prepared to share her various gifts, talents, intelligence, personality, beauty, and faith in the Miss Universe Canada beauty pageant. Like a rose in bloom, Naderge wants to continue to flourish in her life and to continue to make everyone proud, including herself.
Sponsors:
Embassy of Haiti in Canada: Frantz Liautaud – Ambassador of Haiti, UpNorth Naturals: Lisa, Friends & Family
Languages spoken fluently (please include your native language if English is not your native language).
I speak fluent English, French, Haitian Creole, and beginner's Mandarin Chinese.
What are your interests and what do you enjoy doing the most?
Firstly, my main interests are focused on my faith. My faith in Jesus Christ and my journey as a Christian has impacted and shaped my life in astonishing ways. Although my faith in God is a personal experience, it extends to many different spheres in my life that leads to impacting other people with the love that has been embedded within me. Therefore, I enjoy being involved in my church and community. This consists of reading the word of God, attending church on Sundays, participating in church related activities, spending time and loving people.
Secondly, I am also very interested in my studies in international development. I also enjoy reading, learning new languages, studying people, participating in engaging conversations, travelling, fashion shows, dancing, and spending time with family as well as friends.
List any special training you have had (music, art, drama, dance, etc.).
I previously took ballet classes in high school, and had choreography classes in college. I have participated in local fashion shows since I was in middle school. Some fashion shows I have participated in fairly recently were the "Wonderland Fashion Show" fundraising finances for nurses travelling to Malawi at CEGEP Vanier College. I also participated in the "R.O.C.C. your Beauty Hair Show", in which women with natural hair embraced their beauty and natural hair textures with style and grace, for the salon Nana and the girls.
In what sports, if any, have you participated?
As of recently, I have participated in none. However, I always participate in dance clubs.
Name one person, other than your parents, who has had the most influence on your life. Why?
Those who indisputably had a remarkable impact on my life would be my two mentors, Elizabeth and Angie Laguerre. Due to the fact that they are sisters, I believe that I can mention them both as key influencers in my life. I grew up in New York as a teenager, and those were indeed some of the most turbulent years of my life. During this time, Elizabeth and Angie helped to instill indispensable values in me. As a teen, it is easy to be swayed by peer influences and to follow the crowd making irrational decisions, especially in my neighborhood. Elizabeth and Angie encouraged me to think about my actions, to develop my own sense of self, and not to simply follow the waves of the crowds. Furthermore, I began to create my own waves. This phase in my life was crucial in defining who I am today. They both instilled leadership qualities in me, and helped me to overcome difficult situations in my life up until today. The most powerful aspect of our relationship is that they continue to be a voice of encouragement and wise counsel in my life. Additionally, I believe it is important for young girls and women to have mentors in their lives. It is beneficial and essential to have women supporting other women throughout life outside of those within one's family circle. In short, I am ever grateful for my mentors, my sisters, my friends, my spiritual wise counsel. My family is also grateful for them. Thank you for helping me become the woman I am today.
What is your proudest personal accomplishment (other than participating in this pageant)?
My proudest accomplishment is not one that has garnered a lot of attention, nor one that implies society labels. This event occurred when I was a young woman in high school. I was attending summer school for a gym class, and prior to this gym class every morning, I would speak to a group of girls. Every morning I would encourage and motivate each of these girls and share stories of my transformation in high school. I never had the slightest idea that someone else was listening to our conversations. Until one morning nearing the end of summer school, my gym teacher told me that he hoped his daughter would be like me when she grows up. I was in complete shock to hear this feedback from someone I did not know was listening to me. My gym teacher may not remember this event, or the powerful impact his kind words had on me. From that moment on I decided that I wanted to be a good example for young girls and women. I wanted to exemplify to others how you do not have to be a product of your environment, and that you can grow despite your social and economic background. I also learned a very important lesson, that remaining true to your self is the best method for inspiring and encouraging others. It is easy to put on an act when others are watching you, but remaining true to yourself can impact people that you have never met, and encourage those that you did not know were listening to you. Just knowing I impacted one person unknowingly, blew my mind, and still remains my proudest accomplishment. I intend to continue to achieve this goal to the best of my ability in my life.
What is the most interesting or unique thing that has ever happened to you and/or what is the most interesting thing about you?
An interesting fact about me is that I was born a premature baby. My father told me that I was barely two pounds, and that when I was first born, I was small enough to fit in between his two hands. I was put into an incubator for about two weeks until I was released and my parents took me home. The best gifts often come in the smallest packages.
What is your career ambition and what are you doing or plan to do to accomplish that goal?
My career ambition is to one day become a lawyer in international law and hopefully work for a non-governmental organization (NGO), or international organization, in the near future. Currently, I am studying international development at McGill University here in Montreal, Quebec. It is an inter-disciplinary program that studies the many facets of development historically, economically, politically, and anthropologically in different countries around the world. I plan on continuing on to law school to study international law.
What would be your "dream job" in life?
If I could have my dream job, it would consist of humanitarian work. I always wanted to be a humanitarian, to establish my own organization, and to facilitate growth not only in developing countries but also here in Canada. For example, aiding the homeless people here in Montreal. I am also moved to focus on countries of my own origin such as Haiti. I am currently striving very hard to accomplish this dream of mine by studying international development.
Are you currently a student?
Yes
If yes, where?
McGill University in Montreal, Quebec.
Area of study:
I major in International Development focusing on education, human rights, and sustainable development. I also minor in communications. I love the school that I attend, and I believe it to be one of the best educational institutions in North America. Not only in providing an excellent education, but also in meeting new people from diverse backgrounds and countries from all over the world. It has provided the best atmosphere to gain different perspectives and ideas from diverse places, and honestly has shaped my experience as a university student in the best way.
Are you currently employed?
Yes
If yes, what is your occupation?
I am a part-time bill collector at Yellow Pages while attending school full-time.
Describe where you were raised and what your childhood was like.
Although I was born in Montreal, I was raised in Spring Valley, New York with my father who is Haitian-American. My childhood was very interesting, and I would not want to have had it any other way. I grew up with my brothers in a cool neighborhood. We lived in an apartment complex called "Avon Gardens", in which most of my fondest memories remain. My brothers, our neighbors, and I would play kickball, run races, and play basketball everyday we could, as long as the weather was bearable. During the winter months, we would play in the snow, or stay in and watch movies and drink soup, dance to old videos, and invent our own games (which resulted in our awesome creativeness). I remember not possessing much materially. However, we were so rich in what we did have in our community. Our community in those apartment buildings was so closely knit. Everyone knew each other, and if someone were being bullied we would defend one another. I learned many lessons from my humble beginnings, and remain friends with people from my neighborhood up until today. My cousin Katherine always tells me "do not despise humble beginnings", which is inspired by the verse in Zechariah 4:10. These small beginnings make me who I am today.
List any interesting or unusual jobs you may have had.
In high school as a teenager, I worked as a helper at a hair salon called Big Z's in Spring Valley, New York. This was thanks to Tamara, Elizabeth, and Angie Laguerre. I just helped around the shop with small things, and learned so much about how to take care of my own natural hair, while being more involved with my Haitian-American community since there were a lot of customers of this background. I learned to speak Haitian Creole much more fluently, and it helped me to use my time constructively back in New York as an adolescent. I learned the meaning of hard work and loved the atmosphere in which women voiced their opinions and told their funny, outrageous, and inspiring stories. It was a beautiful experience.
List any volunteering you have done.
I often participate in the March of Dimes back in the U.S. to help fundraise and raise awareness for premature babies such as myself. I also participated in walks for the American Heart Association. I usually always volunteer at church. Previously here in Montreal I volunteered in the children's ministry at La Chapelle, a great church in Rosemont. I also participated in a fashion show for fundraising nurses at CEGEP Vanier College to go to Malawi.
What is your most unusual talent?
My most unusual talent would be my boldness. I consider myself a very bold person. I usually go up to complete strangers and start conversations and will not hesitate to compliment someone I do not know. I also enjoy revving up conversations and cheering up a room.
Where is the most interesting place you have been to?
The Magic Wings Butterfly Conservatory in Massachusetts. I visited around the age of 13 years old with a Catholic youth group that I participated in along with other students from my school. I will never forget walking into the breath taking dome and seeing all of the butterflies, flying freely within this bubble. They came in many different varieties and colors. Additionally, there were plants, insects, and animals to observe as well. This is unquestionably one of the most exciting and memorable places I have visited.
What do you hope to be doing in ten years?
In the next ten years I would like to graduate from McGill University and attend law school for international law. I would love to begin working for international organizations concerning developing countries. Ultimately, within the next ten years I would like to establish my career, move on to the next phase of my life, and to leave an impact in the field of development and in the lives of others. I also hope to be a great representation of a modern Canadian woman, and to set a good example for young women across Canada beginning with this Miss Universe Canada beauty pageant.
Is there anything you would like to add that we haven't asked?
I would like to emphasize the importance of my family and the Haitian community that has helped raise me my entire my life. I am ever grateful to my father and his family that have supported me since I was born. I am grateful to Ann Gervil who has raised me as her own, my brothers and Katherine Lerebourg who always encourages me to be a better person. Josephine Lervilus and her sons who have also welcomed me as family with open arms. I appreciate Naromie Rincher, Garbart Rincher, and Vanessa Michel for encouraging me to enter this competition once more, and my family and friends whom I love dearly. I am fully prepared to put my best self forward in this competition to proudly represent Montreal, Quebec, and Canada in this beauty pageant. I hope to make everyone proud. I am the result of a culmination of amazing people with great hearts and steadfast love. The Haitian community plays a huge role in my life by instilling their values and honorable history within me. I am proud of my Haitian culture and history. L'Union Fait La Force.