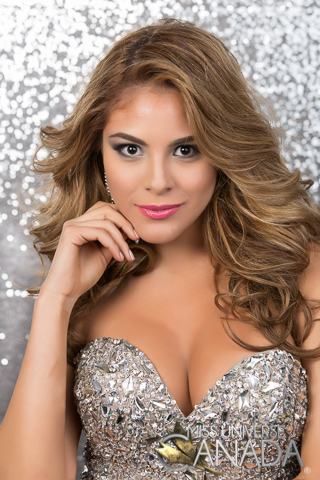 Height: 5'7″
Hometown: Mississauga, ON
Ninela Sanchez is a Venezuelan, born in Caracas in 1993 and is now a proud Canadian. Ninela considers herself an ambitious, charismatic, self-driven individual with a great passion for life. Being spiritual, positive and a leader are one of her many virtues. Growing up with a humble family in a bi-cultural environment, has taught her to survive difficult challenges and master two languages; Spanish and English. Ninela started to merge in the beauty pageant world from a very young age. Her persistence and preparation lead her to win Miss Venezuela Kid 2002 and Miss Canada Latina 2014-15. Her preparation and commitment after been crowned Miss Canada Latina, also lead her to place in the top 10 semi-finalist at the International Pageant, Miss Latin America of the World. Transcending to other achievements, traveling from east to west in Canada and several parts of Latin America, highly representing the Latin Canadian woman.
Ninela currently works for "Univision Canada"; been the first TV host to conduct the program "With you in the community " and "HOLA". During this time, Ninela has also presented special commercials for Rogers TV, Breakfast City TV, Carassauga-Latin Pavilion and worked on several modeling projects, including commercials for Archie's Mango, Singer-Henry Vivel, Panamania for the Panam Games-TO2015, Toronto School of Make Up, Rosred Collection, Ideally Yours Boutique, Nina's collection boutique, & JEP Agency INC.
Ninela supports, and organizes an event yearly to raise awareness & become a platform to educate people about the importance on Bullying. One of her personal objectives; is to continue to influence her generation by being a leader and continuously impact lives in a positive way. Her dream is to one day own her Bathing suit and beachwear line. As well her own TV-Program in an international channel.
Ninela graduated with an Advance Diploma in Business Administration Marketing from Sheridan College, and has a certificate in Public Speaking, and Communications.
Sponsors:
Fired UP and Grill, Jep Agency Inc, Nina Collection Couture, Rosred Collection, Xtreme Beauty, Hair Academy Of Passion, Rodan + Fields, Colombia En Mississauga, Aura Fitness, Magic Vision Photography, Pro-Angels Maid Services Inc, Serendipity Couture, Friends & Family
Languages spoken fluently (please include your native language if English is not your native language).
Native Language is Spanish (spoken and written fluently)
Secondary Language is English (spoken and written fluently)
What are your interests and what do you enjoy doing the most?
My interests are to act, model, work out at the gym, ballroom and Latin professional dance. I enjoy the most working for Univision Canada as a TV-Host because I'm selfless at front of the camera & it's a true passion of mine.
List any special training you have had (music, art, drama, dance, etc.).
I have had special training in Professional Latin and Ballroom Dance, Professional guidance at from of the cameras and in Drama (acting).
In what sports, if any, have you participated?
Beach Volleyball
Track & Field
Soccer
Name one person, other than your parents, who has had the most influence on your life. Why?
One person that has had the most influence in my life has been my Grandmother Lucila Velasquez. She was a Public figure and true worrier in my home country Venezuela, because she was a diplomatic, journalist and Cosmo-Poet who represented Venezuela in the Embassies of Bulgaria, Denmark, Greece, and Italy. As well she was the Cultural Advisor for the Embassy of Brazil, Panama and Mexico representing Venezuela, while the communist battle hit my country. She fought to defend the women's right against the communist dictatorship of Marcos Perez Jimenez in 1952. She wrote more than 14 Cosmo-Poetry books in 5 different languages Spanish, English, German, Italian and Greek. Therefore, my Grandmother has impacted my life in an extremely positive way. I look after her steps and guidance.
What is your proudest personal accomplishment (other than participating in this pageant)?
My proudest personal Accomplishment has been to win Miss Canada Latina and represent Canada in the international pageant Miss Latin America of the world, placing in top 10 semifinalists out of 30 countries.
What is the most interesting or unique thing that has ever happened to you and/or what is the most interesting thing about you?
The most interesting thing about me is my name (NINELA). My name was a thought of my Grandfather because my aunt is name after ALENIN, which is NINELA the other way around. I consider myself a unique individual with a huge passion for life; I can say that I'm a very loving and humble person who seeks for nothing but success by implementing my own example of life.
What is your career ambition and what are you doing or plan to do to accomplish that goal?
My career ambition is to own my bathing and beachwear line and as well to have a TVSHOW of my own in an international channel. I am now striving for success by working for prestigious international channel Univision; as a TV-HOS. I'm continuously learning new things in the entertainment industry in order to conquer my dream. I'm in constant learning and I love to gain this knowledge and preparation for future successful jobs.
What would be your "dream job" in life?
My dream job is to have my own TVSHOW In an international channel. As well as an entrepreneur, having my own bathing suit and beachwear line.
Are you currently a student?
I have graduate and completed my studies (Business Administration marketing and communications) in Sheridan College.
Are you currently employed?
Yes
If yes, what is your occupation?
I'm a TVHOST for Univision Canada and an Outsource Agent at National Credit Recovery INC.
Describe where you were raised and what your childhood was like.
I was raised in Caracas, Venezuela. My childhood was wonderful and educative. I was raised by both of my parents Nina Sanchez and Roldan Sanchez. Yet, I moved to Canada when I was 10 years old. These times were rough since I had to go through the divorce of my parents and had to live most of my family back home. I immigrated to Canada with my mother and 2 sisters for a better quality of life. After moving to Canada, life became tough; yet I managed to master two languages and continuously to strive for success with a humble and loving heart.
List any interesting or unusual jobs you may have had.
Selling CD's and DVD's at the flea market when I was very young. I knew they were pirate and not real. It was not the best job, yet very unusual.
List any volunteering you have done.
Run a campaign to build awareness for Autism Canada
SickKids Cancer foundation
Timothy Christian school- Educate and build awareness on bullying to children in their summer camp.
What is your most unusual talent?
Singing
Where is the most interesting place you have been to?
The most interesting place I have visited has been in Canada, Bruce Peninsula. The peninsula is one of the most beautiful scenery I have ever since in my life. It has beautiful fresh and turquoise water, with its beautiful white fresh sand. WOW! Lakes that color are priceless.
What do you hope to be doing in ten years?
What I hope to be doing in ten years is having the dream job of my life and writing my own book " How to conquer success in your profession" giving a spiritual sense and my own example of life.
Is there anything you would like to add that we haven't asked?
The one thing I will like to add is my Philosophy of life, which I truly believe in very much…
"To Succeed you need Believe, Visualize a and be more than a Conqueror"