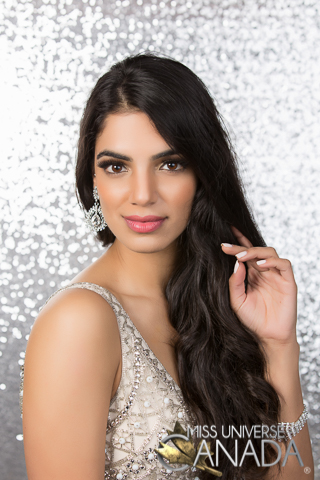 Height: 5'6″
Hometown: Edmonton, AB
Richa Kalra was born and raised in Edmonton, Alberta, where she proudly was voted Miss Congeniality in her graduating high school class and completed her Bachelors in Science at the University of Alberta. Having grown up exploring the Canadian Rockies in her backyard, and traveling the globe with her family, she developed a fierce desire to experience the world at a young age. Whether it was building houses in the villages of Dominican Republic, working in orphanages of Colombia or creating mental health awareness in India, Richa has valued the act of giving back through her travels. It was her curiosity to live abroad which lead her to a medical school, where she participated in a Global Scholar program, living in three different countries: the UK, Grenada and USA, where she currently resides in New York City, completing her Psychiatry Residency. She is also pursuing her childhood dream of acting, which began with musical theatre performances and various forms of dance in Edmonton including Bharatanatyam, Bollywood, hip hop and salsa. You may also be able to find her going back to her athletic roots, shooting hoops on a basketball court, pitching a strike over home plate, or serving an ace over a volleyball net.
Sponsors:
Naeem Khan, Max Martin Shoes, Rubies Custom Bras, Friends & Family
Languages spoken fluently (please include your native language if English is not your native language).
English, Hindi, Punjabi, Urdu. Partial Spanish and French.
What are your interests and what do you enjoy doing the most?
Dancing, Choreographing, Singing. Participating in theatre productions, film productions, travelling the globe and discovering new places, shooting hoops, playing catch.
List any special training you have had (music, art, drama, dance, etc.).
Graduate of Bharatanatyam Dance (Indian Classical), Do all forms of Indian Dance, Learned Jazz, Hip Hop, Samba and Salsa. Piano (Royal conservatory), Musical Theatre trained, Attend Studio 4 acting school in NYC.
In what sports, if any, have you participated?
Played Basketball on teams for 9 years, volleyball for 5, softball as a pitcher and back catcher for 13 years.
Name one person, other than your parents, who has had the most influence on your life. Why?
My aunt. She has travelled the world, showed a genuine passion and care for others and shared her knowledge and philosophies with me that have been my anchors in life. She exemplified the meaning of strength and power of positivity through her battle with stage IV breast Cancer.
What is your proudest personal accomplishment (other than participating in this pageant)?
Finishing medical school and getting accepted to Psychiatry residency in New York.
What is the most interesting or unique thing that has ever happened to you and/or what is the most interesting thing about you?
I sent a very random cold email to a sought after casting director in India after seeing her on a tv show. She asked me to send her an introduction video of myself in which I danced in the middle of the streets of Times Square..She called me to India for an in person meeting.
What is your career ambition and what are you doing or plan to do to accomplish that goal?
I hope to have a career on a public platform in Global Health, focusing on mental health awareness, education and policy. I am currently completing my psychiatry residency, am a member of the UN Association and volunteering with a mental health organization in India.
What would be your "dream job" in life?
To be an actress! I would love to play Malala in a biopic.
Are you currently a student?
Part Time
If yes, where?
Studio 4 NYC
Area of study:
Acting
Are you currently employed?
Yes
If yes, what is your occupation?
Psychiatry Resident
Describe where you were raised and what your childhood was like.
I was raised in Edmonton, Alberta in a very tightly knit community. Camping in the mountains was one of the perks of living in Alberta. My childhood was filled with extracurricular fun. I had the opportunity to experience my culture through dance and the arts, played on various sports teams through school. From 16 onwards, I would work every year so that I could travel for the summer.
List any interesting or unusual jobs you may have had.
I once worked at a Deli, but accidentally sliced off a part of my finger in the meat slicer..oops! I was a dance teacher/choreographer/organizer/digital music mixer for an Indian Dance School that put on an annual charity show. I was the Media Intern at an international Indian award show called IIFA.
List any volunteering you have done.
CO2 Tropical Trees: an organization focusing on amazon reforestation
International Student Volunteers: working in a village in Dominican Republic
Angeles De Medellin: a program helping poor and displaced children in Colombia
Basketball Coach: Edmonton
Dance Teacher: Edmonton
Omz Films: Actress, NYC
Urban Future Leaders of the World: a mentor for at risk high school students, who aim to solve problems of the youth in their community
Live, Love, Laugh: Mental Health Organization in Bangalore, India
What is your most unusual talent?
I became interested in learning to mix music while I was growing up and now make digitalized audio mixes for dance items.
Where is the most interesting place you have been to?
Jerusalem – so much history and a vibe with plenty of soul, and Petra Jordan (I love Indiana Jones).
What do you hope to be doing in ten years?
Working for the UN, making waves and significant change in mental health.
Be in a prime time TV series
Is there anything you would like to add that we haven't asked?
Random Fact: I lived on a Caribbean Island for a year – that was cool.. Hey Grenada!!