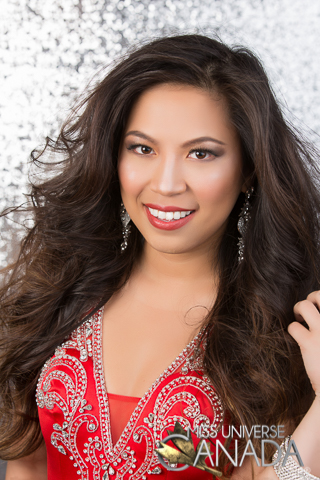 Height: 5'2″
Hometown: Toronto, ON
Sindy Nguyen, otherwise known as "Sindy with an S," is an Event MC, Assistant Cruise Director, World Traveller & was a Houseguest on Big Brother Canada Season 3.
Having grown up in the small town of Huntsville, Ontario, Sindy is anything but a small town girl. Of Vietnamese descent, Sindy is fluent in both English and Vietnamese. Currently residing in Toronto, Ontario, Sindy always has a project on the go.
With her passion, skills, and determination, she was a part of numerous musicals, including Seussical & Aida, the film King of the Camp aired on YTV, and several music videos with artists such as Lady Antebellum, Keshia Chante, and Neverest, just to name a few. Sindy continued to develop her talents while attending Humber College as a member of the Humber Varsity Cheerleading Team as well as the Humber Hype Dance Team.
With her array of talents, Sindy's biggest passions are to host large events and entertain crowds. Sindy combined these two passions while working at sea with Princess Cruise Line as an Assistant Cruise Director. For two and a half years, Sindy was able to entertain guests onboard while also visiting four of the seven continents! Her next goal is to travel to the remaining three continents (South America, Australia and Antarctica) before she's 30.
Embracing the idea that there is more than one route to success in life, Sindy's taken a less traditional road in achieving her goals. Her ability to test her limits and fears has given her the courage to skydive, surf, bungee jump and shark cage dive. Sindy has traveled to 38 countries believing that the world is her textbook; each country is a new chapter and each experience a new lesson.
Sindy is a huge believer in giving back, staying involved in the community and helping any way that she can. She has previously fundraised for Michelle's Place, Variety Village, The Rainbow Children Foundation, the Canadian Breast Cancer Foundation, CARE Canada and the Susan G Koman Foundation.
Due to the development of vocal chord nodules in early 2013, Sindy has returned home. While home, Sindy has decided to pursue her love for pageants and was honoured to represent Canada internationally in Orlando, London & Paris.
In 2015, Sindy was selected as 1 of 16 Houseguests to be on Big Brother Canada Season 3. She was the second houseguest evicted from the house. As one of the first five evicted houseguests, she was given the opportunity to re-enter the house if she won the endurance challenge. Sindy successfully outlasted the other four and re-entered the house. However, her time in the house was cut short and was evicted for the second time and becoming the second member of the Jury.
Sindy strives to be an extraordinary role model by empowering others to understand that any dream is attainable and the unconventional way of learning can be the exceptional way.
Sponsors:
Hangry Burger, Fit Factory Fitness, Geanine Ruth Bridal Boutique, L.A. Tan, Tease Hair Lounge, Narces, L'momo, Karl Andrew Photography, The Richmond, Ultimate Party Services, The Underground Dance Centre, CoHo Apparel, Friends & Family
Languages spoken fluently (please include your native language if English is not your native language).
English & Vietnamese
What are your interests and what do you enjoy doing the most?
I enjoy going to the movies, being able to escape and jump into another world and live it, is pretty amazing.
List any special training you have had (music, art, drama, dance, etc.).
I have never been professionally trained in dance, but I've been privileged to have made it onto dance teams with my natural talents and charm.
In what sports, if any, have you participated?
Pageants are a sport.
Name one person, other than your parents, who has had the most influence on your life. Why?
Mr. Vance McPherson. He was a teacher at my high school, although he never taught a class to me, he was our supervisor for Student Parliament when I was Minister of Spiritual and Cultural Activities. Mr. McPherson has shown and taught me on what it truly takes to be a leader, he kept me grounded, continued to encourage me to be creative and always believed in me.
What is your proudest personal accomplishment (other than participating in this pageant)?
My proudest accomplishment was being selected as one of the 16 Houseguests to be on Big Brother Canada Season 3, out of 10,000 applicants. All the challenges that I was able to compete in, proving to others and myself that if I stayed determined and focus, I can accomplish anything.
What is the most interesting or unique thing that has ever happened to you and/or what is the most interesting thing about you?
I would have to say Big Brother Canada. There have been more people that have gone into space than there are players in that show. No one will truly understand the experience and what we all went through and I wouldn't change it for the world. That experience has taught me so much about myself.
What is your career ambition and what are you doing or plan to do to accomplish that goal?
I'm a very driven person and with my personality, I always want to be challenged. I find myself testing new jobs and learning unique skills and assets before I continue to challenge myself. At the moment, my ambition is to continue searching for a career that can do the following things: challenge me, push me to work harder and better, makes me happy and enjoy going to work every day.
What would be your "dream job" in life?
To be honest, I think I already worked my dream job and maybe one day, I'll go back. I worked as an Assistant Cruise Director onboard cruise ships. Knowing that I was able to be a part of people's travel memories and keeping people entertained as well as traveling the world, I honestly can't complain. Unfortunately, I left due to medical reasons, but I'm sure I'll go back.
Are you currently a student?
No
Are you currently employed?
Yes
If yes, what is your occupation?
I currently work in Event Management.
Describe where you were raised and what your childhood was like.
I was raised in Huntsville, Ontario. My childhood was a bit tough moving from the big city to a small town and dealing with bullying and racism, but it definitely made me stronger and I am proud of who I am today.
List any interesting or unusual jobs you may have had.
Working on Cruise Ships was one of them. That was definitely an adventure.
My first job ever was at McDonalds (proudly like to mention that I was employee of the month Dec 2005)! McDonalds was the foundation to who I am as an employee, their training has set a standard to every new job that I work at.
List any volunteering you have done.
Unfortunately, due to my past job of working on cruise ships and traveling, I've been unable to volunteer my time as I couldn't commit for a year to certain organization, however, I do my best in fundraising any way I can. Previously, I have fundraised for Variety Village, The Rainbow Children Foundation, the Canadian Breast Cancer Foundation, CARE Canada, the Susan G Koman Foundation and Michelle's Place.
What is your most unusual talent?
That's a tough question actually. I think it may be the fact that I can be anywhere with anyone and can spark up a conversation with a stranger and be constantly engaging. Some may not think of it as a talent, but it's not easy for a lot of people to be in that situation and make themselves comfortable.
Where is the most interesting place you have been to?
Cape Town, South Africa. I was there for a month, and during that time, I did more things out of my comfort zone and pushed myself!
What do you hope to be doing in ten years?
I hope to continue my travels. I have currently travelled to 38 countries, in 5 out of the 7 continents. My goal in 10 years is to double those numbers and thoroughly experience each continent!
Is there anything you would like to add that we haven't asked?
This may get annoying, but I always introduce myself as "Sindy with an S". It's been the way that I've introduced myself since I was young and will continue to.