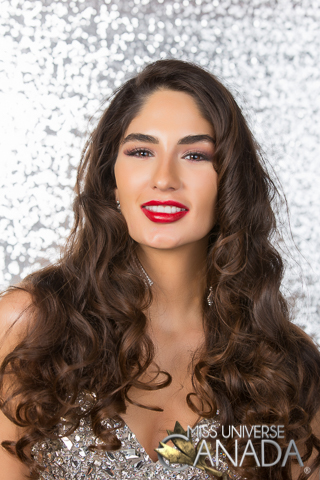 Height: 5'6″
Hometown: Fort McMurray, AB
Born in Abbotsford, British Columbia and raised in Stony Plain, Alberta, Vanessa was raised by her loving, extremely hard working parents, Paul and Brenda. Always being pushed to strive for better, Vanessa believed from a young age that in order to succeed and find fulfillment , you need to find one thing you love and add more value than anyone else. Throughout high school Vanessa learned the art of time management- she maintained A grades, competed on three varsity athletic teams and volunteered with multiple community based organizations.
Vanessa has proven to be a natural leader in many arenas. A business graduate from the University of Alberta, Vanessa has decided to effect real change and plans to become a Mayor or town manager in the years to come. This decision was inspired by her shared frustrations of how women are viewed and represented in politics. During university, Vanessa admits that she faced struggles but learned the most important lesson- "Your own level of hard work and focus are the only two factors that decide your success or failure."
During the past four years, Vanessa has been blessed with the opportunity to work with several non for profit organizations including but not limited to the SPCA, the Breast Cancer Foundation, SickKids Foundation and her personal favourite, Operation Smile. Vanessa challenges the community to recognize that non for profit organizations not only benefit recipients but also fill the hearts of those contributing their time.
"When asked, "What does competing in Miss Universe Canada mean to you?" She answers, "Competing in Miss Universe Canada is like walking into a room of people who understand me. Our brains are simply made to be in unison. Conversation with complete strangers feels like debate with an old friend. Unified through commitment to change, we stand tall. Everyone wakes up with fire in their belly and its the most exciting feeling I've ever experienced. I live all year to get here and recall why we do it. To make the world a better place, to be the best version of myself possible and compete for my dream!"
Sponsors:
Friends & Family
Languages spoken fluently (please include your native language if English is not your native language).
I fluently speak English, however growing up and through high school I studied French and Japanese. Both languages I enjoyed very much, and would like to become fluent in both.
What are your interests and what do you enjoy doing the most?
My interests are in humanitarian efforts, fitness, modelling, nutrition and literature. I spend most of my spare time working on ways to create more awareness and funds for the charities I am working with. And when I am not doing that, you can usually find me reading up on the news or in the gym. I love to workout, and that I think goes hand in hand with nutrition and modelling. It is a priority for me to be at my healthiest and respect my body by doing something good for it everyday!
List any special training you have had (music, art, drama, dance, etc.).
I have been blessed to experience a career in modelling for many years now and have been trained in facial expression towards the camera, posing and catwalk. This has given me the opportunity to host countless events and charity functions, so public speaking comes naturally to me. And Growing up I had the benefit of being trained in hip hop, singing and gymnastics and can still perform many acrobatic moves. I have also been professionally trained in make-up and hairstyling.
In what sports, if any, have you participated?
My love for fitness was fostered purely from my love of sport. In my schooling years I played competitively in numerous sports. I primarily enjoyed volleyball, badminton, track and field, and basketball the most, winning multiple titles and awards. I have been lucky enough to have undergone mindset training included in my competitive level years which has helped me persevere in difficult times.
Name one person who has had the most influence on your life. Why?
My parents have always encouraged me to be a strong woman and make a difference in the world for our future generations. They emphasized this very much while I was growing up. In my youth, my father introduced me to the history of women's rights in Canada. And I became very influenced by the efforts of the Famous 5 women. They achieved not only the right for women to serve in the Senate, but their many contributions paved the way for women to participate in other aspects of public life and the assertion of women's rights. There is a quote from Emily Murphy "We want women leaders today as never before. Leaders who are not afraid to be called names and who are willing to go out and fight. I think women can save civilization." And this quote stands true to this day. We are the leaders, nurturers, and creators of society and the Famous 5 showed me that it is our femininity that we find strength in. It is why we persevere. I hold these values still to this day with the great example of fighting for what you believe in. I know that if I put my mind to it, I will make the world a better place.
What is your proudest personal accomplishment (other than participating in this pageant)?
My proudest accomplishment I believe is becoming the woman I am today. I have worked extremely hard to accomplish all the goals I have set for myself. Being of 5 different ethnicities and experiencing racism and bullying during my younger years was very hard at times to cope with, but I have learned to embrace difficulties in life and look at them as opportunities to make a difference. This life changing experience has helped me build my character and gain confidence in who I am and what I believe in. Also, it has taught me to persevere through any challenge that life presents. I know that with hard work, dedication, consistency and a dream I can achieve anything.
What is the most interesting or unique thing that has ever happened to you and/or what is the most interesting thing about you?
I hiked Sulphur Mountain this past summer in Banff National Park and when I got to the top I met a golden-mantled ground squirrel while I was eating some trail mix and I offered it a peanut. Luckily the squirrel wasn't afraid and I was able to feed him! I'll never forget how rewarding it felt after hiking the mountain, to be able to bond with nature like that! It was one of the cutest things I have ever experienced!
What is your career ambition and what are you doing or plan to do to accomplish that goal?
My career ambition is to be a great role model for the next generation. And not just young girls, but boys as well. I think that with where society is now, we need to be addressing both genders with the same virtues. I want to be encouraging people, male or female, to pursue their dreams and inspire them to think big for themselves! I want to make others start to think positively and more about helping others rather than accept what is currently the state of things. My plan to accomplish this is to share with the world my journey of competing for Miss Universe Canada and working with charities. Showing that not only can you chase your dreams, but you can make a positive impact while doing so!
What would be your "dream job" in life?
My dream job is the position of Miss Universe Canada 2016. I am prepared, committed, educated and ready to take on all of the responsibilities of representing Canada at Miss Universe 2016 as well as the duties that the position carries throughout the year. The chance to represent Canada as a positive role model for young women. Empowering them to strive for their personal, health and career goals is my number 1 dream. I would then have a platform to work from that provides the opportunity to reach out, to be more approachable and become a larger voice for those in need.
Are you currently a student?
No I am not, I have already completed my studies.
Are you currently employed?
Yes I am happily employed.
If yes, what is your occupation?
I have been modelling for years now and I also work for a nonprofit organization at a Sport and Recreation Facility in Fort McMurray.
Describe where you were raised and what your childhood was like.
I was raised in a small town called Stony Plain, Alberta. It's one of my favourite places in the world. Everyone is very friendly, and it is one of those places that everyone knows everyone. The school system and town placed a lot of emphasis on developing good citizens. Volunteerism, sportsmanship, mental toughness and manners were a part of my schools curriculum. My parents both worked very hard and although I never struggled to have anything, they made sure I grew up understanding the value of a dollar. Which lead me to get my first job at the age of 13 as a newspaper delivery girl. I always loved academics and sports and went on through to high school excelling and earning awards in both. Which lead me to become chosen for an Japanese student exchange program in my last year of high school. I was very blessed to grow up with an encouraging family and community and they played a huge role in who I have become today!
List any interesting or unusual jobs you may have had.
For an ad campaign, I once had to stand on large industrial tires and pose in 6 inch heels for a jewellery company. It took around 3 hours to get the perfect shot and afterwards my body was aching. But anything for a great shot!
List any volunteering you have done.
Community Clean up 2014, 2015, 2016- Fort McMurray
Canadian Breast Cancer Society Advocate
The Food Bank
Fort McMurray SPCA
CIBC Run for the Cure
Snow Queen Dance Production
Sick Kids Foundation Advocate
Operation Smile Advocate
Edmonton Hope Mission
Goodwill Industries of Alberta
The Salvation Army
2013 Calgary Flood Relief
What is your most unusual talent?
I sing love ballads really well. I only perform my talent when I am alone or around those who I am extremely comfortable with. But something about the way love ballads are performed and produced gives me chills and I can't help but want to recreate that passionate feeling myself.
Where is the most interesting place you have been to?
The most interesting place I have ever been would easily have to be my father's hometown of Sahar Mundhi, India. It is so beautiful, down to earth and quiet. Unlike anyplace I have ever been to, it is serene, everyone is relaxed and the wildlife is right there in your backyard!
What do you hope to be doing in ten years?
In ten years I hope to be financially stable and running my own business and nonprofit organization. Also I see myself having a family of my own and being an amazing mother to my kids. Ultimately, I hope to maintain a healthy balance between my business and personal life and make a difference in the world.
Is there anything you would like to add that we haven't asked?
I am honoured to have been chosen to participate in this year's Miss Universe Canada competition. I would love to be the next Miss Universe Canada because I am committed and prepared to be an ambassador and represent Canada on an international level. I am ready take on all the duties and responsibilities that this position holds. It would be a privilege to have this strong platform to deliver a positive message and be a role model for young women, and empowering them to strive for their personal and career goals. I would like to thank my family, friends, community and country for their support and the Miss Universe Canada organization to allow me embark on this beautiful journey.