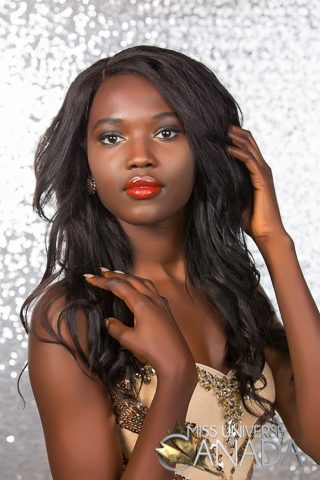 Height: 5'10″
Hometown: Calgary, AB
Born and raised in Uganda, Alice Nyambi moved to Canada in 2009, she is a proud Canadian Citizen living in Calgary, Alberta. She graduated from Father Lacombe High School in 2014. She is currently in her second year of studying nursing at Columbia College in Calgary and works as a part-time model. She has done some acting work as well, the most recent in a black historical day; story of "Viola Desmond and Wynonna Erap TV Show".
Sponsors:
Friends & Family
Languages spoken fluently (please include your native language if English is not your native language).
Swahili, Luganda, and English.
What are your interests and what do you enjoy doing the most?
I love learning more about other cultures and traditions, traveling, modeling and I really enjoy being around kids and discovering new things in life.
In what sports, if any, have you participated?
I've participated in Soccer, basketball, badminton, baseball, volleyball, bowling and handball.
Name one person, other than your parents, who has had the most influence on your life. Why?
One person that has had the most influence on my life is my grandmother because she is that one person that never gives up on anything, she has so much faith and she believes everything in life happens for a reason. I learned from her that you must have a positive attitude in life. If you think life is unfair, then, bad things could happen to you but if you see life as a gift, you will never regret what life brings you. This is why she has had the most influence in my life. Her words change a lot of things in my life.
What is your proudest personal accomplishment (other than participating in this pageant)?
I competed in Miss Calgary 2015 and even though I didn't win the title, I accomplished a lot from the experience. I am stronger as an individual and I am more confident when it comes to public speaking.
What is the most interesting or unique thing that has ever happened to you and/or what is the most interesting thing about you?
I am from Uganda, I'm from a big family of 8 which was raised by only our mother. I have my own way of viewing people not by the way they look and the way they act but by what I can learn from them. One unique thing that has happened to me is coming to Canada, learning to adjust to my new country, getting great education and having to fit in a completely different lifestyle.
What is your career ambition and what are you doing or plan to do to accomplish that goal?
My ambition career is to become a Registered Nurse and a Fashion designer. Right now I am taking an LPN nursing program for two years and after I finish that I will go and take RN for four years. For Fashion designer right now I am modelling to get experience in the field and I have been drawing some my designs and my mother makes them for me to wear. I love modelling because it allows me to express myself through my fashion style.
What would be your "dream job" in life?
My dream job is to become a Nurse and a fashion designer.
Are you currently a student?
Yes.
If yes, where? I'm studying at Columbia college in Calgary, Alberta
Area of study: LPN nursing
Are you currently employed?
Yes
If yes, what is your occupation?
I work as a part-time model.
Describe where you were raised and what your childhood was like.
I was raised in a small village in Kenya before I moved to Uganda. Life there wasn't easy, a lot of people suffer, it's hard to get food to eat, my grandmother and I used to walk everyday to go get water to drink and food to eat. My grandmother and I used to plant some food at the farm, but the sun was too hot and we didn't got much from the farm. I lived with my grandmother for 10 years and the lifestyle was always the same. When I was 11 I moved to a small city in Kenya to live with my godmother and stepfather. that's when I started seeing my life as worthless. For three years, I was abused by them sexually and physically. I was a child that never knew if I really had parents or not because since I was born, I have never lived a peaceful life. I was homeschooled by my grandmother. When I was 14 I finally found a place I can call home, brothers and sisters that I never knew about, that's when I went to Uganda. In Uganda is where I meet my mother and my siblings. We were 10 of us and my mother couldn't send all of us to school; she only send my older siblings and the younger ones were homeschooled. She did that until she got the opportunity to bring us to Canada in 2009. Coming to Canada was the best thing that have ever happened to me. I am always grateful for my mother for bring me here to have a great peaceful life.
List any volunteering you have done.
I volunteered in a drop-in center from 2010 to 2014. I helped with serving meals, sandwich preparation, kitchen preparation and general cleaning.
The Mustard seed – I volunteered there from 2013 to 2015. I went there every Friday after school and helped there serving dinner and helping in the shelter where many people come and find a place to sleep; it was sad because some people ended up sleeping outside. I also helped washing clothes to be given to the people.
Global fest – I have volunteered to sale tickets and helping at the parking lot helping people find a place where to park. I have done that for 2 years.
Afrikadey festival, I have volunteered working with kids teaching them about African culture and traditions.
I have also volunteered to do fundraising for the drop in center. I raised about $2000 in three weeks. .
What is your most unusual talent?
Great at drawing
I can sing
I am good at almost every sports.
I am a quick learner.
Where is the most interesting place you have been to?
The most interesting place I have even been to is Canada because in Canada I have learn so much about myself and the world. I would've never learn those things if it wasn't for me moving here.
What do you hope to be doing in ten years?
Professionally speaking, I hope that in ten years, I would've finished my nursing schooling and perhaps have my own fashion line. I would also hope to be continue my volunteering working with abused children. I want to open a hospital too, to help a lot people.