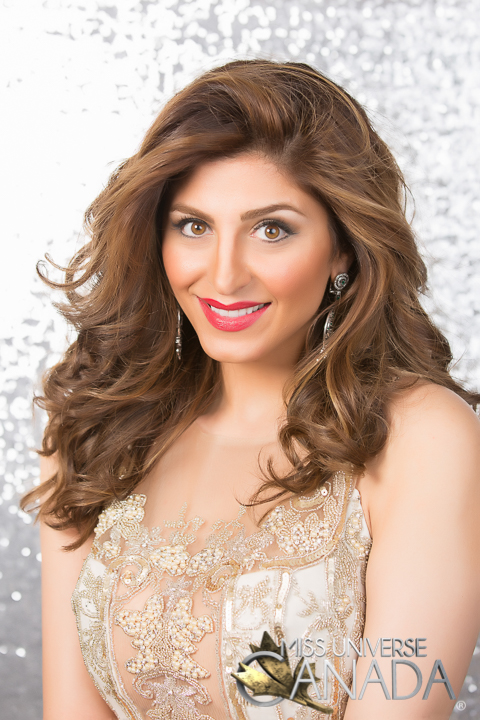 Height: 5'8″
Hometown: Calgary, AB
Aylar Macky was born in the cosmopolitan city of Tehran, Iran and has been a proud Canadian citizen residing in Calgary since the age of nine. Aylar has lived in Calgary, Toronto, Vancouver, and Montreal therefore has an acquired taste of being a true Canadian. She studied at the University of Calgary majoring in Marketing and Sociology and is now a serial entrepreneur developing businesses in various countries. Beginning of 2016 she co-founded Reconnect, a communication agency, advising Canadian and Iranian companies on smart business partnering and communications to enhance cooperation and economic growth in both countries. She hopes to help improve relationships between the two countries. Aylar continuously strives to improve the lives of women globally whilst making sure volunteering is embedded in her daily routine. She has travelled the world extensively expanding her horizon, experiences, and network globally. She dreams of running an international non-profit women's shelter and its in the midst of planning for this endeavor of hers. Aylar believes is achieving what she sets her mind and energy to and is an encouraging and motivating person to those around her. This business woman will be moderating the first ever Iran Banking & Wealth & Finance conference encouraging foreign investors and companies to initiate business with Iran, in Zurich march of 2017.
When she is not travelling, developing businesses, and in back to back meetings with international companies, she can be found in her kitchen cooking, baking, and entertaining her loved ones around a table. With her 18hour work days she still prioritizes family and friends and makes sure to allocate sufficient time to life's priorities.
Sponsors:
Royal Capital Monaco, Crystal Water, Fashion Lounge Tehran, Katy Fathi Jewelry, Pouneh Askarian, Peris Clinis, Viva Gym, Neoderm Skin Clinic, Friends & Family
Languages spoken fluently (please include your native language if English is not your native language).
English, Farsi (Persian), Turkish (Azeri)
What are your interests and what do you enjoy doing the most?
When I'm not creating brands, or helping empower entrepreneurs women, I enjoy cooking in my home, wherever in the world that may be, and bringing people I love together around a table or a kitchen counter to share my passion for hosting and food made with love. This positive energy and vibes helps me get through and conquer anything.
List any special training you have had (music, art, drama, dance, etc.).
Being the energetic and daring person that I am I always find time to expand my knowledge in new areas and ensure I learn one new activity per year. This year I focused on enhancing my abilities n baking.
I have also continuously had additional and professional trainings in various sports such as: swimming, basketball, volleyball, soccer, and horseback riding.
Being awarded the Best Female Athlete medal and title in high school I make sure to motivate not just myself but girls, young ladies, and women in all walks of life to establish a daily exercise routine, and get involved in team sports. A healthy lifestyle, body, mind is the priority in my life.
Name one person, other than your parents, who has had the most influence on your life. Why?
To me, every person, in all walks of life could have a sudden and unexpected influence on me. A random person on the bus could teach me things a major CEO couldn't which may influence some aspect of life for me. I believe humans have a way of constantly passing on encouragement and support to each other. I never idolize a particular person, however, positive, motivated, and ambitious people influence me the most. My personal belief is that anyone is capable of achieving anything. Just set your mind, decide, and work hard at it.
What is your proudest personal accomplishment (other than participating in this pageant)?
A lot of my personal accomplishments are very dear to my heart as they are efforts done for the improvement of other's lives globally and rather not reveal them for the meaning they hold within me. However, having the ability and adaptability to have lived in 10 different cities over the last three years, establishing my own company, and meeting all my role models and idols in life in person are some of my greatest accomplishments.
What is the most interesting or unique thing that has ever happened to you and/or what is the most interesting thing about you?
I'm a highly skilled communicator with ah strong cosmopolitan mindset. During the course of my life I have developed a high degree of emotional intelligence combined with very strong social skills. I was raised with a unique sense of identity, which encompasses my life in Canada amongst all the different cultures within the country. I have a very strong will to succeed in life. My rare talent for friendship has always granted me the sense to feel at home everywhere around the globe and have had the chance to meet some incredible people and make irreplaceable friends along the way.
What is your career ambition and what are you doing or plan to do to accomplish that goal?
My career ambition is to never work a job I'm not fully passionate about and entirely in love with. I always dreamt of running my own company and employing as many people as possible. I love finding talent and potential in others optimizing that and motivating them to utilize their skills to benefit society. I am a successful serial entrepreneur who is highly respected internationally and have achieved the first level of my career ambition. Having set up many businesses, I continuously create new synergies and seek new business ideas.
I believe anything I set my mind to and focus my positive energy towards is possible, I don't deem anything impossible. The perfect career for me includes love, passion, and mutual benefits for me and society as a whole. Recently I co-founded Reconnect, a communication consultancy to bring together the West and East. Being originally from Iran and having grown up in Canada, I have been blessed with a unique life experience that allows me today to bring both countries closer together. Two countries that I love very much and that have so much to offer the world. Currently I am advising Canadian and Iranian companies on smart business partnering and communication to enhance cooperation, economic growth, and help enhance relations between in countries.
What would be your "dream job" in life?
I don't believe in having a job, I strongly live for having a career in which involves and entails 3 main characteristics, never tiring, involves travelling and discovering the world and its people, giving back to my community and society as a whole .My "dream career" is what I am doing as a serial entrepreneur now. Currently my heart is in my company Reconnect and helping it grow and conquer new improvements between the two countries everyday.
Are you currently a student?
If being a student of life is an option, than yes, absolutely a student of the school of life. Every minute, every hour, every day, forever. Always learning and growing.
Are you currently employed?
Yes, self employed.
If yes, what is your occupation?
I'm a founder and partner of Reconnect: www.reconnectiran.com
Describe where you were raised and what your childhood was like.
I was born in Tehran, Iran. A country known for it's history, hospitality, rich culture, incredible cuisines, and endless beauty. My childhood memories are from my school, my family and friends. Since the age of 9 Canada has been my home. Filled with snowy days, amazing opportunities, incredible experiences, and the ability to live in a true melting pot.
List any interesting or unusual jobs you may have had.
This one always acts as a good icebreaker in awkward situations; I used to operate rides and games at an amusement park in Calgary as well as the Calgary Stampede during an entire summer while in highschool. I was in charge the Wack a Mole and a few others at the time. Most fun summer job I could possibly have imagined.
List any volunteering you have done.
Volunteering for me is a daily routine and a part of my lifestyle and days. I volunteer my knowledge and resources to help empower women regardless of country, age, race, and language and help them grow themselves and their business. Another cause close to my heart is One Match of Canada. Volunteering and helping to expand and grow the blood bank by assisting and organizing multiple Swab Test events in Calgary and Vancouver. Volunteering to me has many different forms, whether its coaching a soccer team, providing free business consultation to entrepreneurial women, helping small business grow, or simply handing out Tim Horton's gift cards on Christmas eve, to me it is a daily task and a way of life.
What is your most unusual talent?
Give me any and I mean any ingredients and I will give you a filling, nutritious meal, within minutes. Equally ask me for a business idea and I will research, analyze, and develop a successful business.
Where is the most interesting place you have been to?
I have been to many places, more cities than I can name off the top of my head. Our earth is a truly beautiful place, and every inch of it should be praised and loved. I have experienced many different climates, vegetation's, and weather types. However, Canada amuses me the most. From the East coast to the West coast, one may experience mountains, snow, greenery, oceans, even ice climbing all within the same country. Whilst in Canada one is exposed to all the different cultures and languages collected in one country from all over the world, cohabiting and coexisting in peace, without violence, without terrorism, just in mentionable peace and harmony.
What do you hope to be doing in ten years?
In 10 years I'm sure I will have achieved what I have planned for and worked hard towards. In a 10 years time I will be running non-profit women's shelters internationally, helping support women grow and be the best they can be. Potential hidden within a woman is sacred and magical upon optimization. We can achieve the unimaginable, only sometimes, we lack the emotional, and mental support. Once a woman has been taught to find this precious force within themselves they become a ball of energy – constantly rolling, effortlessly growing, and succeeding.
Is there anything you would like to add that we haven't asked?
Yes- why are we not asked on the positive effects and changes we wish to make in our society and universally as the next possible Miss Universe Canada. If I would become the next Miss Universe Canada I would use the title to further improve the visibility and reputation of the Miss Universe Canada and the causes the organization stands for. I would use my existing abilities and networks to broaden the exposure of the organization nationally and internationally and therefore acting as a catalyst to the causes, charities, and involving events.