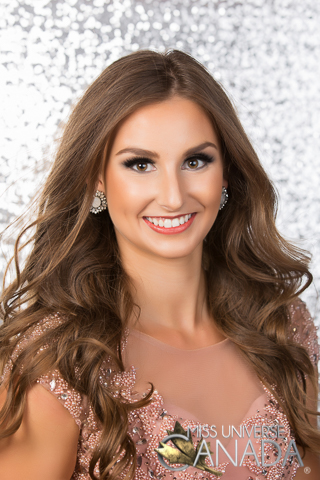 Height: 5'6″
Hometown: Windsor, ON
Cailey Theos was born and raised in the city of Windsor, Ontario. Cailey tries to seize every opportunity that falls in her path in order to enhance her knowledge and experience level so that she can help others in the future. Having travelled to a vast amount of countries, being bilingual and having a mixed heritage, Cailey has an in depth understanding and respect for all cultures and nationalities. Cailey's combined affinity for the world of athletics and academics has lead her to studying at Wilfrid Laurier University. She is currently entering into her second year in Honours Kinesiology with a minor in French. Cailey is extremely enthusiastic about her studies and is determined to pursue a career within the field of physiotherapy or chiropractics.
Cailey has always found happiness and passion in the world of athletics. She fell in love with the competitive sport of Irish dancing and competed at a National Championship as well as helping teach the beginners classes at her dance school. Cailey also submerged herself in the world of track and field and volleyball throughout high school. She ran 300m hurdles, the 4x100m and 4x400m relays and has competed at the OFSAA championships. Since Cailey suffers from many injuries, she has found herself shifting her focus to athletic rehabilitation and coaching. She is extremely proud of her position as an assistant coach for the junior boys volleyball team for the past two years at Sandwich Secondary School. She furthered her involvement by serving a role as the team physiotherapist and mentor for the track and field team. From coaching, Cailey finds she learned an extensive amount about herself from the athletes she has taught. Cailey is returning this year to help coach the track and field team in hopes of continuing to inspire, motivate and ignite confidence in young athletes to assist them in achieving their goals.
Aside from sports, Cailey finds another passion in the art of modelling and photography. She also is an incredible mentor to all children and students. Taking advantage of her bilingualism, she has tutored many children in the area of french language and literature. Cailey has also contributed to the community through partaking in local charities such as helping with the We Care for Kids run, participating in the local I-Climb to increase awareness for the United Way, volunteering at underprivileged schools and modelling in multiple charity fashion shows. Cailey and her family find time to donate to the heart and stroke foundation, local food and clothing banks and also sponsor families around the holidays. Cailey believes that her experience with Miss Universe Canada will not only allow her to make new relationships and grow as a person, but will open up doors to allow her to aid with more charities, specifically with allowing underprivileged children to partake in sports and recreation. Cailey will use her platform to show the importance of self-love and confidence in hopes of showing young women that their flaws are their most valuable and beautiful features. With her passionate, extroverted and humble personality, Cailey would make for a well-rounded, down to earth and dedicated Miss Universe.
Sponsors:
Tecumseh Travel Agency, Fratelli's Pasta Grill, Tabeya Salon, McLeod Theos Group – Scotiamcleod, Amanda Iuvinale with Hewlett Packard Enterprises, Tecumseh Pharmacy Plus, Union Vision Centre, His and Her's Bridal & Wear, Jenny Gloor – RMT Tecumseh Massage Clinic, Rita's Bio Cleaning Services, Diane Elliot Nails, Friends & Family
Languages spoken fluently (please include your native language if English is not your native language).
English and French
What are your interests and what do you enjoy doing the most?
I am extremely passionate about running track and field, Irish dance and playing court and beach volleyball. I also love working out, playing and watching basketball, baseball, golf, snowboarding and skiing.
Besides sports, I am very interested in pastimes such as traveling, cooking, reading, participating in community events and spending time with my two dogs. I'm also extremely passionate about coaching track and field in order to provide opportunities and support for aspiring athletes to fulfill their dreams.
List any special training you have had (music, art, drama, dance, etc.).
I have been fortunate enough to be a competitive Irish dancer for Goggin-Carroll or Emerald Isle Dance Society for eleven years of my life. I have had some training on how to play the guitar and flute when I was in grade school.
In what sports, if any, have you participated?
I have participated in a variety of sports throughout my life. I have competitively Irish danced for eleven years and I qualified to compete at Nationals in 2012. In grade school, I was a part of almost every team I could be involved in from basketball and volleyball to cross country and track and field. When I reached the age of 15, I had to quit dance due to injuries but continued my love of athletics through volleyball and track and field. I was on the volleyball team from grade 10 to 12 and was on track team for all four years of high school. I was fortunate enough to compete at the OFSAA championships as well. Now that I am in University, I am participating in intramural volleyball and beach volleyball in the summer.
Name one person, other than your parents, who has had the most influence on your life. Why?
My uncle Richard is the most influential person in my life besides my parents because he had to move to Canada from Scotland when he was just eight years old. Through grade school, he had to overcome bullying and teasing from other students for reason such as he was a red head. From bullying to his education, my uncle overcame many obstacles and changes but did not let anything destroy his positive outlook on life. My uncle has pushed himself to follow his dream to become a teacher and spends his days helping young children succeed in their education and his nights coaching young athletes in basketball. He has always managed to find a healthy balance between finding time for work, himself and helping others and inspires me to do the same in my life. Whenever I need advice or a favour he is always the first person I call or go to. My uncle continuously supports me with all my decisions and urges me to take all opportunities that present themselves in my life. My uncle's confidence and strong personality, along with his affinity for life and helping others continues to inspire me every day.
What is your proudest personal accomplishment (other than participating in this pageant)?
My proudest personal accomplishment other than participating in this pageant is making the decision to attend University away from home. With this decision, I had to live alone and learn how to balance time between my education, my personal responsibilities and my social life. I have grown more as person by gaining independence, confidence and maturity throughout this experience and I am extremely proud of myself for adapting to my new lifestyle.
What is the most interesting or unique thing that has ever happened to you and/or what is the most interesting thing about you?
The most interesting thing that has ever happened to me was being in Germany for the FIFA world cup in 2014 when Germany won! I was on a baltic cruise and the majority of the cruise ship passengers were German and extremely passionate about soccer. I have never witnessed or been a part of such an incredibly intense, exciting and passionate atmosphere than watching Germany win the cup along with the thousands of devoted German fans! It was an experience of a lifetime that I will never forget.
An interesting fact about me is that I have been blessed with the opportunity to visit around 30 countries thanks to my incredible parents who were able to bring me along with them. Traveling has given me a unique form of education from being fortunate enough to experience many different cultures and meeting many different people. Thanks to traveling I now have a strong affinity and love for adventure and cannot wait to see more of the world!
What is your career ambition and what are you doing or plan to do to accomplish that goal?
My career ambition is to become either a physiotherapist or chiropractor. In order to accomplish this, I will be completing my undergrad in Kinesiology at Wilfrid Laurier University. I will be volunteering at clinics, hospitals or others athletic events in order to gain experience and hands on practice so I can apply to a college of physiotherapy or chiropractics in Canada, Australia or wherever an opportunity may present itself.
What would be your "dream job" in life?
My dream job is definitely to be a physiotherapist for Team Canada's track and field team. Helping these athletes overcome their impairments and injuries in order to maximize their potential and help them achieve their goals at the Olympics and other track meets would be my dream. I am determined to achieve this job because I know that I will always be presented with challenges that will push me to be exceptional at my profession and I would be working with athletes who share my passion for track and field. I also know that although I am providing a service to others, my clients will be giving me the opportunity to learn every single day.
I would also love to be able to help drive research of young athletes in high intensity sports in order to develop equipment and techniques which will minimize their future injuries and to allow them to continue to be active throughout their life. Helping others overcome their obstacles in order to further their athletic careers or improve their day to day life would be my dream job.
Are you currently a student?
Yes
If yes, where?
I am an undergraduate student at Wilfrid Laurier University in Waterloo, Ontario.
Area of study:
I am currently studying Kinesiology with a minor in French.
Are you currently employed?
I am very fortunate and appreciative that I am able to remain employed at Buffalo Wild Wings in Windsor while I attend University away from home.
If yes, what is your occupation?
I am a server and a hostess at Buffalo Wild Wings.
Describe where you were raised and what your childhood was like.
I was born in South Windsor, Ontario where I was raised by the two most devoted parents, my mother Denise and father Anthony. They raised me in the most loving and incredible neighbourhood where everyone is extremely close and I never had a shortage of friends to play with and "second families" looking out for me. My childhood also consisted of an abundance of sports, which my parents were continuously dedicating their time to support me at every practice and competition. My mom was also very present in my grade school growing up, she was always bringing in desserts and food for the teachers and volunteered at any opportunity that she saw. I was a very large tomboy until high school, you could never find me not dressed in a track suit. When I wasn't at home playing basketball or baseball outside with my dad or at the park with the neighbourhood kids, I was traveling with my family. I am immensely grateful for an incredible set of parents who have been able to bring me along on their trips around the world which provided me with a rich understanding of many cultures but also enabled me to really appreciate Canada. From a very young age my parents have always provided me with the most outstanding experiences and support which was and continues to be a huge factor in my life.
List any interesting or unusual jobs you may have had.
An unusual job that I have had, was my very first job that I began at the age of 15. I worked for a new taco and nacho restaurant that had just opened near my house. Since I was one of the only employees and my boss was hiring new people, after one short month I became a manager and trainer at such a young age. Needless to say I ended up getting a job elsewhere, but it was still very unusual to be given so much responsibility and such a large title at such a young age!
List any volunteering you have done.
I have, and continue to, assist in coaching my old high school track team at Sandwich Secondary School. I have also assisted coaching the junior boys volleyball team at my high school for two years.
I have organized educational games and brought over toys for grade school students at a school in Detroit with my Spanish class for two years. With my high school, I annually raised money for the Terry Fox run and I-Climb for the United Way and participated in the runs to support these causes.
I have assisted in organizing information and signs for the We Care For Kids Run and am currently planning an event to raise money for Operation Smile.
My family and I continuously donate food, clothing and funds to the local shelters and sponsor a family around the holidays.
What is your most unusual talent?
My most unusual, yet useful talent, is being able to read athletes in order to know exactly what they need to improve on. I have the ability to recognize minor details and understand how each individual athlete learns in order to help them develop towards their peak performance.
Where is the most interesting place you have been to?
The most fascinating place that I have ever traveled to is definitely Dachau concentration camp in Germany. At the concentration camp you were taken step by step through the mournful yet inspirational journeys of the Jewish prisoners of war who were forced to live in horrible conditions within the camp. Hearing the stories of these innocent people was truly the most eye opening and unique experience I have had to this date. Simply being in the same place where such a detrimental part of history took place was a completely mind-altering experience.
What do you hope to be doing in ten years?
I hope that I am married and planning to start a family and that I am passionate and dedicated to my career. I hope I can find a healthy balance between coaching and making a difference in the lives of young athletes, my career and my family. In ten years I can see myself continuing to follow my dreams and also traveling to new places around the world.
Is there anything you would like to add that we haven't asked?
My goal for being a role model to young women across Canada and throughout the world is to promote self-love. Every women deserves the right to feel beautiful and confident in their bodies and I want to encourage every girl to view her "flaws" as a positive factor instead of a negative one. Your "flaws" are what make you unique and who you are. They make you different, and different is beautiful! Strive to be the most incredibly generous, kind and charismatic person you can be because your outer beauty is only as bright as your inner beauty. I hope to break the stereotype that pageants are only based on your physical appearance and promote an image that Miss Universe Canada is all about intelligence, confidence and generosity, because those qualities are what truly makes you beautiful.