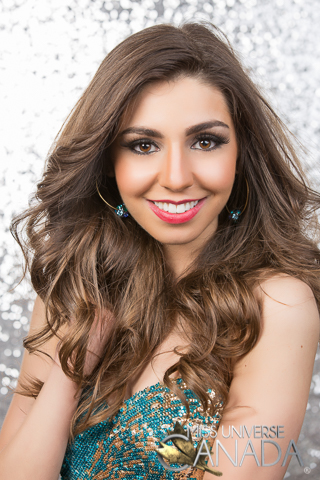 Height: 5'6″
Hometown: Hamilton, ON
Cassandra Paonessa is an elementary school teacher from Hamilton, Ontario, born on September 9, 1993. Cassandra studied Childhood Education and graduated with a Bachelor of Arts degree from Brock University. Following University, she graduated teacher's college at Charles Sturt University with a Bachelor of Primary Education degree. Cassandra was the recipient of two outstanding awards at her graduation ceremony; an award for "Excellence in Practicum" and "Excellence in Collaboration and Teamwork". In October 2015, Cassandra was hired by the Hamilton-Wentworth District School Board and is currently working full-time as an educator who is consistently reflecting on student learning and encouraging youth to discover their talents. Cassandra believes that the best learning emerges in the context of positive and supportive relationships.
While influencing youth, Cassandra has also pushed towards impacting her own generation through working part-time with a number of companies as a promotional model. Through her promotional work, Cassandra is able to promote her passion of maintaining fitness and a healthy lifestyle. Although physical health is important, Cassandra also highlights the importance of maintaining a healthy mental state through promoting activities such as meditation and relaxation. She believes that balance is essential and in order to be successful, one must have courage. Cassandra understands that any individual who has significantly impacted the world led their career with a vision to influence those around them through representing an idea. Cassandra believes that anything is possible through focus, the power of the mind, and love. She is open-minded and finds positivity in every obstacle.
Cassandra was raised by a european family and therefore recognizes the importance of Canada being the only country to have an official document dedicated to Multiculturalism (Mutliculturalism Act of 1988). She finds it important to ensure Canada's values of diversity are well represented by influential ambassadors of the country, such as Miss Universe Canada.
Cassandra's main goal is to address key problems facing today's youth, especially issues such as mental health and equality. It is her mission to help empower children and make them realize that anything can be achieved through hard work, passion, and dedication. Obtaining the title of Miss Universe Canada will help Cassandra further influence children. She wants to help eliminate stereotypes and prove that there are no limitations regardless of age, profession, or gender.
Sponsors:
Fulvio J. Delibato (Feltmate Delibato Heagle Lawyers), Bathroom & Kitchen Galleries, Dre Pao Music, MAC Cosmetics, Pub Fiction, Michael Zaccaria, Stoney Creek Furniture, Park Avenue Hair Design, Friends & Family
Languages spoken fluently (please include your native language if English is not your native language).
English
What are your interests and what do you enjoy doing the most?
I am driven by an intense passion to inspire youth to ignite their purpose. I believe that the youth are the future and I thrive on helping others achieve their goals. My biggest interest is my career in teaching. Teaching allows me to be creative and helps to further build my skills of organization and patience. I am also passionate about living a healthy and active lifestyle. I express this through working out on a daily basis. Meditation is also an important aspect of my life, which helps me to calm the mind and relieve stress. Fashion has played a big role in my life as well and is something I am really passionate about. I love putting together different outfit combinations and keeping up with the latest fashion trends. The biggest influence on my style is actress and fashion icon Audrey Hepburn.
List any special training you have had (music, art, drama, dance, etc.).
Dance (Jazz and Hip-Hop)
Swimming
In what sports, if any, have you participated?
Growing up I was always athletic and participated in various sports ranging from basketball and volleyball to flag football and track and field. However my absolute favourite sport is soccer! At a young age I played outdoor rep soccer during the summer and also loved playing on indoor soccer teams during the winter.
Name one person, other than your parents, who has had the most influence on your life. Why?
My brother is one of my major influences and has played a large role in shaping who I am today. He is not only my brother, but my best friend, life coach, and is the person who knows me best. Through his journey in becoming a successful songwriter, my brother has taught me that through failure comes success. One of the biggest lessons I learned from him is the importance of having a clear vision and acting with purpose/intention in my decisions. It is this lesson that truly helped me recognize how powerful our minds can be. My brother inspires me to focus on what I want to create and to ignore those who doubt my capabilities. He has helped me to become fearless, to take chances, and to believe in myself.
What is your proudest personal accomplishment (other than participating in this pageant)?
My proudest personal accomplishment was when I officially became an elementary school teacher. When graduating in June 2015, many educators stated that it may take years before getting hired by the board of education. I did not let this discourage me and believed that whatever I put my mind to, I can achieve. I got hired by the Hamilton-Wentworth District School Board in October 2015. This has been my proudest accomplishment after many years of studying and hard work. I want to encourage students who are currently studying that they can reach their goals if they are focused and passionate about their career.
What is the most interesting or unique thing that has ever happened to you and/or what is the most interesting thing about you?
The most interesting and unique thing that has ever happened to me is when I went on vacation to New York City and got approached by a camera crew asking me if I would be interested in being the main female actress in their watch commercial. I was overwhelmed with excitement! I got the opportunity to work with many genuine and kind-hearted individuals during the commercial shoot. This is definitely a moment I will never forget!
I feel that the most interesting thing about me is my ability to take action. I believe that everything happens for a reason and have always been passionate about living life to its fullest. I do not want to have any regrets when I am older and therefore I believe it is important for me to make the most of my time. I believe it is essential to wake up every morning and put energy towards what I love to do in order to maintain happiness!
What is your career ambition and what are you doing or plan to do to accomplish that goal?
I am passionate about inspiring the youth and it is my career ambition to express this passion in many forms. I plan to reach out to as many students as possible to encourage them to find what they love to do. I want young people to know that whatever they put their mind to, they can achieve. I want to empower the youth and help them realize their potential. I believe every individual has a purpose in this world and my goal is to help young people discover their purpose early in life. I am a firm believer in the Albert Einstein quote "Everyone is a genius; but if you judge a fish on its ability to climb a tree, it will live its whole life believing that it is stupid". I express this type of mindset in my teachings and emphasize to students that it is important to be patient and not be fearful because every obstacle is an opportunity to grow. In the future I envision myself influencing youth through many platforms including teaching around the world, getting involved with the media, Miss Universe Canada, and anywhere that I believe has influence to the younger generations.
What would be your "dream job" in life?
I wake up every day doing what I love, teaching. My dream job would be to reach out to youth all over the world. I would love to travel and help youth around the world to dream big! We all have big hopes and want to make a difference/ be remembered in some form. I want to shine a light on every child to love themselves, to be confident, and to believe. Through creating an inspired world, I believe we can help eliminate a lot of the negativity around the world.
Are you currently a student?
No
Are you currently employed?
Yes
If yes, what is your occupation?
I am currently an elementary school teacher with the Hamilton-Wentworth District School Board and I also work part-time as a promotional model.
Describe where you were raised and what your childhood was like.
I was born in Hamilton, Ontario and raised in a small part of the city known as Stoney Creek. My family's cultural background is Italian and I am the youngest sibling with an older brother. I have immense gratitude for my parents, for the values and beliefs that they raised me with and the lessons of life they have taught me. I have always had a strong and close relationship with them. My parents have been a major influence in my life. My mother and father have taught me the meaning of unconditional love, compassion, and hard work. One of the biggest lessons they have taught me is the importance of balance. Growing up they always said "life is a circle". They constantly would reiterate that we all experience good days and bad days, but eventually everything always comes around full circle.
In order to live an authentic life and grow as a person, I had to be able to "let it hurt and let it heal". My parents have always believed in me and given me the freedom to express my individuality. Along with my parents, my grandparents and godparents also played a large role in teaching me the importance of family.
List any interesting or unusual jobs you may have had.
My first job was in high school working as a sales assistant at a furniture store. This was a job that I really enjoyed. My colleagues were wonderful, I met a lot of great people who inspired me and taught me hard work ethic. I loved meeting and talking to new customers every day, assisting them with decisions to help make their homes look beautiful. Having this job at a young age allowed me to provide a positive and welcoming environment where people felt comfortable to approach me and admired/respected my style and opinions.
List any volunteering you have done.
Fundraiser for McMaster Children's Hospital
Fundraiser for Ronald McDonald House
Fundraiser for Operation Smile
Newman Youth Sports Camp Councilor
CYO Basketball Scorekeeper
CYO Junior Girls Basketball Assistant Coach
CYO Junior Girls Volleyball Assistant Coach
Saltfleet Go Ahead Soccer Assistant Coach U14 Girls
Hamilton-Wentworth District School Board, Human Resources Department
System Science and Engineering Fair Judge at Bishop Ryan Catholic Secondary School
Scribed EQAO at St. David's Catholic Elementary School
Our Lady of Peace Catholic Elementary School
Collegiate Avenue Elementary School
Immaculate Heart of Mary Catholic Elementary School
St. David's Catholic Elementary School
What is your most unusual talent?
I do not have culinary training but I have a talent for decorating cupcakes and creating something spectacular through baking!
Where is the most interesting place you have been to?
The most interesting place I have been to is one of the natural wonders of the world, the Grand Canyon. When I went to Las Vegas, Nevada I toured the West Rim of the Canyon and walked on the skywalk, a glass bridge that is 4,000-feet high. This was an exhilarating and astonishing experience. Words and pictures do not begin to describe how breathtaking the Grand Canyon is. The massive canyon made me feel really small and helped put life into perspective.
What do you hope to be doing in ten years?
In 10 years I hope to have travelled around the world and taught in various countries. I believe that I also will be involved with media and various pageants such as Miss Universe Canada. In 10 years I will have worked in many different roles that influence youth around the globe. I envision being surrounded by my loving family and also having children of my own. In 10 years I will continue to wake up every day loving what I do.
Is there anything you would like to add that we haven't asked?
I am grateful for the opportunity to compete in the Miss Universe Canada 2016 pageant. The most important values I want to portray in my campaign are to believe in yourself and not be fearful to be outside of your comfort zone. I want to enable youth and all generations to manifest what their heart desires and to help make happiness a reality for all.