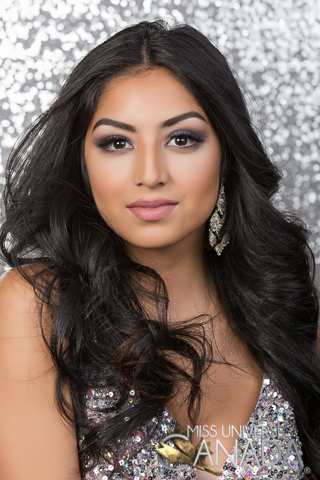 Height: 5'9″
Hometown: London, ON
Clariza Lopez, a native of London Ontario was born in a traditionally Spanish household. Her mother, originally from El Salvador and her father from Nicaragua, Clariza was raised on many of the customs that her parents were taught back in their respective countries. As two young newcomers- Morena Landaverde and William Lopez-Cortez, successfully raised two daughters and established themselves as progressive, hardworking citizens. Clariza's parents, Morena Landaverde and William Lopez-Cortez, came from very humble begins. Lessons that they later passed on to Clariza. Moving to one of the roughest areas in London Ontario, they were insistent on providing a better life for their children. Clariza, the eldest of two daughters, was born shortly after the two had arrived in London.
The lessons of hard work and humility became evident during Clariza's educational career. A great student and a star athlete, Clariza was a standout amongst her peers. It was clear at a young age that school came somewhat easy to her. Though, like many of us, she struggled at times- she was never one to quit. She excelled in mathematics. Clariza had an uncanny love for numbers and equations of any sort. Though she loved mathematics, it was clear that she had a mind for the visual arts. Creatively Clariza had the ability to see things that other may not have seen. Allowing her to create from the simplest forms of inspiration. As she got older she honed her skills and found different types of visual art that she thrived at. She is known by her peers for her amazing freehand ability, scrapbooking prowess and interior design skills. Now in her later years, not only does she continue to build on her current skill set, but she also begun to dabble in other artistic endeavors such as fashion, media design and photography.
Clariza was a natural when it came to competitive sports. Competing in track and field meets, triathlons, cross country and swimming- Clariza was a fierce competitor by nature. Basketball was and still is her favourite sport. Her slim physique, tall stature and feline-like quickness made her an incredible basketball player. Clariza spent much time playing basketball, as she played for numerous rep teams. In grade 9 she faced some adversity as she was told that she could not play for her high school's team. This came as a serious blow, as basket-ball was a passion of hers. Instead of allowing this to consumer her, Clariza dedicated herself to countless hours or training. She did so with the intentions of never to be turned away from any other team that she had the desire to try out for in the future. After taking a hiatus from high-school basket-ball, Clariza decided to make her return to the hardwood at the scholarly level when she tried out for Fanshawe College in her first year of post-secondary. She played a year with Fanshawe College, where she established herself as a key role player on a team comprised of great talent. Her completive drive as a student as well as an athlete is a testament to what she witnessed as a child and how she has used those experiences to help propel her forward.
Clariza has become a respectable, hardworking, humble and goal oriented young lady. Witnessing her parents struggle to establish themselves in a foreign land and being the eldest of two children, she has used her experiences to mold herself into a focused young lady with much drive. A great combination or humility, competitiveness and self-awareness, Clariza is an individual who understands the importance of dedication and continues to push forward in order to one day make a name for herself.
Sponsors:
Armstrong Physiotherapy Professional Corporation, Trade Secrets, Beauty Bar, Trade Secrets, Claudia Waltz, Insurance group, Veronica Perada (Life Insurance), Maria De Jesus Blanco, Wendy Lanvaverde, Morena Landaverde, Sonia Lopez, Julia Lopez, Ana Patricia,
Rene Diagnostic Center – New Orleans & Luisiana, Elle Coutour, Orlando Valencia Pachanga Latin Band, Roxbury Bar and Grill, Claudia Watz – Investors Group, Veronica Parada – Dejardins Financial Security, Lush Studio & Spa, Monica Quijada, Hernandez Variety – Juan Hernandez, Santa Martha Medical Clinic, Esther Hair Salon – Daysi Esther Camposrreales, Santos Freith – Ricardo Santos, Friends & Family
Languages spoken fluently (please include your native language if English is not your native language).
English and Spanish
What are your interests and what do you enjoy doing the most?
My interests include sports, such as basketball and volleyball. I also enjoy photography and drawing.
List any special training you have had (music, art, drama, dance, etc.).
In high school I was a part of the art club, which we would learn different techniques and art forms. Now I am also perusing a field in art.
In what sports, if any, have you participated?
Triathlon, Basketball, Volleyball, Swimming and Gymnastics
Name one person, other than your parents, who has had the most influence on your life. Why?
My cousin Gabriela, she has had a huge influence on me by always being respectful and kind to ever individual she has encountered. One of the most hard working and dedicated people I know.
What is your proudest personal accomplishment (other than participating in this pageant)?
It would have to be making the College Basketball team, after not playing all throughout high school, hence me missing that opportunity to enhance my skills.
What is the most interesting or unique thing that has ever happened to you and/or what is the most interesting thing about you?
Something I find interesting about myself is I am able to pick up on things very quickly.
What is your career ambition and what are you doing or plan to do to accomplish that goal?
I want to do something in the more creative side, Next year I would like to attend the University of Art and Design to hopefully pursue a career in advertisement.
What would be your "dream job" in life?
Being a CEO of my own advertising company, I would enjoy having something to call my own and the responsibility that comes with it.
Are you currently a student?
Yes
If yes, where?
Area of study:
Art and Design
Are you currently employed?
Yes
If yes, what is your occupation?
Sales Associate at Trade Secrets.
Describe where you were raised and what your childhood was like.
I was raised in London, Ontario. In one of the poorer areas but it was an amazing childhood. Everyone in community was like a family. Every day at the local school; all the children would reunite and play games till it was time to go home.
List any interesting or unusual jobs you may have had.
Breakfast attendant, was definitely interesting. Having to be at work for 4:30 every morning was definitely a challenge.
List any volunteering you have done.
St. Michael's library team and also there office program. I have volunteering an excessive amount as a basketball coach and at the games. For a short period of time before moving a was volunteering at the YMCA.
What is your most unusual talent?
My scrapbooking!
Where is the most interesting place you have been to?
El Salvador as a whole is so beautiful, I learned a lot from the people and the way they live.
What do you hope to be doing in ten years?
In ten years, I hope to be established and comfortable enough to be making an impact and helping others,
Is there anything you would like to add that we haven't asked?
My biggest supporters is my family, especially my mother Morena and my aunts Wendy and Carla. If I didn't have their support and encouragement I do not know if I'd be here today.