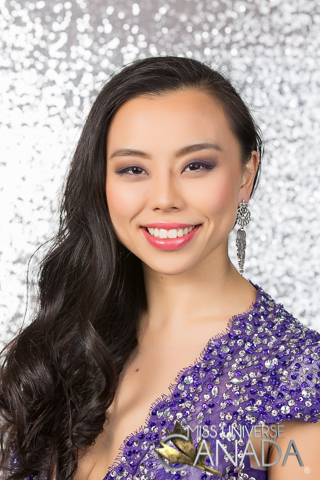 Height: 5'8″
Hometown: Brossard, QC
Born and raised in the rich francophone community of Montreal's south shore Brossard, Diana-Luk Ye values the beauty of clear communication and the importance of staying true to yourself. She is a first-generation Canadian with Shanghainese origins. Privileged with the skill to speak many languages such as French, English, Shanghainese (Wu dialect), and with intermediate skills in Spanish, Mandarin and Cantonese, she develops a constant thirst of learning about the rich cultures Canada is proud to have and celebrate. You will always see her bearing a big and genuine smile on her face, she smiles to change the world, and refuses to let the world change her. Kindness radiates from within her. Diana-Luk stives to exceed what is expected of her and takes on challenges with genuine compassion, strong confidence and great leadership. She was also selected to represent the Canada Pavilion as Host at the Shanghai World Fair Expo in 2010. Accommodating over 40 000 visitors on a daily basis, Diana-Luk greeted visitors and educated them about Canada's rich history, culture and diversity.
Aspiring to become a pediatric surgeon, Diana-Luk believes in her power as a young woman to be able to make a difference in the world by providing equal and accessible healthcare for people, especially children, of all socioeconomic backgrounds. She loves intellectual curiosity as a journey to self-discovery. Diana-Luk encourages each and every individual to aspire to become a better version of oneself and to take nothing for granted. Through close to near death experiences with her sister suffering from Kawasaki Disease, and her mother battling uterine difficulties, she has learned the value of life and the importance of family. Due to these experiences, she dislikes negativity, injustice, ignorance, and the lack of perseverance to give life a chance.
Currently working as a clinical research assistant at the Shriners Hospitals for Children specialized in orthopaedics, Diana-Luk works with an inspirational team that is founded by strong, positive and supportive leadership morales. They excel in their research on pediatric pain. Initially starting off as a volunteer a year ago in 2015, she quickly found herself integrated into the team, and has now become a core who recruits and conducts pain studies on pediatric patients. Diana-Luk graduated last year from McGill University with a BSc in Anatomy & Cell Biology and minors in Kinesiology and International Development Studies. A recipient of the prestigious Millennium Excellence award at the provincial level and the AFP Foundation for Philanthropy award, Diana-Luk has her loved ones, teachers, and mentors to thank for helping her with her successes this far.
As women, we need to support and promote each other to achieve greatness. As individuals and as a collective, we deserve nothing less. Diana-Luk will also be the reflection of all women to accept their curves, scars and strength as one. Given the chance of partaking in this pageant, Diana-Luk will represent the first daughter equivalent to a son that carries her family's title.
Sponsors:
DNA Fitness, Vadim Daniel Photography, Nancy Tang, Friends & Family
Languages spoken fluently (please include your native language if English is not your native language).
French, English and Shanghainese (Wu dialect). Spanish, Mandarin and Cantonese are languages I can understand fluently and almost speak fluently.
What are your interests and what do you enjoy doing the most?
I love intellectual curiosity as a journey to self-discovery. I love to lead a balanced, healthy and active lifestyle. I love to spend quality time with my loved ones and I enjoy myself the most when my hard work pays off.
List any special training you have had (music, art, drama, dance, etc.).
Piano, flute, tennis, long-distance running and synchronized swimming.
In what sports, if any, have you participated?
Volleyball, badminton, tennis, cross-country, half-marathon, triathlon and synchronized swimming.
Name one person, other than your parents, who has had the most influence on your life. Why?
My high school mentor Ms. Amalia Liogas has had the most positive influence on my life. Ms. Liogas has encouraged myself and my high school peers to lead a life with the best intentions to better the world and as a result, ourselves. She has taught me to take every decision I take as a step towards greatness.
What is your proudest personal accomplishment (other than participating in this pageant)?
My proudest accomplishment was when I was awarded the Millennium Excellence Award in 2009 at the provincial level by the Canada Millennium Scholarship Foundation. This scholarship was a positive reinforcement for me to in continue my involvement in humanitarian work, while continuing to excel in both my academic and personal endeavors.
What is the most interesting or unique thing that has ever happened to you and/or what is the most interesting thing about you?
The most interesting experience I had was when I traveled this past summer for several weeks to Greece and the UK. Because of the ongoing reality of gender inequalities and the turbulent socioeconomic situation of some of the countries I visited, traveling solo as a female proved to be quite a challenging experience. There were times I remember being concerned about my safety. However, I was taken away by the beauty of the Aegean sea and the majestic English architecture. While on this trip, I learned that I am completely responsible for myself and inevitably; I realized how capable I am. Traveling alone also allowed me to discover who I am and to make new lasting friendships with others who similar goals and positive outlooks on life. This experience was so unique that I firmly believe in doing what you are afraid to do. Be your own best counsel and walk confidently with purpose.
What is your career ambition and what are you doing or plan to do to accomplish that goal?
My career ambition consists of heavily involving myself in improving the lives of children and I aim to realize this by easing, or even curing their physical ailments as a pediatric surgeon. In the future, I aim to found a non-profit organization that translates my medical knowledge into an applied, practical, and holistic approach that ensures the solid foundation of young children, in which they will be capable to live to their potential.
What would be your "dream job" in life?
I am actively working towards my dream job, which is to become a licensed pediatric surgeon. To actively make a difference in a child's life and to become a core source of their happiness is my dream job.
Are you currently a student?
No
Are you currently employed?
Yes
If yes, what is your occupation?
I am a Clinical Research Assistant at the pediatric orthopedic Shriners Hospital Canada in Montreal. I study the recovery and the pain experienced in children with scoliosis after an invasive and extensive spinal fusion surgery.
Describe where you were raised and what your childhood was like.
I was raised in the francophone suburb of Montreal's south shore, Brossard. My parents were busy in my toddler years – I was often taken care of by a French babysitter. At the age of 3, she taught me how to speak French, my first language. I am thankful to have lived in such a strong francophone culture, which nurtured my abilities to be fully fluent in French. My childhood was a happy one and I am fortunate to have parents and grandparents who nurtured and supported me to become the woman I am today – caring and compassionate. When I grew out of my toddler years, my family would take me to Shanghai and Hong Kong to visit my relatives every summer. My parents would then take me across the world and teach me the workings of different cultures in society.
List any interesting or unusual jobs you may have had.
A few years ago, I worked several months for 'lululemon athletica' when it had just opened in my hometown, Brossard. Working there was a beautiful opportunity to work with driven colleagues who all set unbelievable goals for themselves. Despite the store being a luxury athletic clothing brand, one of the company's strongest core values is to ensure that their employees adopt a balanced and healthy lifestyle with work, school, and their mental and physical well-being. The team desires that you write your 1-year, 5-year and 10-year goals and even hold you accountable! Ever since that experience, I still have my goals framed and they give me direction and renewed sense of resiliency on the few days I feel unsure about my commitments.
List any volunteering you have done.
I have over 400 hours of volunteering accomplished.
Teaching Assistant for an undergraduate kinesiology course on
Adapted Physical Activity; I supervised and graded undergraduates who developed fitness plans for youth with disabilities with the goal to have them lead a healthy and active lifestyle.
Clinical work at rural clinics in Cusco of Peru; I assisted healthcare workers in clinics and helped them manage the overwhelming amount of paperwork that came with each patient visit. While there, I learned that the Peruvian healthcare system is very different to the Canadian healthcare system.
Helping mentally challenged adolescents in Shanghai, China; I assisted adolescents as they developed skills to become financially independent and employable. These adolescents had a great positive energy that allowed them to learn quickly and their resilience to succeed in what they strived to accomplish was admiring.
Peer tutoring in secondary 1 math; I was a mentor for young students who just entered high school. I helped them with their assignments and studying for their tests.
Serving food at soup kitchen in Poughkeepsie, New York; When I participated at the "Girls' Leadership Workshop" summer camp organized by the Eleanor Roosevelt Val Kill Center. There, I helped serve and distribute food to those in need. This experience encouraged me to appreciate and cherish what I have.
Helping seniors in MGH's geriatric department and at Centre d'Accueil Marcelle Ferron ; I helped geriatric patients with finishing their meals, washing their drinking glasses, filling their water pitchers, organizing adapted physical activity games and interacting with them to help them pass time. This is one of my most cherished volunteering experiences as their life lessons they imparted to me were not only humbling, but also very wise.
What is your most unusual talent?
When my little sister, who is 8 years younger, gets the hiccups, I simply have to give her a warm and loving hug, and her hiccups go away in a blink of an eye!
Where is the most interesting place you have been to?
My 7-week trip to Peru in 2012. At the age of 21, it was the first trip I went on without my parents. I went to Cusco with six other medical students to embark on a month-long journey volunteering at a rural pediatric clinic. Thankful for having learned Spanish for three years in high school, I was able to quickly overcome the struggles of communication and took in the opportunity to appreciate the overwhelming differences of healthcare in another country. We then took the remaining three weeks to travel and appreciate the beauty of Peru. From canoeing in Puerto Maldonado, sandboarding in Ica, Huacachina to trekking the Salkantay Trek to Macchu Picchu, these events are a few of the most exhilarating and unforgettable experiences of my life.
What do you hope to be doing in ten years?
I will be a resident in pediatric surgery at my first-choice institution, all the while balancing my health and mental well-being in order to take care of my loved ones and those who need help.
Is there anything you would like to add that we haven't asked?
I would like to stress the importance of being certified with first aid training, as you never know when you can be the person who literally saves someone's life.
As well, to never forget that when you are feeling down, encourage yourself to smile. Trust me, you will feel better.