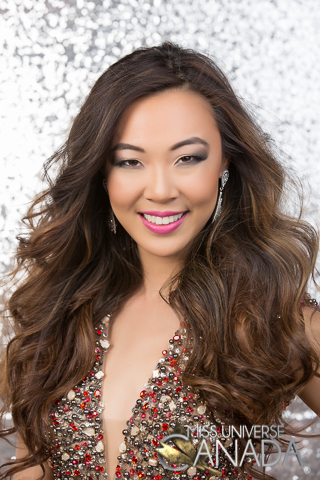 Height: 5'9″
Hometown: Markham, ON
Evelyn Li was born in Neunkirchen, Austria and raised in the Greater Toronto Area. She considers herself a proud Canadian Citizen. She graduated from Fanshawe College with a degree in fashion merchandising. She is currently working for Canadian designer, Evan Yanagi, who has been in the fashion industry for over 35 years. She has many roles in her career such as the lead merchandiser, catwalk instructor, and fashion stylist. Just like she dreamed as a young girl, she travels the world meeting people and experiencing new cultures.
Evelyn has many roles in her career including lead merchandiser, catwalk instructor and senior stylist. She is very passionate about her career as every day brings something new and exciting. Evelyn frequently arranges presentations of high valued goods to select prestigious buyers. She performs different tasks according to the fashion cycle. Contributing to the quarterly company newsletter, planning company special events, setting up and working at the seasonal trade. Her work ensures financial stability and economic growth of the company. Evelyn considers herself very fortunate and blessed to be doing something she loves and be given the opportunity to fulfill a childhood dream to travel the world while experiencing other cultures and discovering the beauty of other lands.
Evelyn had terrible skin growing up but she never let it get in the way of her dream to become a model. Working hard to acquire an extensive modelling background this exciting skill allows her to coach young girls on the art of strutting their stuff with confidence on the catwalk.
Above all, she takes pride in her ability to help them believe in themselves with an emphasis in the security of being comfortable in their own skin. Their accomplishment gives her the most satisfaction.
Sponsors:
109TaylorMade, 109Reflection, Robin Tinney, United Legal, Global Pet Foods, Unionville Pet Hospital, Markham Chiropractic + Rehab, Sarah Mac Creative, Friends & Family
Languages spoken fluently (please include your native language if English is not your native language).
English and Hakka
What are your interests and what do you enjoy doing the most?
I absolutely love all aspects of being a model. Whether I am strutting my stuff on glorious runways or letting my alter ego take over as I pose for high fashion editorials.
List any special training you have had (music, art, drama, dance, etc.).
Runway
Illustration
Photography
Skating
Piano
Guitar
In what sports, if any, have you participated?
Volleyball
Basketball
Track and Field
Skiing
Name one person, other than your parents, who has had the most influence on your life. Why?
The most influential person in my life is Evan Yanagi. She is my mentor, employer and the CEO of 109TaylorMade Toronto. She has been designing in the fashion industry for over 35 years. I've never met someone who is so genuine, willing and eager to teach. Working for her is a gift as well as a blessing. As part of my career I've traveled to key parts of the world where fashion dominates. While abroad, because of her generosity, I have the opportunity to discover the many layers of production pertaining to the fashion industry.
What is your proudest personal accomplishment (other than participating in this pageant)?
The year 2012, it was a huge turning point for my model career. I was selected as one of the top 12 models for the annual Sutherland Model Search. I had self-doubt but also had faith in myself and that was enough to overcome my fears. I pushed myself to believe that I was beautiful and that they had chose me for a reason. Not to mention, I had the opportunity to meet 5 of the America's Next Top Models winners!
What is the most interesting or unique thing that has ever happened to you and/or what is the most interesting thing about you?
While competing in the 2014 Canadian Miss Asia Pageant, an unfortunate circumstance happened where I broke my foot. Through many tears and sleepless nights I thought about giving up even though I had made it to the finals. I knew my inability to participate in rehearsals, walk the stage and attend necessary final events would inhibit my chances. Through the support of my friends and family and a strong determination within myself, I was able to finish the pageant. Although I wasn't crowned Miss Asia 2014, I was able to finish the pageant and take home the title "Miss Determination."
I found this to be the hardest of all questions but I think the most interesting thing about me is how I'm able to overcome adversity.
My positive outlook along with respect for others creates a much easier atmosphere when I'm faced with a situation. Having to deal with the public on a daily basis, I have learned tolerance and how to keep an open mind no matter the circumstance.
What is your career ambition and what are you doing or plan to do to accomplish that goal?
I have always followed my heart and time and time again it has lead me to fashion. I've invested many years gaining experience and valuable education about the industry. I am currently working for a phenomenal company, which has taken me under their wing.
My future goal is to continue my tenure with my present employer. I am gaining invaluable knowledge and hands on experience while being exposed to the many ups and downs of a most exciting industry.
With this fantastic teaching tool and necessary base my future plan would be to create my own brand of quality clothing. I've always dreamed of opening my very own store that caters to women of all shapes and sizes.
What would be your "dream job" in life?
I have many dream jobs all relating to the fashion industry. The one that stands out the most would be manufacturing my own brand of clothing. Another dream would be to coach runway walk, participate in editorial photo shoots or employment in merchandising. Whether it be my own clothing line, editorial, window display or special planned events I would love to see my work published in a high gloss upscale magazine. As long as I have my passion for fashion my dreams will never be limited.
Are you currently a student?
No
Are you currently employed?
Yes
If yes, what is your occupation?
I am employed by109TaylorMade Toronto as lead merchandiser, catwalk instructor, and senior stylist.
Describe where you were raised and what your childhood was like.
I was raised in the great neighborhood of Scarborough Ontario. While living there I went to St. Sylvester Catholic Elementary School. A total tomboy growing up I was super active and participated in every school sport possible. At recess I spent most of my time playing tag with my friends, playing basketball and pretending to be a Pokemon. Biking was another activity that we always did after our homework. To think of it, I was a spontaneous kid. We didn't have iPhones or iPads to stop us from using our imagination regarding entertainment.
List any interesting or unusual jobs you may have had.
The most unusual job I've had was when Sutherland Models gave me my first gig. The assignment was a runway at Yorkdale Mall for the grand opening of "Dine on 3." It was to show a new concept of high end dining style with amazing service but for a mall food court.
After the fashion show I proudly represented Thai Express as I handed out delicious food samples while still in my high end Thai inspired attire.
List any volunteering you have done.
Raising Awareness – Taste of Life for Heart and Stroke Foundation
Fundraising – Free the Children for New Schools
Organizing A Fashion Show – Itsy in Support of NICU
What is your most unusual talent?
My most unusual talent is being immediately great at video games. I know this super nerdy but I am proud to be able to keep up with big boys! Star Wars Battlefront is my newest addiction.
Where is the most interesting place you have been to?
The most interesting place I've been to was Guangzhou, China. This is the first place I've travelled to outside of Canada. Even though I am of Asian descent, I am Canadian through and through. Being from a first world country, I have never been exposed to these conditions. The city is much more populated than I am accustom to. I witnessed families living on the streets doing whatever they could to feed their families. This made me grateful and appreciative of our everyday blessings that we take for granted in Canada.
What do you hope to be doing in ten years?
In ten years, I will be a successful business owner, perhaps my own fashion school or my own clothing line. I will have travelled many parts of the world with memories of my encounters of the beautiful people. I will have just purchased my first property and thinking of starting a family. I see myself being established and helping those who were in the same position as myself ten years earlier. I see a bright future!
Is there anything you would like to add that we haven't asked?
I promise to compete for the Miss Universe Canada title with dignity and integrity. I will stand by my beliefs and stay mentally strong.
Now, let's have a great time and make the most out of this blessing.