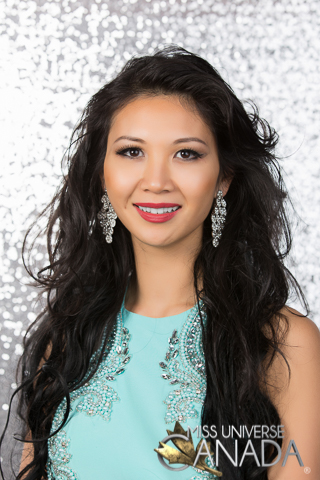 Height: 5'7″
Hometown: Spruce Grove, AB
Jada was born in rural, southern Alberta and raised in Spruce Grove, Alberta. When she was young, she was very chubby and constantly criticized by her relatives for her size. The remarks shattered her confidence. Thus, her mission is to empower girls and women to embrace individuality and pursue their dreams; no matter how unattainable it seems. She strives to be a leader who demonstrates self-love, compassion to others and service to community.
She graduated from University of Alberta (2011) with a BSc. in psychology and obtained a Doctor of Optometry degree from University of Waterloo (2015). She is an avid yogi and finds sanctuary through yoga practice. Currently, she is an optometrist and yoga instructor.
In her spare time, she loves trying new things, cooking and travelling. She has travelled to over 18 countries as she is believes in the Chinese proverb—" It is better to walk 10,000 miles than read 10,000 books".
One of her favorite memories comes from going on a mission trip Thailand, where she provided free eye care and glasses to the underprivileged. Currently, she volunteers as a mentor for immigrant youth. Her past involvement with organizations such as Lions Club, Volunteer Optometric Services for Humanity, OneSight and Misericordia hospital (as a nursing unit volunteer) shaped her into the compassionate individual she is today.
Representing Canada on the world stage would be her dream, as it would help her reach a broader audience to embrace self-love and ambition. It would also allow her to educate the world about eye care and preventable blindness.
Sponsors:
That Yoga Place, Lash Affair, ENV photography, Behind The Blush: makeup artistry, Rainbow Palace Restaurant, FYidoctors, Friends & Family
Languages spoken fluently (please include your native language if English is not your native language).
I am fluent in English and Cantonese.
What are your interests and what do you enjoy doing the most?
I love travelling because I like immersing myself in new cultures and trying new foods! I also love doing yoga, reading and laughing with my friends and family.
List any special training you have had (music, art, drama, dance, etc.).
I have completed grade 10 piano through the Royal Conservatory of Music Piano. I started dancing ballet since I was 3 years old and I am a certified yoga instructor.
In what sports, if any, have you participated?
I was really uncoordinated as a kid—awful at all sports! I was the kid that got picked last. The only sport that I excelled at was swimming. But as I grew older, I fell in love with yoga and hiking in the mountains.
Name one person, other than your parents, who has had the most influence on your life. Why?
My grandma has had the most influence on my life. My parents were always at work when I was young. But my grandma took care of me when I was little. We used to play hide and seek together and she taught me how to play mah-jong. My grandma is hard of hearing and doesn't like speaking a whole lot. But her love for me, and the stories that she used to tell me about her hardships in life made me appreciate the life I have here in Canada.
What is your proudest personal accomplishment (other than participating in this pageant)?
I am proud to be where I am today with the support of my parents. My parents have shaped hardworking, humble woman. These qualities have carried me through the proudest moments of my life—getting accepted into the only English speaking Optometry School in Canada and passing Canadian boards to be a licensed Optometrist.
What is the most interesting or unique thing that has ever happened to you and/or what is the most interesting thing about you?
The most interesting thing I've done is going on a mission trip to Thailand with a team of doctors. We provided free eye care for the underprivileged and poor people who do not have access to any medical care. The most unique moment was when I gave an eighty-year-old lady her very first pair of glasses. She had a very high prescription (minus 9.00D) and was near sighted to the point where she was legally blind without correction. When she put on her very first pair of glasses, the smile on her face was something I could never forget. She was so excited that she was gazing around the room in awe. She kept thanking and bowing to us. Seeing how happy she was brought warmth to my heart. It was an honor to help this community and really enlightened my perspective of the world.
What is your career ambition and what are you doing or plan to do to accomplish that goal?
My career ambition is to be a successful entrepreneur. I want to own my own optometry clinic and yoga/wellness studio. My intention is to offer exceptional patient care at my clinic and to use my clinical skills to provide eye care to communities who are in need. I also believe in balancing the body and the mind, so I hope to own my own wellness paradise as well. I believe that life is a journey filled with many different opportunities. We must keep and open mind and grasp the opportunities offered to us and not let our ideations restrict the possibilities.
What would be your "dream job" in life?
My dream job in life is to provide eye care to developing countries that have limited access to health care. I want to develop a school to train third world eye doctors so that a greater volume of poor, underprivileged people can have access to care. I believe in sustainability and the only way to achieve that is to train local doctors so they can provide care 365 days of the year.
Are you currently a student?
No
Are you currently employed?
Yes
If yes, what is your occupation?
Optometrist and Yoga Instructor
Describe where you were raised and what your childhood was like.
I was born in High River, AB and raised in Spruce Grove, AB. I can say that I had a very happy childhood. I was an only child and my dad was very strict and traditional. He raised me with strong traditional Chinese values. But my mom was very easy going and nurturing. She gave me the freedom to make my own choices. Our family loves to travel so as a kid, my parents would take me on vacation once a year. We have been to many places together as a family. These include: Hawaii, Anaheim, Las Vegas, Beijing, Hong Kong, Cayman Islands, Niagara Falls and many many more.
List any interesting or unusual jobs you may have had.
I worked as a promotional model a few summers ago and got paid to go to football games and soccer games.
List any volunteering you have done.
VOSH- volunteer student doctor in Romania
Onesight- volunteer student doctor in Thailand
Catholic Social Services – youth mentor for immigrant youth
UofA Orientation program – presentation facilitator team leader
Misericordia Hospital- nursing unit volunteer
Bethel Orphanage – orphanage volunteer in Argentina
Lions Club – yoga night fundraiser organizer and leader
What is your most unusual talent?
I can throw together a gourmet meal with no recipes, using only what I have in hand in the kitchen!
Where is the most interesting place you have been to?
Iguazu Falls on the border of Brazil and Argentina—the worlds widest waterfalls! The best part was rafting into the falls. It makes you realize how beautiful the world is and how blessed we are to live in the moment.
What do you hope to be doing in ten years?
I hope to have my own clinic and wellness studio in ten years. As a woman, I hope to have my own family and take care of my aging parents. I also want to participate on more mission trips to offer eye care to people who cannot afford it. Ultimately, I would like to balance my career with my family life.
Is there anything you would like to add that we haven't asked?
It is an honor to compete in Miss Universe Canada. Winning the crown would give me an opportunity to empower minority woman to achieve their dreams—no matter how big or small. I was a VERY chubby girl growing up, and I never would have thought I could compete in a pageant. Not everyone aspires to be a beauty queen, an optometrist or a mom. But everyone has a dream. I hope to encourage more young women to follow their aspirations and not let anyone tell them it's unattainable.