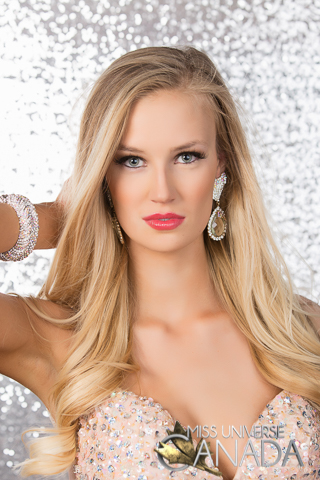 Height: 5'11″
Hometown: Saskatoon, SK
Jillian is a motivated, caring & passionate young woman. She is currently a 3rd year International Studies student at the University of Saskatchewan who hopes to work with global development programs around the world. Jillian's passion for helping others stemmed from a young age and grew through her many volunteer efforts through her elementary and high school years. She was involved in Relay For Life, Youth In Action group at her high school which was in association with Free The Children and she also volunteered for Child PAAL which I program for children with mental disabilities such as autism. More recently she had the opportunity to participate in Ford Driver's of Change Leadership Conference in Bethany, Ontario.
Jillian also has a huge passion for the arts. She started dancing at 7 years old and continued in a variety of different styles until today where she is a professional dancer for the Saskatchewan Rush lacrosse team. In high school, she was a lead and dance captain for the musical, she was a part of the pom team, the dance team, cheerleading team and choir.
Jillian also has a huge love for travelling. She has travelled to Japan, Mexico, The Dominican Republic, various parts of the United States, and coast to coast of Canada. Although, her recent trip to Narok County, Kenya holds a special place in her heart. She travelled there with Free The Children and was able to work hand in hand with community members to help build the foundation for the medical center in the local village.
Today, Jillian is proud to be a brand ambassador for Watered Down Apparel clothing company which provides someone in need with 30 days of clean water. She is also looking forward to her trip to Arizona this coming August for Advanced Facilitation Training with Free The Children to learn more about global issues and what can be done to change them.
Sponsors:
MJ & Co Photography, Holly Decker Make Up Artistry, Rise Strength Lab, Studio D YXE, Friends & Family
Languages spoken fluently (please include your native language if English is not your native language).
English
What are your interests and what do you enjoy doing the most?
Dancing, Cheerleading, Lacrosse, Football, Basketball, Baseball, Photography, Travelling, Global Development & Fashion with a cause.
It's difficult to narrow it down to a singular favourite, but dancing is what I enjoy most of all.
List any special training you have had (music, art, drama, dance, etc.).
12 years of dance training in a variety of styles
10 years vocal training
9 years of drama training
4 years all star cheerleading
In what sports, if any, have you participated?
All Star Cheerleading. I also played basketball and volleyball.
Name one person, other than your parents, who has had the most influence on your life. Why?
Mackenzie Murphy. She competed for Miss Teenage Canada this past year. I'm humbled by the scope of her accomplishments. She had an anti-bullying bylaw passed in her hometown, she is a mental health advocate and a brand ambassador for the clothing company Wear Your Label. The part that I can't believe is she is only 16. She is already a force to be reckoned with and I look forward to seeing what she does next.
What is your proudest personal accomplishment (other than participating in this pageant)?
Graduating high school. I always struggled with my education, as it wasn't something I enjoyed; despite that, I graduated with high honours, for which I'm very proud.
What is the most interesting or unique thing that has ever happened to you and/or what is the most interesting thing about you?
The most interesting thing that has happened to me was probably winning Miss Teenage Canada 2013. It was such an unreal experience and I learned so much about myself from it.
I think the most interesting thing about myself is that in spite of the amazing experiences and opportunities I've had, I've been actively and successfully maintaining a girl-next-door persona. I've let my experiences change my view of the world, but I haven't let them change who I want to be.
What is your career ambition and what are you doing or plan to do to accomplish that goal?
My career ambition is to work with a global development charity or to become a diplomat and create policies, especially ones pertaining to global corporate responsibility.
I'm currently a third-year international studies student. I'll be attending Advanced Facilitation Training this summer with Free The Children, so I can become a better leader and learn to better understand global issues.
What would be your "dream job" in life?
My dream job would be working with Free The Children in any way, shape, or form. I adore that they are committed to creating a sustainable change in places of poverty and dedicated to inspiring youth to make a change in whatever cause they choose.
Are you currently a student?
Yes
If yes, where?
Area of study:
International Studies at the University of Saskatchewan
Are you currently employed?
Yes
If yes, what is your occupation?
Executive Bridal Consultant at Exquisite Fashions & Bridal.
Describe where you were raised and what your childhood was like.
I was raised in Saskatoon, Saskatchewan, which is the big city of the prairies. I had a very charmed childhood, I would say. Very traditional, both parents, an older brother and a puppy. It was awesome!
List any interesting or unusual jobs you may have had.
A bridal consultant is fairly unusual! I have also worked at skate shop and I had an internship with a radio station with my own weekly segment!
List any volunteering you have done.
Me To We – Kenya; Labourer, May 2015
Children's Festival, June 2013 & 2014
Jeans & Jewels Gala, April 2014
Glass Slipper Ball, April 2014
Radiothon for the Children's Hospital Foundation of Saskatchewan – Saskatoon, February 2014
Stuff The Bus, December 2013
Radiothon for the Children's Hospital Foundation of Saskatchewan – Regina, November 2013
WE Day Saskatchewan – Crowd Pumper; Speaker, February 2013 & November 2013
Relay For Life – Team Captain, June 2011 – 2013
Aden Bowman Cheerleading – Assistant Coach, November 2012 – March 2013
Prairie Fire Cheerleading Mini 1 – Assistant Coach, September 2012 – April 2013
Child PAAL, October 2010 – April 2011
BJM Senior Football – Team Manager, September 2010 – November 2010
BJM Junior Football – Team Manager, September 2008 – October 2009
Saskatchewan Express Musical Theatre Studio – Assistant Teacher, September 2007 – May 2009
What is your most unusual talent?
I can lace up a wedding dress in under 2 minutes.
Where is the most interesting place you have been to?
That's a tough call, I would have to say Kenya. I absolutely loved it there because of the welcoming people and simplicity of life there.
What do you hope to be doing in ten years?
As long as I am happy and doing something positive for the world, I don't really care what I'm doing.
Is there anything you would like to add that we haven't asked?
I make sure all of the products I use are cruelty free, and my dog is my best friend.