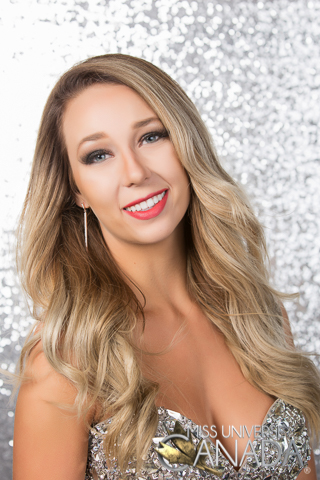 Height: 5'6″
Hometown: Grande Prairie, AB
Kelsey Baile is proud to say she is from Grande Prairie, Alberta. Her smile and outgoing personality draw everyone to her. She is an inspiration and role model for children and youth in her hometown. Kelsey tries to take every opportunity to inspire others to achieve their potential. She strives to see the good in every person she encounters. Her positive outlook on life has enabled her to be successful in everything she has set her mind to.
Kelsey graduated from St. Lawrence College in musical theatre performance. Since graduating Kelsey has started an afterschool drama program for children. She writes and directs the plays; however she also teaches confidence, public speaking, and hard work. Kelsey hopes to one day run her own company in which she can work with groups of young women on self-love, anti-bullying and body positivity.
In junior high and high school Kelsey struggled with being bullied. She was cyber bullied, called names, had her vehicle vandalized and pushed into lockers. Kelsey was harassed by a group of girls in her grade for years until it finally escalated in grade 11. She was surrounded by 17 girls in the back parking lot of her school and physically attacked. . Throughout the summer she decided that instead of hiding from her bullies she would embrace who she is and help others who were being bullied. She dedicated her senior year to helping those who were in her shoes.
When Kelsey was a child her relatives asked her how she was always so happy, her response was to just think happy thoughts. She has tried to remember that every day of her life since. She tries to think positivity and give everyone the best version of herself.
Sponsors:
The City of Grande Prairie, The Eastlink Center, Warrior Strong International, Ashdown Farm, Chinook Drywall, Beauchamp Photography, Major Hair Design, Tog Systems, The Sawmill, Tony Roma's, Browns Socialhouse, Earls Restaurant, Thatchwood Ventures Ltd., Keddies Tack and Western Wear, Brand Alliance, Stone Bridge Hotel,  Sarah's Hair Boutique, Friends & Family
Languages spoken fluently (please include your native language if English is not your native language).
English
What are your interests and what do you enjoy doing the most?
Singing and acting are a huge part of who I am. My mother and I have been in musicals for as long as I can remember. I also enjoy baking, working out, and meeting new people.
List any special training you have had (music, art, drama, dance, etc.).
I graduated from St. Lawrence College's Musical Theatre Performance program, where I studied ballet, jazz, tap and musical theatre dancing, as well as acting and singing.
In what sports, if any, have you participated?
When I was in junior high and high school I was on the volleyball, basketball, badminton, indoor and outdoor soccer teams.
Name one person, other than your parents, who has had the most influence on your life. Why?
My aunt Cathy is the kindest person I have ever met. She is selfless, compassionate and graceful. She spends every minute of her life doing things for others to make their life easier. She has been an incredible influence in my life because she always been able to serve others and stay positive even through all of her life's trials, and I would be lucky to be a tenth as strong, and kind as her. I hope to one day be able to serve others with the love and kindness that she does.
What is your proudest personal accomplishment (other than participating in this pageant)?
My proudest accomplishment in my life so far would definitely be every time my class performs at the end of a semester. I teach children 7-10, and 11-14 drama. They always surprise me; they teach me more than I could ever teach them. The kids are the future, and I am so proud to be a part of their lives.
What is the most interesting or unique thing that has ever happened to you and/or what is the most interesting thing about you?
An interesting thing about me is that I am very, very good at board games and card games. I have never lost the game "Clue" before and I will accept any challenge for my title!
What is your career ambition and what are you doing or plan to do to accomplish that goal?
My career ambition at this point in my life is to continue teaching the Rising Star Theatre program and then pursue my own acting goals. I am participating in local film competitions, volunteering in local theatre productions and working on my vocal demos.
What would be your "dream job" in life?
I have three dream jobs that I am working towards. First I would like to become a successful actress, and then from there I would like to launch my own company where I would work with children on confidence, body positivity and anti-bullying. My final dream job is being a wonderful mother and wife.
Are you currently a student?
No
Are you currently employed?
Yes
If yes, what is your occupation?
I run an afterschool drama program for children and I also serve.
Describe where you were raised and what your childhood was like.
I was raised in a city in Northern Alberta called Grande Prairie. I am the youngest of four children. I grew up acting in plays at the local theatre with my mother. I always had a love for performing, I sang and acted my way through elementary, junior and senior high school. I bought a jeep on my 16th birthday, and spent the summer days with my friends mudding through the prairies of our home town.
List any interesting or unusual jobs you may have had.
I worked at an Orange Julius when I was 11 and 12, and I made pizzas at Little Caesars when I was 13. After that, I ran a babysitting company where I babysat the neighbor kids until their parents got home. I worked at a sports store, where I sold running shoes, and I was a dog walker. After that I waitressed and ran a summer camp at the local theatre.
List any volunteering you have done.
I helped package food for Stop Hunger Now. I walk dogs and play with cats at the local SPCA. My youth group and I would regularly attend senior's centers where we would sing songs and visit with the elderly. I was a part of a program at my high school where we read to kindergarten students.
What is your most unusual talent?
I can remember almost ever name! I had 172 students in my summer program and I was able to remember every students names!
Where is the most interesting place you have been to?
The most interesting place I have ever been would probably be Cuba. I have been to Cuba three times and each time I was in awe of the people. They are so kind and so grateful of their lives.
What do you hope to be doing in ten years?
In ten years I hope to have started public speaking and doing workshops around middle schools and high schools on anti-bullying and body positivity.
Is there anything you would like to add that we haven't asked?
I would like to thank my community, family and friends for their continued support and the Miss Universe Canada organization for the opportunity to be a part of this wonderful journey. I am absolutely honored to have been chosen to participate in this year's Miss Universe Canada competition. I would love to be the next Miss Universe Canada because it would be a privilege to have such a strong platform to deliver a positive message and be a role model for young women. I want to empower them to love themselves and respect each other. I am committed, prepared and would be so proud to be an ambassador and represent Canada on an international level. I am ready to take on all the duties and responsibilities that this position holds. I would love the opportunity to show the world what I can do.