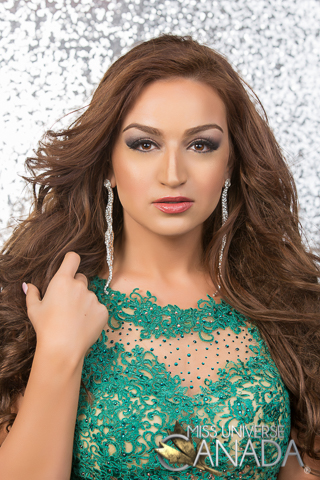 Height: 5'8″
Hometown: Richmond Hill, ON
Kimiya was born in Iran and immigrated to Canada with her family when she was five years old. She is an ambitious, hardworking, positive and kind hearted woman. It is because of the unconditional love and support of her parents that Kimiya has been able to achieve everything that she has today. Kimiya's parents taught her the value of independence at a young age; she witnessed her parents sacrifice many things in life to give Kimiya and her brother a better life. Her parents have had a tremendous effect in shaping her character and values; and are the reason for the determined person she is today.
Kimiya specialized in an Honors Degree in Criminology at York University. Since finishing her studies she has gone to write her LSAT's and applied for law school this year. She hopes to one day become a human rights lawyer as she would like to make a difference in the world for people who are denied common human rights. Kimiya also has a love for architecture, construction, and infrastructure and property resale. She hopes to one day open her own real estate brokerage and work in the field part-time. She is currently in the process of obtaining her OREA real estate license. Always putting her all into whatever she does, she is confident that her perseverance will lead her to her goals. Due to her positive outlook on life and always seeing the positive to every situation, Kimiya is sure that she will one day have a platform in order to provide those who don't have a voice legal representation; as well as a second chance at life.
Kimiya always looks for the silver lining in every situation and is able to shed positivity to even some of the most negative situations. At fourteen years old, Kimiya had corrective surgery for a birth defect that was causing kidney issues. She was extremely grateful for receiving surgery and resolving the issue before it had gotten any worse and found a new perspective and appreciation for her health. She decided to take the experience to help others who experience severe kidney diseases. Every year Kimiya raises money with donations from family and friends and small fundraising events for patients requiring dialysis treatments in Iran. She finds individuals who are requiring dialysis and pays the hospital anonymously for their treatments. Kimiya hopes to expand this charity into other countries as well as being able to cover up to 200 patients per year.
By obtaining the title of Miss Universe Canada it would give Kimiya the opportunity and the platform to pursue many of the causes close to her heart. It would allow her to empower young women across Canada and the world and show them that attaining your goals and dreams is always possible. Becoming Miss Universe Canada would give Kimiya the opportunity to pursue her interests in becoming an entrepreneur, modeling as well as film and television. She would also use her platform to bring awareness to bullying and cyber-bullying and share her personal experiences with youth across Canada. Kimiya has dedicated herself to a healthier lifestyle through nutrition and fitness and wants to educate women and men about the importance of a healthy lifestyle.
Sponsors:
Nelson – Brassaii Restaurant & Lounge, Gilaneh – Superstar Hair Studios, Alex – ExtensionsbyAlex, Amanda – Diva's World Boutique, Ray Zamani – Maysun Custom Built Homes, Kav Zamani – Zamani Management, Shiraz Persian Restaurants, Friends & Family
Languages spoken fluently (please include your native language if English is not your native language).
I am fluent in English, French, Farsi and Azeri. Farsi and Azeri are my native languages. When I first started to speak, I was already bilingual and was able to speak and understand Farsi and Azeri.
What are your interests and what do you enjoy doing the most?
I love dancing, I've been dancing since I was very young and it has always brought so much joy to me. I also figure skated for several years; the power you feel on the ice went you nail those jumps and spins is extremely empowering. Health and Fitness are also big interests of mine as I like researching and learning more about living a healthy lifestyle.
Learning about new cultures and cultural practices is a big interest of mine. I enjoy travelling to different countries and truly experiencing the life of the locals first hand. I embrace new experiences and really enjoy meeting new people of all cultures and walks of life.
List any special training you have had (music, art, drama, dance, etc.).
I started dancing when I was 3 years old, my parents bought me a belly dancing costume and all the moves just came naturally (well I copied videos on TV). It was then where my parents how much I loved to dance and began putting me in professional dance classes. I danced Persian folklore for over 15 years; where then I joined a Persian dance group in 2005 until 2009 where we would perform all across Toronto. I have also had training in other forms of dance such as jazz and hip hop for several years. I began to expand into other forms of dance as a way of expressing myself and a way to help with my choreography and coordination on the ice.
The arts and music have always been a big part of my upbringing, growing up around my brother who is a great pianist the sound of music has always been very soothing. I started the piano when I was three years old and continued for two years. Once my parents saw the passion and ability I had in dance, my focus as well as theirs was placed completely into dance classes.
In what sports, if any, have you participated?
I figure skated competitively for over 10 years. I started figure skating two years after moving to Canada, my parents thought it would be a great opportunity for me to make friends and be integrated in a sport that is a part of the Canadian culture. Shortly after my first year participating in group classes my parents hired me a personal coach and began training me professionally for competitions. Figure skating became a huge passion of mine immediately.
Every year once skating season was done, I would begin my competitive swimming classes. I have always loved the water and swimming made me find a new love for a sport that I was once terrified of. My first swimming class I was too scared to even get into the water. Once I was over the fear of drowning I began excelling in my swimming classes, I joined a swimming group and I began competing against other swimming groups in my community.
Track and field was a sport I also took part in during high school. I ran the 100m as well as the 200m at OFSAA. I was also the anchor of the relay team for my school for two years.
Name one person, other than your parents, who has had the most influence on your life. Why?
I am extremely blessed for the family and friend's god has placed into my life. They have all had such a positive impact on me and the person that I am today. The one person that has impacted my life the most is my grandmother. She became a widow at a very young age and devoted her life to taking care of her two children and grandchildren. She has always remained positive through every obstacle that has been put in her way. In 2008 my grandmother was diagnosed with cancer, and the way she handled her extensive surgeries and procedures had a huge impact on me and how I am today. She remained so positive throughout the entire process, always looking at the glass half full and re-assuring everyone that she was not going to give up. My grandmother has been in remission for about three years now, and the way she lives her life is inspiring. She truly lives her life to the fullest and embraces every obstacle and moment in life. She has shown me the true definition of strength.
What is your proudest personal accomplishment (other than participating in this pageant)?
One of my proudest personal achievements was writing my LSATs and applying to law school. The LSAT really tested my capabilities to think out of the box and tested me mentally and emotionally. The LSAT is a test that is completely different from my day-to-day thinking, and it took a lot of practice and long hours to learn how to tackle the questions and prepare for the test. It taught me to be patient and to not give up on learning different perspectives in problem resolution. I am very proud of myself for working hard and putting myself in a situation that was out of my comfort zone and truly realizing the capabilities that are within me.
What is the most interesting or unique thing that has ever happened to you and/or what is the most interesting thing about you?
One of the most unique things to have ever happened to me was when I was casted for the show "look a-likes" as a comparison for Rachael Weisz when I was fifteen. I got the opportunity to audition in front of three judges in Toronto and it was an unbelievable experience. I didn't get picked however it was then that I realized TV and modeling was something I wanted to be involved in.
What is your career ambition and what are you doing or plan to do to accomplish that goal?
My career ambition is to one day become a human rights lawyer/ immigration lawyer. I have always wanted to be of help to people living in countries where an individual's political opinion is punishable. There are so many countries where voicing an opinion, or going against political regime is frowned upon and punishable with execution or prison time. I have always felt the need to do something for these people and deep in my heart I feel as if this would be a true calling to me. I have written my LSAT's and applied to law school and await acceptance. I hope to begin my law education and work towards a rewarding career as a human rights lawyer.
What would be your "dream job" in life?
My dream job would be an opportunity to work for the United Nations as one of their lawyers. The work that the United Nations is involved in is definitely a path I would like to take in life. As I believe helping people who are unable to help themselves is the most important thing in life.
Are you currently a student?
No
Are you currently employed?
Yes
If yes, what is your occupation?
I am a delegate acquisition executive and work closely with c-level executives and VP's across the United States in attending seminars that my company hosts.
Describe where you were raised and what your childhood was like.
I moved to Ottawa, Ontario when I was five years old, and six years later I moved to Toronto. I have always lived in the quiet suburbs and attended small schools. Growing up I had a hard time fitting in with the kids at school. Often being bullied for the way I looked, spoke or dressed. Immigrating to Canada initially was very hard and understanding why it was hard for me to fit in was even harder. However, I am blessed for the family that I have. My parents taught me to accept the things I couldn't change and accept that not everyone was always going to like me, and what was on the inside was always the most important and valuable thing about myself. I grew up in an extremely tightknit family, one that would go to the highest extends just to put a smile on each other's faces. My parents and brother have always been supportive with any and every decision I have made in life, and I am extremely lucky for that. They have always given me the best life has to offer and the happiest childhood I could have possibly lived.
List any interesting or unusual jobs you may have had.
Barista at a coffee store
All organic products ambassador
Signing people up for credit cards at the mall
Retail Manager
Lots of sales
List any volunteering you have done.
Fundraising for my own personal charity
Walk for heart and stroke foundation
Fundraising for Orphanages in Iran
Clothing donations to women's shelters
Donating blood to the Canadian Blood Services
What is your most unusual talent?
I have unbelievable balance; I can stand on one foot and the narrowest surfaces without even slightly swaying. I guess it comes from so many years of figure skating.
Where is the most interesting place you have been to?
The most interesting place I have been has been Crete, Greece. The country is so amazingly beautiful. Elafonisi beach is one of the most beautiful beaches in the world and having the ability to enjoy its beauty was definitely something I will never forget. Greece is a country with many historic monuments and buildings and it was extremely interesting to see the involvement Iran (the country I am from) has had within the monuments and their history. I took part in a different tour every day for the week I was there and it was absolutely incredible.
What do you hope to be doing in ten years?
In ten years I hope to have a career practicing law and have had opened my own brokerage. I hope to be in a loving marriage and be blessed enough to be a loving mother. I hope to maintain a balance in my personal life as well as my career in order to be able to watch my kids grow.
Is there anything you would like to add that we haven't asked?
I want to take this chance to thank the Miss Universe Canada organization for giving me the opportunity to compete and meet some of the most amazing women in Canada. Being chosen as a National Delegate has already been a great life experience and I hope to continue experiencing opportunities with the organization as Miss Universe Canada 2016. I would be honored to have the opportunity to be an ambassador and role model for youth all across not only Canada but the world. I am ready to compete on the international stage and represent Canada for all the greatness it has provided me. I am prepared for the responsibilities of being a title holder and hope to use my platform in a positive manor to inspire and empower young women to always go after what they want. Lastly, I couldn't have done this without the support and love of my friends and family, it is because of you that I am here today.