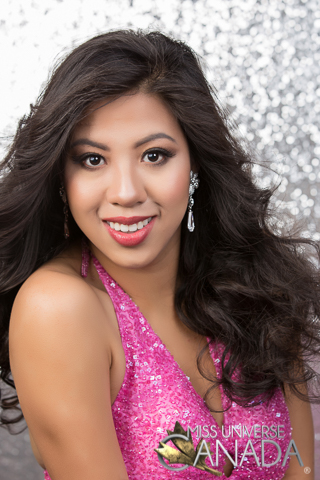 Height: 5'6″
Hometown: Toronto, ON
Laura Luu was born and raised in Canada. She just completed her Honours Bachelors of Science at the University of Guelph. Laura majored in Biological Sciences and hopes to one day become a pediatric surgeon and the first Vietnamese Canadian Miss Universe Canada.
Laura travelled to Tanzania, Africa as a medical volunteer. There she volunteered in a local hospital in the Surgical, Pediatrics and Maternity ward. She spent her days there testing patients for HIV, debriding wounds, treating burns & malnutrition in infants as well as assisting mothers in delivering their babies.
She also participated in outreach programs there where she journeyed to orphanages and villages outside the city to provide medicine to those who did not have access to medicinal care.
Laura is also an aspiring novelist who writes about her parent's difficult journey as refugees from war-torn Vietnam to Canada. She is involved in the Vietnamese Canadian Voting and Advocacy Association, which aim to educate and assist new citizens about the Canadian Political Process.
Sponsors:
Have the Edge Marketing and Consulting, Dr. Sean McIntosh, Palladium Insurance, Pembroke Lumber Kings Junior "A" Hockey Team, Speedpro Pembroke, Splash Auto Care Pembroke, Henry's Furniture Petawawa, Petawawa Dental Centre, Power of You Fitness, SantaFe Express Petawawa, Barlow Bryden & Associates, Friends & Family
Languages spoken fluently (please include your native language if English is not your native language).
English, Vietnamese and French
What are your interests and what do you enjoy doing the most?
I love to cook because I believe that good food can bring people together. I am also a history buff and spend hours with my nose between books exploring the history of different countries.
List any special training you have had (music, art, drama, dance, etc.).
I play piano and sing.
In what sports, if any, have you participated?
I used to be part of my high school swim team.
I also like to play tennis and practice yoga.
Name one person, other than your parents, who has had the most influence on your life. Why?
Marie Curie has been an extremely influential person in my life because I idolized her growing up. I have always been obsessed with science and when I began studying the subject I realized that it was filled with the accomplishments of mostly male scientists. Amazing though these accomplishments were it left me searching still, for a strong female role model until, I learned about Marie Curie. She did more than discover two elements and radioactivity. She fought against sexism in the field of science paving the way to the future so that women like myself are able to pursue our passion for the field.
What is your proudest personal accomplishment (other than participating in this pageant)?
While I was volunteering in the maternity ward in Tanzanian Hospital, We had a particularly difficult delivery. The baby we delivered was under respiratory distress. I had followed hospital protocol and performed CPR on the newborn. However, the baby still was not able to breathe. Hence, I assisted in performing a tracheotomy, which I had no experience doing, and only theoretical knowledge regarding the procedure. Luckily, the procedure was successful and the newborn was able to breathe. This was a life changing moment in my life and my proudest personal accomplishment because I believe that nothing is more rewarding than saving a life.
What is the most interesting or unique thing that has ever happened to you and/or what is the most interesting thing about you?
I went on a safari in the Serengeti with a group of my fellow volunteers. During the 3-day excursion I came across a lion about 10m away lying asleep. I pulled my camera out and began taking a few pictures of it. Little did I know that there was a lion much closer to the vehicle that we didn't see. The lion leaped up towards the vehicle scaring my friends and I. I dropped my sunglasses and our safari driver quickly hit gas and sped away from the imposing yet majestic creature.
What is your career ambition and what are you doing or plan to do to accomplish that goal?
Next year I plan to apply to medical school. My life's ambition is to be a pediatric surgeon. In pursuit of this dream I have volunteered in the field and worked hard towards my academic goals.
What would be your "dream job" in life?
My dream job would be to be a pediatric surgeon and provide care to children in need all over the world as well as locally.
Are you currently a student?
Yes
If yes, where?
Area of study:
I just finished my Honours Bachelors of Science at the University of Guelph.
Are you currently employed?
No
Describe where you were raised and what your childhood was like.
My parents were boat people, who came to Canada as refugees during the Vietnam War. They were extremely hard working individuals. My father owns and operates a convenient store and my mother works for Toronto Stock Exchange.
Growing up they taught me about all the opportunities that Canada has given us and how hard work will always payoff.
My parents and my sister are always supportive of my dreams and aspirations, encouraging me to always work hard in pursuit of my goals.
Thanks to them I had a very happy childhood.
What is your most unusual talent?
I can consistently make children smile, always dance like no one is watching and eat an unbelievable amount of dessert.
Where is the most interesting place you have been to?
The most interesting place I have been is to Tanzania. I spent three months there volunteering and it changed my life. Not only were the people extremely kind and welcoming. The country also offered many amazing landscapes such as the majestic Mount Kilimanjaro, the enchanting hot springs in Moshi and the gorgeous beaches in Zanzibar. It was also the first time I travelled somewhere and truly took the time to understand the local way of life. There I stayed with a hardworking single mother who had a big heart and treated me as lovingly as she would her own children. Through her and my host siblings, I was able to truly understand the Tanzanian way of life and unique culture. I also got to volunteer and provide care not only in the local hospitals but also to orphanages & villages outside of town that desperately needed medical attention. I also met a group of kindhearted volunteers from all over the world whose friendship I will cherish for life.
What do you hope to be doing in ten years?
In ten years, I hope that I will be able to continue my volunteer work abroad providing medical care to those in need. However, I hope that in the future I will be able to make a greater impact as a medical professional and Miss Universe. I hope that as Miss Universe I would be able to draw more attention and support towards those in need. I also hope that as a doctor I would be able to treat those in need all over the world.