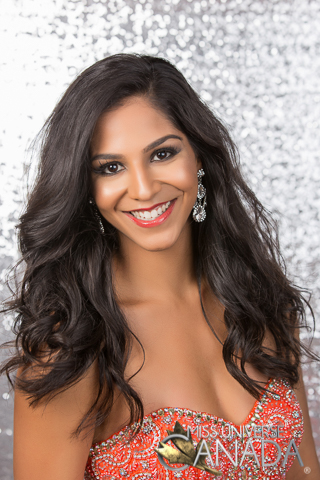 Height: 5'6″
Hometown: Edmonton, AB
Born and raised in Edmonton, Alberta, as a first generation Canadian, Medina was fortunate enough to be raised by her unconditionally loving parents. With an older brother who has not only been her biggest critique but greatest supporter, she has moulded into the confident yet humble women that she is today.
In high school, Medina adopted a well-rounded approach to her education by enrolling in IB classes, participating in extra curricular activities, and being apart of her High School Cheerleading team. While balancing a full course load and a full time gymnastics career she graduated with Honours and made the transition to the University of Alberta. It was here where Medina completed her double major in Psychology and Linguistics, was a research assistant, and had the opportunity to study abroad in Sydney, Australia. Although proud of her academic achievement, her desire to continue learning hasn't ceased. She plans to continue her education by attaining her Masters and PhD in Counselling Psychology over the next five years.
Volunteering has always been something rooted in her personal foundation. Her Mantra of "Work No Words", a statement that her Ismaili community has inspired her to hold, keeps her grounded and able to work with humility. Although she has had several role models throughout her life and attributing her success and ambition to one source is far fetched, she can confidently say that the Aga Khan has been her largest influence, inspiring her to cherish the opportunity of education and learning, giving back to those less fortunate, and pursing tolerance and acceptance.
As a proud Canadian, Medina will seize her opportunity of competing in the Miss Universe Canada pageant to contribute to causes greater than herself, to embrace the responsibility of acting as a role model to others, and to continue to achieve her personal aspirations of volunteering and travelling across the world
Languages spoken fluently (please include your native language if English is not your native language).
I speak English fluently and have intermediate knowledge of Spanish and French. As a Linguistics major in University, I explored my love for language in general and studied every aspect of language including phonetics, syntax, morphology, and child language acquisition across a wide variety of languages.
What are your interests and what do you enjoy doing the most?
I lead an extremely active lifestyle and genuinely enjoy all forms of physical activity. I was a competitive gymnast for 11 years, currently play basketball and volleyball, and love Moksha and Bikram Yoga.
Travelling is hands down the thing I enjoy most. Whenever I get the chance, I love exploring new places, meeting new people, and living like a local. I studied in Sydney, Australia for a semester and loved every minute of it.
Food, or eating should I say is a hobby in its own for me. I love finding new restaurants and trying new food.
List any special training you have had (music, art, drama, dance, etc.).
Growing up I was formally trained in Jazz, Hip-Hop, and Bollywood dancing. Within competitive gymnastics, I was trained in Ballet and Acro. I love Salsa dancing, and the Spanish dance and music culture in general. I also studied piano for four years.
In what sports, if any, have you participated?
Sports have always been a huge part of my life. Growing up, my family and I would incorporate sports into our family time whenever we had a chance. I've participated in basically all sports and have been apart of several different teams but my favorite would be volleyball and basketball, both of which I still play.
I've always been such an advocate for team and individual sports. It taught me a lot of the skills that I am proud to have now. As a gymnast and track and field athlete, I not only attained my athletic ability but more importantly learnt dedication, discipline, competitive drive, and motivation. Personally, participating in a sport like gymnastics where you compete against yourself, it taught me to be the self-driven person that I am today.
Name one person, other than your parents, who has had the most influence on your life. Why?
I can say with all the confidence in the world that other than my parents, the person who has had the most influence on my life is the Aga Khan. I am a Shia Ismaili Muslim, which is a branch of Islam and The Aga Khan is our spiritual leader. His messages have shaped my character, outlook, and mindset and contributed to the person I am today. He has always put an emphasis on education and bettering yourself so that you can contribute to helping others in the community, which are two things that are extremely important to me. A lot of the values I hold today are attributed to his messages of pluralism, tolerance, compassion, and caring for others, whether it is our youth or seniors. Being a Muslim girl is something that I am proud of because the Aga Khan has always advocated the strength in equality.
What is your proudest personal accomplishment (other than participating in this pageant)?
I have always been taught that education is the most important tool in life. Education and knowledge in general is one thing that no one can take from you. Learning is something that I want to do for the rest of my life. With that being said, my proudest personal accomplishment would be attaining my University degree, double majoring in Psychology and Linguistics, two things I am extremely passionate about. University taught me so many skills that will help me be successful in whatever route I chose in the future.
My parents moved to Canada from East Africa and always put an emphasis on the opportunities that Canada gives us, education being one of them. I am the first in my family to attain a university degree, which is something my parents are extremely proud of. Because of education, I was able to travel and study abroad which provided learning experiences inside and outside a classroom. It is so important to gain knowledge from experiences that are outside of your comfort zone as it allows you to grow and gain a deeper understanding of things bigger than yourself.
What is the most interesting or unique thing that has ever happened to you and/or what is the most interesting thing about you?
The most interesting thing that I have ever experienced is travelling to East Africa to see where my parents grew up. Because my parents left due to the political unrest in Uganda, they were forced to leave the only home and country they knew of. They thought it would be important for me to get an idea of obstacles that they faced and how much opportunity Canada has presented us. Seeing that first hand opened my eyes to what we take for granted growing up in a free country where we can openly practice our beliefs. It was unbelievable to witness the living conditions of the less fortunate and how grateful people were when we visited and volunteered at the school my mom went to.
What is your career ambition and what are you doing or plan to do to accomplish that goal?
My career ambition is to be a Registered Psychologist with my Masters and PhD in Counseling Psychology. I've always had a desire to work in a field where I get to interact with people everyday and help them over come their obstacles. I have always enjoyed situations that challenge me and in a career like this I know I will find satisfaction in rehabilitating mental health issues. I took a particular interest in Psychology because I was genuinely interested in how people think, why we behave the way we do, and how we have evolved developmentally, socially, and hormonally. In terms of what I am currently doing to achieve my career goals, I have completed my Psychology and Linguistics degree from the University of Alberta and have applied to graduate school to attain my Masters in Counseling Psychology for this upcoming Fall.
What would be your "dream job" in life?
My dream job would be my current career ambition. I think it is extremely important to strive to achieve your dream job. However, alongside my Psychology career, at some point in my career, I would also like to work for the Aga Khan Foundation. Their mission is to end global poverty by improving the quality of life of marginalized communities in Africa and Asia. Obviously 'ending global poverty' is an extensive goal, however; by pursing innovative solutions to seemingly obstinate problems by providing more than just funds to third world countries, the Aga Khan Foundation has already made tremendous strides. If I ever had the opportunity, contributing to a cause greater than myself with a foundation that hits so close to home would definitely be it.
Are you currently a student?
I just recently graduated from the University of Alberta with a double major in Psychology and Linguistics, and plan to continue my education in Counseling Psychology.
Are you currently employed?
Yes
If yes, what is your occupation?
I currently work as a Floor Manager, Bartender, and Server at Earls Restaurant.
Describe where you were raised and what your childhood was like.
I was born and raised in Edmonton, Alberta and couldn't imagine growing up anywhere else! I grew up with and still have an extremely tight knit family dynamic. As a psychology major and being truly intrigued by human development, I have learnt that your home environment contributes significantly to your future development and I am so lucky to have had the upbringing that I had.
I have an older brother that I can confidently say is one of my best friends. Anyone growing up with an older brother can probably agree with this statement, but as a kid I wanted to be everywhere that my brother was. During my swimming lessons I wouldn't even touch the water unless he was with me, his bed was my bed when I was too scared to sleep in my own room, and I would obviously voluntarily take the goalie position when he needed to practice his hockey skills.
A big contributing factor to my childhood and something that takes up a large part of my memory of my childhood is my involvement with my Mosque. Almost every night my parents would take my brother and I to mosque, where we gained our moral insight and sense of community. Growing up my parents always put the right amount of emphasis on religious exploration, exposing us to different religions and cultures, and allowed us to decide on our own what secular and non-secular path to take.
To this day I know that my community involvement with the mosque and my close-knit family dynamic contributed to who I am today.
List any interesting or unusual jobs you may have had.
Over the years I am fortunate enough to say that I have created quite the extensive list of jobs, however; if we are talking interesting/unusual jobs, I would say the top job would be a gymnastics judge for Alberta Gymnastics Federation. Being involved so heavily with the gymnastics community and it having such a large influence on personal development, it was super interesting seeing young girls going through exactly what I went through and how they developed through the same process. Experiencing it from both ends, both judging and competing, I realized the benefits of working hard towards your goal but also not taking yourself too seriously and still have fun with it, cause at the end of the day it is just a competition and it is about what you take from your experiences and who you meet along the way! I think that even with this Miss Universe Canada experience, it is so important to keep that in mind.
List any volunteering you have done.
Since a very young age, volunteering has always been such an important aspect of my life. "Work No Words" was something that my community strongly believes in, and was engrained into my mentality.
Alberta Health Services: Alberta Hospital (Outlook Program)
Center of Cognitive Behavioral Therapy
Institute for Stuttering Treatment and Research (ISTAR)
University of Alberta Open House – Department of Linguistics
Center for Comparative Psycholinguistics
Ismaili Student Association- Executive Position: Lieutenant
Ismaili Student Association- Executive Position: External Representative
Youth Advisory Counsel: Canadian Breast Cancer Foundation
World Partnership Walk – Marking Team
One Match- Stem Cell Donation Clinic
Canadian Blood Services
What is your most unusual talent?
Being the linguistics nerd that I am, my most unusual talent would be that I can read IPA (International Phonetic Alphabet), which means that if I am provided with the IPA of any word in any language, I can determine the correct phonetic translation. You know when you Google a word and that funny looking pronunciation guide of the word pops up? Yeah I can read that. HUGE nerd over here! That or the fact that I can sleep anywhere at anytime in any position.
Where is the most interesting place you have been to?
I am such a strong believer in the power of company. Sometimes it doesn't matter where you are, as long as you have the right people with you. It can make some of the most potentially mundane experiences something that you reflect back on as one of the most interesting places you have been to. I was fortunate enough to travel to Greece a few years ago and meet friends that to this day I call some of my best friends. We island hopped from Santorini to Mykynos and then to Paros. The most interesting and memorable place was in Santorini when the three girls I met along the way and myself rented ATV's and drove on the winding, narrow Santorini roads for hours to discover the Red Sand Beach. As cliché as we were, we wanted to recreate the Santorini experience from the Sisterhood of the Traveling pants movie, but instead unintentionally created something so much better. It wasn't about the particular place, but the memory of the entire aurora of that day that will always stick out as one of the most interesting places I've been to.
What do you hope to be doing in ten years?
In terms of my career, in ten years I hope to have attained both my Masters and PhD. in Psychology, be a Registered Psychologist, and open my own Psychology Clinic.
Because travelling is such an important aspect of my life, I hope to have gotten a bit of the travel bug out of me by that time and have crossed a majority of my destinations off the list. Although I love travelling, Canada is my home and I see myself living in Canada close to my friends and family, so that my future children grow up the same way I did.
Because volunteering is and has been such a big aspect of my life, I see myself continuing down the path of contributing to causes greater than myself. In ten years I hope to have had the opportunity to give back and let my voice be heard. The purpose of my involvement with Miss Universe Canada is to hopefully cross off travelling and volunteering off the list of things to complete in the next ten years, and continue down the path of continuous personal development and learning.
Is there anything you would like to add that we haven't asked?
I believe that answering the question WHY I want to be involved with the Miss Universe Canada pageant is essential when determining someone's motivational drive. I watched a Ted Talk that that really resonated with me and comes to mind anytime I take on a new project or accept a new opportunity. The Ted talk focused on how great leaders inspire actions and how you need to be able to "start with why" and identify the purpose for why you want to do something. After you figure that, you can continue to identify how you're going to do it, and what you're going to do to get there. With the Miss Universe Canada pageant, my WHY is to use the skills and voice I've attained in order to motivate others to do the same. I have met so many strong, independent, ambitious, and humble women that have helped me get to the place that I am proud to be at in my life and If I had the opportunity to be that leader and role model for other people, I would be honored. A title like Miss Universe Canada is not attained through prestige or status, but through your character and attitude, being true to yourself, and being able to connect with others genuinely. Those qualities are something that I continuously pursue and believe that I am in a position to represent!